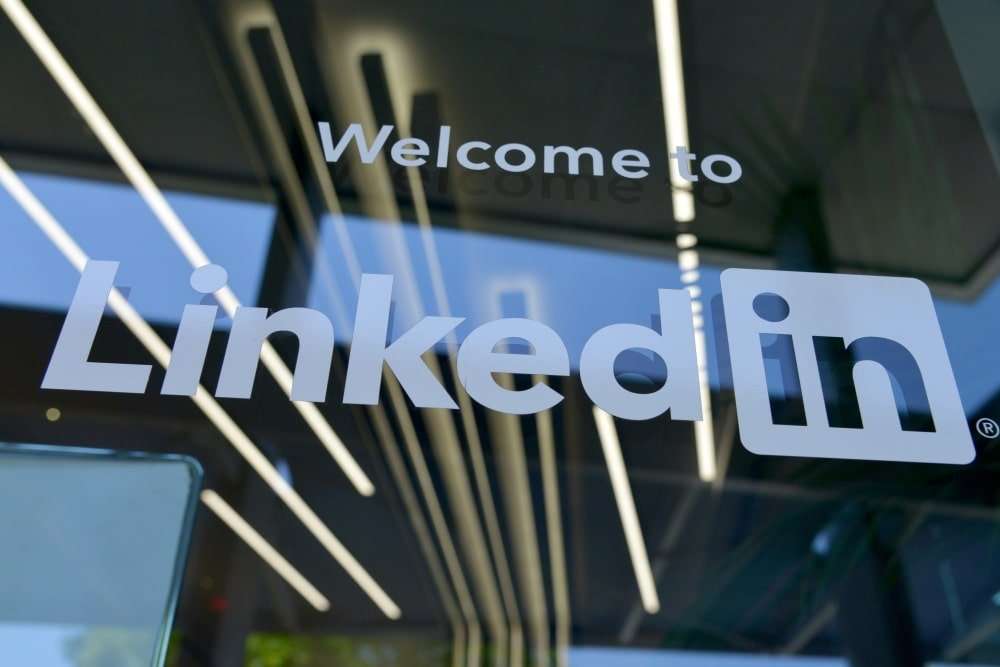 If you're running a business, you're probably always on the lookout for new ways to boost sales and generate leads.
Chances are, you've already heard of the many benefits that LinkedIn can have for businesses.
It's one of the fastest growing platforms, and can be used to build connections, network with other professionals and potential clients, and to find new sales leads.
But, in order to use LinkedIn to its fullest potential, you need to make sure you're using the best LinkedIn tools to benefit from everything the site has to offer.
How can you do this?
In this article, we're going to show you some of the best LinkedIn marketing tools for boosting sales.
What is LinkedIn Sales Navigator?
If you're trying to generate more leads, LinkedIn Sales Navigator is a premium tool that can help you with sales prospecting.
The main benefits of using LinkedIn Sales Navigator include:
Unlike the free version, you get unlimited commercial use
Sales Navigator gives you unlimited connection requests and search results
The filtering algorithm is more advanced, so you can find your target audience on LinkedIn more accurately
The platform grants access to key features, including "save as lead", "team account", "tagging", "InMails" and more
And most importantly, Sales Navigator allows you to connect with 3rd level connections, which is not possible on Free LinkedIn accounts anymore.
Let's have a look at some of the most important features of Sales Navigator now:
Lead Builder
The leader builder feature helps you to reach your target audience more easily by providing you with additional filters, including company headcount, years in current position, years at current company, years of experience, groups and more.
In addition to this, it can also search for users that have recently changed jobs or moved companies, or to find users that have recently created certain types of LinkedIn posts.
Save As Lead
One of the biggest inconvenience's users find when they're targeting new prospects is that, leads can't be saves after searches. That means, sometimes, having to repeat the search process over and over.
The Save As Lead feature on Sales Navigator addresses this issue. It means that when you target prospects, you are able to save your leads in a dedicated section of the dashboard so that you don't have to do filtering and search again.
Sales Navigator Team
If you're managing a team, this function can make it easier for different team members to work together, share information, and collaborate better. This is particularly useful for companies with a larger sales or marketing team.
With this tool, each team member can save up to 5000 prospects, send 30 InMails a month, access each other's connections to avoid contacting the same audience, and access reports to monitor the team's overall sales performance.
More InMails
When used effectively, InMail is one of the most effective LinkedIn prospecting features available. It helps you to build rapport with potential clients and influencers, and eventually generate leads for your business.
When using a Sales Navigator account, you are eligible for 20 InMails per month. For a team account, you get 30 and for an Enterprise account you have 50 messages to use throughout the month.
How LinkedIn Marketing Tools Can Help Small Businesses?
We all know that, for marketing, social media is the future. Nowadays, if you want to succeed, it's crucial that you learn to use social media tools effectively and to their highest potential.
For businesses, LinkedIn is a leader among B2B lead generation platforms and is currently used by millions of businesses to spread the word about their company.
All the figures show that it's one of the most effective ways of growing your database, lead generation, finding new clients, and building your connections list.
To give you an idea of how powerful LinkedIn can be:
According to LinkedIn, using premium features to grow your small business can help you boost sales and trust, as well as helping you to reach your goals.
You can do this through a Company Page, which allows for more effective and professional branding so that you can promote your company, products, and services.
Also, many businesses choose to create a Showcase Page. These can be used to promote specific products, services, offers, or ideas. They can also be used to target specific audiences or groups.
These pages can help you to:
Connect more easily with your target audience
Show off your brand and build online presence
Use content marketing to engage with professionals
Share valuable content and attract the best prospects
Develop new strategies to reach your sales and business goals
LinkedIn Plugins: The Benefits of Using Automation Tools
It's not a secret that the lion's share of LinkedIn users utilize third-party plugins and chrome extensions to automate their marketing efforts on LinkedIn and save time. For business owners, marketers, recruiters, and job seekers alike, they can provide numerous benefits that can improve the site's effectiveness – whatever your goals and purpose.
LinkedIn plugins can help you to automate work, scrape data, run LinkedIn on autopilot, and much, much more.
When it comes to choosing the right plugin, there are plenty of choices available.
Having checked the majority of them, we've come up with 4 most powerful lead generation software for you to consider.
Best LinkedIn Tools for Boosting Sales
1. Octopus CRM
Octopus CRM is a top-rated LinkedIn plugin created for those users who leverage LinkedIn for prospecting. The software automates all the processes on LinkedIn and allows to build genuine marketing funnels.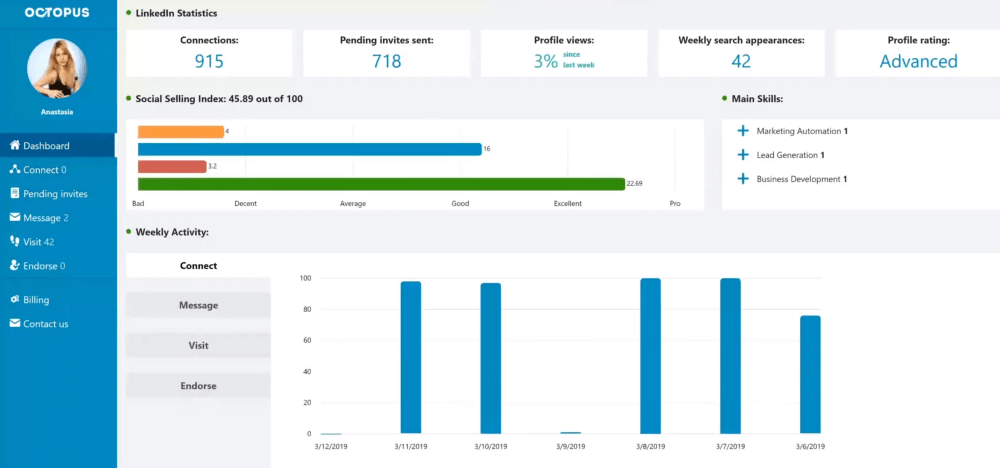 Even though, it's mostly used by business owners and marketers who use LinkedIn to generate leads, find potential clients and convert them into actual clients, Octopus CRM can be also utilized by recruiters and job seekers to find ideal candidates or job seeking efforts.
Some of the key features of this software include:
Sending personalized connection requests to 2nd and 3rd level connections
Bulk messaging 1st levels contacts on LinkedIn in a personalized way
Auto visiting profiles and auto endorsing skills on your 1st level connections' profiles
Building your own marketing and lead generation funnel on LinkedIn (e.g. connection requests – thank you message – endorse skills – follow up message 1 – follow up message 2).
View analytics, watch your LinkedIn stats and observe weekly activity
Summary: totally worth trying: great arsenal of features, low cost, free trial available
Pricing: starts from 6,99 USD / month
2. Prospect Maximizer
Prospect Maximizer is a cloud-based LinkedIn automation tool for online marketers and business owners, which allows managing all of your LinkedIn interactions and campaigns on a single platform, making it an easy and convenient way to simplify your processes.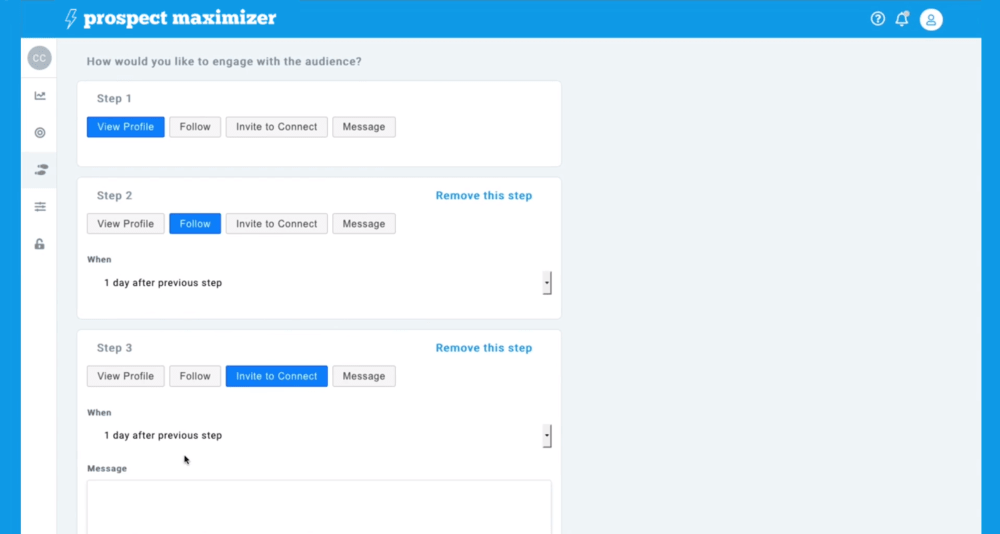 Some of its key features include:
Ability to create 100% automated campaign sequences that run in the cloud (even if the PC is switched off)
Provides you with professional, branded email templates, which include custom fields, headers and footers, and automated signatures
Tracks your returns using an ROI calculator, tracks leads and engagement levels, customer behavior and flags missed leads and opportunities
Grants each user with its own dedicated IP address for extra safety on LinkedIn
Summary: amazing solution, but quite expensive for small businesses
Pricing: starts from 199 USD / month
3. Skrapp
Skrapp is a LinkedIn plugin designed to improve your lead generation processes by scrapping and collecting data from LinkedIn. This is a cost-effective option, that although doesn't offer as many features as some other alternatives, still has many helpful features.
Some of these features include:
You can collect relevant data easily using this tool, including full name, company name, title, website and even email addresses of 2nd and 3rd level connections
Users can import the CSV file with LinkedIn profile URLs and extract email addresses
Once the search is completed, you can export all the data (including email addresses) to a separate spreadsheet or CSV document
The company search feature allows finding email addresses of leads by searching by organization
Summary: great email finder for LinkedIn, free trial available
Pricing: starts from 49 USD for 1000 emails / month
4. e-Link Pro
E-Link Pro is another automation tool that uses the principles of view backs on LinkedIn. The idea is pretty straightforward: you filter profiles in the LinkedIn search, launch the software and the tool visits each profile one by one allowing you to create some extra engagement. 5%-10% of visited LinkedIn accounts will view your profile back, watch your summary or visit your website.
The Pro version (49 USD / month) includes the following features:
Ability to visit up to 800 profiles a day, which drives more traffic to your own profile
Enables you to download prospect information and save it into excel format
Allows to enable the "Drip marketing" feature that posts a random positive quote in the news feed to keep you top of mind of your prospects within your network
Summary: Octopus CRM and Prospect Maximizer have these features, but as a separate tool it's worth trying, free 5-day trial available
Pricing: starts from 29 USD / month
LinkedIn is undoubtedly a powerful platform, among other lead generation software that can change your business for the better. And while automation and artificial intelligence have already started transforming businesses, it's a high time for us to utilize these solutions to archive better marketing results and save a huge amount of time that can be spent on something that really matters.
With the help of these LinkedIn plugins, you can take advantage of everything LinkedIn offers today.
See also: How do I automate my social media posts?