Whether you're a freelance social media professional, a small business, or an agency, you need a social media management tool to help you manage your social networks and make your life easier. 
But what is the best platform to manage social media? What are the best social media schedulers or the best social posting tools and how to manage social media for business? What are some free social media management tools or ones that offer TikTok integration?
Of course, there isn't a one-size-fits-all when it comes to content management and social media marketing, as with most things in life, but we'll take a look at distinctive features in this social media management tools comparison so that you can find the right tool for your needs.
See also: Social Media Management Tools for Universities
Best Paid & FREE Social Media Management Tools Everyone Can Use in 2023
| | | |
| --- | --- | --- |
| Social Media Management Tool | Best For | Lowest Price Point |
| Tweetdeck | The only SMM tool that's 100% FREE | Free |
| Hootsuite | Ideal for medium and large businesses | $49/month |
| Buffer | Best suited to small and medium-sized businesses | $5/social channel/month |
| Sprout Social | Good for monitoring | $89/user/month |
| Social Flow | Best for organizations with big advertising inventories that want to maximize their reach | Not disclosed |
| Post Planner | Ideal for busy people who don't want to spend a lot of time creating content | $6/month |
| Sprinklr | Designed for enterprise-scale organizations | Not disclosed |
| BuzzSumo | Suitable for businesses that want to collaborate with influencers | $79/month |
| MeetEdgar | Ideal for freelancers, side hustlers, and small businesses | $24.91/month |
| Loomly | Best if you also need to cover TikTok | $26/month |
| Cyfe | Especially good for users who really like dashboards | $19/month |
Top 10+ Best Social Media Management Tools of 2023: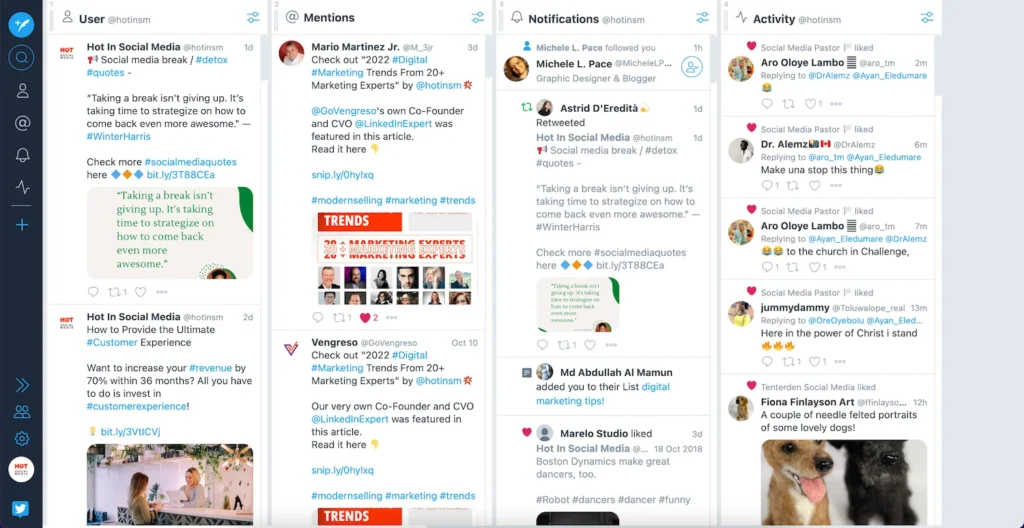 Tweetdeck is a social media management platform that enables users to monitor Twitter feeds, schedule tweets, and track results. It was acquired by Twitter in 2011 and has been integrated into the Twitter platform.
Key Features: The most important characteristic that makes Tweetdeck stand apart from other social media management tools is that it is completely free to use. This is the only 100% free tool I could find. Any other tool has some kind of limitation for which it requires money. Tweetdeck has no such things. If you end up using Tweetdeck, you won't have to worry about limitations, payment plans, and subscriptions. However, it comes with a major drawback when compared to other social media management tools: it only works for Twitter accounts. This means that you won't be able to manage all your social media accounts in one place. You will be able to manage just your Twitter accounts. It works for multiple Twitter accounts, but just for Twitter.
It has many useful features that will make your life easier, like creating and scheduling tweets, tracking conversations and mentions, and monitoring multiple Twitter timelines simultaneously. Tweetdeck also gives us some insights and analytics about our Twitter activity, such as tweet reach and engagement. This helped me to understand what was happening and optimize my Twitter strategy accordingly.
Product Evolution and Updates: Tweetdeck was a social media management platform launched in 2009. The platform was acquired by Twitter in 2011 and has since become one of the most popular tools for managing Twitter accounts. After the acquisition, it was integrated into the Twitter platform. However, many users still prefer to use Tweetdeck as a standalone application. In recent years, there have been reports that Twitter is planning to phase out Tweetdeck, but so far, no concrete plans have been announced. Some people believe that Tweetdeck is no longer a necessary tool for managing Twitter accounts, while others believe that it is still a valuable tool. It seems that the majority of users believe that Tweetdeck is no longer as useful as it once was, but it still has its place in the Twitter world.
---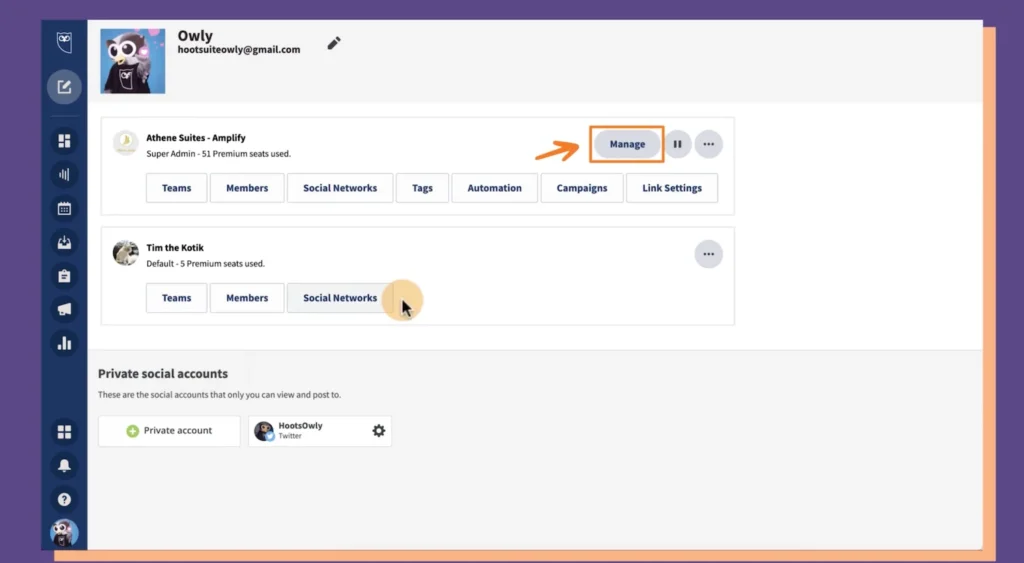 Hootsuite is one of the best social media management tools for medium and large businesses. With Hootsuite, you can monitor multiple social media streams in one place, schedule posts in advance, and easily manage the team that handles your social media channels.
Key Features: Hootsuite is best known for having a centralized feed of all the brand mentions across the most important social media channels. In practice, this means that you will have a way better experience when you filter and reply to questions or conversations your users or your clients have about your brand.
But many social media management tools have this feature. What sets Hootsuite apart is the "team management" functionality. What does that translate to? If you have a big brand, you will naturally need more people to manage it. For example, you may want to automatically route certain messages to your PR or crisis management team. You can also make sure team members have a balanced workload, and each social network has a balanced amount of coverage. This is why I consider Hootsuite ideal for medium and large businesses that need a social media scheduler that allows them to schedule posts for multiple platforms at once.
Hootsuite's dashboard will make it easier to figure out when to post depending on the platform, as well as discover relevant content that you can share with your audience. You can get a clear overview of your performance and social growth using their analytics reports and understand what people think about your brand by monitoring social conversations.
Product Evolution and Updates: There are a lot of social media tools like Hootsuite, but Hootsuite was one of the first social network managers on the market (2008), and it is today's most used and well-known all-in-one social media software, with 16 million users.
Hootsuite releases frequent updates on its change logs page, typically 2 to 3 times a week, sometimes even more often, and sometimes once a week. For example, from January 1st – September 1st, 2021, Hootsuite released 19 new features and functions, seven new apps, and 25 improvements, and has fixed 29 issues and bugs.
Why Not to Use: The most important thing users complain about is pricing. If you are an individual or small business, this tool is probably not for you. There is a free plan, but it's very limited, with only two social accounts and five scheduled monthly posts. Need the Business plan? It will cost you $8,868 upfront (the article linked talks about the previous pricing plans, that's why the numbers are a little different, but the idea is the same: Hootsuite forces you to pay annual plans, even if the prices mentioned are per month). Many Legacy Pro users have also complained Hootsuite is forcing them to upgrade to the new pricing, which can mean up to 550% more. It's not pleasant to have that experience when you're already a paying customer, and the only option you're given is to upgrade or leave.
Also, while some users like the interface, there are some users who don't like it, and find it rather outdated, confusing, and hard to monitor, so before you decide to pay, check out some screenshots and make sure you like it.
---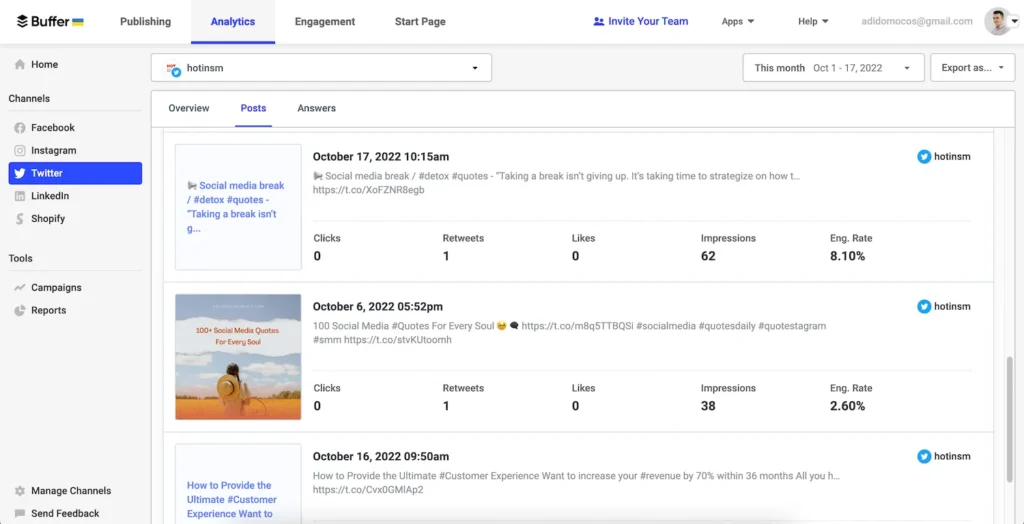 Buffer is a social media management tool for small and medium-sized businesses. Many people feel like it is one of the easiest ones to use.
Key Features: One of the most important things that sets Buffer apart from the rest of the social media management tools is their pricing model. With Buffer, you pay $5 per month for each social media channel you connect. This means that if you have a small or medium company, you don't have to throw a load of money upfront just to be able to start. In my experience, you can start with one or two channels and add more and more as you grow bigger and bigger (and can actually handle them).
This is why I think that Buffer is best suited for small or medium companies, and it might be best suited even for large companies that want to start exploring social media without having to invest in big marketing teams and expensive tools. According to G2, Buffer performs better than Hootsuite in almost all categories when taking into account thousands of reviews made by their users. Most people feel Buffer is easier to use, set up, and administer than Hootsuite. Here is another review where the tools are compared side by side, ranking Buffer a little higher than Hootsuite and recommending it, especially for small businesses.
Product Evolution and Updates: When becoming a team of ten in 2013, Buffer decided to articulate its company values. One of the most important ones, which describes the company best, was their "default to transparency" value. As a team, they knew the only way to establish a culture of trust and to help others was through clear communication and transparency. That value was put to the test that exact same year when Buffer was hacked and decided to let their customers know right away and keep them constantly updated before even knowing the source of the breach. They then decided to become even more transparent and shared their salaries and salary calculator, as well as other elements pertaining to their workplace culture and strategy, which Buffer users really appreciated.
As to the actual product evolution, in 2016, Buffer launched Reply, which extended their services from social media marketing to social customer service but closed it in 2020, mainly due to a lack of need for customer service on social media. In 2019, Buffer launched Buffer Analyze, their social media analytics and reporting tool, and at the beginning of 2021, Buffer Engage.
In October 2021, they also launched Start Page, a free feature for people who want to create mobile-friendly landing pages. In 2022, they continued with updates to the new Start Page feature, as well as other improvements or new features like TikTok video scheduling, Instagram Reels auto-publishing, and Google Business profiles.
They currently have four separate products — Buffer Publish, Buffer Analyze, Buffer Engage, and Buffer Start Page — included in the paid plan. Buffer Publish is a social media planner app that allows you to plan posts, collaborate with your team, and publish engaging content, Buffer Analyze gives you insights into your social media performance with detailed reports that you can use to increase your brand's reach, Buffer Engage allows you to see all your comments and stay on top of important interactions, while Buffer Start Page allows you to build free landing pages.
Why Not to Use: One of the most frequent things people complain about is posting issues. It looks like these kinds of problems don't happen very often, but they happen frequently enough to show up in reviews here and there. But these types of problems are something that users can expect to encounter with any social scheduling platform, so I would take them with a grain of salt. However, if I wanted to commit to paying a yearly subscription for Buffer, I would test the monthly plan first and make sure it's not a problem for me.
Another issue seems to be the dashboard. While most users love the Buffer dashboard and find it easy to use, some users complain about having problems connecting accounts and even tagging.
---
Sprout Social is the best social media management tool with a focus on monitoring part. Social media monitoring actually means extending a brand's customer support over social media. For example, your brand's representatives can respond to customer posts and mentions and even prevent issues from escalating. It has management features as well, but the monitoring part is where Sprout Social shines the most.
Key Features: Sprout Social is one of the few social media management tools that have customer relationship management (CRM) features. This means that you have a complete profile of your customers inside the app, and this can help you build stronger relationships with them. For example, you can have a full history of engagement with specific users. The complete conversation with them is available to your whole team, and everybody in your team can see notes your colleagues added (like the best time to reach them).
In many areas, Sprout Social is similar to Hootsuite, as it combines several social media tools into one platform (Hootsuite has CRM features as well). They have similar features, but while Hootsuite may be better in terms of number of features, Sprout Social seems to be better in terms of user support. You can just pick up your phone and call Sprout Social and ask whatever you want. I can't say the same for Hootsuite. I could not easily find a phone number on their Contact Us page.
There are other means to contact them like on social media or email, but I believe a quick phone call is an important part, considering that there's a lot of money on the line with these tools and many customers prefer to communicate via phone.
Product Evolution and Updates: Sprout Social currently releases important product updates every 3 months, sometimes monthly, and sometimes more rarely (there was no product update on their page between December 2018 and November 2019, when they used to release even weekly updates at one point).
As a brand, Sprout Social has grown a lot since its initial fundraise in 2010. Some noteworthy mentions are: launching Bambu, a social advocacy platform for employees, in 2015, introducing Bot Builder for automated conversations in 2017, opening headquarters in Chicago and Dublin, launching a design refresh in 2020 to modernize the look and feel and increase ease of use, announcing a unique social commerce solution in 2021, and reintroducing Employee Advocacy in 2022.
Why Not to Use: Some users complain that the interface is less intuitive than for other social media management tools. Before committing long-term, you should check how things look inside the app and make sure you are comfortable using it every day. Also, I found users complaining about issues with the LinkedIn integration. I could not test and confirm this in practice, but just to be sure you can give them a call and ask. Or maybe just test it for yourself before committing long-term.
---
SocialFlow is the best social media management tool for maximizing your reach on social media. It's certainly not the best at monitoring and automation, but if you have a lot of money and you need to reach as many people as possible across social media without much effort or struggle, then you should consider adding SocialFlow to your tools list.
Key Features: SocialFlow will cost you a lot because you will actually do advertising with the help of a highly sophisticated algorithm that monitors patterns and behaviors through social media and which can take instant decisions based on huge quantities of data. This means that you can focus more on creating the content while leaving the optimization to their software.
This works best for organizations with big advertising inventories, because the more data you feed in and the more tries you do, the higher the chances that the algorithm will work something up. In practice, based on some users' experience, it might work better with certain social media channels like Twitter and Facebook, and less with others like Pinterest.
In order to better understand how the algorithm works, I will try to give you a concrete example and not use sophisticated terminology. Taking into account how your customers ReTweet and click links, the algorithm can identify when it is the best moment to post. This means that you don't have to rely on generalized information given by "experts" who tell you when it's better to post, but make use of actual data from your users instead.
Product Evolution and Updates: Another important thing to note is that the SocialFlow website is "freakishly simple". Compared to websites for other social media management tools like Hootsuite or Buffer, the SocialFlow website doesn't have a comprehensive help section. They don't have a publicly known plan for the future either. I wanted to check how often the tool is updated, but I could not find a section where they post their updates. I found out from other sources that SocialFlow was released in 2009, developed by Frank Speiser and Mike Perrone to make social media marketing more effective and easy for brand owners. But this was a big drawback in terms of trust, especially when there is a lot of money involved with a tool like theirs.
Why Not to Use: This tool is not the best for you if you are at the start of your journey in social media. It is geared more towards enterprises and companies that have a lot of content and opportunities where to put this proprietary algorithm to work. The difference between SocialFlow and Hootsuite or Buffer is very big when it comes to team collaboration. Social Flow does not have the advanced CRM features that tools like Hootsuite or Buffer have.
---
Post Planner is a social media management tool for busy people who don't want to spend a lot of time on creating content.
Key Features: A key feature that differentiates Post Planner from other social media management tools is a massive inventory of "pre-made" social media posts that are "scientifically" designed to make your engagement go through the roof. This pre-made content is split into categories like "Quotes", "Engaging", "Interesting", and "Funny" so that you can easily choose something that is interesting for your brand. You can discover viral content on topics that are of major importance to your followers.
If you don't want your social media accounts to be idle and you don't like the process of content creation, this is the best tool for you. Also, if you have many doubts and insecurities about what to post, this could be something that can easily break the "writer's block". In my experience, even if you don't do much to improve your follower base or significantly grow your social media accounts, this tool has a decent chance of improving a specific aspect of your social media presence: the engagement. This is just because it will tell you to auto-recycle your evergreen content (the content that makes people talk).
While many social media content planning tools provide similar features that help you create, find and share content, they also usually come with a host of other social media support tools and features, which increases the cost a lot. By focusing solely on curated content planning, Post Planner manages to offer more affordable prices and is a better alternative for businesses that care more about engagement.
Product Evolution and Updates: They don't have a plan with future updates or even a public list with improvements, but here's a little bit about the brand. Post Planner was launched in 2011 by Josh Parkinson, Julie Benzaquin, and Slav Ivanov and became one of the most popular in-app schedulers within Facebook. In 2014, they launched the browser-based app for Facebook and Twitter publishing, and in 2020 they expanded again as an integrated content management and publishing tool with Facebook, Twitter, LinkedIn, Pinterest, Reddit, RSS, Google, and Instagram.
Why Not to Use: There are a lot of users complaining about Post Planner's customer support, integrations, and analytics. If you don't rely too much on these, it might be ok for you. And the most important "why not to use": if you are very picky about what content you post on social media and you need it personalized for you and your brand, then it's better if you create it yourself.
---
Sprinklr is a social media management tool designed for enterprise-scale organizations. It is, so to speak, a social media jack-of-all-trades, more like Hootsuite and Buffer, that tries to accommodate all your marketing and communication needs. It is being used by many large brands worldwide.
Key Features: What sets Sprinklr apart from the rest is an advanced AI and machine learning algorithm that is used to pull insights out of the noise, using seven layers of AI processing. In practice, this means that it can analyze social media conversations and detect many types of sentiments (like negative and positive) when people talk about efficiency, speed, price, and so on. This can help you identify recurring problems, and it will give you big-picture insights into your brand. For example, you can see that price and loading time are recurring problems when people talk about your product. Then you can talk to your team and try to focus on fixing them.
Sprinklr is best for large-scale organizations and large brands due to its complexity and high number of features.
Product Evolution and Updates: Sprinklr is now more than 10 years old, and they make constant improvements. They release updates every few months, except for the period between May 2020 and September 2021, when they were most likely on pause due to the pandemic. The last major update, published in July 2022, announced the integration with Instagram Reels. In October 2022, they also announced that they were named a TSIA STAR Award finalist for Best Practices in Education Services.
Why Not to Use: While Sprinklr's unified platform is an advantage for some, it presents quite a steep learning curve and can be daunting for others. Many new users find it overwhelming to navigate all the options and features and master the platform and feel the interface could use some improvements in terms of user experience.
---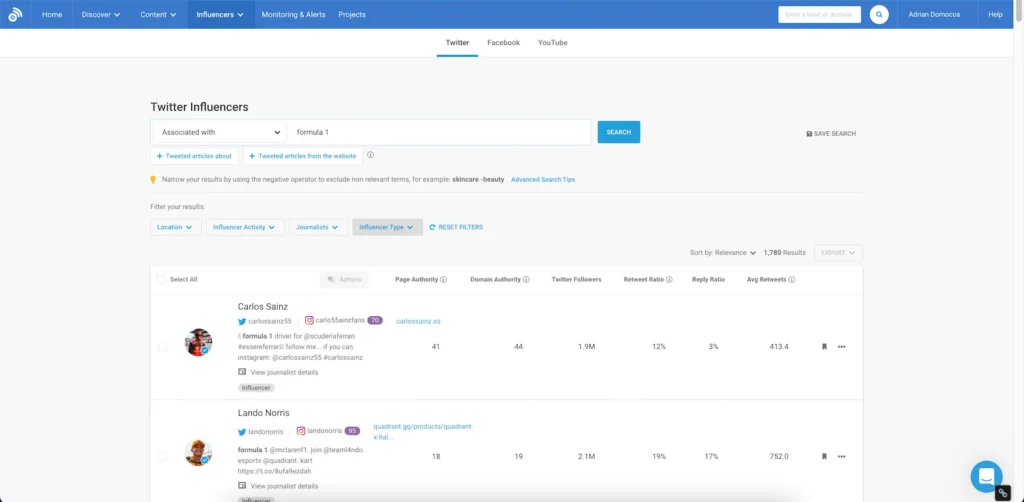 BuzzSumo is one of the best social media management tools if you want to search across social media for content or influencers.
Key Features: We all know that searching on social media is shit. Can you search on YouTube for entertainment channels with between 500,000 and 1 million followers? No. Can you search all Facebook pages on a specific topic sorted by popularity? No. If you need to find specific results like this, consider BuzzSumo. It helps you find stuff like this, and what sets it apart from other social media management tools is the feature to search for influencers. For example, you can search on YouTube for the most popular channels that cover history stuff and then try to promote your history-based game to their audience.
Buzzsumo is best used by businesses that want to promote themselves with the help of influencers across social media channels like YouTube, Twitter, or Facebook.
Product Evolution and Updates: They don't have a clear roadmap for the future and a public place where they post improvements and updates, just a little history that recounts their main accomplishments since their launch in 2014, such as launching Facebook analysis tools in 2015, a question analyzer tool in 2017, a keyword tool and YouTube Analyzer in 2020, as well as two new Facebook page analysis tools and a tool to research journalist profiles in 2021.
Why Not to Use: One common reason for dissatisfaction among customers is the interface, and the second most popular complaint is about pricing. So take advantage of the fact that you can test it for free and make sure both are not problematic for you.
---
MeetEdgar is a social media management tool for freelancers, side hustlers, and small businesses.
Key Features: There are plenty of social media management tools meant for large businesses that require you to pay thousands of dollars upfront, and it is actually very hard to find a good quality social media management tool at an affordable price. Even though most of the tools have accounted for small businesses or individuals, the main problem is that they are so badly stripped of features and offer such limited functionality that you basically can't do anything. It's pretty obvious that most of these "basic accounts" are meant to strip money from poor individuals or "side hustlers", rather than offer some actual value. Here is where Meet Edgar comes into play. Unlike social media scheduling apps like Hootsuite, which cater to gazillion-dollar corporations, MeetEdgar has pricing plans that are specifically designed for freelancers, side hustlers, and small businesses, and that's why I chose to include it in this list. What's more, you can try it for free for 7 days and cancel at any time.
Product Evolution and Updates: MeetEdgar was created in 2014 from founder and CEO Laura Roeder's own personal need to have a social media tool that would save your updates after posting them or post them more than one time automatically. You can read about their most important updates here. They don't post very often about their updates and new features, about every 3 to 6 months, sometimes more often, and sometimes more rarely. Over the past two years, for example, they've talked about three new features, becoming part of the Pinterest Marketing Partner Program, how to create your perfect home office with Edgar, and how they've joined SureSwift Capital.
Why Not to Use: The tool covers a smaller number of social media networks (it works with Facebook pages, Facebook groups, Instagram feed, Instagram stories, Twitter, Pinterest, LinkedIn & LinkedIn Company Pages) and has limited functionality when it's compared to other mainstream/popular tools. But the good part is that it might be the best for you if you just need the basics. It will help you craft content, schedule posts, and monitor results for one of the smallest monthly fees on the market. Here is a product comparison with the most popular tool from which you can easily find out what you get and what you don't, and what are the main differences between Edgar vs. Hootsuite.
---
Loomy is a social media management tool with TikTok integration. Since its launch in 2016, the TikTok social media platform has exploded in popularity, but despite this, most social media management platforms did not rush to implement it as a platform they can manage. It may be because of programming limitations, legal issues, or other stuff that I don't know about. Or maybe they did not understand the potential. Due to the high demand, though, I had to include at least one tool that specifically states that it can handle automation and management on the TikTok platform. For this, I chose Loomly.
Key Features: Loomly helps you schedule videos on your phone or laptop. When it's time to publish, Loomly will send you push notification reminders on your phone. You can also get these notifications via email, Slack, or Microsoft Teams. This means that you can schedule your posts in advance and get notifications when to publish them.
They also have a comprehensive marketing guide for TikTok. Of course, this social media management tool also supports other popular networks and has all the important features others have, and on top of it, it also has a decent price point. When compared to other popular tools, it generally has better overall user reviews and fewer complaints. And even better, when I researched what other users say about their platform, I was pleasantly surprised to see that they answer to each complaint on platforms like G2.
And even though I do not use the automatic Facebook story posting feature, when I saw a person complaining about it, I also saw their response and understood that this is a limitation caused by Facebook and not by their platform. In my experience, seeing a company so invested in dealing with customer complaints builds user trust like nothing else, so they get the maximum user feedback and interaction score from me. They also notified users when they asked about new features that were already on their roadmap.
Product Evolution and Updates: The date for their update posts is not clear, but they seem to be updating the tool a lot with new features and integrations. They also have a podcast called Brand Moat, where guests share their marketing and business success tips and stories.
Why Not to Use: You should not use Loomly if you need a feature-packed social media management tool. However, you should also know there are many upcoming features. This is a good and a bad thing because they are adding a lot of features constantly, which could increase the cost in the future, or you may end up with a legacy account and still pay a cheap price. This might not be the case if they do something similar to what Hootsuite did regarding legacy accounts, but it is a possibility.
---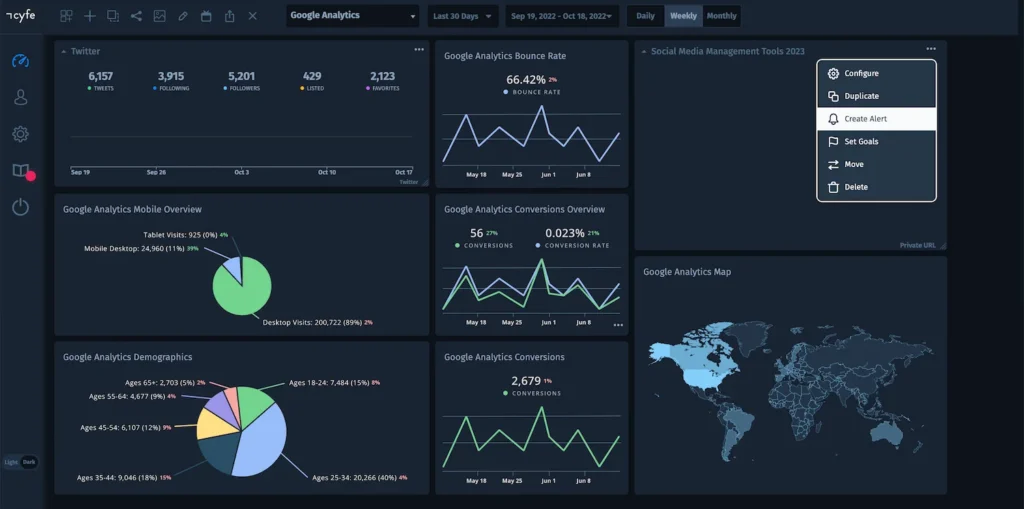 Cyfe is a social media management tool for users who really like dashboards.
Key Features: All the social media management tools have dashboards, but Cyfe brings them to another level. What sets them apart from the rest is the focus on building and customizing each type of dashboard. And the way they actually look.
I saw many dashboards while doing research for this article, and these ones looked way better than the rest. So, if you have 3 to 10 monitors, if you really spend a lot of time monitoring graphs and crunching numbers, Cyfe might be the best social media management tool for you.
It's actually more than a social media management tool – it's a "business intelligence" tool, but it can be easily set up to monitor your social media accounts. They have a lot of customized dashboards, so if you want to check out what monitoring social media accounts is like, you can take a look over here.
Product Evolution and Updates: Cyfe was founded in 2012 by Deven Patel and has been featured in the show Silicon Valley. In 2020, they joined Traject, a newly-launched marketing technology suite with a focus on agencies. They don't have a clear public roadmap, but they have some updates posted semi-regularly alongside guides.
Why Not to Use: If you are not the visual type of user or if you need specific advanced automation features for many social networks, this is probably not the best tool for you. If you need help with creating content and don't spend the majority of your time monitoring, one of the other tools mentioned on this list would be a better alternative for you. I can't recommend a specific one without knowing what you actually need. Also, if you don't like dark backgrounds with neon bright graph colors, this might not be the tool for you. Check it out in the pictures below and commit to it long-term only if you really like how they look.
How about you, have you found your favorite social media management tool yet? Let us know in the comments below and don't forget to share this article with your colleagues and other marketers who are still on the lookout for the perfect tool!
Social Media Management Tools for Universities
In today's climate, social media is key to your university's success. Universities need social media to attract new students by showing what they're all about, to allow space for student and community connection, to promote events and classes, to showcase achievements, and to organize fundraising campaigns. All of that would be impossible without a social media management tool when it comes to such a big institution. What tool you end up choosing will depend a lot on your school's needs, budget, and number of social media accounts and users, so let's take a look at a few social media management tools that can work for your university:
When I was searching for social media management tools for universities, Agorapulse was one of the ones that kept popping up, not only in random articles that list them among other big-name social media tools, but in articles of their own on social media management and marketing for universities, like this one on how to use social media to keep students engaged, or this one on how universities can use social media as well as students do.
Users love Agorapulse because they can schedule posts, respond, monitor, and get reporting all in the same app. Compared to Hootsuite, which is another popular choice for universities, Agorapulse has a better, more straightforward interface, with a less cluttered dashboard that makes it easier to quickly find what you're looking for.
University social media managers also prefer Agorapulse to Hootsuite because it offers much more cost-effective plans. According to this case study, Hillsdale College has managed to save $100K per year by switching over to Agorapulse from Hootsuite and another tool they were using.
With Oktopost's social publishing tools, you can boost your brand awareness and connect with different audiences like future students, their parents and academic communities, and also measure the impact of your social media campaigns. And that's what university social media managers love most about it, having a unified platform to schedule and publish posts, communicate with students, and measure success. Users also love the drag and drop interface of the editorial calendar, as well as Oktopost suggesting when it's the best time to post.
You can connect Oktopost to your CRM, Google Analytics and hundreds of other platforms to accumulate more data on your prospective students and personalize your marketing communication for more effective results.
CoSchedule's main selling point is its free and comprehensive marketing calendar, which makes it ideal for university teams that need to manage their social media activity and marketing campaigns from the same app. What users love most about CoSchedule is that it allows them to simplify their workflow and get rid of other apps like Asana, email and Google Docs, since they can see discussions, resources and task lists associated with each project in the CoSchedule calendar.
Social media managers love being able to see who is accountable for each project in CoSchedule, so there is no more confusion over who used an outdated football club logo or who is responsible for a certain campaign. CoSchedule also offers analytics, so you can see how your enrollment campaigns are going, check out student engagement, and find ways to improve projects that aren't as successful.
CoSchedule is used by Lamar University and University MarComm teams.
There are many other social media management tools that can work for universities, but I wanted to keep the list short and pick only the ones that seem to be more geared towards it. You could also check out TweetDeck (which we've talked about at the beginning of the article) for social listening of your Twitter accounts or Juicer for social media marketing.
Social Media Management Tools With Tiktok Integration
There are a number of social media management tools that offer TikTok integration, allowing you to manage your TikTok presence and content strategy better. Some of the most popular options among those reviewed above include Sprout Social, Hootsuite, Buffer, and Loomly. Each of these tools offers unique features and capabilities that can be tailored to your specific needs.
Each of these social media management tools can help you better manage your TikTok presence and content strategy. Choose the tool that best meets your needs and start growing your TikTok following today.
How about you, have you found your favorite social media management tool yet? Let us know in the comments below, and don't forget to share this article with your colleagues and other marketers who are still on the lookout for the perfect tool!
This article has been updated for accuracy with the latest information on October 19, 2022.
See also: How to Create a Powerful Social Media Marketing Strategy?