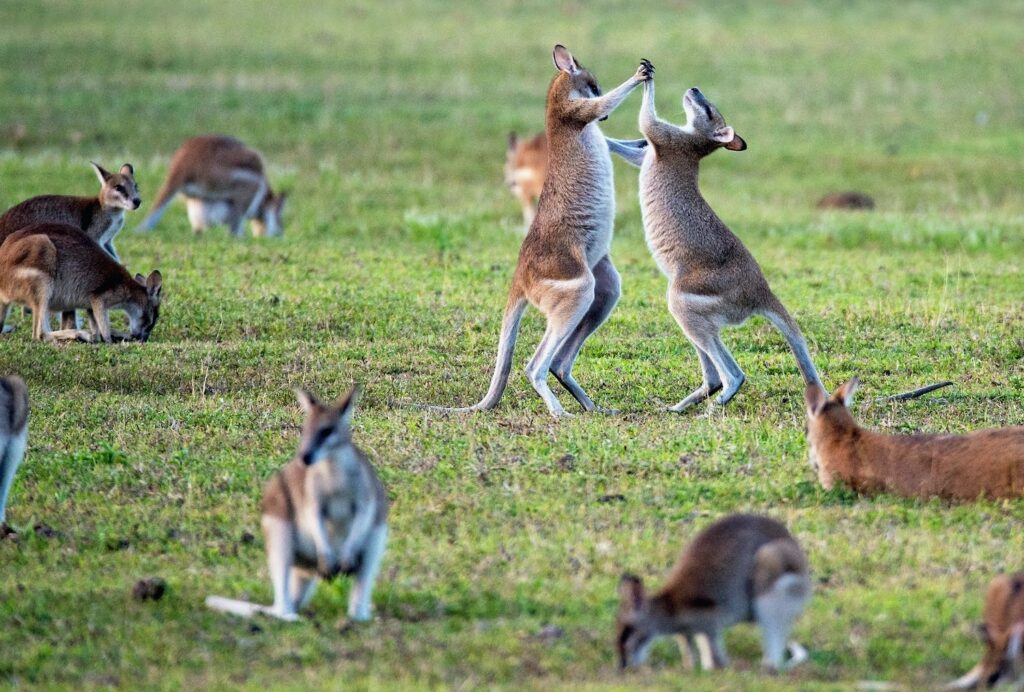 What are some of the most popular TikTok trends?
With so many people following and posting on TikTok, it's no wonder that there are some challenges, video themes, templates, special effects, and background songs that blow up on TikTok and become TikTok trends that everyone uses for weeks or months to come until they get tired of them and move on to the next ones on the list. 
So what TikTok trends have people been fond of in 2022? Of course, there are plenty to go through, so this article does not cover all of them, but we'll check out some of the most interesting trending TikToks.
15 Popular TikTok Trends of 2022
Here are some of the most popular TikTok trends of 2022, in no particular order:
Dance Challenges
Would it even be a list of most popular TikTok trends without some sort of dancing? As I've already mentioned in our article on the most-followed TikTok accounts, dancing is the first thing I think about when I hear the word TikTok. There is a whole lot of dancing on TikTok, but some of it is pretty advanced and hard to break down. Dance challenges and tutorials are meant to make it easier to follow, with some type of instructions, and sometimes they are also more simple dances so that more people can do them. For example, this TikTok uses emojis to indicate the moves in sequence and the number of repetitions that need to be performed:
This one has no instructions, but it features a popular song on TikTok right now, which is a medley remix of "Toxic" by Britney Spears with "Pony" by Ginuwine.
---
Glow-Ups
Glow-ups are very popular right now, and they are essentially before & afters of someone losing weight, going through beautifying treatments, hair, make-up, and body transformations that make them look like an improved version of their previous selves. Or what society typically thinks is an improved (visual) version of themselves. For instance, this first guy loses a lot of weight, gets into shape, and changes his hair to discover a chiseled version of himself that would be considered more attractive by most people:
The next glow-up isn't as shocking, but it's pretty impressive, and it goes to show how much better a guy can look if he takes just a little care of himself. Just a little bit of hair styling, fixing eyebrows, a bit of concealer, and very minimal make-up, and he looks like a different man:
Even celebrities have glow-ups sometimes, like Rebel Wilson, who lost a lot of weight. I believe she was very beautiful before as well, but what's important is that she feels good about herself and in her own body. What everyone else thinks really doesn't matter.
---
Trust the Process
"Trust the process" is kind of in the same vein as the glow-up trend, and it sometimes even involves glow-ups, but it can be whatever you want it to be. When you're creating an art project, putting on make-up, doing your hair, decorating your home, etc., things can look quite doubtful or even bad for a while before they start looking good, but you just have to trust the process. It takes time to create a beautiful work of art, and people might have their doubts and questions while you're creating it, but if they trust the process, they will witness something spectacular, like with this piece of art:
This guy's pep talk describes perfectly why you should trust the process and stop doubting yourself. His TikTok is all about pep talks, so check him out if you need someone positive in your life:
And sometimes even a hack requires you to trust the process:
---
I Am a Blessing
And if we're talking about pep talks, the "I Am a Blessing" trend falls perfectly into that. TikTok creator shaelovve created a TikTok where she talks about how she just did her make-up and she's just feeling herself and considers herself a blessing. Selena Gomez then used the sound, which suits her perfectly, and it obviously went viral.
---
Dumb Beauty Trends
TikTok is full of beauty trends that are questionable, to say the least, and that's what the dumb beauty TikTok trend is all about. TikTok creators voice their opinions on some of the beauty trends they see on TikTok:
And since 5-Minute Crafts is the ruler of dumb hacks and beauty tips, there had to be a video reacting to those:
---
Google Earth
This next one is a little different. There are TikTok accounts that have been created to remark some weird things discovered while exploring Google Maps and its Google Earth street view function. Some of them are really creepy, scary, and downright "wtf" moments, like these ones:
---
Niche TikTok
As any other major social media platform like YouTube or Instagram, TikTok also has niche content to cater to people's various interests and hobbies. If you're interested in a certain subject and want to see more videos on that topic, try looking for your topic combined with the word "tok", such as cleantok, planttok, or gymtok. You'll find a world of cleaning, plant, and exercise-related videos, respectively. Here are some videos from these categories:
---
No, Thanks
This trend spun to life from one of Kourtney Kardashian's audios, where she says "no, thanks" when offered a hug. Just imagine having the audacity to say "no, thanks" in life to all kinds of situations that you're not comfortable with, but you participate in or say yes to due to proper social conduct and embarrassment to say "no". Well, even if you can't do it in real life, at least you can do it on TikTok.
---
This Is So Cringe
This trend is set by another Kardashian sound, this time Kim Kardashian's from when she was on SNL and played in a skit where she was the judge. At one point she goes "ew, cringe", slams the gravel on the desk, and declares them guilty of being cringy. As you can imagine, there are so many cringeworthy moments in life that this sound could be applied, and TikTokkers definitely took on the challenge.
---
Tell Me Without Telling Me
In this trend, TikTok users challenge other creators to "tell" something without actually saying the words, but rather demonstrating it. For example, if you say "tell me you're stupid without actually telling me you're stupid", you would have to show an example or share a story of you doing something stupid without actually saying you're stupid.
This is definitely one of the most popular trends on TikTok, and since it's not tied to a particular topic, it seems to be here to stay for a long time.
---
Thrift Flip
Another trend that blew up on TikTok is the thrift flip trend, where creators show their second-hand clothes and the new pieces they manage to create from them. TikTok users love this trend because, first of all, it's so cool to see how talented people are and what beautiful clothing pieces they manage to create from old and even ugly clothes, and second of all, it encourages thrifting, which is a much more sustainable option to buying new clothes. Or maybe that's the reason I love it. Every new thing produced, including clothing, consumes a lot of new resources, and at the rate we're consuming clothes right now, fashion is one of the biggest polluters on the planet, so it's lovely to see second-hand shopping encouraged on TikTok.
---
Learn on TikTok
TikTok is not just for fun, it is a vast resource of learning as well. TikTok users can learn about almost everything under the sun, from towel folding tricks to how to take care of your skin and hair, and many things in between. Of course, some things are best taken with a grain of salt and you should double-check any health advice before proceeding with the tips shown in the videos.
---
The Silhouette Challenge
The silhouette challenge is a sexy challenge that consists of girls going about their day in normal clothes like sweatpants and messy hair, maybe no make-up, and then changing to a sexy pose that shows off just their frame and provocative moves against a red-lit background, usually in a doorway. Even celebrities like Cardi B and Iggy Azalea jumped on the trend. A word of caution: there have been some concerns over people being able to remove the filter and see the women's bodies. While that's not totally true, as the filter is embedded in the clip once the video is posted and not possible to remove, there are tutorials going around on how to increase exposure and brightness to cancel out the red, so maybe do wear some tight-fitting clothes if you decide to use the filter, just in case.
---
I Understood the Assignment
The "I Understood the Assignment" trend, playing to the tune "The Assignment" by Tay Money, shows people who understood what they're supposed to do, hence they understood the assignment. For instance, an Amazon delivery guy understands not to leave the package out in the open when he sees a doormat reading "Hide packages from my husband", and a girl understands to get in as much education as possible when her parents say they'll support her all throughout her school years, so she goes to med school and all else that entails.
---
Bones or No Bones Day
Okay, this is probably one of the cutest trends on TikTok. TikTok user jongraz (Jonathan Graziano) regularly posts videos of his 13-year-old pug Noodle where he props him up in the morning to see whether or not he "has bones" that day, or if he falls back down, which supposedly predicts if people will have a good day, or if they need to take a more chill approach to their day and not try anything too daring or risky. It's kind of a new type of daily horoscope, and millions of people love it and swear by it. A no bones day doesn't necessarily mean you'll have a bad day, it just means you need to take it slower, maybe have a self-care day, and I love the positive messages Jonathan promotes with this trend.
I hope you've enjoyed these popular TikTok trends I've selected for this article. Don't forget to share the fun with all of your friends! 🙂
See also: What is the most popular TikTok meme?