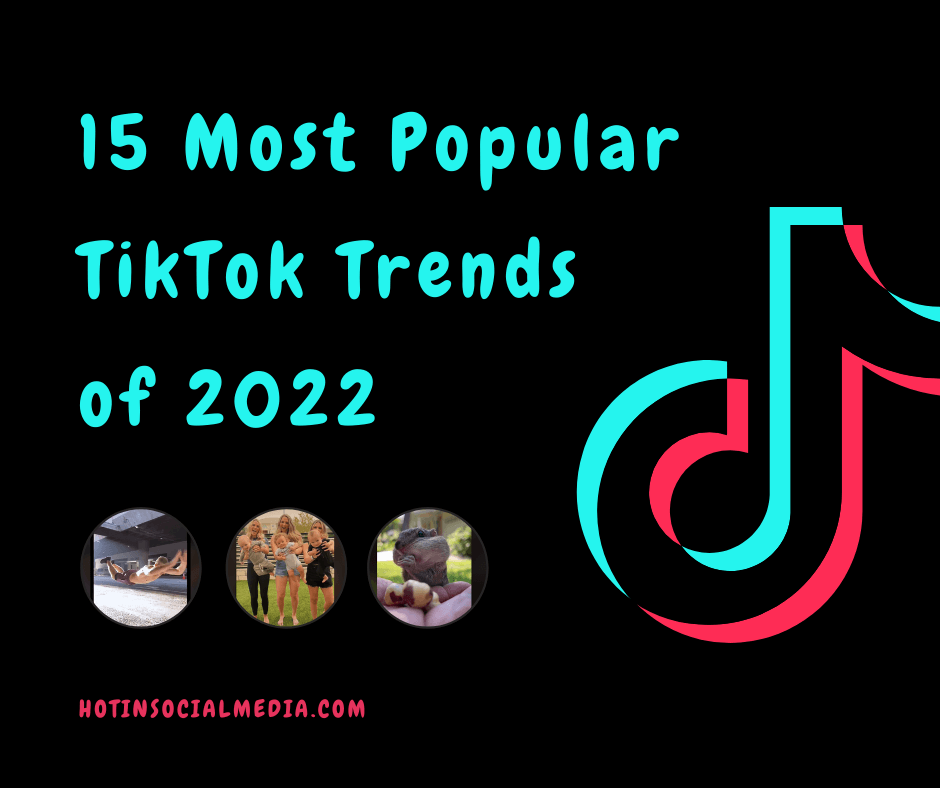 This article has been updated for accuracy with the latest information on January 16, 2022.
A few weeks ago we talked about the top 20 most liked TikToks, but what are some of the most popular TikTok trends? 
With so many people following and posting on TikTok, it's no wonder that there are some challenges, video themes, special effects and background songs that blow up on TikTok and become TikTok trends that everyone uses for weeks or months to come until they get tired of them and move on to the next ones on the list.
So what TikTok trends have people been fond of in 2022? Of course there are plenty to go through, so this article is not intended to cover all of them, but we'll check out some of the most interesting trending TikToks.
15 Popular TikTok Trends of 2022
Here are some of the most popular TikTok trends of 2022, in no particular order:
Zoom Meeting Mishaps
With more and more people working and studying from home, Zoom has become part of most of everyone's lives over these last two years, so it only makes sense there were quite a few incidents of people forgetting to turn off their cameras or mics, falling asleep, getting caught off-guard and in awkward situations. And TikTok users love to post about these incidents, because we can all relate to many of these. One of the most popular ones is posted by @thiswellplannedlife, where she doesn't know her camera is on and keeps making exasperated hand gestures for the other person to hurry up and wrap it up:
Another cool one is this Zoom meeting prank that you can pull on your coworkers or classmates:
But the funniest ones are still the ones where people don't know their camera is on, like this teacher who showed up without his pants on and saying naughty things to his significant other without knowing he was being watched and listened to by his students. TikTok users just loved this one:
Dating in your…
This trend was started by @jamiejukesuk when he posted a video where he showcases the struggles of dating in your 30's to the tune of "It's the Hard Knock Life", acting like each of those issues is knocking him to the ground:
But many women feel like they're facing the same struggles men do, just in their 20's, as opposed to guys who are often more ready to settle in their 30's:
This trend and song were then used to showcase other life struggles, not just around dating. For instance, Allison Rochell shows the struggles of being married to an NFL player:
And @myteacherface showcases how society is trying to pressure women who don't want to have children into having children:
Videos Living in Your Head Rent-Free
At the end of 2020, popular TikToker Jess Marciante posted a viral challenge asking the question "What's a video that lives in your head rent-free?". The responses that followed were hilarious, like this video of a fan finding out she's going to meet her favorite celebrity on Ellen:
Or this epic soccer sketch created by Studio C:
And sometimes it's beautiful emotional songs that get stuck in our head rent-free, like this rendition of "Creep" by Radiohead that contestant Vincint Cannady sang in the first season of the singing competition "The Four":
Tell Me Without Telling Me
In this trend, TikTok users challenge other creators to "tell" something without actually saying the words, but rather demonstrating it. For example, if you say "tell me you're stupid without actually telling me you're stupid", you would have to show an example or share a story of you doing something stupid without actually saying you're stupid.
This is definitely one of the most popular trends on TikTok, and since it's not tied to a particular topic, it seems to be here to stay for a long time.
Good Soup
This whole trend revolves around a sound from the TV show "Girls", where Adam Driver takes a spoonful of what apparently is a very good soup:
TikTok users adopted the sound and used it in very creative ways:
He, He, He
Many TikTokers are using this popular sound created by @tdenning to create funny videos that show people expecting something and not getting it, or recreating funny incidents:
Mama Said That It Was OK
TikTokers love this trend to the popular tune "Mama Said" by Lukas Graham because it encourages people to keep an open mind, mind their own business and stop judging others for not fitting into "normal" society standards and expectations. If mama said that it was OK, it's okay, that's the general gist of it. And I wholeheartedly agree and love this trend as well.
And of course, Lukas Graham posted a video himself to showcase the trend:
As well as Taylor Swift:
And other popular TikTokers:
Sheeeshhh
This is one of the weirdest sounds on TikTok, but it's also very funny. TikTok users love to use it especially to brag or lift other people up. For example, there are quite a few TikToks of people in their 30's or 40's showing off their pantry or something like that to their friends:
Thrift Flip
Another trend that blew up on TikTok is the thrift flip trend, where creators show their second-hand clothes and the new pieces they manage to create from them. TikTok users love this trend because, first of all, it's so cool to see how talented people are and what beautiful clothing pieces they manage to create from old and even ugly clothes, and second of all, it encourages thrifting, which is a much more sustainable option to buying new clothes. Or maybe that's the reason I love it. Every new thing produced, including clothing, consumes a lot of new resources, and at the rate we're consuming clothes right now, fashion is one of the biggest polluters on the planet, so it's lovely to see second-hand shopping encouraged on TikTok.
Learn on TikTok
TikTok is not just for fun, it is a vast resource of learning as well. TikTok users can learn about almost everything under the sun, from towel folding tricks to how to take care of your skin and hair, and many things in between. Of course, some things are best taken with a grain of salt and you should double-check any health advice before proceeding with the tips shown in the videos.
White Girl Dance
The white girl dance trend blew up on TikTok in 2021 and is one of the most wholesome and accurate trends I've ever seen. It portrays a typical white girl dancing to the beat drop in "How Deep Is Your Love" by Calvin Harris & Disciples, and I swear there's just something about that beat that makes white girls, and not only, dance in a certain carefree style that is adorable and so much fun! TikTok lovers loved this trend so much, you can just tell how much fun they're having with it.
The Fake Window Challenge
The fake window challenge had TikTok users buying projectors to display fake window views of beautiful places on their walls. It was the perfect 2021 trend to capitalize on our need to travel and our inability to do so because of the pandemic. With the help of a projector, you could have it all at home: beautiful beaches, rainforests, mountain views and city views right there on your walls. And it looks so realistic!
The Silhouette Challenge
The silhouette challenge is a sexy challenge that consists of girls going about their day in normal clothes like sweatpants and messy hair, maybe no make-up, and then changing to a sexy pose that shows off just their frame and provocative moves against a red-lit background, usually in a doorway. Even celebrities like Cardi B and Iggy Azalea jumped on the trend. A word of caution: there have been some concerns over people being able to remove the filter and seeing the women's bodies. While that's not totally true, as the filter is embedded in the clip once the video is posted and not possible to remove, there are tutorials going around on how to increase exposure and brightness to cancel out the red, so maybe do wear some tight-fitting clothes if you decide to use the filter, just in case.
I Understood the Assignment
The "I Understood the Assignment" trend, playing to the tune "The Assignment" by Tay Money, shows people who understood what they're supposed to do, hence they understood the assignment. For instance, an Amazon delivery guy understands not to leave the package out in the open when he sees a doormat reading "Hide packages from my husband", and a girl understands to get in as much education as possible when her parents say they'll support her all throughout her school years, so she goes to med school and all else that entails.
Bones or No Bones Day
Okay, this is probably one of the cutest trends on TikTok. TikTok user jongraz (Jonathan Graziano) regularly posts videos of his 13-year-old pug Noodle where he props him up in the morning to see whether or not he "has bones" that day, or if he falls back down, which supposedly predicts if people will have a good day, or if they need to take a more chill approach to their day and not try anything too daring or risky. It's kind of a new type of daily horoscope, and millions of people love it and swear by it. A no bones day doesn't necessarily mean you'll have a bad day, it just means you need to take it slower, maybe have a self-care day, and I love the positive messages Jonathan promotes with this trend.
I hope you've enjoyed these popular TikTok trends I've selected for this article. Don't forget to share the fun with all of your friends! 🙂