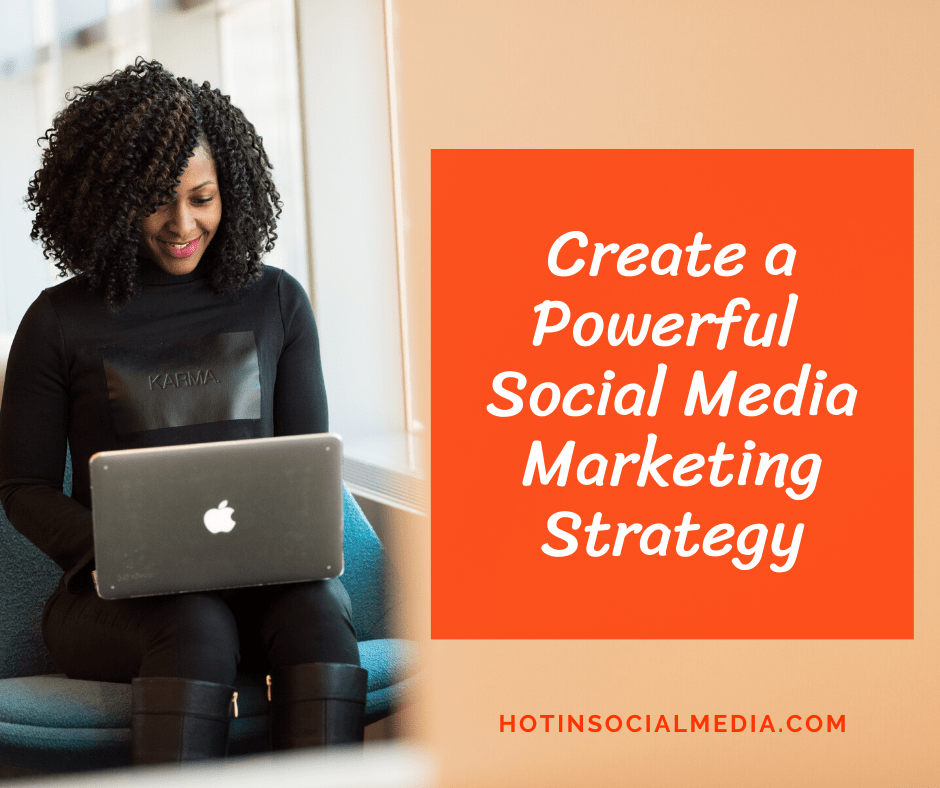 Social media platforms have amazing business potential. To be able to unlock it, you need a social media marketing strategy that's both tailored to your needs and successful.
Not sure how to create one?
We're here to help!
Social media's ability to drive revenue grows stronger every year.

In 2019, marketers generated a whopping $39B in revenue through social media – that's over $12B more compared to just 2016.
If you want a piece of that global ROI cake for yourself, you need a solid social media marketing strategy that will help you achieve your business objectives.

Here's how to create one in six easy steps.
Create a Powerful Social Media Marketing Strategy
1. Define your target audience
The very first step to creating a social media marketing strategy is defining who exactly you want to promote your business to.

It's likely that you already have a target customer group you want to reach – say, 30-year-old men interested in sports.

Now, you may either want to reach exactly the same customer segment on social media or aim to get your brand in front of completely new people.

If you're going for the latter, you need to ask yourself the following questions:

What are the demographics of the user group I'd like to reach? How old are they, where are they located, what language do they speak?
What are their interests and affinities?
What are their goals – both personal and professional?
What are their frustrations? What might they be lacking from the products or services offered by your competitors?
What brands and social media influencers do they follow on social media?
What social media platforms do they use on a daily basis?
Answering these questions will help you define your target audience persona, which is critical to building a tailored social media marketing strategy.

If you need help mapping out your audience persona, check out this free persona template from Socialbakers: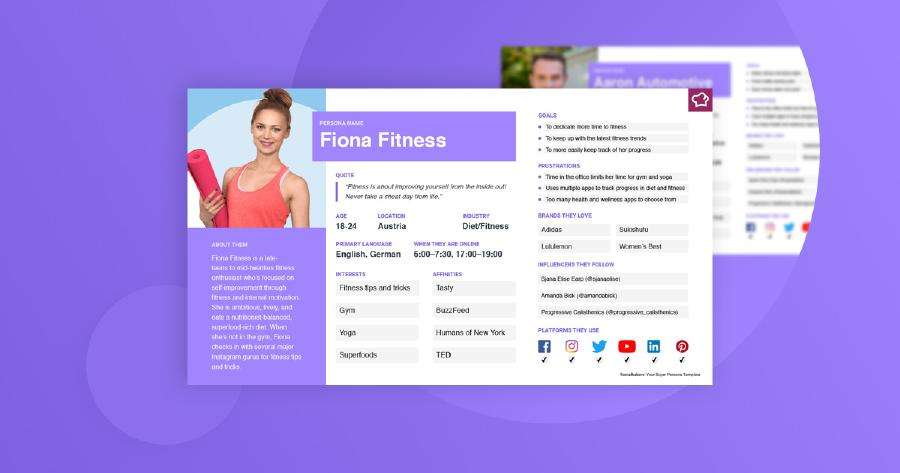 2. Outline your objectives and KPIs
Social media is a very universal marketing channel that can help you achieve all sorts of objectives.

It is important, though, that these objectives are aligned with your company goals and values.

For example, let's say your key goal for this year is increasing sales in your online store.

Social media can definitely help you get there, which means boosting sales is a sound social media marketing objective, correlating to your bigger business goals.

On the flipside, if you want to increase your online store sales, but center your social media marketing strategy around, say, employer branding, you'll end up losing money.

That's because in this particular case, social media won't be a functioning part of your marketing funnel and will fail to nurture users towards converting.

Once you line up your social media marketing and broader business goals, it's time to think of key performance indicators (KPIs).

These will help you measure just how effectively you're completing your social media marketing goals.
Depending on your objectives, you're going to measure different KPIs:

Objective: increasing brand awareness; KPIs: reach, follower growth, volume of website traffic and brand mentions
Objective: increasing audience engagement; KPIs: volume of likes, comments, and shares
Objective: increasing conversions; KPIs: volume of conversions from social media
As you can see, KPIs need to be aligned with your social media marketing objectives which, in turn, need to be in tune with your company goals and values.
It's critical that you map out these correlations at the very beginning. After all, they are the foundation of your social media marketing strategy, helping you make tactical decisions and measure your progress.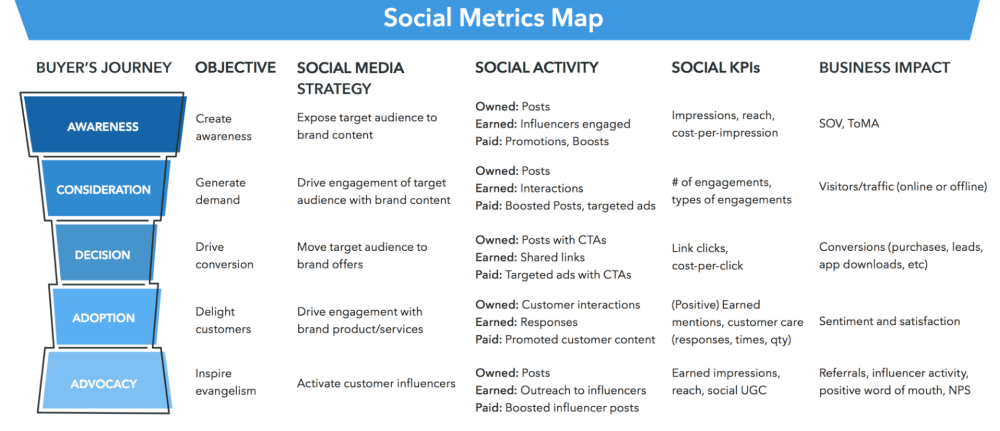 3. Choose the right platform
Many companies make the mistake of jumping in at the deep end and trying to build a presence across all social media platforms.

The key to success, however, isn't trying to be everywhere. It's strategically choosing a platform with the biggest potential to drive your business objectives.

So, how do you pick the right social media channel?

Start off by learning about the unique features of each platform – it will make creating a social media strategy a much easier process.
Here's a quick rundown of the biggest advantages of leveraging different social media channels:

Facebook: you're able to target very precise audience segments with your ads, which helps to increase conversion rate
Instagram: you can tap into the platform's visual-centric character and present your products or services in a visually appealing way
Twitter: you can include links in your tweets, which helps to improve website traffic
LinkedIn: you can build valuable connections with fellow professionals, improve credibility, and position your company as a thought-leader
Pinterest: you can easily convert users into buyers, as the platform is known for having an exceptionally high conversion rate
Snapchat: you can reach a massive, highly engaged audience of Millennials
As you can see, each social media channel will help you meet slightly different goals.
That's why it's so important that you take time to think of which platform will be best for your business. As a result, you will be able to give a clear direction to your social media marketing strategy, and invest your resources where it makes most sense.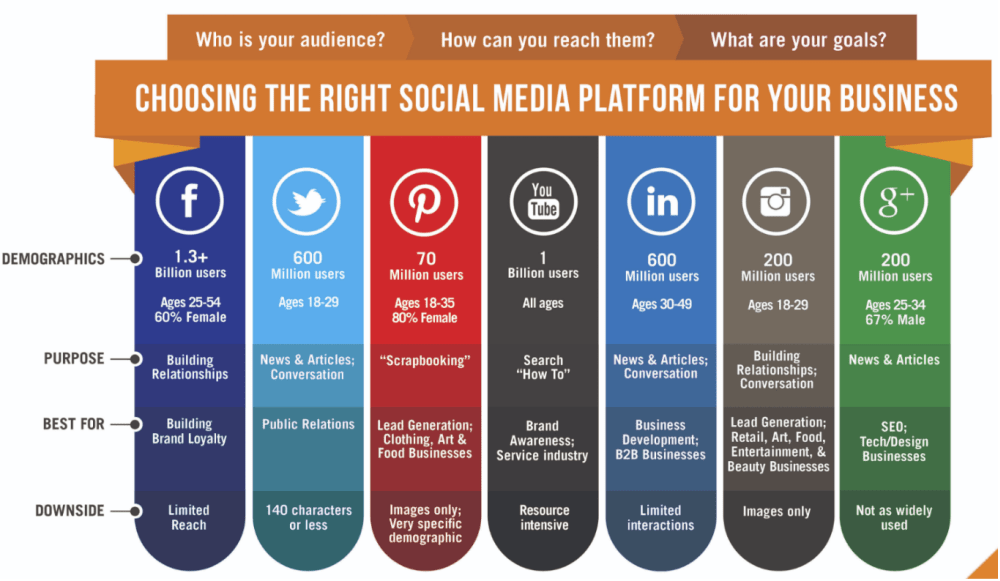 4. Create an effective content plan
Once you select your platform, it's time to think of developing a powerful content plan.

Again, instead of trying to utilize all available content formats, be smart about your strategy and focus on formats that work best on the platform of your choice.

Here's a little cheat sheet:

If you want to increase your shares (and chances of going viral!) through different content types, this handy infographic from BuzzSumo might help:
Now, you might be wondering what kind of content topics should become a part of your social media marketing strategy.

It all depends on your audience. At this point, you should revisit your audience persona template and use the information on your audience's demographics, interests, and behaviors to come up with relevant content ideas.

TIP: To make the most of every content piece you publish, make sure you post it at the optimal time: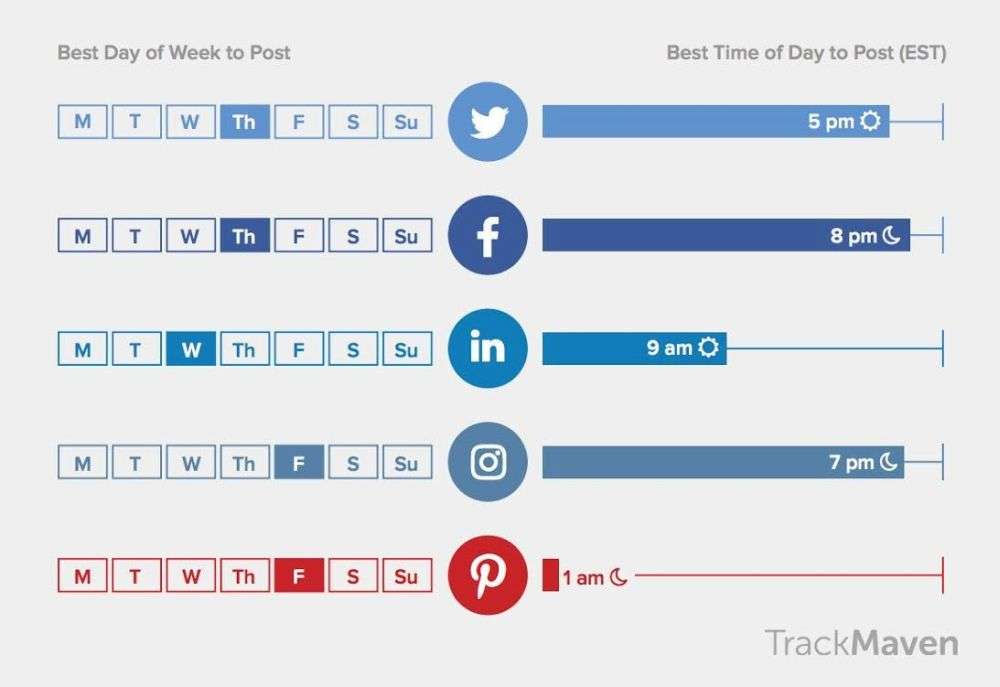 5. Pick the right social media management tool
Having access to comprehensive social media management tools is everything when it comes to making your social media marketing strategy effective.
The right tool, whether free or paid, will provide good measurement of the impact of your marketing activities. It will also enable you to easily publish to your social media channels, and provide top-notch customer service.
Here are three essential features you should look for in your social media management tool:
Social media analytics – Social media analytics will help you accurately measure your KPIs, such as engagement volume or follower growth, and track their evolution over time. A social media analytics tool is great for discovering your social media marketing strategy's strengths and weaknesses and highlighting what needs to be improved.
Social media publishing – A social media publishing tool is a major time-saver – especially if you're present at more than one platform. It allows you to see an aggregated view of your content and to distribute it to multiple channels from a single spot.
Social media community management – This feature is an absolute must-have in an era when so many customers take to social media to share their experience with a brand. To answer their questions and concerns and to develop positive relationships with your community, you need a tool that will allow you to interact with your audience across channels.
These three social media management tool features are great for starters. As your presence on social media expands, you might want to invest in more advanced tools, like the ones highlighted below:

6. Keep optimizing your social media marketing strategy
Here's a piece of bad news: creating a social media marketing strategy never really stops.
Why?
The world of social media marketing is constantly evolving. Social media platforms keep rolling out new features, users keep migrating between channels, and the competition between advertisers is only getting more intense.
As a marketer, you need to stay on top of all these changes and adapt to them ASAP.

This means that you'll have to regurarly revisit your social media marketing strategy and align it to the recent trends.

Did you spot a new content format your audience might like? Include it in your future content plan. Is there a new ad targeting option on Facebook? Try it – it might improve your conversions. Is your audience increasingly using Instagram, even though you're mostly present on Facebook? It might be time for you to start 'gramming more often.

These are some of the changes you'll most likely have to introduce to your strategy at some point.

Don't worry, though – adapting is an inherent part of social media marketing. It is also something that, if done right, can help you get ahead of the competition and shoot your marketing ROI to the sky.

The Takeaway

With the ever-growing marketing potential of social media platforms, there's only one thing for you to do – start building an effective social media marketing strategy.

We hope our article gave you more direction as to how to build one. If not, feel free to share your questions and comments – we'll be happy to help you further!

See also: 9 Ways to Boost Your Social Media Traffic Immediately