If you want your business to generate leads from LinkedIn, keep reading this article right until the end to discover useful tips and recommendations.
LinkedIn is one of the most underrated social networks when it comes to generating leads through B2B marketing. Many fail to realize its potential and how effective it can be at generating new leads for your company as well as building brand awareness.
So many believe it to simply be a recruiting tool and somewhere you would go to hire salesforce developer talent or your next marketing manager. They also consider it as being small compared to other platforms like Facebook and Twitter. There is also the misconception that you can only contact those people that you already personally know.
But LinkedIn is so much more than somewhere to store your resume and personal contacts. It is in fact one of the most effective social networks on which to conduct B2B lead generation.
In fact, if you look at the figures and reviews it is simply the number one place to generate your leads.
According to their own data, there are more than 630 million users on FB, of which around 10% are decision-makers. They also show data that around 80% of all generated leads through social media are coming from LinkedIn which makes this a prime target for all of your B2B marketing. They also generate a significant amount of brand awareness driving 46% of traffic to company websites.
When it comes to on-site advertising, LinkedIn claims a conversion rate that is three times higher than any other advertising platform. They also provide you with all of the tools that you need to keep track of and improve those ads.
Why Is LinkedIn So Effective For B2B Marketing?
It is the quality of those people that are on LinkedIn that makes it such an amazingly rich place for your efforts. The executives of every fortune 500 company are right there on LinkedIn along with some 10 million business profiles across more than 200 countries. 76% of these executives check the site every single day.
Of the 650 million users of LinkedIn around 75% have incomes in excess of $55k per year while 44% exceed $75k.
But it is not just the quality of the users that makes this such a great place for focussed marketing. It is your ability to really target your demographic. You are able to drill down and target very precise niches of people based on everything from their geographical location and job title through to schools and industry.
Generating Leads With LinkedIn
There are many different ways in which you can generate your leads through LinkedIn. However, you should sit back first and think about what you really want to achieve. Those marketers with a detailed plan get four times better results than those that simple "wing it!"
Your first point of call should be your page itself. This should not simply be a copy of your website saying the same things. If you are going to use LinkedIn to generate leads for your business then purpose build your page accordingly and link to your website, landing pages, and other online marketing tools.
Just as your salesforce developer must consider SEO for your e-commerce store, so must you consider SEO on your LinkedIn pages. You must ensure that your pages are searchable by those that may be looking for the specific products and services that your business is offering. This will help those that are actively looking for your offerings to find you.
Salesforce business development can help you with creating your commerce site to actually make those sales once you generate your leads. You can even use LinkedIn to find the right salesforce developer for hire to create your effective site. To earn their salesforce developer salary they will need to be able to use the Demandware platform to build you an effective site that you will be able to link to and drive those leads towards.
The salesforce commerce cloud is a great place to build your store but salesforce development is not going to drive the maximum amount of potential visits on its own. You need sites such as LinkedIn to generate that traffic so that your salesforce software engineer salary will not be wasted.
There are many different ways that you can generate leads through LinkedIn and the following are some of the best that you can link with your development salesforce to maximize the return that you get:
The Personal Approach To Generating Leads On LinkedIn
LinkedIn is a social media site, there are many groups that you can join as well as being able to publish all forms of content from videos to articles. All of these interactions have the ability to generate leads for you and your business if done with care.
Join groups that are relevant to what you are offering and where your expertise lays. Be active in those groups. This does not, however, mean taking every opportunity to try to sell your product and service. Take an active role in conversations and post relevant questions of your own to gain the trust of those that are in your groups. Even create groups of your own to better target what you do.
Publish content on a regular basis. Do not however simply post-sales style post. You want the majority of what you publish to engage with your audience and build their trust. Post about the industry in general, problems that people have in your field, case studies and other information that people will find genuinely interesting. If you constantly publish information that is blatantly about sales you will quickly lose the trust of those you are seeking to engage with.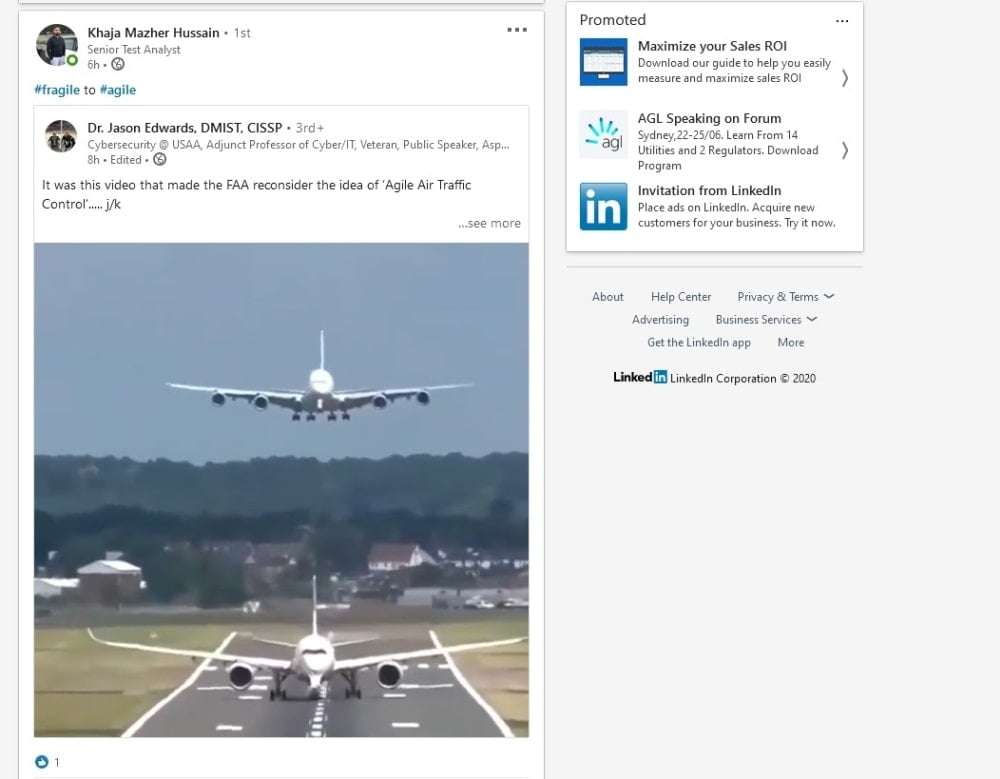 Include links and visuals, even use videos within your posts. This will ensure that you gain more shares through those that read what you publish as well as driving higher levels of engagement through your target audience.
The best days to post are Tuesday, Wednesday, and Thursday and you should consider posting around 8 am noon, or 6 pm in your audiences' time zone for the greatest effect.
Sponsored Content For A Wider Reach
Posts are generally seen by those within your network and your followers. If however, you wish to get your important post seen by more, then it is possible to promote the post so that it will be shown to all within your chosen demographic.
You will be able to target the specific type of people that you wish to target with regards to everything from educational level and job title through to their location. This allows you to get seen by people that would otherwise not be within your network on the site.
Use InMail On LinkedIn To Target Your Audience
Directly mailing could be seen as spam, so do take care with how you word any mail that will be sent to people in your chosen demographic. Do not however worry about users being inundated with unsolicited messages through this linked in service as they automatically limit the number of messages a user can receive so that they do not appear as being spam.
LinkedIn message ads are a great way to get directly to people that are not already in your network and to encourage them to engage with you. The interface for sending the mail is very simple and intuitive to use so you will have no problems with using it. This service is available to premium members of the site.
For those that wish to take advantage of any offers that you may have or request additional information, LinkedIn provides you with a lead generation form. This is automatically filled with the required information directly from the respondents profile so that they don't have to type in masses of information to get back to you.
Using LinkedIn Ads
LinkedIn provides you with a number of different ways to create ads that will be targeted to your audience. As with all other things on LinkedIn you can laser-target who you want to see your ads from development salesforce engineers through to quality managers in the automotive industry.
Initial costs do at first glance appear to be a little higher than some other platforms however, the targeting and the more engaging nature of your audience actually result in a lower cost per engagement.
Ads can be purchased on a per thousand views basis (CPM) or per click (CPC) depending on the form of campaign you are looking to run. There are no fixed prices for ads. They are auctioned and you will compete against others to target your chosen audience.
Are You Using LinkedIn For Your B2B Marketing?
Quickly reaching the precise people who would be interested in your services is the greatest benefit that LinkedIn offers to its users. With a highly active and engaged membership, it is already seen by the majority of B2B marketers as being the place to go to for leads.
LinkedIn provides many routes to engage your audience and to generate those leads as well as clear advice as to how to use those methods effectively. Ignore LinkedIn as a source of quality leads at your peril, you can be sure that your competitors will be using it.
See also: Best LinkedIn Tools for Boosting Sales