In a world where short-format content is gaining more and more traction and when more and more people are creating TikTok accounts, the newest social media network that is a rising star comes at help during the pandemic time.
When it comes to making a good impact on society, TikTok users are doing it through challenges that apply to people all over the world: from inventing songs about the virus, to challenges on how to correctly wash your hands and what to do in order not to touch your face, to clapping and singing for the healthcare workers and everyone that still make the world function, users of the social network have gained popularity even on TV for sharing their stories.
So after the community gave back to the community, it was high time for TikTok to give back to the community and they are doing so by (also) introducing the TikTok donations sticker in the app. 
Let's see more about it!
TikTok Donation Sticker
As many of the other social networks already offered the possibility to donate through the app to a charity you admire or want to support, it was time for TikTok to do the same.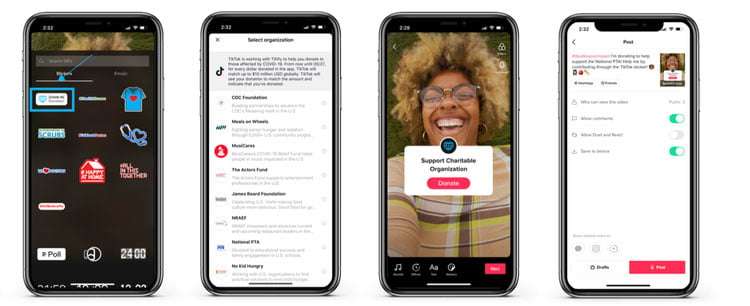 So recently, they have introduced the TikTok donation sticker, which can be added both to videos and to live streams as well, just as you do with all the other creative effects you use on your content.
Once a viewer sees the sticker and wants to check out more, he or she just has to tap on it and if he / she wants, they can directly make a donation to the charity you have chosen, without leaving the app. 
The donations are managed by Tiltify, a charitable fundraising platform that processes the payments securely.
Until May 27, TikTok will match the donations made by the users in an attempt to help communities that are the most impacted by the pandemic. A hashtag called #doubleyourimpact will automatically appear on videos and live streams until the date.
How to add a TikTok donation sticker
Record and upload your video or start your live stream.
In the edit page tap on the Covid-19 sticker.
Place it on your video or live stream.
Caption and hit post or go live. The #doubleyourimpact will automatically appear on the screen.
Do good and stay safe!
See also: Can you put links in TikTok?