In the pandemic time, when almost everyone is staying and working at and from home, Facebook comes at help offering new video features in order for its users to keep in touch.
Here are the novelties that Facebook brings to its products:
1. Messenger Rooms
With the uprising of Zoom (and some security breaches there) and the massive use of Skype, Facebook has released Messenger Rooms, maybe the most awaited feature of them all.
We all have large groups of friends or colleagues that we want to keep in touch with or hold meetings with.
What's different from the other platforms that offer the same features?
First of all, you don't have to create a meeting room beforehand, it can easily be done ad hoc. The active rooms that your friends or people you follow on Facebook will appear on top of the newsfeed and stories on mobile.
Second of all, there will be discussion lists and you can join whichever suits your needs at the time you see them.
Up to 50 people can join a Messenger Room at a time and there is no time limit for how long it should last.
Of course, there is the possibility to also set up a Meeting Room beforehand if it is a company meeting, for example, or if you like to have things planned ahead.
You can spread your Messenger Room throughout other Facebook apps such as WhatsApp for example and also share your link with people that don't have a Facebook account.
2. Bigger group calls for WhatsApp and Messenger
If until now the maximum number of people to join a video call was 4, Facebook has made it possible for up to 8 people to join a WhatsApp video call at the same time.
And for Messenger, you can create a video call for up to 50 people, but only 6 of them will have the video option on, as the other can participate in audio.
Also for Messenger, Facebook is adding 360 backgrounds to show during a call, if you don't want others to see how your home looks like.
3. Invite people to a virtual date on Facebook Dating
As Facebook Dating has been launched and now people can't meet in person because of the lockdown, Facebook has added the possibility to invite the ones you matched with into video calls to see each other almost live.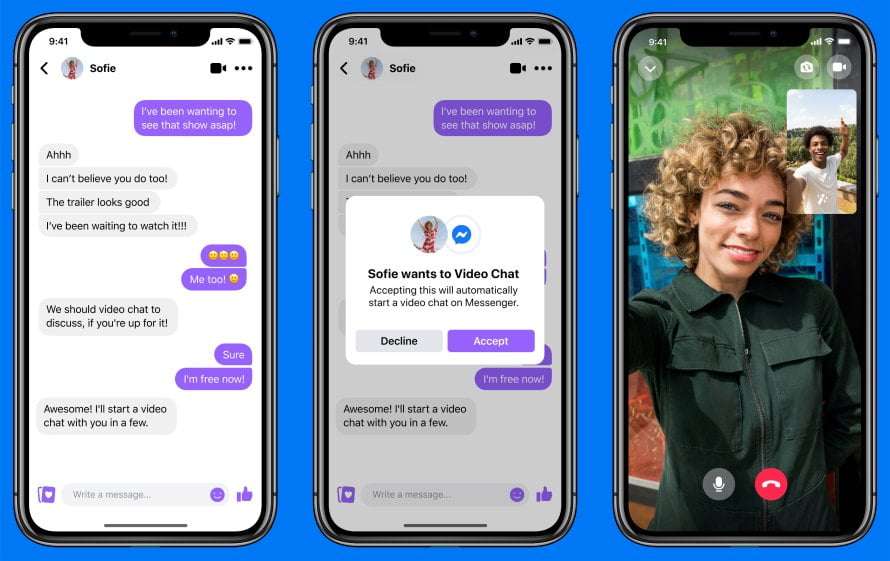 4. Guests in Live Videos
Last December, without knowing what's to come, Facebook has ditched the possibility to have a guest in your live videos, but now they are revamping it.
Also available for having guests in your live videos, but for Instagram this time, you can stream a live video and add a guest from your PC or laptop, meaning from the desktop version of Instagram. 
5. Online Events with Live
The world of events has also changed during the last months and many of them have been canceled or postponed.
Facebook comes at help and is trying to discover ways for businesses and institutions to hold events online and live. And maybe also the possibility to charge a fee for the steaming.
For now, not all the features are available for Pages as well, but they might be in the near future – especially the events side of the story.
And also, not all the features are already public, as some of them are being tested with small groups of people to give feedback and improve them before the big launch.
All we hope is to see all them implemented soon, as they can bring much help to those in need in the time of the pandemic.
What's your take on the additions made to the video side of Facebook's products?
See also: Messenger Desktop For MacOS and Windows