Whether you're a seasoned social media marketer or a novice, there's one thing you absolutely need to know: social media best practices.
Being aware of the do's and don'ts of social media marketing is essential to meeting your business objectives. Plus, it will make your decision-making process a whole lot easier! 
To help you manage your social media channels in the best way possible, we compiled a list of 13 top social media best practices.
13 Social Media Best Practices For Marketers
1. Play to social media platforms' unique strengths
Before you map out your social media marketing strategy, consider the advantages of each platform.
For instance, Facebook has a particularly high conversion rate, meaning it's a great channel to drive sales. Instagram, on the other hand, is where users interact with content most often, which makes it a perfect spot to engage with your community.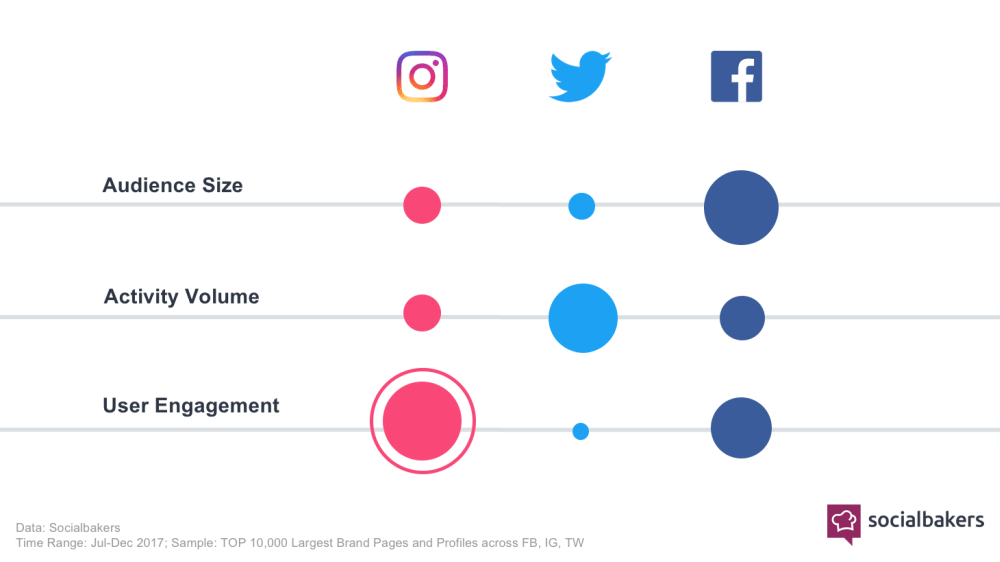 Knowing the unique strengths of each platform will enable you to pick the right channel and tailor your marketing strategy to drive the desired results.
2. Engage with your audience on a regular basis
Speaking of engaging your communities, it's super important that you interact with your audiences. And we don't mean one-off comment replies, but a consistent, frequent, and relevant conversation.
In an era when 70% of consumers use social media for customer service, you simply can't afford to stay silent. Carve out some time every day to reach out to your followers and address their questions and issues – it will surely pay off!
3. A/B test different elements of your strategy
A/B testing is one of the most important social media best practices you should follow.
Why?

It allows you to find out what works, and eliminate what doesn't.
For example, imagine you publish an organic Facebook post promoting your latest blog post. By A/B testing different description texts and images, you'll be able to pinpoint elements that are most effective in driving clicks to your web.
The same holds true for paid ads – only this time, stakes are higher, as you want to identify ads most worthy of your budget. Split testing different ad sets or audience groups will help you learn where exactly you should invest your money and optimize your advertising strategy.
4. Cross-promote your social media profiles
Believe it or not, your audience might not be aware of your presence across multiple platforms. That's why you should cross-promote your social media profiles and encourage people to follow you on different channels.
5. Know the optimal publishing time
If you want to make the most of your content, you need to know when to publish it.
Posting at an optimal time is key to boosting your visibility, engagement, and web traffic.
If you're not sure when exactly you should be putting your posts out there, don't worry! This cheat sheet will help: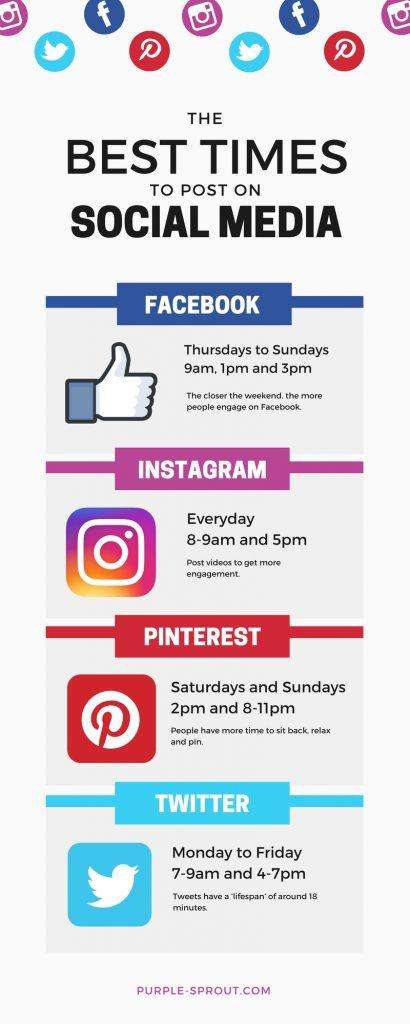 6. Round up essential content creation tools
Content creation is one of the most time-consuming elements of the social media management process. To simplify it and speed up your content workflow, you need to know some extra-helpful, must-have tools:
Socialbakers Content Inspiration – skip manual research and get loads of ideas for amazing content in seconds from a library of top social media posts
Google Docs – easily create and edit social media copy, and share it with your teammates in a single click
Canva – create stunning visuals for your social media visuals from scratch or using pre-set templates
Renderforest – create engaging social media videos perfectly aligned with your brand style
Content Cory – manage all your social media posts using this highly visual, easy-to-use editorial calendar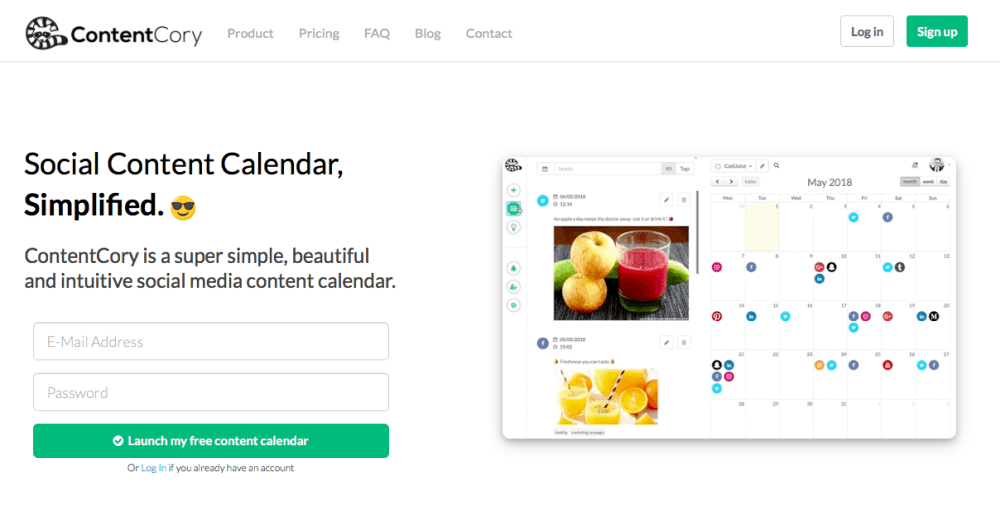 7. Curate content for your social media channels
Number seven on our list of social media marketing best practices is curating content.
As we said before, creating content can be tedious – which is why you should weave curation into your content strategy.
How to curate content in the right way?

First of all, make sure that the content you selected is aligned with your audience's interests. Secondly, verify that it comes from a reliable source. Finally, adjust it to fit in with the rest of your posts – for example, by creating branded visuals or description text.
Not sure where to find content to curate? Try Scoop.it, Quora or Feedly – all these platforms are major mines of content gems you can share with your community.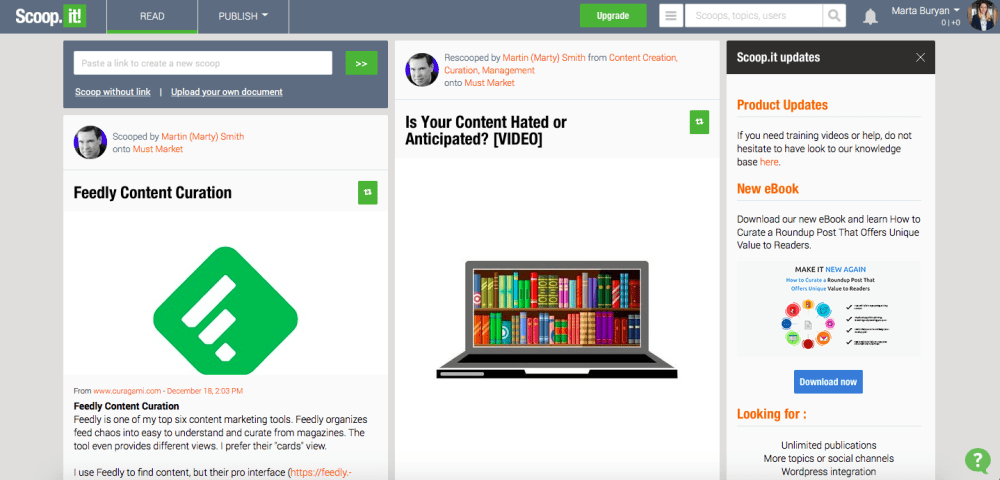 8. Tap into social media listening
Using social media listening is critical for any digital marketer.
Why?
Listening allows you to gain valuable information that no other tool provides. It shows you what people are saying about your brand and how they're responding to your campaigns, which helps steer your marketing strategy in the right direction.
In addition, social media listening is an effective crisis detector. By monitoring people's opinions, you can easily spot upcoming crises and curb them before they catch on.
9. Develop a crisis management plan
While we're on the subject of social media crises, let's zoom in on one must-follow social media best practice – developing a crisis management plan.
We know it might be hard to believe, but crises affect all brands advertising on social media. Whether it's a negative review, a complaint sent via a direct message or an angry post, customers often vent their frustration on social media, and you need to be ready for it.
That's why it's critical that you develop a crisis management plan in advance. Decide who in your company should handle different types of crises, what tone of voice you should use, and what steps you can take to alleviate the situation.
This way, when a crisis hits, you'll be able to handle it in an organized, professional manner.
10. Invest in social media ads
To make the most of your social media presence, you need to invest in social media ads.
That's because social media is an incredibly effective advertising channel. Over 50% of marketers claim that they were able to increase traffic, generate leads, and boost sales thanks to promoting their business on social platforms.
Advertising on social media is also relatively cheap compared to other channels. According to Lyfe Marketing, the cost of reaching 1,000 people through social media is as low as $2.50 – that's over 11x less than TV advertising and 6x than newspaper advertising.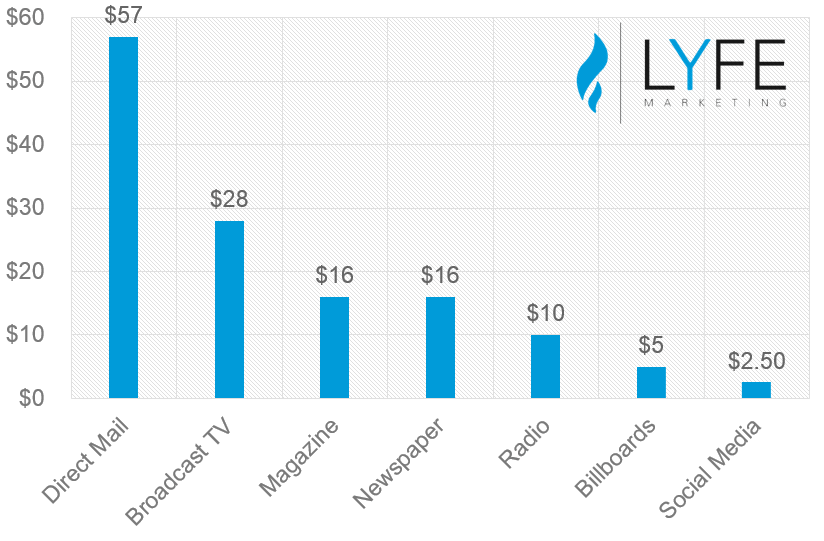 So, if you want to get the best value for your advertising money, social media is the way to go.
11. Keep an eye on the competition
Another must-know point on our list of top social media best practices is keeping tabs on the competition.
Watching what other companies are doing on social media is a great way to discover new tactics you should try and mistakes you should avoid – totally risk-free!
Just think about it: your competitors are most likely targeting the same audience segments as you are. Whether they manage to reach and engage those users or not, there's always something you can learn from their strategy.
Here are five of your competitors' metrics you should regularly check up on:
Engagement volume
Follower growth
Types of content
Posting frequency
Volume and topic of user posts
12. Keep it authentic
Many businesses make the mistake of building a cookie-cutter content strategy, centered around buzzwords and content identical to what everyone else in the industry is posting.
Let us just say this: cookie-cutter content is not what your audience wants.
These days, to grasp users' attention and cut through the noise, you need to be authentic and show the real face of your brand.
What does it mean in practice?
In a nutshell, it's all about interesting, creative ways of presenting your business (for example showing the behind-the-scenes) and engaging in conversations with your audience. Make these an inherent part of your strategy, and we guarantee you'll see results!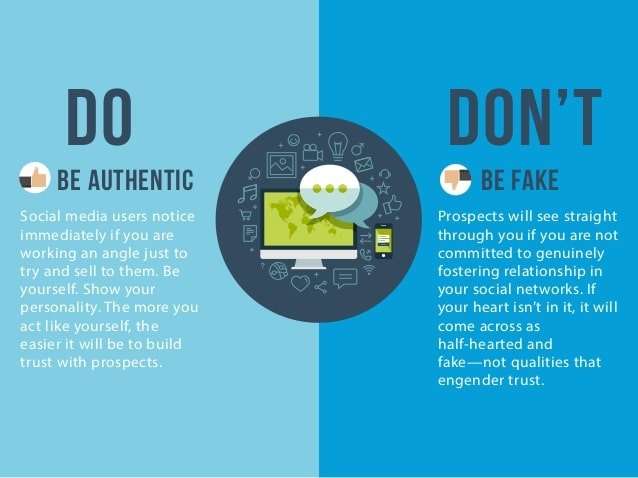 13. Stay up to date with industry news
If you want to be a successful marketer, there's one thing you have to include in your daily routine: checking industry news.
Wondering why?
The social media landscape is constantly evolving – platforms keep rolling up updates, new channels are emerging, and consumer's behavior changes. By staying on top of these trends, you can make timely decisions and adjust your strategy when needed.
If you're not sure how exactly you should stay up-to-date with industry news, we recommend regularly checking out the following publications:
The Takeaway
Building a social media presence might be difficult to navigate – but not if you know the top social media best practices!
We hope that our list helped you understand what it takes to make managing social media both easy and effective.
And because we're constantly on the lookout for more hands-on tips, feel free to share your ideas in the comment section below!
See also: Free Social Media Counter Tool