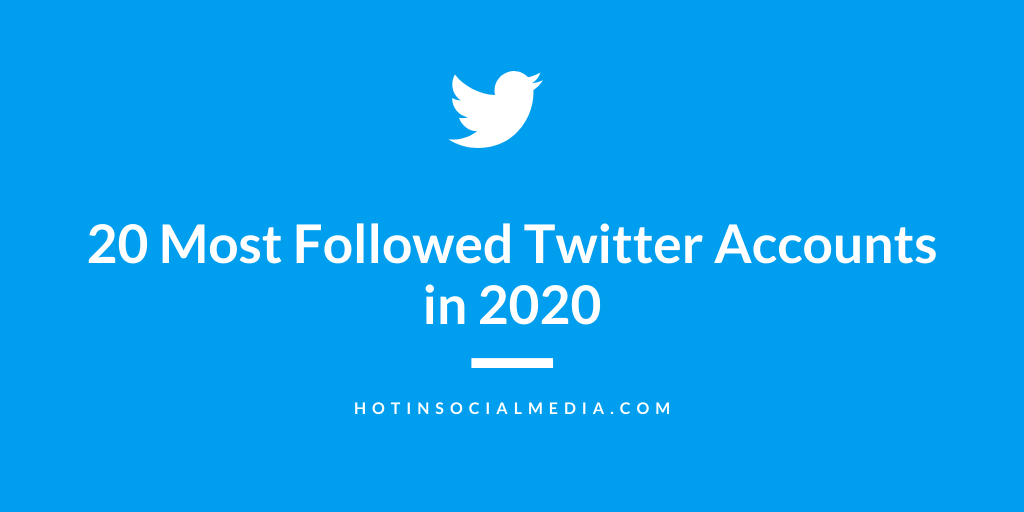 Seven years ago we wrote a blog post on the 10 accounts with most Twitter followers at the time. It was our first blog post on Hot in Social Media, so we figured it was about time we revisited it and refreshed it with new information.
And because it's 2020, we're going to include 20 of the most followed Twitter accounts currently and take a look at how they compare to 7 years ago.
But first, let's see how Twitter is doing compared to 2012.
Twitter had 151 million monthly active users in the second quarter of 2012 compared to 330 million in the first quarter of 2019, which is when Twitter last reported their number of monthly active users.
According to Twitter, the new key metric to be monitored from now on will be the monetizable daily active users.
And things don't seem to be looking too shabby for them in that department.
Although Twitter had seen a 4% drop in the number of users from 2017 to 2019, as I mentioned in this article about the most interesting social media findings of 2019, 2020 is a whole different story.
With everyone being glued to their screens more than ever due to the COVID-19 pandemic, it's no surprise that Twitter saw a huge quarterly jump of 14% in the number of people they can reach through advertising. And with all the other atrocities going on in the world this year, the number of people going to Twitter for news and information on protests will most likely keep the platform going steady, if not create an even bigger increase by next quarter.
But let's get to the point and see what are the most famous Twitter accounts and how they compare to the first ten ones in 2012.
List of Most Followed Twitter Accounts in 2020
Who is at number one? Who is the most followed person on Twitter?
1. Barack Obama – 120 million followers
The person with the highest Twitter follower count is former US President Barack Obama. And it's no surprise since he was such a charismatic two-term President, but he's gained quite a lot in popularity since 2012. Although he was still on the list of most followed Twitter accounts at number 6, his follower base skyrocketed from 17.4 to 119.9 million followers. Just nearly 100 million difference, no biggie!
2. Justin Bieber – 112 million followers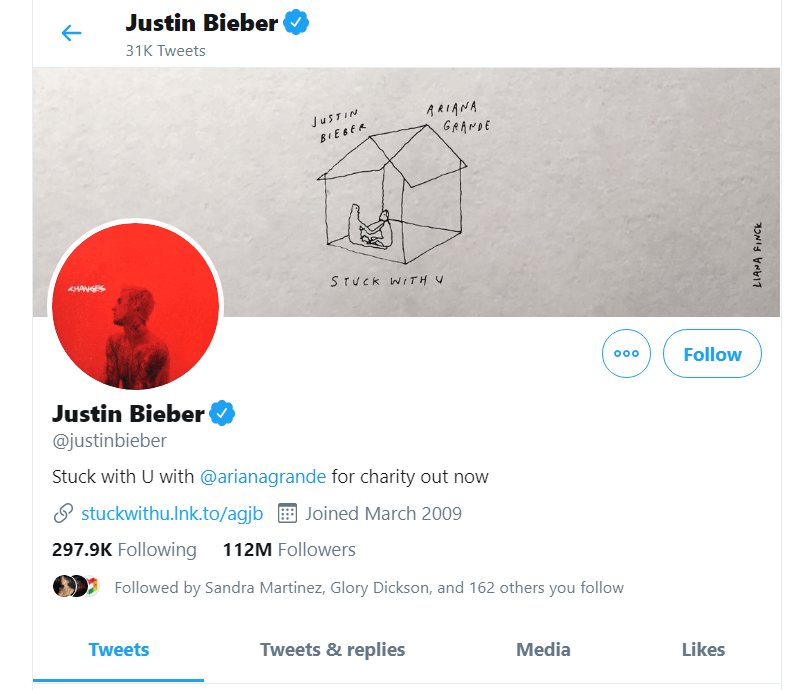 Justin Bieber is the second most followed person on Twitter, and funnily enough, he occupied the second place in 2012 as well. But with a much lower follower count, 24.7 million versus the 112 million that he has now.
3. Katy Perry – 108.3 million followers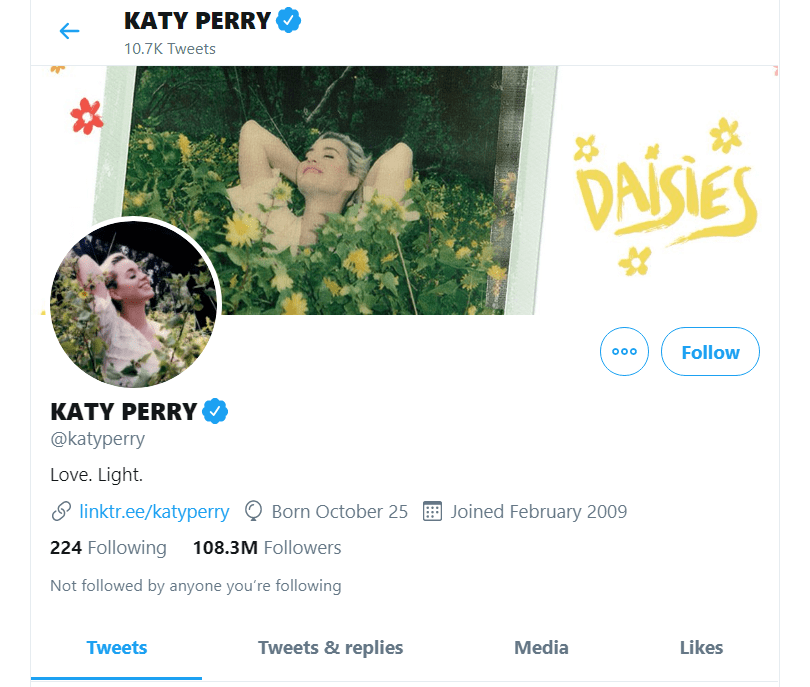 Katy Perry also maintained her third spot on our list, gaining more than 85 million followers, from 22.9 in 2012 to 108.3 in 2020. And since one of her latest tweets is about Orlando Bloom, may I just say I'm so behind on "celebrity gossip" that I didn't even know she's in a relationship with Orlando Bloom, let alone that they're about to have a baby?
4. Rihanna – 97.1 million followers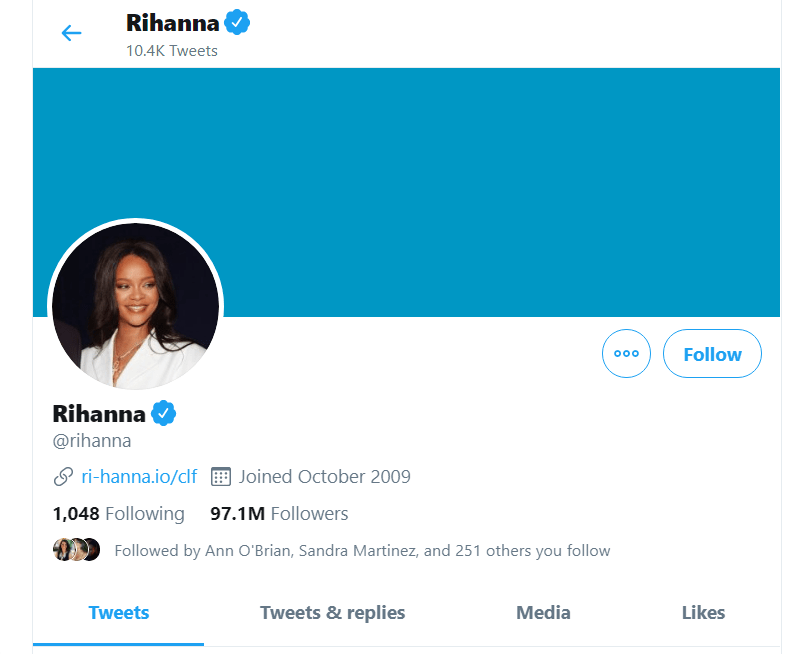 Rihanna is the third one in a row to maintain her position in this top, with a more than quadruple increase in follower count, from 22.2 million followers in 2012 to 97.1 in 2020. And I mean is that a surprise? Who doesn't like Rihanna? She has such a magnetic presence and personality, not to mention she's ravishingly beautiful!
5. Taylor Swift – 86.4 million followers
Taylor jumped up a few spots on our list, from number 8 in 2012 with "just" 16.1 followers, to number 5 in 2020 with 86.5 million. Taylor has gotten quite a few judgments over the years, like any big star, but she's stood up for herself especially through her music and lyrics, and people seem to love her.
And the first one on our list who's not a musician or a president is famous Portuguese footballer Cristiano Ronaldo. Ronaldo was not in our top ten in 2012, or even in top 20, but can you blame people for liking that face… and probably football skills, but what do I know?
7. Donald Trump – 82.4 million followers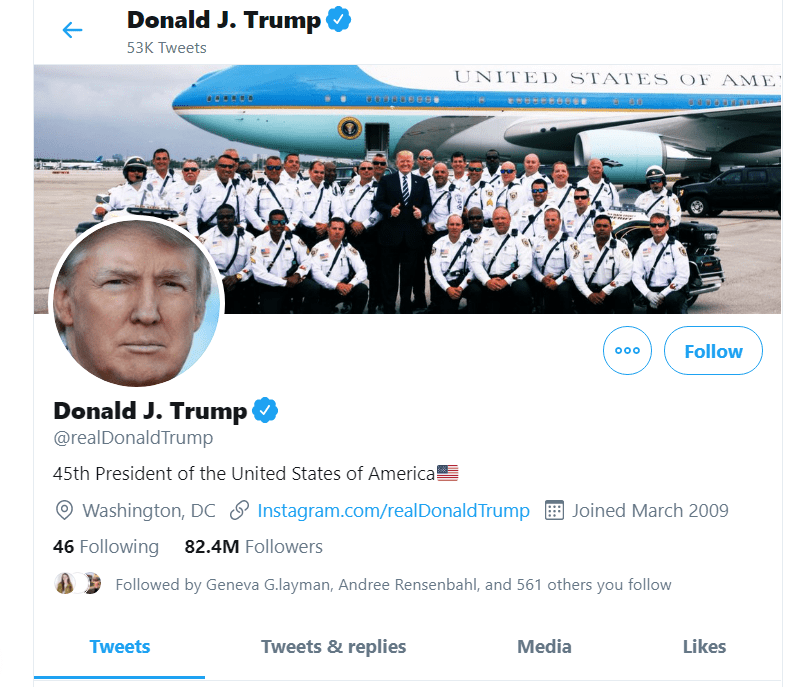 And at number seven we have the one and only Donald Trump. He wasn't this famous on Twitter before he became the President of the United States, of course, so he wasn't in our top ten of 2012, but look at him now. I guess the amount of nonsense he spews out on Twitter makes people want to follow him so they can keep tabs on him and poke fun at him. At least I hope that's why they're following him. He is truly an endless resource for stand-up comedians.
8. Lady Gaga – 81.6 million followers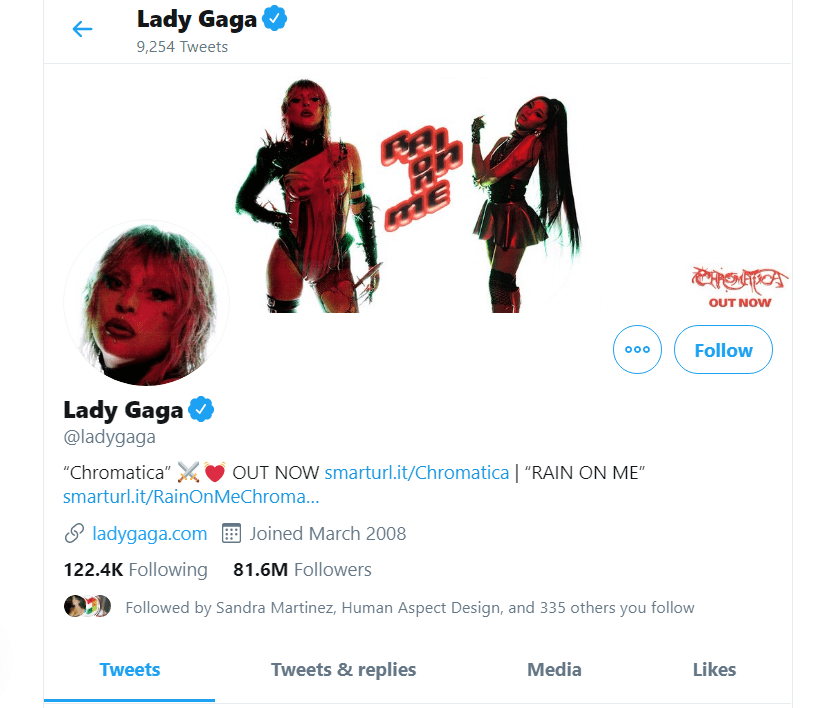 Lady Gaga was actually the queen of our top in 2012, occupying the number one position with the most Twitter followers. And although she has gained quite a few followers since then — nearly 55 million more followers than the 26.8 million she had in 2012 — she dropped down seven spots and is now at number 8.
Ellen wasn't in our top ten of 2012 either. In fact, she was the 13th, with 9.9 million followers, but her ongoing TV talk show and wonderfully charismatic and funny personality have gained her quite a few followers ever since.
10. Ariana Grande – 75 million followers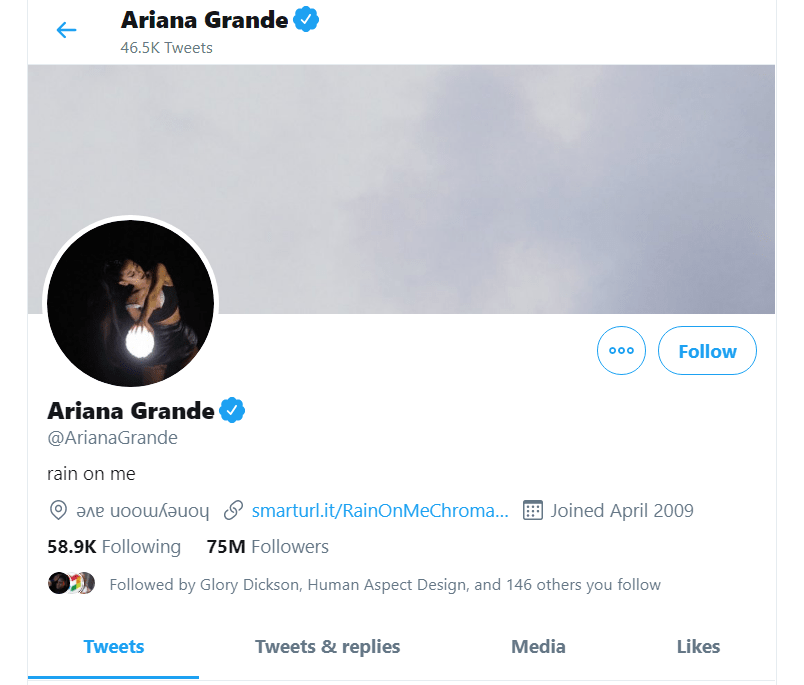 Ariana was only starting to become famous around 2012, so she wasn't in our top ten or twenty back then. Her debut album was launched in 2013 and the rest is history, as they say. Ariana has been a sensation ever since and she is adored especially by the younger generations.
11. YouTube – 72.2 million followers
Okay, this is weird. YouTube is among the most famous Twitter accounts, and it was back in 2012 as well. In 2012, YouTube was in the 10th position, the last one in our top, with 14.2 million followers.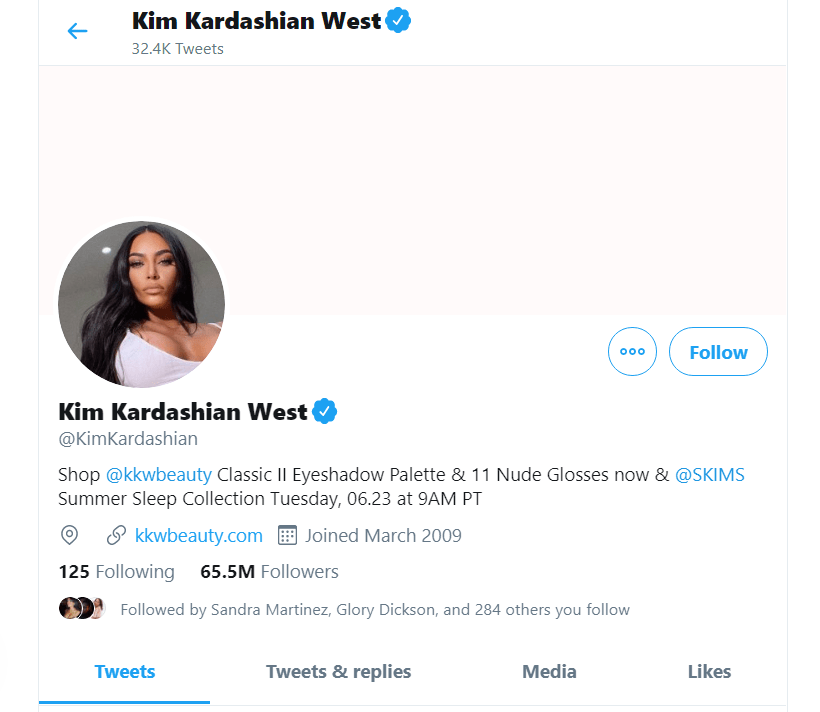 Kim Kardashian was at number 9 in our top ten of 2012, with 15.3 million followers and has gained 50 million ever since. The Kardashians seem to be keeping their popularity strong.
Singer Justin Timberlake also increased in popularity and jumped up a few positions from number 17 in 2012, with 9.3 million followers, to number 13 in 2020 with 64.4 million followers. Way to go, Justin!
14. Selena Gomez – 61.3 million followers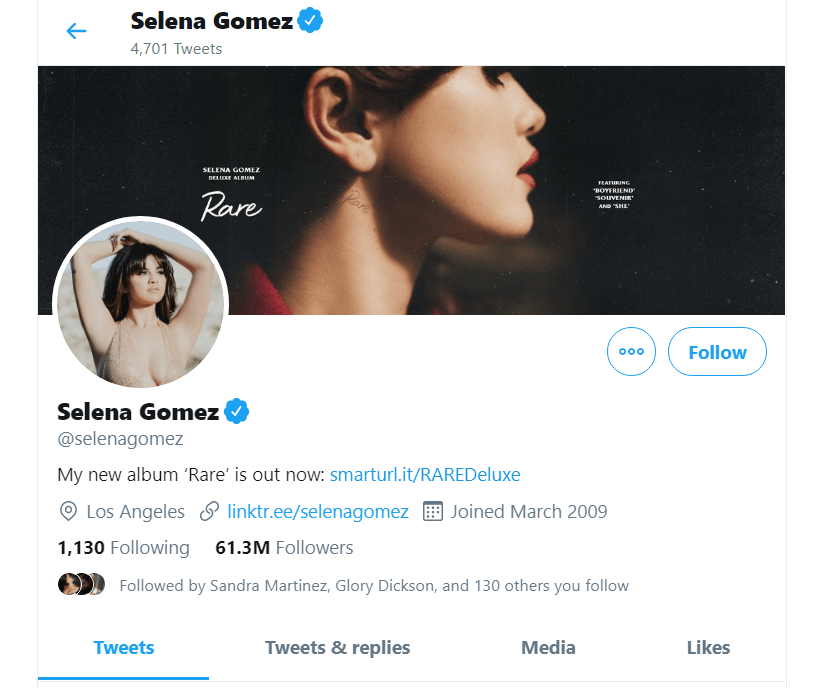 Selena Gomez on the other hand dropped a few positions from 2012, but gained a lot more followers. She had only 10.9 million followers in 2012 and is now at 61.2.
15. Narendra Modi – 58.9 million followers
And the third and last political figure on our list of most followed Twitter accounts is Narendra Modi, who has been the Prime Minister of India since 2014, and he's quite a controversial figure to say the least.
The only news outlet in our top 20 is CNN Breaking News, who weren't actually in the top 20 of 2012. In fact, there was no news outlet in the top 20 most followed Twitter accounts in 2020.
17. Twitter – 58 million followers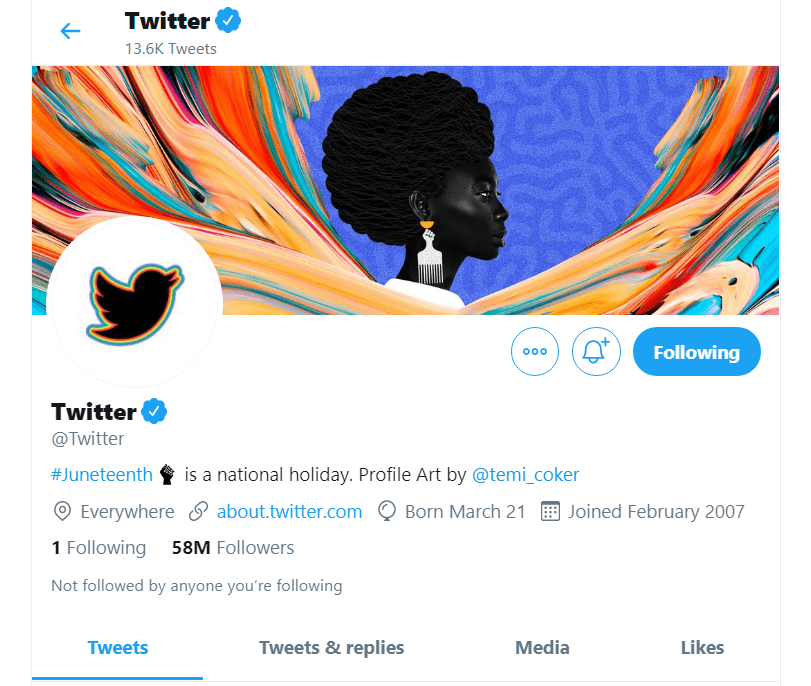 And… the 17th most famous Twitter account is… well, Twitter. Why is Twitter one of the most famous Twitter accounts? I have no idea. It was definitely not in top 20 in 2012, but I guess people are curious about the viewpoints of the platform they're using to see other people's viewpoints?
18. Britney Spears – 55.9 million followers
Britney has lost quite a few positions in our top 20, going from number 5 in 2012 with 18.5 million followers to number 18 in 2020 with 55.9 million followers, but she's still going strong, and Britney will always be Britney regardless of her Twitter follower count.
19. Demi Lovato – 55.5 million followers
Demi Lovato is new in our top twenty, but it's no surprise that she's here. People love her and her music. In 2017, she was named one of the 100 most influential people in the world by Time magazine.
20. Shakira – 52.2 million followers
And in our final spot at number 20 is Shakira. Although she has triple the amount of followers — from 17.1 million in 2012 to 52.2 million in 2020 — Shakira has lost quite a few positions, as she was at number 7 in 2012. But hey, she still made the top 20, unlike many other celebrities who have lost their "crowns".
A few things to take away from this comparison between the accounts with most Twitter followers in 2012 vs 2020:
Everyone who was in top ten in 2012 is still at least in top 20
Everyone in the top 20 has a lot more followers compared to 2012, even if they are on a lower position
The most famous people on Twitter are singers
There are no actors in the top 20, just singers who are also actors
Other than singers, the top 20 accounts with most Twitter followers in 2020 include 3 politicians, one footballer, one TV show host, one American media personality, one news outlet, and two social media channels
A few people have lost their positions in the top 20 from 2012 until now: Nicki Minaj, Oprah Winfrey, Ashton Kutcher, Eminem, Chris Brown and Brazilian retired football player Kaká
I'm curious to know, do you follow any of these people? Or what celebrities do you follow on Twitter? Let me know in the comments below! And if you need help managing your personal or business Twitter account, as well as other social media, check out these hot new social media tools that users love in 2021.
See also: Who were the first people on Facebook?