PostPlanner.
You heard about it and you see marketers turning it into a massive, monster tool for their social media success. And you are probably begging to know how to use it for your own success.
You don't have to look further. In this post, you will learn what PostPlanner is all about and how you can start using it immediately to produce results.


PostPlanner – The Complete Guide For Beginners
What is PostPlanner? (Introduction)
PostPlanner calls themselves as a social media engagement app. PostPlanner allows you to do pretty a lot of thing with social media. The below are the list of powerful PostPlanner features that will boost your reach and social media engagement:
Find the right type of media to share
Streamline your social media planning and scheduling
Automated social media publication to Facebook and Twitter
PostPlanner started out in the industry by focusing solely on Facebook users but in recent times, you can integrate PostPlanner with your Twitter account as well.

How to start using PostPlanner?
Before we start, it is important to understand that our ultimate goal is to generate more likes, more clicks and, even more, shares. Indirectly, this means that we are targeting more engagements from your current followers (and hoping to generate new ones).
You can off by visiting their website (click here). You can either sign up by creating a new account associated with your email or sign in using Facebook.
Don't worry. It takes less than 5 minutes to complete your registration.

Login in for the first time (and getting started)
When you login in for the first time, a tutorial will actually kick start and you can follow the tutorial to get a hang of the system. Well, you may skip the entire tutorial (like me) and trust me, it is really easy.
The first step is to setup your PostPlanner account correctly which comes in two parts:
Linking social media accounts to PostPlanner
Setting up the right timezone (I'll explain the reason behind this in a moment)
Setting up specific times for PostPlanner to publish content
Linking your social media accounts
The linking part is fairly easy. Click on the 'gear' button on the bottom left of the sidebar and click on 'Social Networks'.
You can integrate specific numbers of social media accounts based on your PostPlanner plan. Once done integrating, you will see something like this: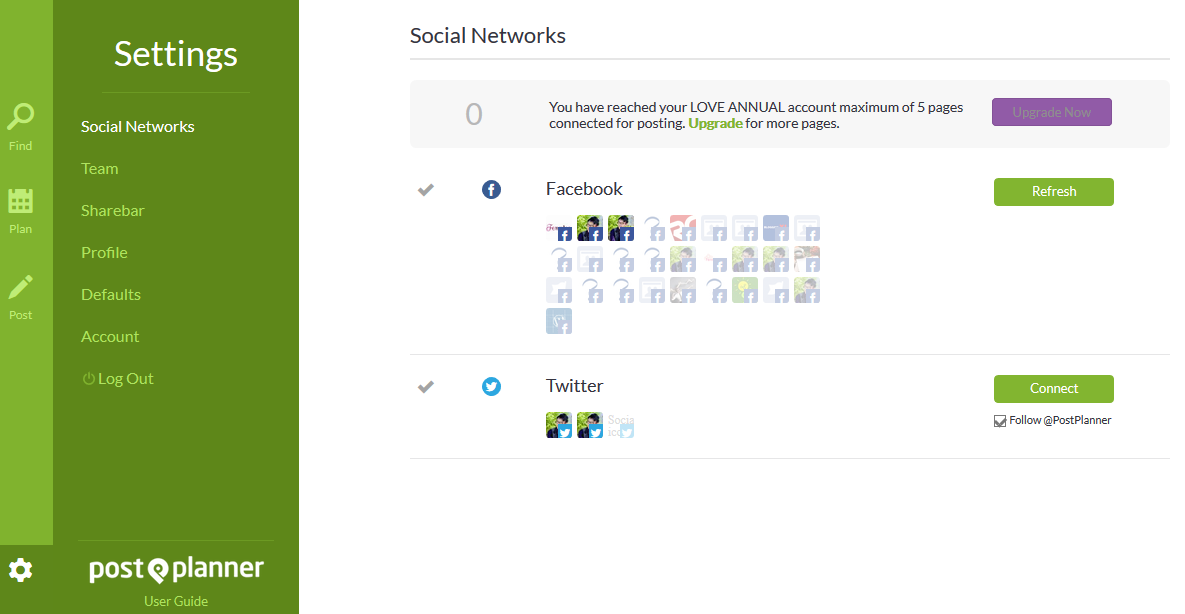 The count for social media accounts is based on numbers of pages, profile and account. This means that 1 Facebook profile and 2 Facebook Page admin under the same Facebook account email is considered three allocations… not one.

Setting up timezone
Setting up the right timezone is vital with PostPlanner. This will affect the time your updates go live. Obviously, you do not want to have the updates send out at the wrong time (say, 3 in the morning!).
In order to do this, head over to 'Defaults' button in the setting tab. At there, change the timezone accordingly to your liking.
You are managing several different projects, you may consider using 'Post by default to'. This option allows you to automatically add social media updates directly to selected accounted without needing a manual selection of social media accounts.
Once these are done, you would see something like this:

Setting up specific times for PostPlanner to publish content
What makes PostPlanner powerful is the ability to schedule content at different times, based on different social media accounts.
It allows you to create separate scheduling based on days and time, as well as the type of content to be shared (links, quotes/status, images or all three randomly).
Take your time to plan your schedule. If you are running and managing multiple social media accounts, avoid clumping them all (publishing time) at the same time as it will dilute your marketing efforts.
Separate the publication between 5 to 10 minutes (at least) for the best effects especially when you are targeting the same audience.

How to schedule post using PostPlanner?
PostPlanner is an awesome tool to schedule posts and automate your social media marketing. Follow the steps below and you will be on the right track in no time.

Step 1: Find the right type of content
By default, PostPlanner will provide several categories which are popular among social media marketers. In each category, you can further filter the results using specific time frame (new, weekly, monthly or everything).
Content are rated based on stars where more stars would mean the content is highly engaging. The calculation is based on a number of shares, likes and comments.


You can create your own content library too and you can locate it using separate folder. In this case, I use 'My Content'.

Step 2: Selecting the content to share
The next time is to select the right content to share. Let's take the example of the below image: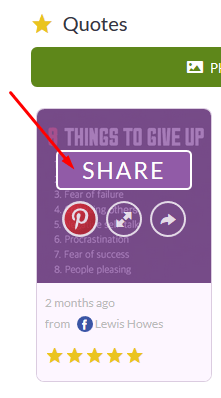 Hover your mouse of the content you want to share. In this case, it is the image as seen above. 'Share' button will then appear for you to select/click.
Click on the 'Share' button and this will bring us to the next step.

Step 3: Drafting and scheduling
The last step involves drafting the post. Listen to this carefully as this will affect the outcome of your marketing.
For a start, fill up the message column before you hit publish/schedule.
There are several options you can choose from:
Selection of image, video or upload your own artwork
Determine if you want to re-share the original content or just the image
Selection of your social media accounts
Using Canva to create images
Selecting whether you want to 'Add to your plan' which is scheduling or publishing the content immediately

If you selected Twitter, there will be a number count where you cannot exceed it. In this case, there are 94 characters more that I could use before reaching the limit.

PostPlanner – Plans and pricing
Are you ready to do more with Facebook and Twitter using PostPlanner?


There are several packages you can choose from and the below are two of the most popular ones:
Love ($7 per month, billed annually)
Guru ($12 per month, billed annually)
The 'Love' plan is the smallest package and the features are as follow:
5 profiles
50 posts a day
500 planned posts
Post to Facebook
Post to Twitter
Access to viral photos
Discover viral content
Status ideas
Advanced insights
Need more quota and firepower from PostPlanner? 'Guru' plan may be the answer for you:
12 profiles
120 posts a day
Unlimited planned posts
2 team members
Post to Facebook
Post to Twitter
Access to viral photos
Discover viral content
Status ideas
Advanced insights
Sharebar
There are also bigger packages such as 'Master', 'Agency' and 'Venture' that you can choose from. You can also request for custom packages if none of the above fits your requirements.

Summary
PostPlanner is an awesome tool to have. As a social media marketer, this tool helps you to generate more likes, shares and comment without much work.
Many popular social media marketers such as Kim Garst, Rebekah Radice and Ian Cleary are already using it. How about you?

See also: 9 Best Social Media Automation Tools