If there's one trend increasingly shaping the development of social media platforms, it's going visual.
The first sign of the trend was the rapid growth of Instagram which has taken center stage as the most visual-oriented social network on the Internet.
Today, however, Instagram has to share the spotlight with other visual-first platforms, among them an image editing, collage, and drawing application – PicsArt Photo Studio.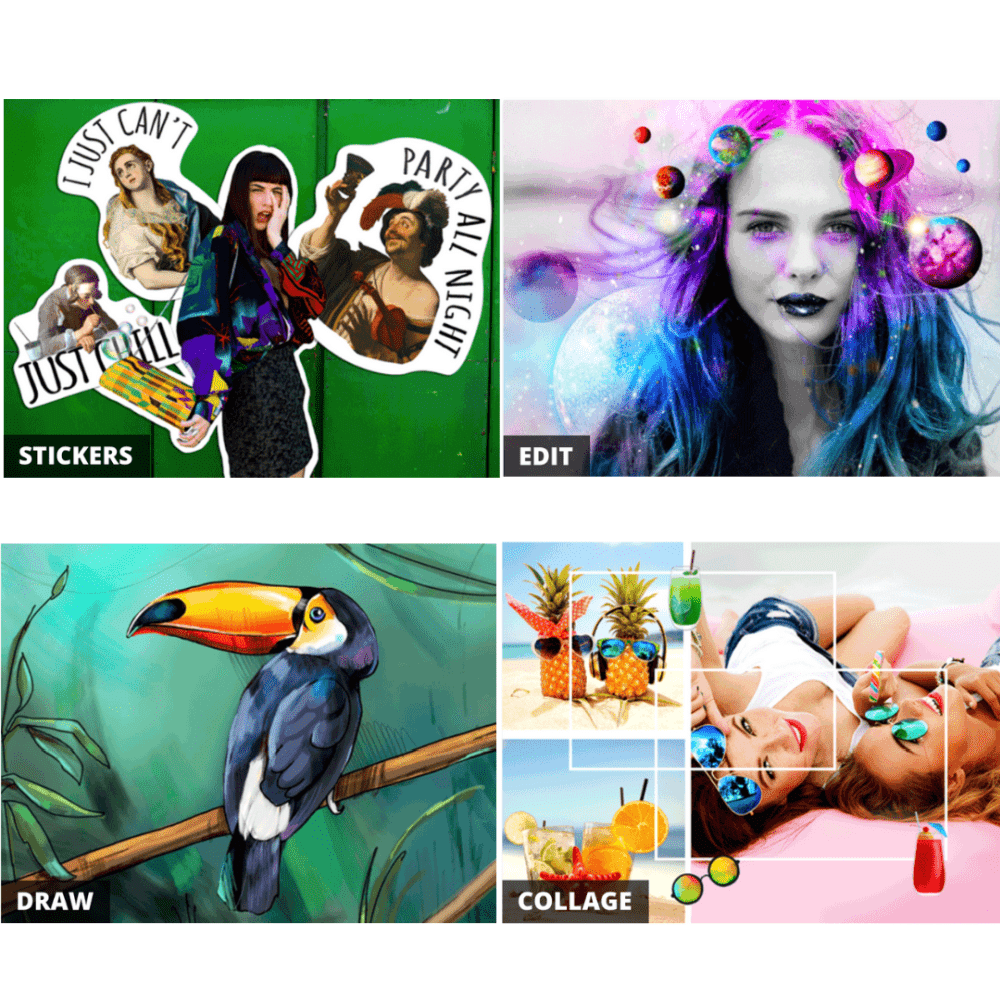 What Is PicsArt Photo Studio?
PicsArt Photo Studio is a photo editor, collage maker, and a drawing tool.
It allows users to enhance their images in a number of creative ways – from adding some of the over 3M available stickers, to creating artful photo collages, to playing with doodles, filters, and photo effects.
Want to give your photo a texture of an oil painting, add a rainbow mask, use a patterned background, or simply crop out that photobombing friend? PicsArt Photo Studio allows you to do it all and so much more.
There's really no limit to how you can jazz up your photos in the app. The variety of available image editing options make PicsArt Photo Studio one of the most robust photo editors out there and put it miles ahead of the original photo-editing social media platform, Instagram.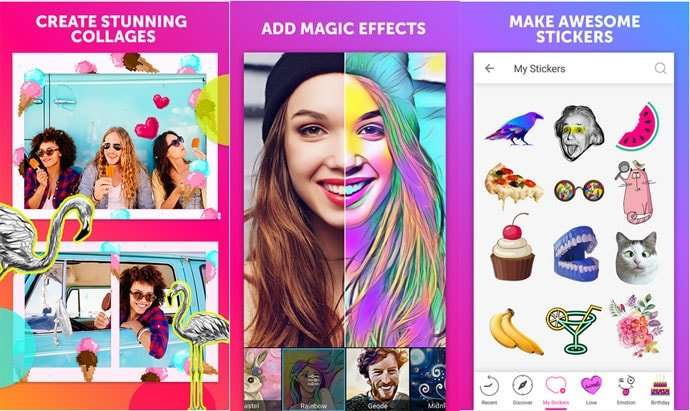 But the heaps of available photo editing options are not the only thing that make PicsArt Photo Studio unique. Another aspect of the app that sets it apart from other popular photo editors such as Snapspeed or Afterlight is its social platform-like character – which brings us to the next point.
PicsArt Photo Studio as a Social Media Platform
PicsArt has an engaged community of users, almost all of whom are actively creating content on the platform. This fact highlights the strong contrast in user behavior between PicsArt and other networks, including TikTok and Instagram, whose users are mainly passive content consumers.
While you can use PicsArt to create photos for your other, perhaps more popular, social media channels, it is also possible to share your work on the platform itself.
All you need to do is set up your profile, use one of PicsArt's 300 photo editing options, hit "Post," and voila – your image is now accessible to the platform's community.
Much like on Instagram, you can caption your image using mentions and hashtags to improve its discoverability.
You can also follow interesting content creators and see their content in your newsfeed – another feature that makes PicsArt strikingly similar to Instagram. It takes just a few taps to build your PicsArt network with whom you can share your work or engage in fun conversations – for example using the Remix Chat feature (more on that later.)
You are also able to participate in creative photo-editing challenges and win real prizes.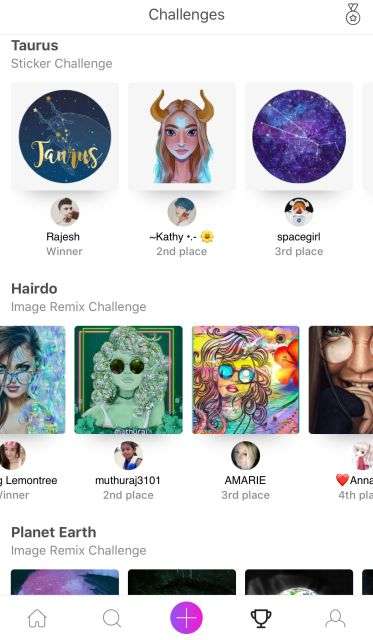 As you can see, PicsArt Photo Studio is a highly collaborative space, facilitating user connection and engagement. That's why it is often seen as a social network, perfect for those looking for an alternative to the increasingly more similar news feeds of Instagram and Facebook.
But how did PicsArt become the platform it is today?
The Beginnings and Evolution of PicsArt
PicsArt was first launched in August 2012 and immediately caught on. During its first year, the app was downloaded 35 million times – a number that grew to 175 million installs just two years later in 2015.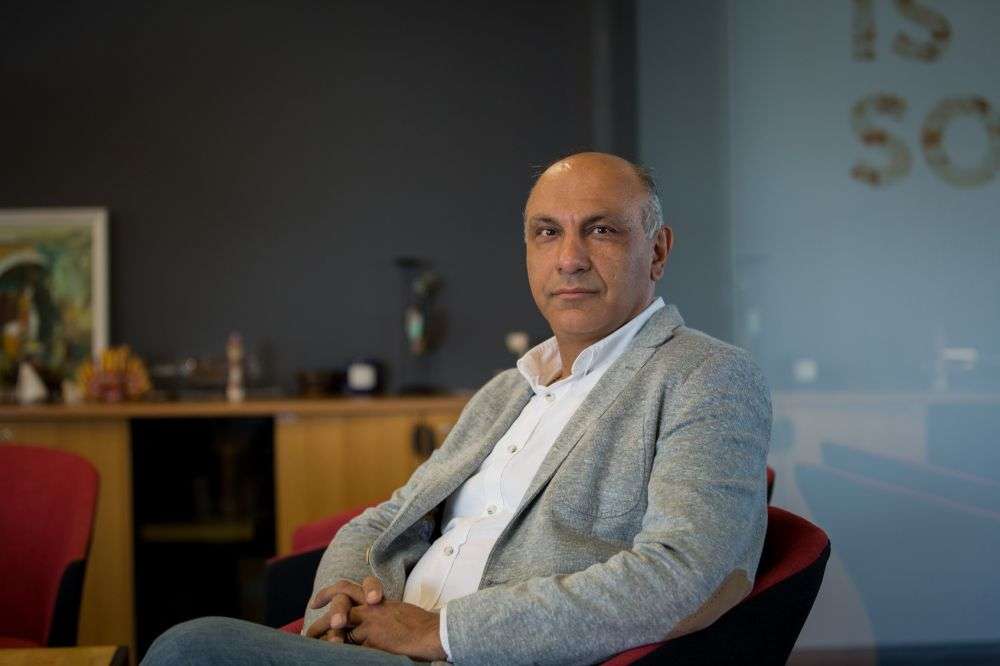 Hovhannes Avoyan, the founder and CEO of PicsArt
The app has been gradually released on different devices. Originally available for Android devices only, it was released for the iPhone and Windows Phone in 2013. A year later, PicsArt became available for all Windows 8.1 PCs, devices, and tablets.
As the availability of PicsArt Photo Studio improved over time, its user base significantly expanded. While in 2013 the app had 25 million monthly active users, in 2019 it reached 130 million MAU. To put this into perspective, it's very close to the 149 million monthly viewers of YouTube which has been around seven years longer than PicsArt.
Now, who exactly are PicsArt users?
An Overview of PicsArt's User Base
The majority of PicsArt users are based in the U.S., female, and between 14 to 24 years of age.
This proves that PicsArt Photo Studio, just like many other photo collage maker apps, is resonating mainly with younger audience, likely because of their ability to quickly grasp its multiple features.  
Even though the PicsArt user base is mostly U.S.-based, the app's fastest-growing market is China. According to TechCrunch, PicsArt's month-over-month growth in the region has been 10-30%, and the current number of Chinese monthly active users amounts to 15 million – roughly 12% of the app's total user base.
The PicsArt community is not only large but also highly engaged. Business Wire reported that, on average, users upload 2.5 million images to the platform every day, which is really great for this relatively new, niche app.
If you'd like to start sharing content on the platform too, here are some tips that will help your business make the most of PicsArt Photo Studio.
How You Can Effectively Promote Your Business on PicsArt
Because PicsArt Photo Studio is still fresh to the market, you'll need to spend time exploring the app and experimenting with different tactics.
Here's what you can do to set your business up for success on PicsArt:
1. Create Your Own Visual Style
While it might be tempting to use all of PicsArt's photo editing effects with your images, it's better to settle down for several that work best and stick to them.
Why?
A unique, coherent visual style will help people immediately identify your brand in the often overcrowded newsfeed. It will also make your profile look more organized and sleek.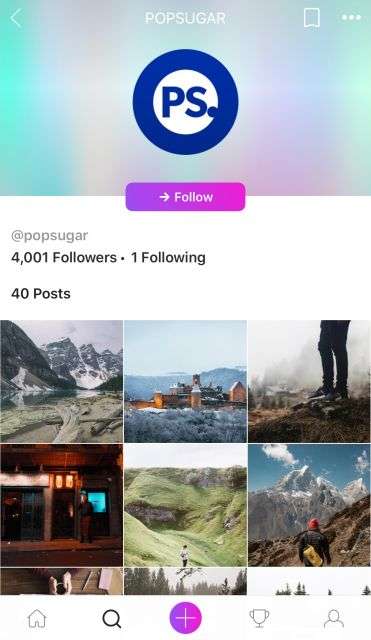 Don't be afraid to mix and match different filters, masks, and stickers until you find a combination that best brings out your brand's personality. Then, use it consistently with all of your posts.
2. Caption Your Posts And Use Hashtags
Although PicsArt is mostly about visuals, you can amplify the story your images are telling by adding compelling captions.
Captions are a great way to provide more context about your content and, most importantly, encourage users to take action, such as engaging with your posts or visiting your website.
When writing captions, make sure you make room for hashtags – you can either create them yourself or pick from the list of popular hashtags suggested by the app.
PRO TIP: Want to boost your reach? Add the #freetoedit hashtag to your posts or simply mark the FreeToEdit option below the caption space. This will let other users know they're allowed to download, edit, and reupload your posts to the app, which will help your content appear on multiple accounts and reach new user segments.
3. Take Part in Challenges
Another way to increase your reach on PicsArt is participating in challenges. The app's challenges involve editing your photos in a certain manner, for example by using a given filter, and submitting them for the competition.
Once you submit your photos, they will appear in a designated image gallery. Users interested in challenges, such as the Galaxy Makeup Challenge, will visit the gallery to vote for their favorite images and, as a result, discover your content.
4. Strike a Conversation in Remix Chat
PicsArt is all about building a community around creative visuals – and what better way to do it than to engage in a conversation with the app's users in Remix Chat?
Remix Chat enables you to share images directly or with a group of up to 50 users in a chat and edit them collectively. As a result, you can create a stream of uniquely edited photos and discuss them in the process.
Remix Chat works great for connecting with your audience on a more personal level, and sparking meaningful engagement. It's a place where you can show off your company's personality and just have fun which can significantly improve your brand image.
5. Follow Other Users and Engage With Their Content
Although this one might seem like a no-brainer, a lot of brands tend to forget that to receive interactions, you have to engage with other users' content first.
So, make sure that you follow and interact with the PicsArt community. It's easier than you think – all you need to do is tap on the magnifying glass icon on the bottom of the app to see tons of posts from various content creators.
If you're interested in topical photos, tap on one of the suggested hashtags on top or simply type in a keyword into the search bar.
From there, it's an easy step to liking and commenting on posts and following their authors. They will surely appreciate your interactions and return the favor!
6. Check Out PicsArt's Brand Collaboration Opportunities
If you're not sure how PicsArt could help promote your business, visit their PicsArt for Brands section to get inspired.
Big international brands like Swarovski or Dior have successfully used the app for advertising – and so can you! Click on one of the brand's names to learn more about how they launched successful PicsArt campaigns that helped them boost brand awareness and customer engagement.
Don't hesitate to reach out directly to PicsArt (it's easy – just hit the "Contact Us" button) to discuss advertising campaigns tailored to your company's needs.
The Takeaway
PicsArt offers countless creative ways to promote your brand to new audiences. From reaching new user groups through fun challenges to engaging your followers with custom stickers, there's no shortage of marketing opportunities the app provides.
That's why we strongly encourage you to take time to explore PicsArt Photo Studio, get the hang of its robust features, and use them to create unique content that will help drive your business objectives.
See also: 30 Social Media Management Tools (2019 edition)