With the rise of video-centric features on Facebook or Instagram, it might seem like YouTube is slowly becoming obsolete.
This couldn't be more wrong!
The platform is still hugely powerful today and enables businesses to deliver their message in an engaging format to broad audiences.
Want to tap into YouTube's potential?
Read on to learn how you can successfully grow your YouTube channel subscribers and views.
Building a widely-followed YouTube channel is no easy job – but it's surely worth the effort.
The platform boasts a whopping 1.9 billion active user base (almost one-third of the Internet!), allowing marketers to reach a vast audience. It is also the world's second largest search engine which means that with the right marketing tactics in place, your business has a chance to be discovered by millions of people every day.
Now, to be able to harness these benefits, you need a solid YouTube channel.
Wondering how to build one?
Here are ten effective ways to grow your YouTube channel subscribers and views.
How to Grow Your YouTube Channel Subscribers?
1. Publish Quality Content Consistently
We know, we know – this one seems to be obvious.
But is it really?
Too often we see brands kicking off their YouTube channels on a high note, only to post videos less and less frequently over time, and finally stop publishing altogether.
Let's be honest, building a successful YouTube channel is hard work. That's because videos take a lot of time to shoot and edit, and the entire production process can take weeks on end.
So if you're not ready to dedicate hours of work to create and publish quality YouTube content on a regular basis, you might want to consider switching to different, less demanding social media channels.
2. Create Compelling Thumbnails
If you want to grow your YouTube channel subscribers and views, you first need to make sure that your content stands out on the platform. And what better way to do it than to create visually appealing thumbnails that make your videos pop?
Here are some tips to make sure your video thumbnails are attention-grabbing:
Use vivid, contrasting colors
Use a compelling background photo
Add big, bold text
Keep your copy succinct
Use the right dimensions: 1280x720px (16:9 ratio)
If you want to quickly create a YouTube video thumbnail, you can use one of the free templates available in Canva:
3. Optimize Your Video Titles for Search
Another basic tactic to drive subscriptions and views is improving the discoverability of your videos.
The easiest way to accomplish this is to optimize your video titles for search by using relevant, popular keywords.
For example, let's say you run a Japanese restaurant, and want to publish an educational video explaining how to use chopsticks. To ensure your content can be easily found, use keyword research tools such as tubics or Keyword Tool, and pinpoint phrases you can use in your video title: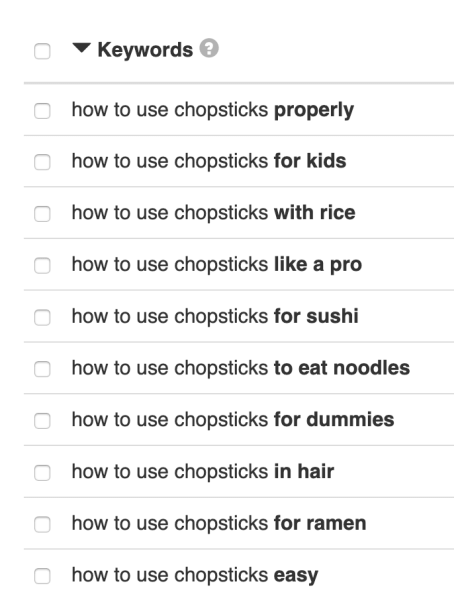 Remember to aim for keywords with high search volume and low competition. Then, combine the keyword of your choice with emotion words to spice up your video title, and make it more clickable.
4. Include a Powerful Call-to-action
On the note of making users click on your content, it's super important that you include compelling call-to-action in your videos.
CTAs are a great way to get users to take the desired action and can help you effectively grow your YouTube channel subscribers.
There are three placements where CTAs work especially well:
Video ending – the moment when users are done watching is perfect for telling them what to do next – subscribe to your channel, of course!
Middle of the video – if you're worried your audience might drop out before the video ends, add a CTA halfway through your video. This way, viewers will have enough information to decide if they want to click-through, and won't have to watch until the very end to do so.
Video description – many people read video descriptions before they tune in. If your description is convincing enough, you might win over new subscribers eager to watch more of your content.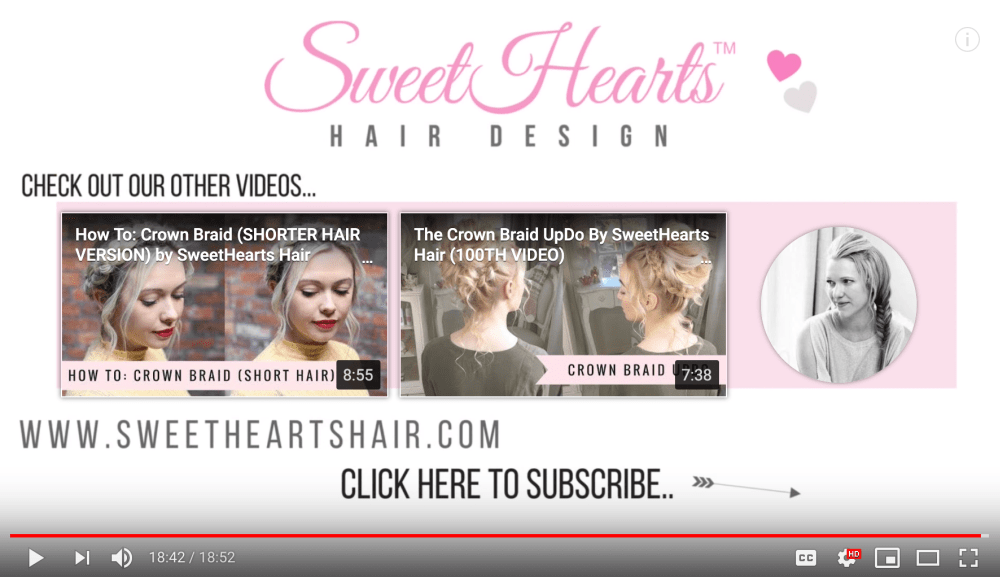 5. Brand Your Content
Once your channel starts getting a little bit of traction, it's a good idea to start branding your content.
Why?
Branding your videos helps users immediately recognize your content in the crowded environment of YouTube.
Take a look at the channel of Backlinko's founder, Brian Dean: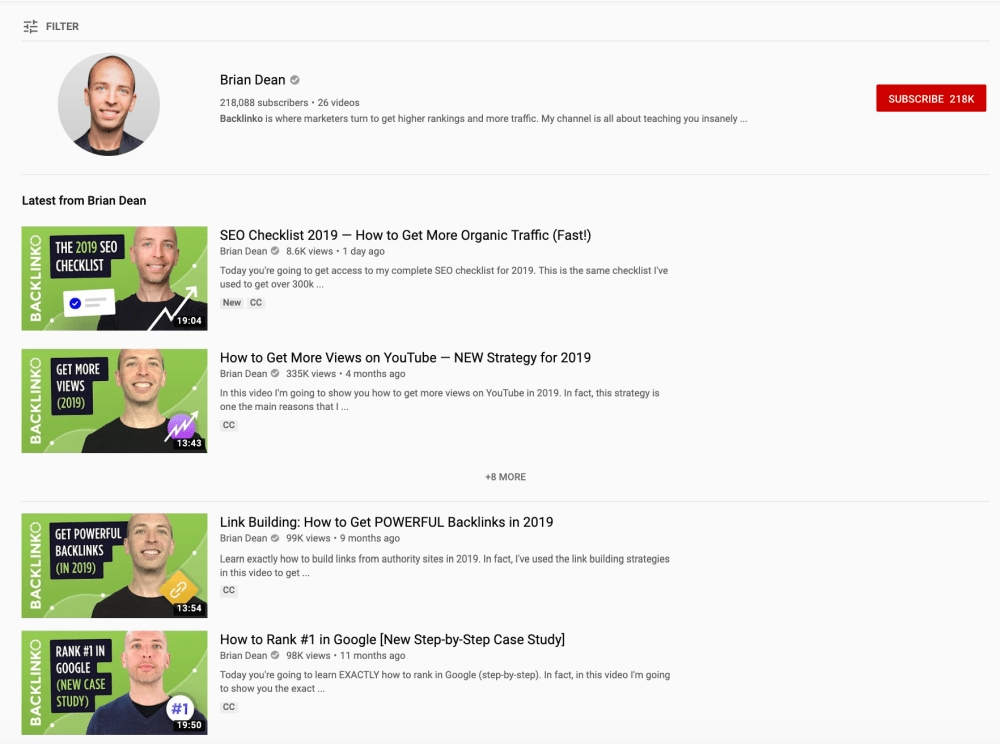 See how consistent his videos look? Dean makes sure that every time he publishes a new video, YouTube users can immediately tell it's Backlinko, and click to watch.
So if you want to stand out from the herd, work out a coherent visual style for your content.
6. Keep Your Videos Short and Sweet
Today's social media users are busy and often consume content in small chunks on the go. It's essential that you keep this trend in mind, and make your videos short and sweet to improve viewability.
How long should your video content be?
According to HubSpot, videos that are around 2 minutes long achieve the highest engagement. This number corresponds with the findings by Wistia that revealed that the completion rate for videos 1-2 minutes long is 75% – 15% more than for videos 4-5 minutes long.
Conclusion?
Unless you need to convey a lot of detailed information, stick to the 2-minute limit when creating your YouTube videos. This way, you'll be able to improve the number of video views and, consequently, subscribers.
7. Use YouTube Cards
One of the best hacks to quickly grow your YouTube channel subscribers and views is by using Cards.
What are they?
Cards are interactive overlays that let you share links to other content throughout your video. You can use Cards to promote your channel, videos, and playlists, and allow users to access your other content with a single click.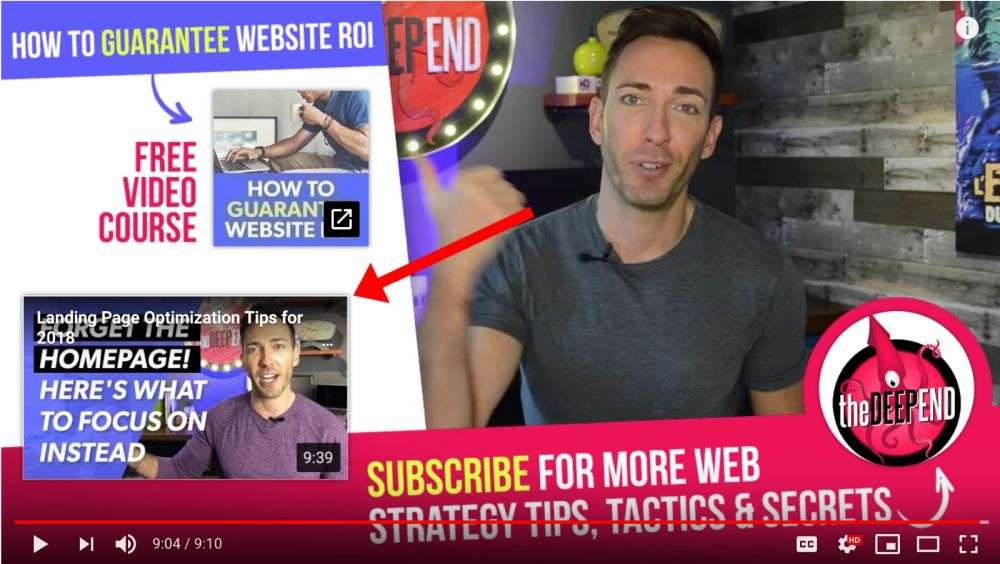 Cards work great for encouraging users to watch more of your videos and building interest in your channel. They're key to boosting your views and subscriber list in no-time.
8. Create Engaging Playlists
Wondering what else you can do to make your audience binge-watch your videos?
Create engaging playlists.
Playlists enable you to organize your content into relevant streams that users can watch back-to-back, without having to click. As a result, you can easily retain your subscribers and improve views.
When building your playlists, think of how to best segment your content. For example, you can create a playlist for new subscribers, or one featuring videos dedicated to using one of your services or products.
If you publish a lot of educational content, it's a good idea to create outcome-based playlists. This type of playlist has an outcome-focused title (such as "Improve your baking skills in 60 minutes) and contains a series of videos, each explaining how to achieve a given result (e.g. "How to make the best French pastry" or "How to decorate a birthday cake.")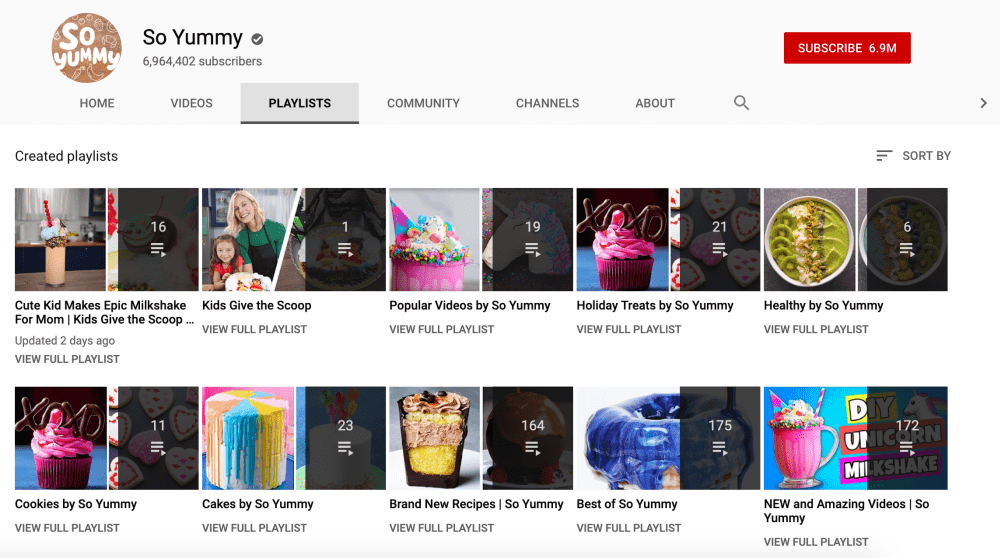 9. Organize Competitions and Giveaways
Whether we want to admit it or not, we all just love free stuff. This affinity is something you can use to draw users to your videos – all you need to do is organize a cool competition or a giveaway.
While it might sound like an easy concept, hosting competitions and giveaways take some work. That's because you need to think of the format, prizes or items your audience would want to receive, and develop an effective promotion strategy.
Don't worry, though – all this effort will surely pay off! With a solid strategy in place, your competition or giveaway can become a major driver of views and new subscribers.
If you need inspiration, check out the videos of fashion and beauty influencers like SL MissGlam – they're real experts in giving away freebies to their viewers.
10. Publish Your YouTube Videos on Other Marketing Channels
Competitions and giveaways are not the only videos you can promote on your other digital marketing channels. In fact, if you want to grow your YouTube channel subscribers and views, you need to regularly cross-promote your profile.
What's the best way to do it?
First of all, take a look at the video specifications of each social media platform to ensure you can convert your YouTube video to the right format. For example, on Facebook, your videos can be up to 120 minutes long, but on Instagram, the maximum video length is just 1 minute. That's why you need to make sure that your YouTube videos are optimized for different channels.
Aside from publishing your YouTube videos across other social networks, we recommend including your videos in your blogs posts and email newsletters to drive even more users to your profile. And because the experience of managing multiple social media channels is not an easy one to overcome, and you will need to be on other social media to promote your YouTube channel, it's best to get the hang of a tool that can help you manage social media in one place.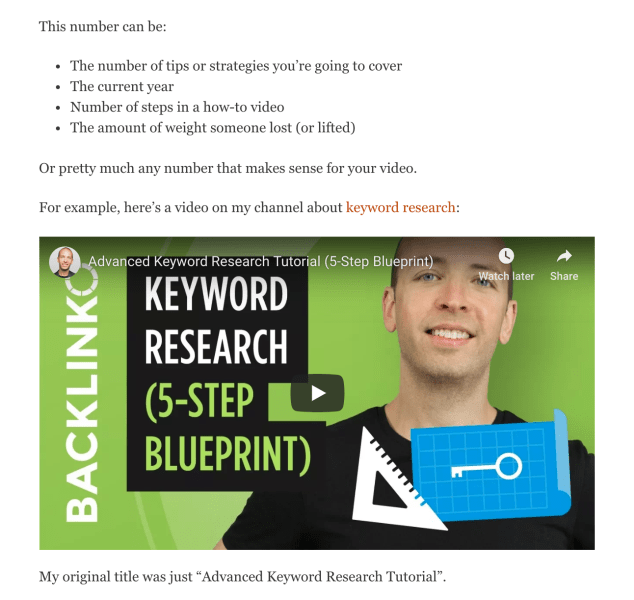 The Takeaway
As online video consumption grows, it's essential for any business to establish a solid presence on YouTube. We hope that his article helped you better understand how to do just that and successfully grow your YouTube channel subscribers and views.
Do you know any other tactics to grow your subscriber list and video views? Feel free to let us know in the comments!
See also: Social Media Marketing Tips From Top Marketing Experts (Video Answers)