Instagram has gone a long way since its early days as a small photo-sharing community.
Now, the platform boasts over 1 billion monthly active users, and is an incredibly effective digital marketing powerhouse, offering marketers a variety of tools to reach and convert their audiences.
Want to learn how to advertise on Instagram?
Buckle up and get ready, as we're about to teach you the ropes of Instagram advertising.
The Complete Guide to Instagram Advertising
First Things First – Is Instagram Advertising Right for My Business?
Before you dive headfirst into the world of Instagram ads, you should consider if Instagram is the right channel for your business. How to answer this question?
Weigh up the following factors:
1. User demographics – Instagram's audience is relatively young with 71% of the platform's users globally being under the age of 35. So if you're catering to younger user segments, Instagram is a place for you.
2. Competition – Instagram is a highly competitive space in terms of advertising. There are more than 1 million monthly active advertisers on the platform and around 8 million Business Profiles. What does it mean for you? You might need to spend more on ads to get ahead of the competitors. Plus, you'll have to fire up your creativity and create killer ads that will stand out in your followers' crowded News Feeds.
3. Cost – Wondering how much does it cost to advertise on Instagram? Good! Knowing the answer to this question will help you better plan your budget. According to this article, the average Instagram ads CPC is between $0.50 – $1.00. However, you might pay more if you advertise in certain countries (for example the U.S.), target certain user groups (e.g. the 25-34 age bracket), or run ads or certain days (Wednesdays are the most expensive.)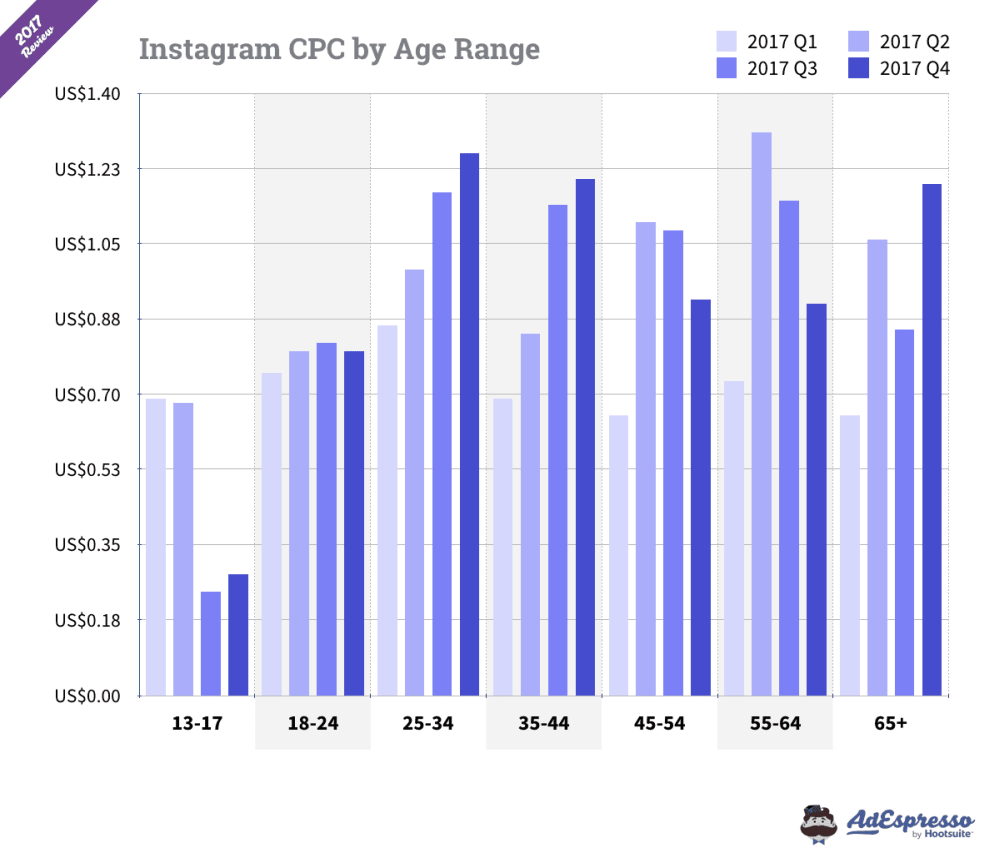 Did you think about each of these factors and decide Instagram is the right fit for your business?
Great!

Let's move on to exploring the available Instagram ad formats and placements.
Instagram Ads – Formats, Placements, and Objectives
There are currently five ad formats available on Instagram:
1. Stories ads – full-screen ads that appear in-between users' Stories
2. Photo ads – square or landscape images that appear in users' News Feeds
3. Video ads – square or landscape video clips that are up to 60 seconds long
4. Carousel Ads – ads where people can swipe to view additional photos or videos
5. Collection ads – ads combining video and product catalogues that enable users to make purchases without leaving the app
Now that we've gone over the available ad formats, let's take a look at placements. You can place your ads in two different slots on Instagram – Stories (this one is for – you've guessed it! – Stories ads) and Feed where you can put all the other ad formats.
Now, let's take a look at the ad objectives Instagram offers:
Brand awareness – reach people who are more likely to pay attention to your ads
Reach – display your ads to a maximum number of users
Traffic – maximize clicks driving people to your website or app store
App installs – drive people to the store where they can purchase your app
Engagement – generate more exposure and engagement for your posts or Page
Video views – maximize the number of views of your videos
Conversions – get users to convert on your website or app, for example by buying your products
Make sure you keep your campaign objective in mind when picking your ad format and placement.
For instance, if you want to boost brand awareness, it might be a good idea to run video ads in the News Feed. Why? Videos instantly grab users' attention and the News Feed placement is great for reaching larger audiences.
On the other hand, if your goal is to generate more sales, you might want to consider Stories ads that allow users to easily visit your online store with a single swipe-up.
Reaching the Right Audiences Through Instagram Advertising
Since you already know all about Instagram ad formats, placements, and objectives, it's now time to delve into another crucial aspect of Instagram advertising – targeting.
If you've advertised on Facebook before, you'll be familiar with Instagram ad targeting options that include:
Core audiences – audiences that you can define by choosing your target user segment's location, age, gender, language, demographics, interests, behaviors, and connections
Custom audiences – this option allows you to upload your list of contacts so that you can target leads who are already in your pipeline
Lookalike audiences – audiences that Instagram generates for your business based on traits they share with your existing audience
One of the best things about defining a target audience for your ads is the clarity that Instagram gives you. Upon selecting a given user group, you'll see exactly how many people you'll be able to potentially reach:
Make sure that your audience isn't too broad or too specific – targeting the former will cost you a lot of money while targeting the latter might result in missing out on a large share of users potentially interested in your business.
In other words, aim for the sweet spot marked in green.
Setting the Right Budget for Your Instagram Ads
Your Instagram advertising budget is closely related to your targeting preferences.
While your overall budget size is completely up to you, you need to be ready to pay more to reach users between 25 and 34 years old, as mentioned before. It might also cost you 6% more to advertise to women who make up the majority of Instagram users.
So what else should you take into account when mapping out your Instagram ads budget?
Timing. We already mentioned that Wednesdays tend to be the most expensive days for Instagram advertisers, but what about a bigger perspective?
According to AdEspresso, running Instagram ads between October and December is going to cost you 6% more than advertising in Q3 and a whopping 40% more compared to Q1. The difference, though sizeable, makes sense, as Q4 tends to be the most profitable time for marketers due to multiple holidays such as Halloween, Thanksgiving or Christmas.
Finally, think about your ad placements. If you want to cut down on expenses, consider running your ads in Stories – they will be not only cheaper but also more engaging!
How to Advertise on Instagram – 5 Must-Know Tips
1. Work on the visual quality of your ads
As a highly aesthetic platform built around appealing visuals, Instagram doesn't tolerate poor-looking ads. That's why it's essential for businesses to ensure that their ads are attractive and designed down to the tiniest detail.
Here are some practical tips you can follow that will help you keep your ads up-to-standard:
Keep it simple – make sure your ads can be understood at a glance, as users will view them only for a split second.
Avoid too much text – if more than 20% of your ad's pixels are covered by text, your ad will be banned.
Choose the right colors – it's a good idea to pick colors for your ads that are consistent with your brand's visual identity – it will help users instantly link the ad to your business.
2. Create your visuals from the ground up
While it might be tempting to take the easy road and use stock visuals to create your ads, you should never do that. Why?

Aside from prioritizing visual quality, Instagram is all about authenticity. The best ads are those developed by brands from scratch, where the message is perfectly conveyed by personalized images or videos – not the ones featuring cookie-cutter stock imagery.
So even though it might take time and effort, we strongly recommend creating your own visuals.
3. Use the call-to-action button
When creating your ad, don't forget to add a CTA button. The buttons appear right below your ad image and are an effective way to get users to take action.
Here are the call-to-action options you can choose from:
Sign up
Download
Apply now
Contact us
Learn more
Watch more
Select a CTA that's best for your campaign objective, and you're all set to send your conversion rate through the roof!

4. Engage your audience with carousels
Do you have multiple products you'd like to introduce to the world? Great! You're a perfect match for the carousel ads.
Instagram's carousel ads enable you to showcase multiple items at once without cluttering your audiences' News Feeds. They're a great solution for online retailers who would like to showcase their wide assortment of products in a single spot.
Don't worry if your offering seems too limited for a carousel ad. You can still capitalize on the format by using it to tell a compelling story through a series of images or videos.
5. A/B test your ads
As with any social media advertising tactic, you need to A/B test your Instagram ads to find out what works best for your business.
If you're not testing your ads, you're most likely losing money and missing out on an opportunity to drive more business – which is the last thing you want as a savvy marketer.
The Takeaway
Instagram advertising is an art that takes time to master. However, once you get the hang of Instagram ads, they will enable you to reach the platform's vast community and turn them into loyal customers.
We hope that our guide helped you better understand how to advertise on Instagram. If you still have any questions, though, feel free to leave them in the comments – we'll be happy to give you answers!
See also: How do I get more followers on Instagram?