Have you ever considered organizing your event online instead of in-person?
With everything happening in the world this year and last year — we all know what that is — sometimes it's not safe or even allowed to host an in-person event or conference.
Plus, we're living in a digitalized era where everything happens online. It only makes sense to bring your event to the online space and benefit from all its inherent advantages. 
But what exactly are those advantages? Let's take a quick look.
Benefits of Online Conferences vs. Traditional In-Person Conferences
Cheaper Cost
With online events, you won't have to pay for a space where to hold the event or conference, food and drinks for staff and attendees, goody bags, cleaning services, staff for check-in and security, etc. It will also be a lot cheaper or even free for your attendees, as they won't have to pay for transportation to get to the event, hotel rooms and food while there.
Time Saved
Noone has to waste time traveling to get to the event, take days off work, or even get ready for the event with hair and make-up.
Convenience
You can attend and organize an online conference from the comfort of your own home, while still in your PJs, eating breakfast, or doing household chores. And if the platform allows it — and any good virtual event platform should — you can also access classes, webinars and sessions after the event has ended, giving attendees the opportunity to process the information at their own speed and when it's convenient for them.
Reach
There's no doubt you can reach a lot more people with an online conference, since people from all over the world can register for your event. Ticket prices are also a lot cheaper in general for online events, making even more people want to attend, and increasing the profitability of your event as well.
Analytics
The analytics obtained from an online event are impossible to get with a traditional conference, and they can help your event manager organize much more targeted events in the future based on the successes and failures of past events.
Less Anxiety
There will be less anxiety overall with an online event for everyone involved. Your speakers won't be as nervous as in front of a live audience and can even pre-record their sessions if the platform allows it, and many of your introverted attendees will be relieved they can hide behind a screen and not have to mingle with other people.
More Eco-Friendly
No more paper (lined with plastic!) coffee cups, goody bags, notepads, pens, plane and car fuel, and all the other waste that's hard to avoid with in-person events. Your virtual conference can be completely waste-free and so much better for the planet!
Now, with all that being said and with all the advantages over an in-person event, organizing an online event probably seems daunting as well and you don't even know where to start or what you have to do.
And that's where a virtual event and conference platform like vConferenceOnline comes in. You bring all the content, the speakers and setup, and they provide the online event platform, tools and everything else you need for a successful event.
They can help you organize single session or multi-day fully customizable events like:
Webinars
Online courses
Virtual conferences
Online trade shows
Conventions
Job fairs
Here is what they can provide for you:
vConferenceOnline Key Features
Registration Site
vConferenceOnline offers a public microsite where people can find out about your event and register. They will see basics like event summary and session information like schedule and rooms things are going to be appearing in, so they can decide if they want to attend.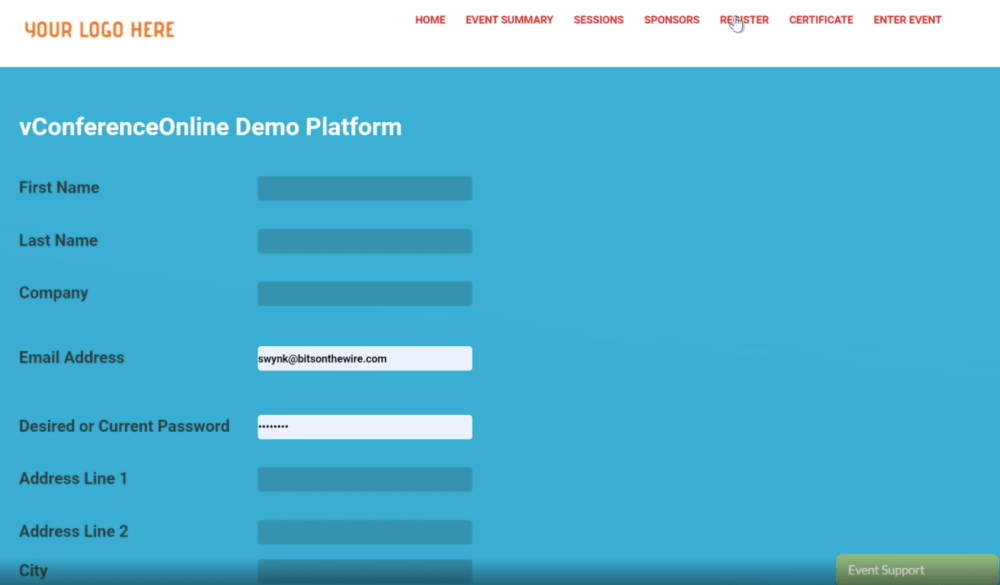 You will be able to customize the registration page in terms of fields that you collect and different colors, and you can also opt for credit card payments directly into the system and posting them against your credit card processor accounts. You can also add custom questions at the end of the registration form to get to know your attendees better.
You don't have to use this microsite for registration, you can use your own if you want to and just import info into vConferenceOnline. The platform also allows native integrations like imports from CSV and Excel sheets and other types of custom integrations for maximum flexibility.
Intuitive Customizable Events
vConferenceOnline allows you to customize everything about your event from background to buttons, to fields available, and everything in between, but they also want your attendees to be able to find everything very easily. That's why it was important for them to create an intuitive platform, where everything is where you'd expect it to be, easily visible and accessible.
Event Coach Assistance
When you sign up on vConferenceOnline, you are assigned an event coach, who will teach you all about the system, the admin tools, make sure you are very comfortable with the platform so you can easily set up sessions, exhibits, and anything else you need to, and also help you engage your registrants after the event has finished.
Best Practices Assistance
Your project manager is there to help you, but if you want to set up things on your own, vConferenceOnline also offers guides to help you do that.
Live or Simulated-Live (Pre-Recorded) Videos
vConferenceOnline supports fully live streams, or you can pre-record your video and play it back as if it were live, which is actually recommended because it takes away the stress factor of something going wrong during a live stream, like technical issues or speakers getting sick and not being able to show up.
It will make absolutely no difference to the attendees, who will perceive it as a live video, but all the difference to you as a show producer, and to your speakers, who will be relieved of the anxiety of having to speak to an audience in real-time (even if it's just online), and they can take their time to answer questions during the actual event, because all other functions like chat and Q&A will be live. Only the video part will be pre-recorded.
On-Demand Videos
Once sessions play in scheduled mode, they can be dropped in on-demand video, where registrants can watch them after the event. You can typically have up to 90 days for on-demand access to different sessions. You will get the same functionality, buttons and video player, only you have control over the video as opposed to when it's live, and there's no chat in on-demand, because you don't know who else is in the room.
---
This will give your attendees the opportunity to learn at their own pace in the case of an online course and come back to the information as many times as you allow them.
Industry-Unique Track System
vConferenceOnline offers unlimited tracks and sessions, which can be set up just like at an in-person event and broadcasted like live TV, offering unique opportunities for in-between sessions air time. You can use that time to display ads, but also for speaker interviews and to provide extra information about your products or services.
Gamification Options
Get your attendees to engage in the event by giving them rewards. It can be as simple as a free membership or gift cards for time spent in sessions, participating in conversations with other attendees and exhibitors, or downloading assets. All of those are easily trackable on the platform and you can reward the participants who gather the most points.
3,000 Attendees and More
Unlike other virtual event platforms that bait you with the promise of unlimited registrations, but limit the actual number of attendees allowed to just 100 or so, vConferenceOnline welcomes 3,000 attendees on the platform, and even more if needed.
Free or Attendee-Paid Events
vConferenceOnline allows you to choose whether you want your event to be free to attend or you want registrants to pay an entry fee.
There are many other cool features within the online event platform, like direct credit card processing, API integrations, continuing education certificates, quizzes & polls that you can add, simultaneous virtual events and sessions, closed captions and transcripts, etc. For a complete list, please check out the Features page on their website.
Ok, so now that we've covered the main features, let's get an idea of what the platform looks like inside an event.
vConferenceOnline In-Event Layout
Once the event starts, there will be an Enter Event button that appears, where you will have access to the conference lobby, which includes Session Lobby, Exhibit Hall, Chat Lounge, Help Center, and more.
You can choose a video background or static images like these ones to match your event perfectly: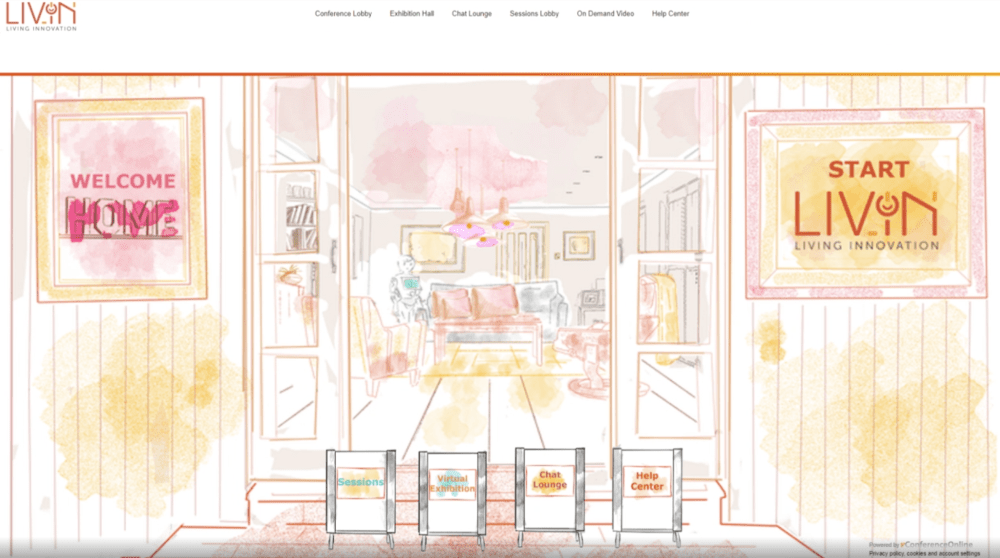 ---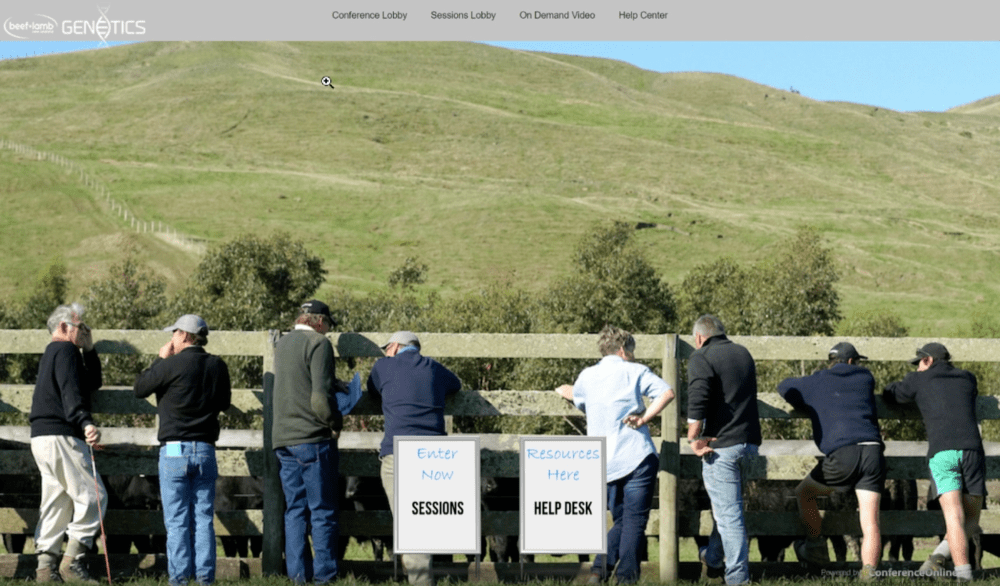 Sessions Lobby
This is where you will find the session boards, which are just like the boards placed outside rooms at a convention center that let you know what's happening inside that room at that time and what's coming up next.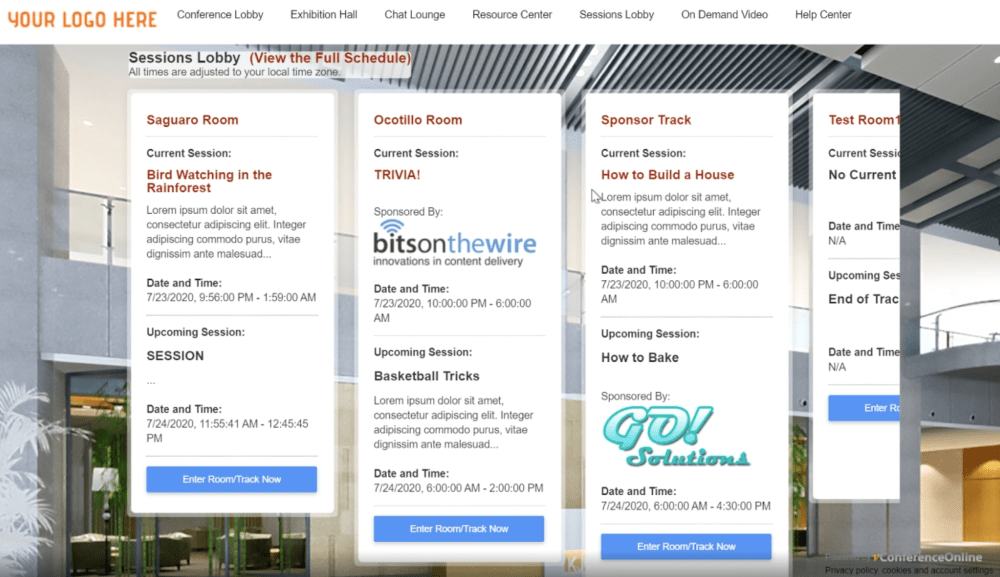 Session Room
Inside a session, the buttons you see at the top are all settable by room, so there are different options you can choose for each session. The possibilities are endless.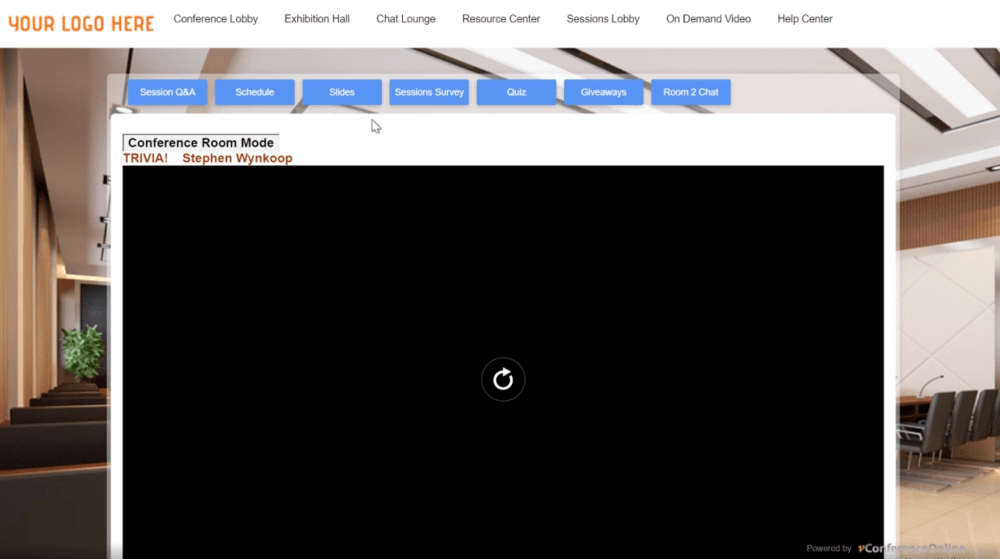 You can even link out to a Zoom meeting room to have a live Q&A session or a networking session.
In the bottom part of the session room there's a chat room where the speakers can answer any questions and attendees can talk to each other while the session is going on.
Exhibit Hall
That's where the exhibitors will be and they can have booths and all sorts of fun stuff. You can use video backgrounds in the exhibit hall and customizable backgrounds in the booth itself.
Inside the booth, there is a chat function, you can display your logo and have as many buttons as you like, videos, graphics, or text. Booth backgrounds can be set up by the exhibitors, so they can customize their booth the way they want to.
As a show organizer, you can also decide to have live reports inside the booth, which allows the exhibitors to download reports directly from the booth, so they can see who's in the booth at any given time, take notes, contact them, etc.
Help Center
If your attendees need live technical support via chat, they can go to the Help Center, where there will always be someone to answer their questions if they encounter any difficulties.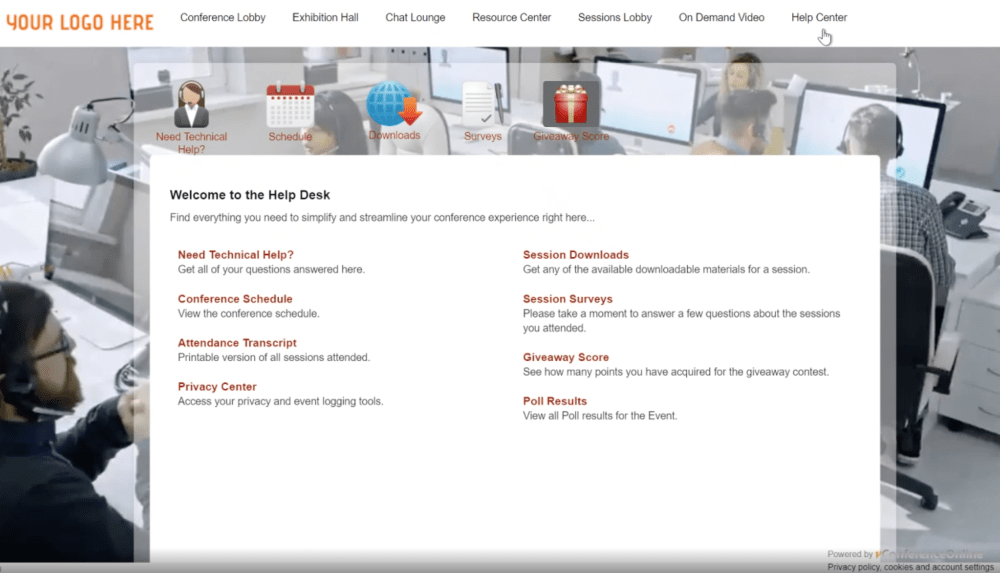 This is also where the Privacy Center is, where they take care of GDPR and privacy regulations, and where people can see how their information is used and opt out of the event if they want to.
Chat Lounge
You can set up as many chat rooms as you like, around different topics, or even allow attendees to create their own chat rooms, if you'd like to give them that option.
vConferenceOnline Pricing
Pricing varies a lot depending on the type of event and specific features and customizations you may need, so you will have to talk to vConferenceOnline for an exact price, but as an idea, they offer two main plans:
An Annual Package at $21,700/year or $3,000 for the first month and $1,996/month for the remaining 11 months, if paid on a monthly basis – this includes up to 6 events with unlimited features, registrations and tracks with up to 150 sessions and 75 booths per event;
Single Events that range from $4,995 for a mini event to $14,500 for a single event with the same full features included in the annual package, and additional costs for extra session hours or booths.
They also have options for convention centers with multiple events per month, packages for more than 3,000 attendees and extra features that can be added on any of the packages and single events. You can contact them directly for individualized offers based on your specific needs.
Are you ready to begin organizing your online event or conference? 
See also: What is the best time to change profile picture on social media?