If you use Facebook Messenger to talk to friends and family or carry on business conversations, there are certain instances when you want or need to save Facebook messages for later reference, and the easiest way to do that would be through an automatic message backup for Facebook, either through the Facebook app directly, or though a third-party FB chat history manager.
So then the main question is:
How to backup Facebook messages automatically?
Unfortunately, Facebook does not offer an option to backup Facebook messages automatically or even auto save messages on Messenger, and there are currently no third-party apps or plugins that allow you to automatically backup messenger chat, but you can however download and save Facebook messages manually either through Facebook or a Facebook chat history manager.
I've looked for hours on end for an app or plugin that can backup Facebook messages automatically, and I came out pretty much empty-handed.
There seem to have been several apps and plugins that could do that, but for some reason they've been shut down or disappeared. One of them, APKPure for Android, says it is "currently not working since it is under review by Facebook". If you find any that work, please do contact us so we can update this article and help thousands of people who are looking for a way to auto-save messages on Messenger.
In this article on how to save deleted messages on Facebook, the guys at Business Insider suggest there is a way to auto backup Facebook messages to Gmail by going to Settings -> Notifications -> How you get notifications -> Email and selecting the "All notifications, except the ones you turn off" option.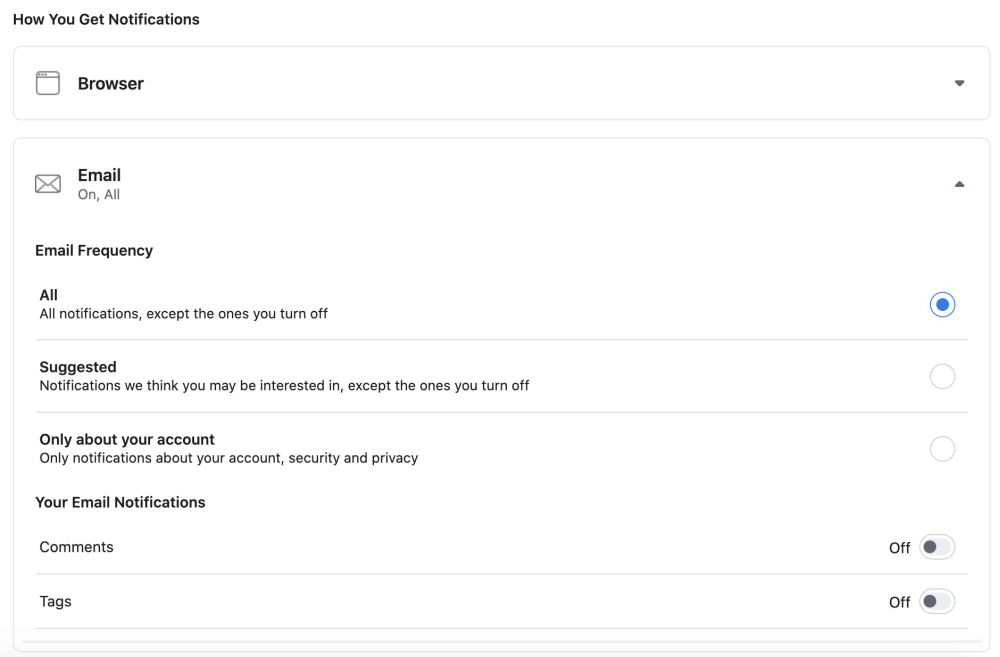 This would supposedly allow you to receive periodical emails containing records of all your Facebook messages, but I have my doubts. First of all, there is no mention of messages in the list of notifications you can receive, and second of all I've tried it and haven't received an email yet. I will update this if I do.
However, there are apps or plugins that function as a messages saver for Facebook, but you still have to do the work manually. Or just use Facebook directly to download and save, which seems to be the easiest option.
So since there is currently no apparent way to backup Facebook messages automatically, let's at least see how to download Facebook messages in the fastest and easiest way possible.
How to Save Facebook Messages
There are three ways to save Facebook Messenger conversations:
Go to Facebook Settings and download messages in HTML or JSON format.
Go to the chat conversation you want to save, scroll up and copy the text to a TXT file.
Use a third-party message saver add-on or plugin for Facebook.
I want to focus on the first two methods in particular. Let's take a deeper look:
How to Download Facebook Messenger Conversations
Go to Settings & Privacy -> Settings -> Your Facebook Information -> Download Your Information.
---
Click on "Deselect All" if you're only interested in saving your messages, scroll down and tick the box next to Messages.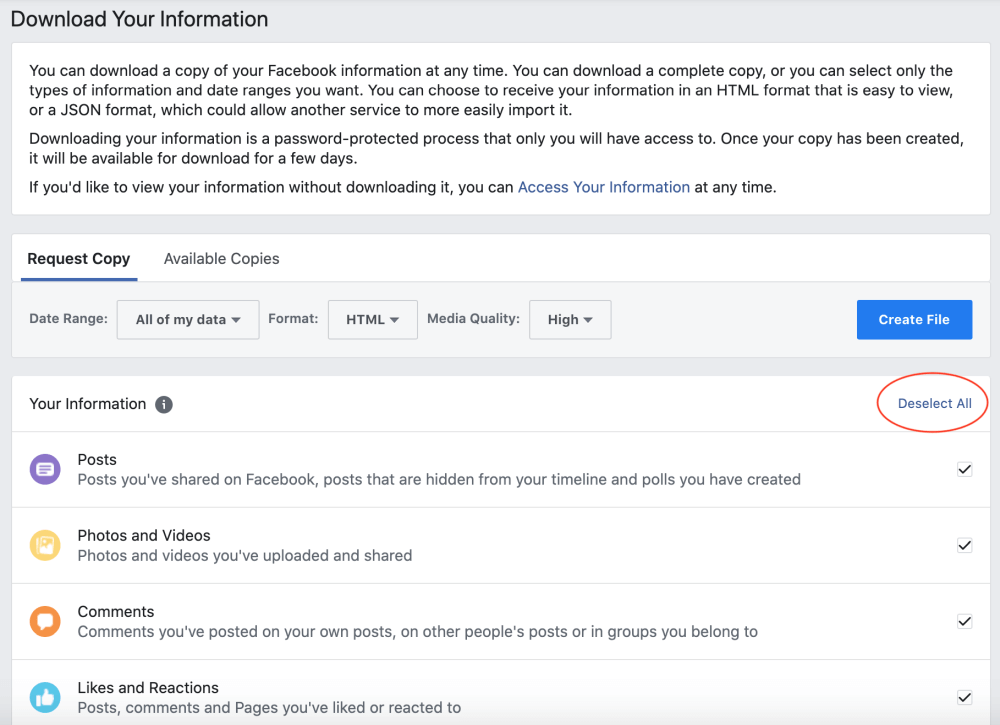 ---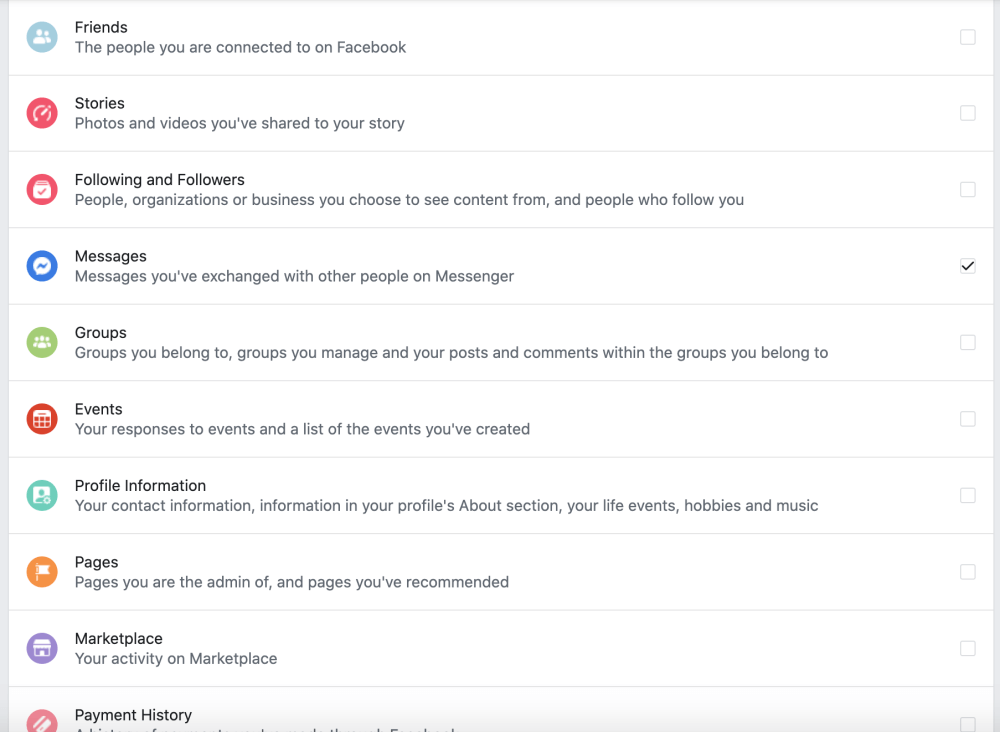 Next choose a date range and a file format (HTML or JSON) and click on Create File.
Wait for your file to be created. A message stating that "a copy of your information is being created" will pop up and you will receive a notification once it's done.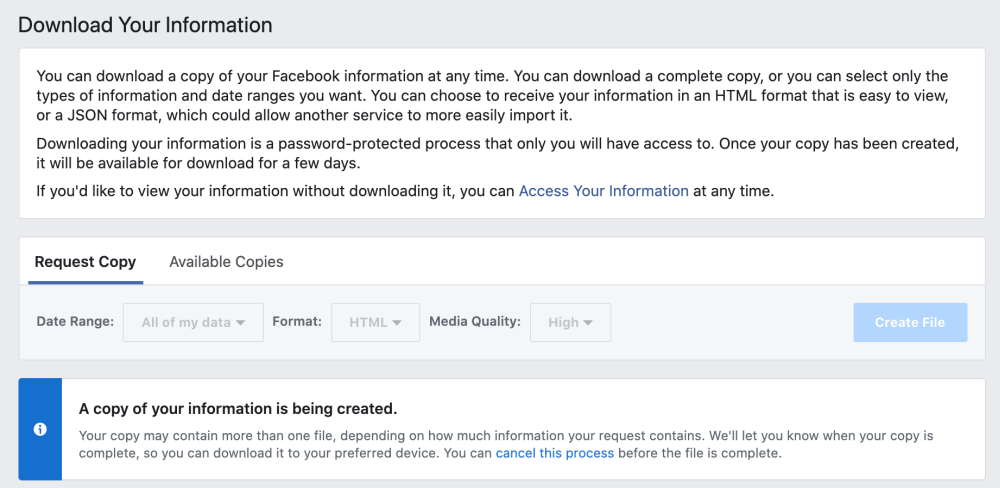 Download the file.
Here is what a Facebook message backup looks like in HTML and JSON formats. The HTML version is simpler to visualize using your standard browser, while the JSON one offers other encoding elements that can make it easier to process in another app if you're planning to do more advanced "programme-y" things with it:
How to Save Facebook Messenger Chat Conversations
If you don't want to download a copy of all your Facebook messages, and only need a particular conversation, here is how you can save a Facebook Messenger conversation manually:
Open the Messenger chat window at https://www.facebook.com/messages/t/ and open the conversation you want to save.
Scroll up manually to the line you want to start from or install a bookmarklet that can automatically scroll for you.
When you reach the top, select the text by either:
a.) Selecting a word at the beginning of the text and hitting Ctrl+A on Windows or Command+A on Mac, or
b.) Selecting a word at the beginning of the text, dragging the scroll bar downwards until it reaches the end of the conversation (or the last line you want saved), and then holding the Shift key while clicking at the end of the conversation. This will select only the text, without any ads or other junk that might be selected when you hit Ctrl+A.
Press Ctrl+C or Command+C to copy the text and transfer it to a .txt file with Ctrl+V or Command+V.
Save the .txt file.
If you want to save a very lengthy Facebook chat that extends over months or even years, I highly recommend installing a bookmarklet such as this one that can automatically scroll up. Trust me, it will save you some grey hairs. Otherwise you'll be stuck there for many hours continuously scrolling up. Just add it to your bookmarks bar, go to your messenger chat, click on Scroll All and watch as the conversation automatically scrolls up.
Well, you don't have to sit there and watch it, but do check up on it from time to time, if you can. It used to work flawlessly, but as Facebook keeps on making modifications to its interface and adding new Facebook Messenger features, there might be some glitches sometimes. Mine got stuck a few times on a very long conversation, but I just pressed the Scroll All button again and it kept moving. Not ideal, but still beats sitting there scrolling for hours on end. Just check on it from time to time.
As to apps or add-ons that can help you backup Facebook messages, there are a few like this Messages Saver for Facebook Chrome plugin or this Exporter for Facebook app, but the reviews don't seem to be that great, and since they can't backup Facebook messages automatically, I don't know if they are really worthwhile when you can just download or save your messages directly through Facebook. But I'll let you be the judge of that.
Don't forget to share this article to help your friends who are struggling to backup their Facebook messages, and please do contact us if you find out a better way to do this!
See also: Can you use Messenger as a business?