Facebook is used by billions but they never learn how to spread the right information to users.
Need an example? When they announced that Facebook organic reach will be reduced, soars of Facebook users screamed their lungs out. Don't worry if you are one of them. I was as well.
Managing over a dozen of my personal client's social accounts (with the help of one of the best social media management tools for planning and scheduling), I knew I had to do something real fast or else I was facing the chopping block before I could even say "I'm sorry".
In this post, I'll be sharing just one actionable tip to help you double, triple or ten folds.
Disclaimer: It takes a lot more effort just to reach more people. Whether it is worth it or not, I'll let you (the readers) to decide.
Before we go into the details, let's get back to basics so that we'll all be on the same page.

What is Facebook organic reach?
Organic reach is the total number of unique people who were shown your post through unpaid distribution. Paid reach is the total number of unique people who were shown your post as a result of ads. Source.
Facebook organic reach is a stat available only to Facebook pages and you need to have an administrative role to see that. This is how it looks like on a random post published on a Facebook page.


With Facebook's new algorithm, the number of reach will be reduced dramatically. From what I heard, you may even reach as low as 5% of your total audience.
Now, that's bad news right?
How to increase Facebook organic reach (without hacking whatsoever)?
You may have heard (or even practised) publishing even more content on your Facebook page to get more reach. After all, more posts at different times would mean better reach.
Yes, I thought about that as well but I noticed no significant improvements when it comes to number of reach per post basis. Bearing in mind, the more frequent you publish, you are having a higher chance to spam your reader's news feed. And that's the last thing you want to do!
Here are two steps you need to do before getting this Facebook marketing strategy working.
Step 1 – Using the right call-to-action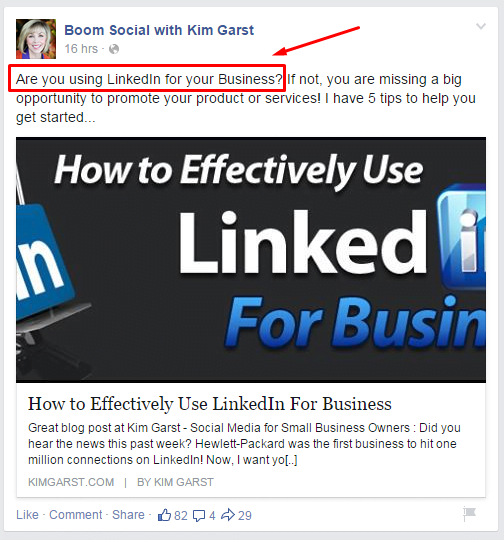 Take a look at Kim's post. She used not one but two CTA's in the post.
First, asking if anyone is using LinkedIn for business and the second part, she is telling you that you are losing out a big chunk of opportunity.
Now, think about this. Would you continue reading the next 15 words?
I bet!
That's how a good CTA works. Period.
Step 2 – No click bait (or at least, try to avoid them)


Having good call-to-actions is not enough. You need to tell your potential readers what it is all about.
Remember, Facebook also recommends this to everyone.
What happens when readers read it? They are going to expect nothing less than 5 tips to help them get started on LinkedIn.
Do you think that this will increase your chances of getting this post shared across Facebook?
Improving your Facebook organic reach
Yes, I'm not going to delay you any longer.
The trick here is to avoid publishing the same post over and over again. Instead, you need to be a part of the resharing cycle.
This is how it works.
When you publish a post on your Facebook Page, it looks like this.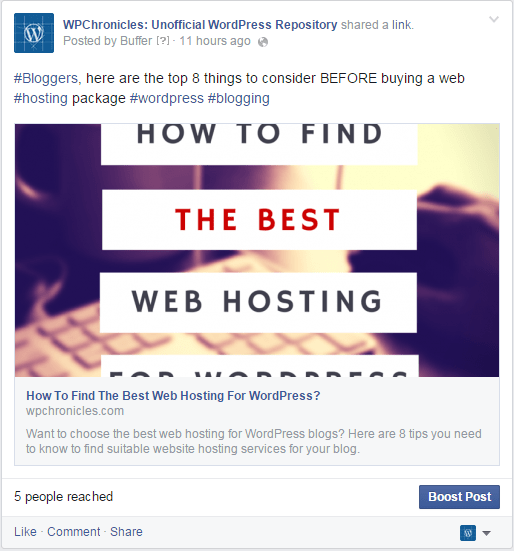 5 people reached? That's pathetic.
This post was published on my new Facebook page, WPChronicles that has 141 fans at the moment. Reaching out to 5 people would mean a mere 3.5% reach of my total fans.
And yes, that sucks.
So what I did? I started sharing that Facebook post, not the blog post on Facebook on my own news feed.
The results?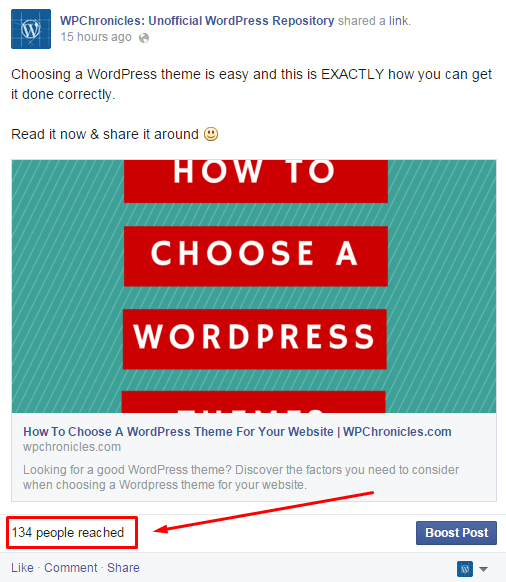 134 reach within two hours of sharing.
How to share posts on your own news feed (from your Facebook page)?
Open your Facebook page and select a post you would want to share. It will look something like this: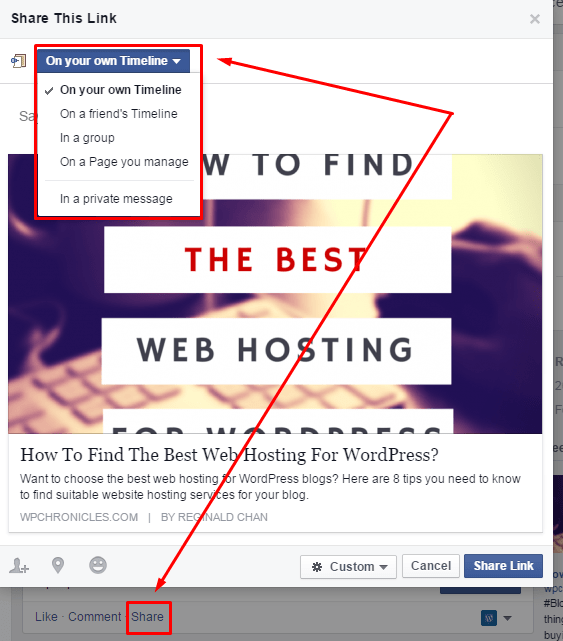 You can select your own timeline, your friend's or another two other methods.
Important tip about sharing a post from your Facebook page
While this Facebook tip works like a charm, you have to remember that the old Facebook marketing strategies still play a vital role. Need a refresher or reminder? Here's a list right out of my mind right now:
Posting at the right time
Having proper call-to-actions
Sharing valuable information
Over to you
Do you have tips when it comes to increasing Facebook organic reach? Leave a comment below and share with us all!
See also: 3 Ways to Drive Traffic Through Facebook