Whether you're running a remote team or thinking about starting an online business right now, congratulations! You're one of the daring businessmen of the online age! And there are many others like you, thanks to the many advantages of remote working. 
To help you manage your business from the comfort of your home and collaborate with your team more smoothly, we've picked some of the best remote work tools for 2023:
Best remote work tools for 2023
Content Tools
1. Google Docs – Cloud-based collaboration documents
Google Docs is Google's text creation tool and is part of the Google Workspace suite of tools. Google Docs is completely cloud-based and allows real-time collaboration with your team, sharing your documents with others, and plus it benefits from Google's premium data security protocols.
Google Docs is one of the best remote work software as it allows you to collaborate with anyone (teammates, managers from across the continent, or overseas clients) on your documents.
What's great about Google Docs is that it works perfectly on any device, browser, and operating system. It's the perfect remote work tool for content professionals, writers, teachers, students, marketing specialists, and many more.
Features:
Seamless collaboration from anywhere – Google Docs is perfect for team collaboration. You can edit documents at the same time with your teammates and write comments or suggestions. Also, @mentions allows you to add people, files, and events to your documents.
Sharing options – You can easily share your documents with your teammates by adding their email addresses in the sharing box or by sending a link. Also, you control who can edit or comment on your documents.
Built-in Smart Compose – helps you write error-free documents that you can proudly share with your teammates, managers, or clients.
Connects to your other Google apps like Gmail, Google Sheets, Google Drive, or Google Meet.
Editing other document types is possible in Google docs – you can edit other document types like Microsoft Word or PDFs.
Professionally designed templates – You can start working on your next project right away, using Google Docs' ready-made templates as a starting point. You'll find templates for resumes, letters, proposals, lessons, brochures, reports, etc.
Premium data security – All documents created in Google Docs or uploaded from a 3rd party are encrypted and benefit from Google's premium security protocols.
Privacy – Google claims that they never use Google Docs content for ad purposes, nor do they sell your information to third parties (advertisers).
Integrations: all Google Workspace tools, Microsoft Excel, Slack, Trello, Dropbox, WordPress, Grammarly, One Drive, Rippling, Canvas, Zapier, Semrush, ActiveCampaign, Stack, and many more.
Platforms: Web, iOS app, iPad app, Android app.
Pricing
As part of Google Workspace, Google Docs comes as part of their suite of office tools (Google Docs, Google Sheets, Google Slides, Google Forms, Google Keep, Google Sites, Google Drive, Gmail, Google Meet, Google Calendar, Google Chat.) So, for the Business plan, you'll have to sign up with Google Workspace.
Free Plan – is intended for personal use and includes Docs, Sheets, Slides, Forms content creation, 15 GB of cloud storage in Google Drive, Gmail, Meet video and conferencing for up to 100 participants, self-service online and community forums.
Business Standard – costs $12/month/user and includes everything that the free plan covers + 2 TB of storage in Google Drive, shared drives for your team, custom business email, Meet video and conferencing for up to 150 participants, meeting recordings saved to drive, admin centralized administration, group-based security policy controls, 24/7 online support, and community forums.
So, Google Docs is a great remote working tool because it's accessible from anywhere, it's easily editable, shareable, and it's secure. The only thing that Google Docs could work on is printing. When you print files from Google Docs, they don't come out as neat and professional as they do from other text software like Microsoft Word.
---
2. WordPress – A website builder that powers 43% of the internet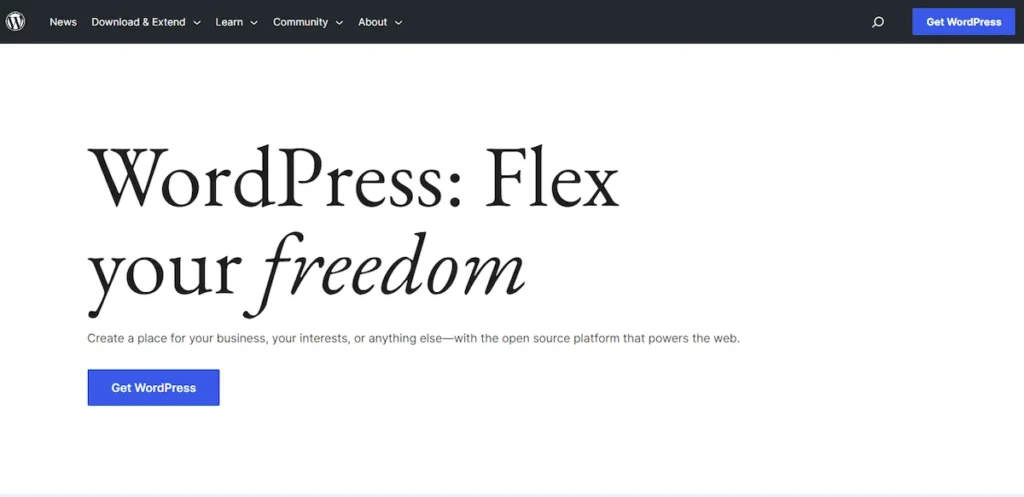 WordPress is the world's most popular website builder tool and also one of the top remote work tools. According to W3Techs, 43% of all websites in the world use WordPress as their content management system.
Originally created as a platform for blog publishing, WordPress now integrates all types of technologies to provide users the possibility to build complex websites to suit all needs.
To start building a website in WordPress, all you need is a domain and hosting. (If you don't have your own hosting for your website, WordPress can help you with that too.) Next step is to choose a theme from WordPress' impressive collection of ready-made and customizable themes. Depending on your level of website-building experience, you can improve a theme by adding plugins and add-ons or modifying the existing code.
Their website themes support all types of additions like mailing lists, e-commerce, portfolio galleries, etc.
WordPress is used by bloggers, entrepreneurs, local businesses, online magazines, and big-size companies all around the world. Anyone can build their own website, thanks to WordPress' easy-to-use themes and learning resources.
Features:
Easy installation and upgrades – One of the reasons why WordPress is the most popular website builder in the world is that it is easy to install and upgrade.
Easy publishing tools – Publishing a post or page in WordPress is almost as easy as creating any type of document. You can choose a format, add text, insert media, add links and click the Publish button.
You can create drafts, schedule publication, and make your content public or keep it private.
Gutenberg is a block editor that makes everything so simple. WordPress allows users to choose between the classic editor or Gutenberg. Using blocks of content to build posts or pages is so much easier than coding. Plus, anyone can create pages, even without coding experience.
User management – WordPress allows you to set roles for the people who have access to your website. Administrators manage the website, and editors, writers, and contributors create the content.
Media management – Adding photos to your pages is as easy as drag & drop. The platform even added some image editing tools that can help you enhance your pictures before publishing your content.
Full standards compliance – When you start a website in WordPress, rest assured that your website will be just as compatible with future browsers as it is today. All pieces of WordPress code are in full compliance with the standards set by the W3C.
10.300 ready-made free customizable themes to suit all fields of activity. No matter what your field is, WordPress has already created a website theme for that. Customization is easy; you either do it yourself or hire a professional developer to do it. Either way, it only takes a few clicks to come up with a unique website.
60.000 Free Plugins – With customization at its core, WordPress today offers a repository of 60.000 plugins that you can use to add new features to your website. You can add complex photo galleries, social networking, forums, social media widgets, and calendars, or optimize your website for search engines.
Built-in Comments – WordPress comment tools allow you to create a space of discussion with your readers and followers.
Search Engine Optimized – WordPress websites come optimized for search engines. However, as you add content, you can choose from a variety of plugins to further optimize your pages.
70 Languages – WordPress is available in 70 languages.
Importers – If you're using another content management platform or hosting and you're thinking to switch to WordPress, it's now easier than ever to make the move. WordPress comes with importers for Blogger, LiveJournal, Movable Type, and Tumblr.
Learning center – WordPress has an incredibly complex learning center, offering tutorials and course lessons for developers, designers, and users of all types. The topics range from site management to theme development and plugin development.
Platforms: Web, iOS app, Android app.
Pricing: WordPress is 100% free to install, use and update. However, there are other costs that you will have to pay to get it up and running, plus customize it the way you want. The hosting, domain, and plugins are some of the extra costs that you'll have to cover when choosing WordPress as your website builder.
Bottom line, WordPress is a great free website builder, but if you want a tool that's even easier to use and that offers up-to-date features, you'll have to choose from its competitors and get ready to cover the price.
WordPress is great as a low-cost option for people who want to get their business online quickly without too many expectations.
---
Project Management Tools
Asana – The best remote project management software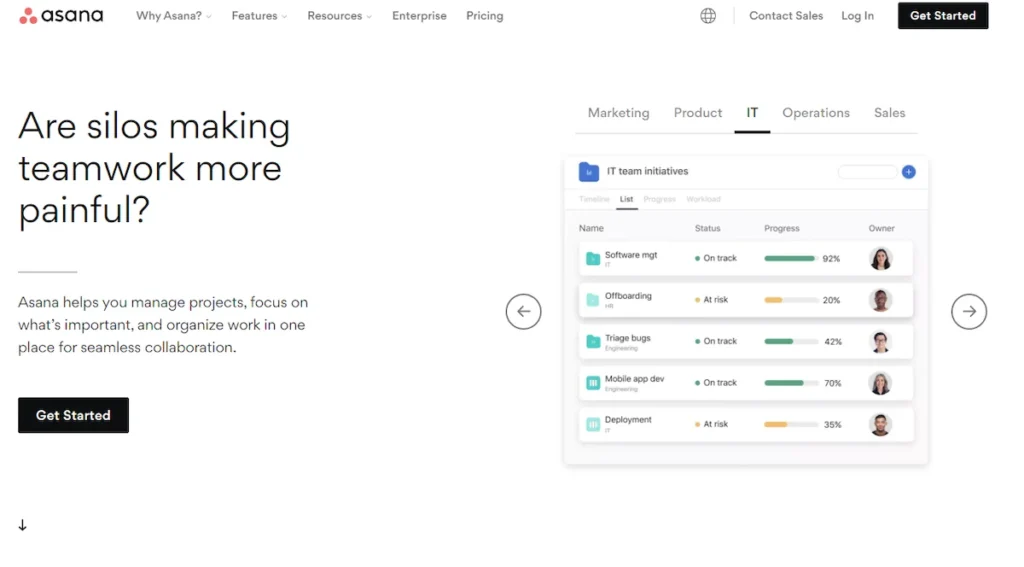 Asana is one of the most popular projects management platforms on the market today and among the best remote work collaboration tools. Asana helps project managers around the globe organize their teams, track deadlines, collaborate on projects, and streamline productivity.
Features:
Project management – With Asana, you can break up your workload into projects, tasks, subtasks, milestones, or sections. Then, assign tasks to team members so everyone knows what's their responsibility. And finally, set due dates for your tasks and projects so that your team works within an agreed time frame.
Agile management – You can also manage your agile projects with Asana's agile management tools. Organize and manage your agile projects and Scrum sprints with Asana's flexible and collaborative agile tools.
Using these tools, you can easily identify bugs and fix them, create agile sprint plans, respond to product feedback, build product roadmaps, and streamline work requests.
Attachments – You can easily attach documents to your projects or tasks from your computer, Google Drive, Box, or DropBox. Sharing key resources with your team is important.
Workflow builder – This visual tool helps you to connect teams and organize work more efficiently.
Multiple workflow view. Organize your workflows and choose the view that allows you to see clearly what's going on at all times. With Asana, you can choose between the timeline view, the board view, the calendar view, the list view, and the teammate view.
Tracking & Reporting – Asana's Dashboards allow you to clearly see progress across teams and projects in real time and identify problems as they happen. Also, you'll get reports packed with actionable insights to help you take action and improve your work strategy.
Goals setting – Working without a goal in mind can lead to chaos. That's why Asana has created the goal-setting tool, another feature that helps teams work together in the same direction and avoid conflicting ideas.
Use this tool to set company or team goals and connect them to your projects. Then, track the progress of your goals as projects are delivered.
Communication – As you already know, communication is the base for success. With Asana, you can keep your team connected in a multitude of ways. You can comment on tasks, @mention your team members, send private messages, discuss a project's progress through project conversations, and create a special space for all team conversations and announcements.
Forms – This feature is intended to help you reduce the time and effort it takes to manage incoming work requests. With Forms, you can make it easy also for your clients to request work from you. You can choose from Asana's ready-made Forms templates or customize them to your needs. You can also copy and paste a form snippet from Asana to your website.
Automation – Save time by automating routine tasks so that your team doesn't have to deal with them every time. Also, you can use custom templates for projects or processes. You can choose from Asana's base of templates for work requests, new employee onboarding, project plan, creative requests, event planning, or marketing project plan.
Workload – This feature is available in the Asana Business plan and it helps managers have a clear view of everyone's workloads at all times. Also, the feature allows managers to assign hours or points to each team member, and get important insights into their working behavior.
Support & Resource Center – Asana offers multiple ways to become proficient at project management and at using their tool. When you sign up with Asana, you can take part in instructor-led trainings, learn through self-led tutorials by Asana Academy, access the Asana Guide for tips and tricks, or simply read their blog posts.
Integrations: Adobe Creative Cloud, Microsoft teams, Salesforce, Jira, Tableau, Slack, Microsoft Office 365, MuleSoft, BetterCloud, Google Calendar, Gmail, Chrome Extension, Google Workspace SAML SCIM, Zapier, Outlook, Workplace, Canva, and many more. (200+ integrations)
Platforms: Web, iOS app, Android app.
Pricing:
Basic Plan is Free and includes up to 15 members, unlimited tasks, projects, messages, storage, iOS and Android apps, time tracking, and 100+ integrations.
Premium Plan is $10.99/user/month and includes the following features: timeline, workflow builder, unlimited dashboards, reporting, forms, rules, templates, admin console, and private teams and projects.
Business Plan is $24.99/user/month. It includes everything in the Premium Plan + portfolios, goals, workload, custom rules builder, forms, approvals, proofing, lock custom fields, and advanced integrations with Salesforce, Adobe Creative Cloud, Tableau, and Power BI.
Asana is a great project management tool, but some people consider it a bit pricey. They do offer a free plan, yet the features are limited. If you're running a start-up on a budget, you may want to look into other options.
---
Graphic Design Tools
1. Canva – Best online graphic design platform
Canva is one of the best and most cost-effective online design platforms. The tool has been created "to empower the whole world to design", meaning to allow anyone, without any prior design experience, to create beautiful visuals. Using a simple drag-and-drop editor, anyone can create designs starting with Canva's ready-made templates, using stock photos, and graphic elements. Most people use this design app to create Social Media graphics, presentations, flyers, and posters.
Because it's cloud-based, and has a set of collaborative tools for teams, I've added Canva to the list of the best remote work tools 2023.
Features
Photo effects – Canva provides a rich range of effects to help you beautify your photos: filters, saturation, and tint, duotone, slicing, faceretouchingh, color mix, pixelating, frames, shades, and many more.
Frames & borders – Whether you need to add frames to your presentation slides or Social Media posts, Canva helps you achieve that. The platform provides you with a generous base of frames and borders suited for any kind of design.
Add text to photos – This is a basic tool, but still worth mentioning. With Canva, you don't just add text to a photo, you can actually create stylish designs using their fancy fonts and text effects, like text curving.
Online video recorder – This tool helps you to add a human touch to your presentations or Social Media posts. The video recorder allows you to record yourself while explaining something and add your video to your design materials. This way, your visuals will get extra compelling power. The tool can also be used to record your screen and create step-by-step video guides.
Video trimmer – Cut, trim, slice, or split your videos with Canva's video trimmer. This tool is particularly useful to get videos ready for Social Media platforms like TikTok, Instagram, Facebook, and YouTube.
Text animations – With Canva you can create stunning text animations to deliver your message. Get dynamic with popping, fading, or flickering text.
Hundreds of thousands of templates to start creating banners/flyers/posters/Social Media/brochures/presentations layouts right away.
With the Pro Plan, you get access to Canva's more than 600.000 premium templates covering all fields of activity and design types.
Canva live + presentations – Canva now offers the opportunity to make live presentations combining both video presentation and visual slide presentation. The tool also includes engagement with the viewers through comments and answers.
Brand management tools – It's easy to build your brand and stay consistent with Canva. You can upload your logo, fonts, and colors and use them to create all types of designs. Also, you can create brand templates and help streamline the creative process. All of your brand assets are fully accessible to your whole team.
Team collaboration tools – From creation to reviewing, your team's workflow is made easy through Canva's tools for teams. The platform allows you to manage projects from start to finish: brainstorming, feedback, approval, and publishing. Also, you can organize your projects by teams, assign tasks, track progress, communicate through comments and get insights on your work.
Content management tools – This design platform provides you with a structured system set up to manage your content through unlimited, shareable folders. Your whole team can work together at the same time in folders, thus increasing productivity.
Content planning & scheduling – You can also plan and schedule your content using Canva's calendar and publishing tools.
A generous inspiration & knowledge base – Though it's extremely easy to use, Canva also provides its users with a rich knowledge base, where you can find information on design, marketing, brand building, and anything you need to stay competitive on the market.
Platforms: Web, Desktop app for Windows & Mac, iOS app, Android app.
Pricing:
There's a generous Free plan – Canva's free plan comes with 250.000 templates, 100 design styles, 1 million photos and images to use in your work, and a huge 5GB of storage space.
Canva Pro is $12.99/month/person and includes:
A database of 100 million Premium stock photos, images, video content, audio content, and graphics.
Over 610.000+ free templates
Brand management tools
Content management tools
The Magic resize tool
Social Media content planning
1TB cloud storage
24h/day customer support
Canva for Teams is $14.99/month for 2+ persons and includes:
A database of 100 million Premium stock photos, images, video content, audio content, and graphics.
Brand management tools
Content management tools
Team collaboration tools
Reporting
1TB cloud storage
24h/day customer support
Canva is probably the best design platform choice for both individuals and teams as it is easy to use, offers a huge library of design templates, and also great content management tools.
However, it doesn't cover everything on graphics. It won't help you create sophisticated animations or videos. You'll have to find more professional tools for that.
---
2. Adobe Express – Cloud-based design tool for stunning visuals
Adobe Express, formerly known as Adobe Spark, is a cloud-based design platform that, just like Canva, empowers people without design experience to create professional-looking visuals.
Adobe Express offers access to a premium library of royalty-free stock photos, fonts, and ready-made templates, plus a set of design tools to allow you to create beautiful visuals to promote your business or yourself.
Features
Millions of professional stock photos – Once you sign up for Adobe Express, you get access to the Adobe Stock royalty-free photo collection.
(Over 160 million royalty-free photos on the Premium Plan, and over 1 million photos for the Free Plan.)
Thousands of professional templates – Creating stunning visuals comes easy when you start with a ready-made professional template. Adobe Express has a rich base of templates for social media, posters, flyers, logos, and many more.
A huge database of design elements – images, icons, illustrations, backgrounds, and many more. There's everything you need to start creating beautiful designs.
Fonts – As an Adobe Express user, you'll get access to their 18.000 licensed fonts from the Adobe Fonts library.
Resize tool – A marketing campaign needs design materials for social media, outdoors, press, etc… That's why Adobe Express has created the resize tool, to make it easier for you to produce more visuals for all of your media outlets in less time.
Amazing effects – You can easily create on-trend designs using filters, effects, textures, and overlays.
Background removal tool – Anyone who's ever had to create a design knows just how important it is to easily cut out the background of a picture. With Adobe Express you can do that instantly, at the press of a button.
Content Scheduler – Because most of the visuals created in Adobe Express are published on various social media platforms, the app has created a content scheduler that allows you to create, plan, preview your content, and then schedule posts across multiple social media channels.
Inspiration & Knowledge base – The design platform constantly publishes articles on its blog on topics like design, social media, business, photography, and many more. For tutorials on how to use the app and create amazing designs go to Adobe Express' YouTube channel. You'll find useful videos about everything you need.
Platforms: Web, Desktop app for Windows and Mac, iOS app, Android app,
Pricing:
Free Plan – includes all the core features to be able to create content: ready-made templates, fonts, a limited collection of royalty-free photos, basic editing, and photo effects (including background removal and animation), web and app, 2GB of storage.
Premium Plan – is $9.99/month/person and includes all premium templates and design assets, 20.000 licensed fonts, 160 million royalty-free Adobe Stock photo collection, premium design features, Content Scheduler, convert & export to PDfs, web and mobile app, 100 GB of storage.
Free Plan with Premium content – for educators, students, and NGOs. (US only)
If getting access to Adobe Stock's collection of royalty-free photos, fonts, and premium templates is important to you, then Adobe Express might be the design platform for you. Just add it to your work-from-home tools collection.
The downside of Adobe Express is that it doesn't have a set of tools for business teams and I think they could improve the app by coming up with some on-trend design tools.
---
Social Media Tools
1. Hootsuite – World's best social media management app
As the world's first social media management platform, Hootsuite has developed over the years a suite of tools that not only helps businesses publish content on social media channels but also reach their customers more efficiently, and improve customer service thanks to deeper analytics and insights. In 2022, Hootsuite was named the leading platform in social media management and was awarded "Best Overall Social media Management Platform" at the fifth annual MarTech Breakthrough Awards.
Today, Hootsuite focuses on social marketing, social commerce, and social customer care.
Features
Schedule and publish – It's easy to create, curate, schedule, and publish content on social media using Hootsuite's Planner.
Using Composer, one of Planner's sub-tools, you can create high-performing content, using their content library, image editing, and video publishing tools that auto-adjust the bitrate, height, and width to match each social media network requirements.
Engagement & customer care – Hootsuite enables you to answer to all of your incoming messages and comments from all your accounts on all social networks, within the platform.
You can easily assign one of your team members to answer a particular comment or message. Also, you can use saved replies to answer common questions and thus speed up the response process.
Chatbots response is also available, should you need to use it to avoid overwhelming your team.
Monitor – Track the performance of your posts, and brand mentions, and get real-time customer insights. Hootsuite enables you to integrate tools like Brandwatch and Talwalker to get essential insights about your audience.
Advertise content – With Hootsuite you can even run multi-channel paid campaigns from the comfort of your dashboard. More, you will also get analytics reports about your boosted posts to help you analyze and improve your efforts.
Analyze results – Hootsuite provides consistent analytics data for all of your social networks. You can opt for customizable reports that are easy to deliver to your managers or clients.
Using Hootsuite's Impact tool you can calculate the real return on your social media investment.
Social commerce – Social commerce and customer care go hand in hand. Hootsuite helps businesses of all sizes sell on social media thanks to its AI-powered technology called Heyday. This is an automated messaging platform that combines AI with the human touch of a customer care team to provide flawless customer care.
Resources – Hootsuite Academy runs certification courses for people who want to build their social media skills or plan to take their career to the next level.
Also, anyone interested to level up their social media knowledge will find a base of articles on social media marketing on their blog.
For real-life case studies, strategies, analyses, and social media trends, visit Hootsuite's resources page.
Integrations: Adobe, Canva, Magento, Hubspot, Zendesk Pro, Shopify, Google My Business, WordPress, and many more.
Platforms: Web, iOS app, Android app.
Pricing:
Hootsuite doesn't have a Free Plan, but they do offer a 30-day free trail for two of their plans, which is fair enough.
Professional Plan is $49/month/1 user/10 social accounts. It includes basic features like post scheduling, an unlimited number of posts, access to multi-channel messages in one inbox, analytics, and customizable reports.
Team Plan is $249/month/3 users/20 social accounts. This plan covers unlimited posts, scheduling and publishing, access to the multi-channel inbox, roles and permissions, and the possibility to assign incoming messages to team members. Plus you can customize your dashboard to suit your team's needs with 150+ integrated apps.
Business Plan is $739/month/5 users/35 social accounts. This plan covers unlimited posts, scheduling, and publishing, multi-channel inbox, roles and permissions, the possibility to assign posts to team members, approval workflow, inbound/outbound tagging, content and asset library, and customer support.
Enterprise Plan has a customizable price, depending on the size of your team and its needs. It starts with 5 users and 50 social accounts. This plan covers everything the Business Plan includes + social ads management, social ads analytics, and reports, employee advocacy, and team productivity reporting.
Bottom line, Hootsuite can help you promote your business on social media like no other social management platform can, thanks to its advanced features and integrations. But, it all comes with a price. If you can afford their plans, go ahead and make Hootsuite your partner. If not, you may want to look into another, more affordable option.
---
2. Buffer – World's most popular social media management app
Buffer is an all-in-one social media management platform that can help you easily manage your social media accounts, schedule and publish content, track the performance of your campaigns, increase engagement with your followers, and ultimately sales.
Buffer is great for both individuals looking to promote a small business as well as for marketing agencies running multiple accounts on multiple social media channels for various clients.
The app is user-friendly, and extremely easy to use and navigate, which makes it a top choice among social media management tools.
Features
Publish – With Buffer it's easy to schedule & publish content on Facebook, Instagram, Twitter, Pinterest, and Linkedin, all from a simple drag & drop dashboard.
Content Collaboration Tool – This social media app enables teamwork: you can work together with your team to create drafts, get feedback, and refine content for publishing. Also, you can easily share and manage access to each social media account.
Analytics & Reporting – Buffer provides a consistent set of analytics including your posts' interaction and performance across the social channels as well as audience demographics. You will get information per post of total likes, comments, clicks, reshares, mentions, and total reach. Organic reach versus paid reach. Also, recommendations on how to grow your reach, posts engagement, and sales.
As for reporting, Buffer enables you to create fully customizable and downloadable (PDFs and images) reports to share with your team, managers, or clients.
Interaction & Engagement – The app helps you stay in touch with your followers and reply without leaving the dashboard.
You'll have a grid view of your posts showing how many unanswered comments each one has. Plus, you'll get notification alerts informing you about the type of comment, if there's a question, a negative comment or a comment about a purchase.
Image editor – Buffer now features the Remix mobile app (100%free), which helps you create beautiful content for Instagram. You can select and size an image and easily create text overlays and backgrounds to create more engaging photos.
Resource base – You can find tons of useful information in Buffer's Library on social media marketing, small business marketing, and particular articles and actionable insights for each social media channel.
Integrations: Canva, Zappier, IFTTT, Make, WordPress, Microsoft, Feedly, Pocket, CrowdRiff, ScoopIt, Paper.li, Quuu, Upflow, RiteKit, Bulk.ly, Nelio, Pixlee, Gather, SocialBee, HipLay, PicMonkey, Planable, and many more.
Platforms: Web, iOS app, Android app.
Pricing:
There's a Free Plan that includes the basic planning and scheduling features for up to 3 channels of your choice.
The Essentials Plan costs $5/month/channel and can only be used by 1 user. You can add more channels but the price will grow with $5 for each added channel. You'll get access to all of their planning and scheduling features, engagement tools, analytics, and reporting but without the exportable branded reports, plus support.
The Team Plan is $10/month/channel/unlimited users. Adding more channels costs $10. This plan includes all the planning and scheduling features, all the analytics and reporting features (including exportable reports), all the engagement and team collaboration tools, plus support.
The Agency Plan is $100/month/10 channels/unlimited users. With this subscription, you can benefit from all of Buffer's features and exclusive features.

To conclude, Buffer is a great social media management tool because it's extremely simple to use and it's great at scheduling and publishing. That's why Buffer is among the most popular working from home tools. You can start using this app to manage your social accounts even if you don't have agency-level expertise.
One disadvantage that comes with Buffer's pricing plans is that the costs rise high if you want to manage more social media channels or if you want access to their premium features. Other social media management platforms include these in their basic plans.
---
Invoicing & Billing tools
Freshbooks – Online Accounting and Bookkeeping
If you're running your business remotely, you know just how important it is to have all of your work tools online. FreshBooks is an online accounting and bookkeeping platform that not only can it take the burden of daily accounting off your shoulders but it can also help you to get paid faster, track expenses, and billable working hours.
Features:
Accounting – FreshBooks' Double-Entry Accounting system provides you with everything you need to get organized and pay your taxes, comply with regulations, and make decisions based on insights. When you sign up with FreshBooks, you get access to their accounting tools: balance sheets, general ledger, cost of goods sold, accountant access, trial balance, accounts payable, chart of accounts, and journal entries.
Invoicing – Using their Invoice Generator you can create customized invoices to send and impress your customers. Also, online payment by card is made easy. Other invoicing tools: payment reminders, automatic late fees, recurring invoices, setting due dates for invoices, discounts, deposits, multi-currency billing, multi-language invoicing, and duplicate invoices.
Bookkeeping – FreshBooks teamed up with Bench to provide you also with bookkeeping services. You'll have all your day-to-day expenses, invoices, and taxes up-to-date, plus you can ask for support from their expert bookkeepers on anything concerning booking and tax counseling.
Expenses and receipts – This tool lets you track your business expenses and get a clear view of how much you're spending and how big your return on investment is. Using the mobile receipt scanning tool, you can scan and collect all your receipts into the FreshBooks app.
Estimates and proposals – With FreshBooks, you can create accurate estimates that can easily be transformed into ready-to-pay invoices. Also, you can use their proposals templates, customize and send them to win new clients.
Time Tracking – Using this tool you'll be able to track your team's working hours and bill your clients correctly.
Projects – FreshBooks is a collaborative platform, which means you can collaborate with your team every step of the way. You can invite employees, clients, and contractors and have everyone inside the platform working on the same page.
Payments – Your favorite part of the process is made easy by FreshBooks. You can get paid fast through online payments by credit card, directly into your bank account. Using auto-bills, you can automate recurring bills to charge your client automatically and securely on an agreed schedule.
Payroll software – FreshBooks works with Gusto, a payroll software, to help you make payroll payments fast and easily.
Reporting – With FreshBooks, you'll get reports so detailed that your accountants and bookkeepers will love them. What is great about them is that they're made in real time and they're easily accessible straight from your dashboard.
Integrations: FreshBooks integrates with over 100 apps to help you streamline your business. Here are just some of the partner apps they work with: Google Drive, DropBox, Zoom, Asana, Fundbox, Income Importer, Docu Send, SurePayroll, Acuity Scheduling, OpenCart, WooCommerce, CahFlowMapper, Todoist, ZenDesk, Mailchimp, Trello and many more.
Platforms: Web, iOS app, Android app.
To conclude, I'd just like to underline that this online accounting and bookkeeping software can help you save time and make you look professional. It takes daily accounting activities like invoicing and payments and puts them on autopilot, so you can focus on your business. It's a great tool for managers, accountants, and even HR people.
Speed up your productivity with the best remote work collaboration tools!
All right, this is our list of the best remote work tools for 2023. Hope you've found something that suits your business!
See also: Must-Have Digital Marketing Tools to Help You Grow