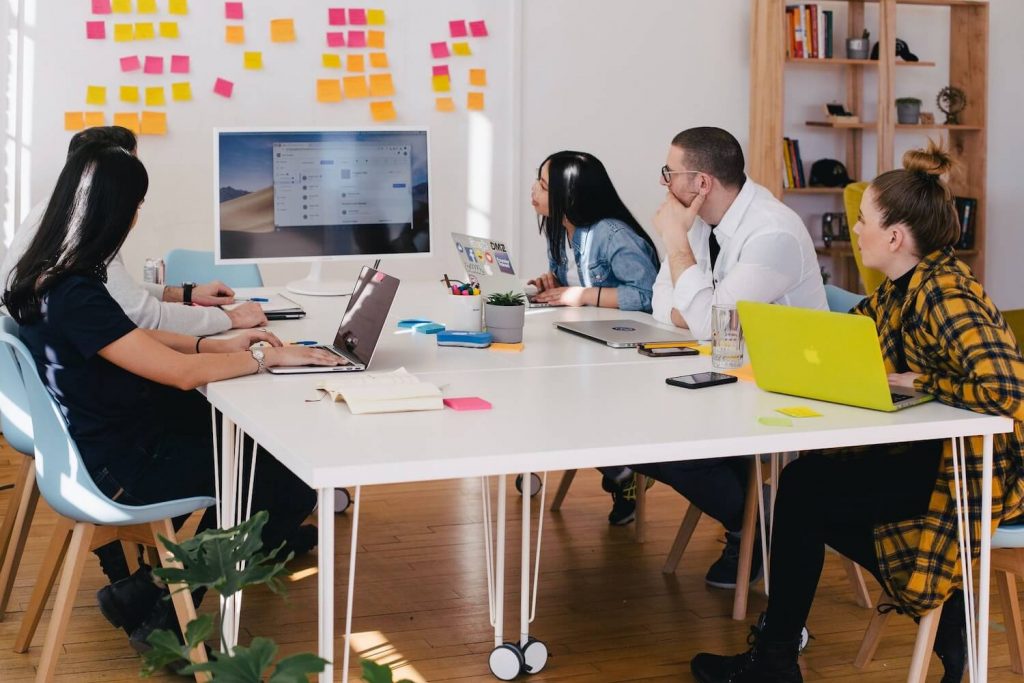 Social media is no longer just a passing fad or a side note in an otherwise large marketing effort. It is an integral part of the way companies do business. As a result, it is also an integral part of the way companies do marketing.
The most valuable brands in the world spend an inordinate amount of time planning out and executing their social media plans. So how can you keep up with them?
The answer is simple enough: social media project management software. Even the most organized social media manager would not be able to keep up with the demand for social media calendars, content creation, and collaboration without the use of project management tools. These can be used in addition to the social media management tools we've talked about before or on their own if the tools are complex enough. 
What's clear is that, as a social media manager, you need some sort of project management software to help with handling the colossal amount of work you have to do on a daily basis. As you'll see in this article, I've suggested project management tools that are more simple or more complex, depending on your needs and the size of your team. You will have to choose your key decision-making factors and make an informed decision based on that.
So without further ado, let's check them out:
1. Teamwork
2. Monday.com
3. Asana
4. Trello
5. Wrike
Best Social Media Projects Management Software for Managers
1. Teamwork
Teamwork is one of the most full-featured and comprehensive project management tools out there. With Teamwork, you can basically manage your entire business from one app, without the need to navigate several different systems to cover all your needs. Teamwork's complex software allows you to manage your projects, team, and clients, track time, budget, invoice your clients, and collaborate with your team in real-time through its integration with Slack.
Unlike Asana, for example, you can assign tasks to more than one person, set project-level tags, budget your team's time with in-app time tracking and invoicing, and manage your resources. However, with such complexity, you can see a few problems as well. Users have mentioned there's quite a big learning curve, but once you get past that, the social media project management software is pretty intuitive to use. One way to avoid most of the learning curve is to use a pre-built template, like this social media calendar template: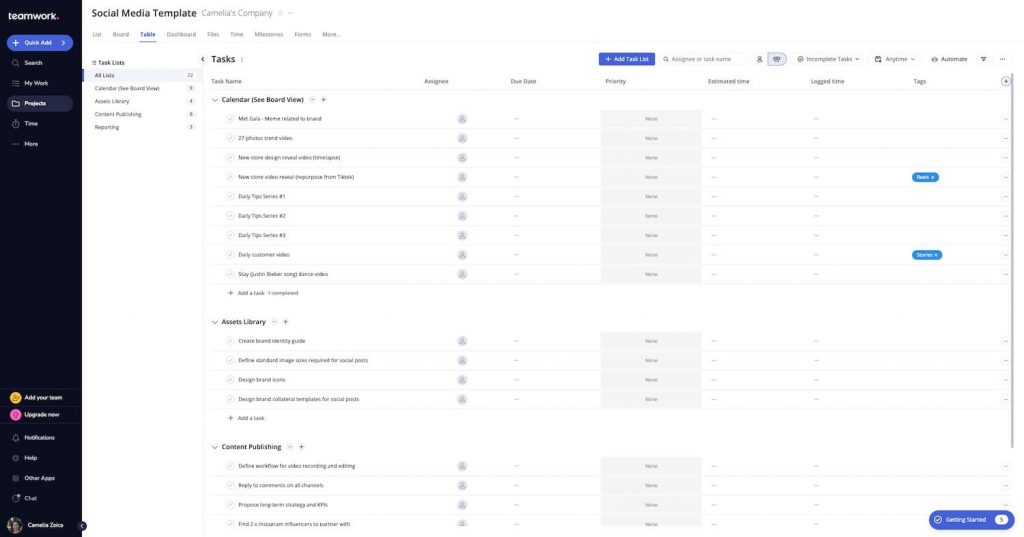 Users have also complained about system glitches and login problems, which also stem from the software being so complex. The more features you add to a system, the more likely it is that it's going to encounter problems like these. If you want to avoid them, try something more simple like Asana or Trello, but keep in mind you'll be sacrificing a lot of features along the way. It all depends on what features factor into your decision-making process. If you need a simple project and task management tool, Asana might be right for you, but if you want to ensure that everything related to a project is kept in one place, then Teamwork is a better choice for you.
Another aspect to take into consideration is its design. Some users have complained that it's not the most appealing, while others have criticized it for not allowing much personalization, and that it's too minimalist, which sometimes makes things harder to see. If that's important to you, try a better-looking PM tool like Monday.
Pricing: Their pricing page is pretty straightforward. I like that they mention clearly that their paid plans require a minimum of 3 and 5 users respectively. In my experience, the free plan is not enough for social media managers, who should choose either the Deliver plan at $10/user/month, or the Grow plan at $18/user/month (when billed annually).
2. Monday.com
Monday.com is one of the most colorful and visually appealing social media project management software. With Monday's cloud-based Work OS, social media managers can build a social media strategy and calendar, devise concepts for content creation, schedule social media posts, and monitor campaign performance from a visual and colorful dashboard. In fact, this colorful interface is a make-or-break factor in deciding whether Monday.com is the right project management tool for you. Some people love the colorful interface and feel it helps a lot with prioritizing and managing tasks, while other users feel it's overwhelming and more cumbersome than helpful. This photo should help you decide if you're in the former or latter group and whether or not Monday is right for you: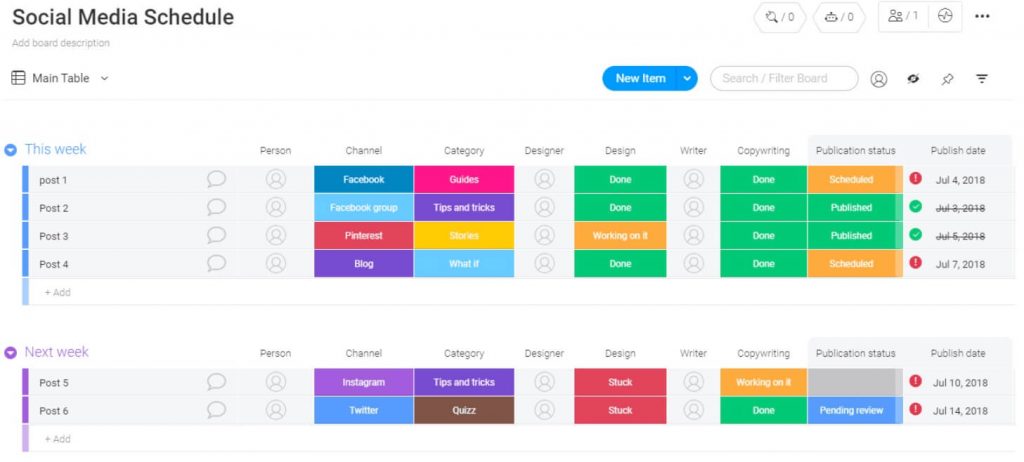 The photo above represents the Social Media Calendar template, which is one of the templates Monday recommends for social media managers as an easier way to plan out their social media content. Using a calendar tool to plan your social media content will help you build a stronger marketing campaign, as it will be easier to plan your strategy, schedule content, add due dates, and assign owners. You can also integrate this calendar with other social media tools like Mailchimp or Instagram for a better workflow.
Another important aspect differentiating Monday is its flat task structure, which comes in contrast with the hierarchical structure used by most other social media project management software. Many users feel Monday's flat structure is a more intuitive way to organize information, whereas a hierarchical model can be harder to navigate. This could be a key decision-making factor for you and your team.
However, while Monday's structure seems intuitive to many users, many others have complained that it's quite hard to get used to Monday and it can be quite confusing for new users. The lack of tutorials doesn't help either. Still, getting used to a tool is very subjective, and one man's trash is another man's treasure, so I suggest giving the free plan a try and see if you find it intuitive or not and if the flat structure and colorful visuals are a good match for your needs.
Pricing: If you have more than two team members, Monday's free plan isn't for you and it will probably not be easy to choose a plan. You should know that a lot of users complain about their pricing system, and it is definitely more geared toward larger businesses. All their paid plans have to include a minimum of 3 members (seats), which would cost a minimum of $24/month, and then their plans jump from 5 to 10 to 15 members and so on, which means that if your team has only 6 members, you will have to pay at least $80/month (Basic plan price for 10 users) instead of the $48 that you would have to pay if it were priced by user.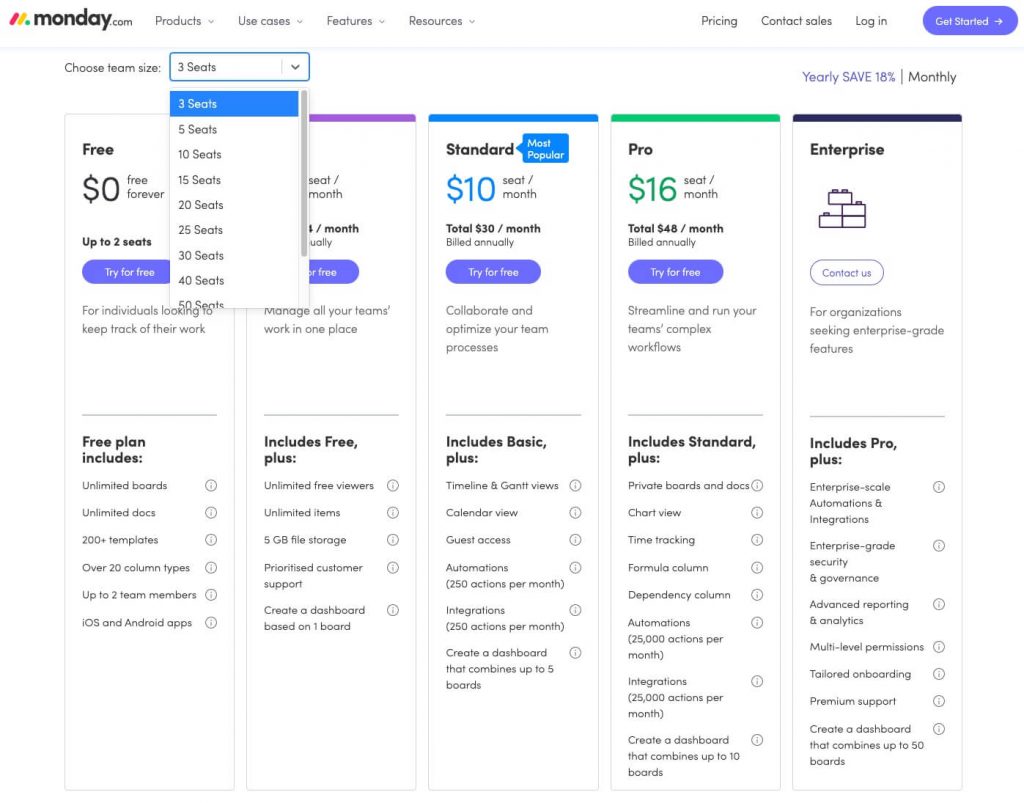 3. Asana
Asana is the easiest-to-use project management tool. It is clear that from the beginning, that's what Asana set out to be and it stayed true to its goal. Although they could add many other features that other project management tools have, such as multiple assignees per task, recurring tasks, or invoicing, they choose not to because every new feature could make the app more complicated to use, which is not the direction they want to take it in.
This can be both good and bad, and present both advantages and disadvantages. If you have to manage very complex social media projects, then Asana might not be the most suitable tool to use. As I said above, you can only add one collaborator per task, which could be a problem if you plan to work with several people on the same task. It also lacks reporting, which is a deal-breaker for some social media managers who want to use the same tool to plan their marketing strategy, schedule social media posts, and monitor the results. In this case, a social media management tool is probably more suited.
However, if you're looking for a basic task management tool with some project management features like Portfolios and a Timeline View, Asana could be the perfect social media project management software for you, especially if a simple-to-use interface is of utmost importance to you, and you only need a tool to unite your tasks, conversations, and project file. This is how simple the interface looks:
It's practical, easy to understand, and with a basically inexistent learning curve. But one of the best things about Asana is not only that it's easy to use, but that it's also fun. If you go to your Display settings, you can choose to have a celebration creature (meaning a unicorn, yeti, narwhal, or phoenix) fly across your screen when you've completed a task, as portrayed in the image below.
I mean who said that project management can't also be fun, right? However, you have to keep in mind that these celebratory unicorns are randomly generated and won't show up on every task completion. But the more you complete, the more you'll see them show up. It's also important to know that you will be the only one seeing the celebratory creature, even if you're collaborating with someone else on a project. If they want to see unicorns as well, they'll have to set it up from their own account.
Pricing: In addition to not having an invoicing module and basic task management features, one of the biggest complaints about Asana is that its pricing system is extremely misleading. There are two paid plans listed on their website, at €10.99/user/month and €24.99/user/month when billed annually, but there's no mention of having to pay in increments of 5 up to 50 users, depending on your team size, and users have complained that's not mentioned in the contract either. Only if you go to the frequently asked questions on the pricing page do they mention that
"​​Our subscription offerings increase in increments of 5 users when total users are less than or equal to 30; increments of 10 when total users are between 30 and 100; increments of 25 when total users are between 100 and 500; and increments of 50 when total users are more than 500." So basically if your team has 31 members, you will have to pay for 40, and if your team has 501 members, you will have to pay for 550. This is similarly bad to Wrike's and Monday's pricing systems.
4. Trello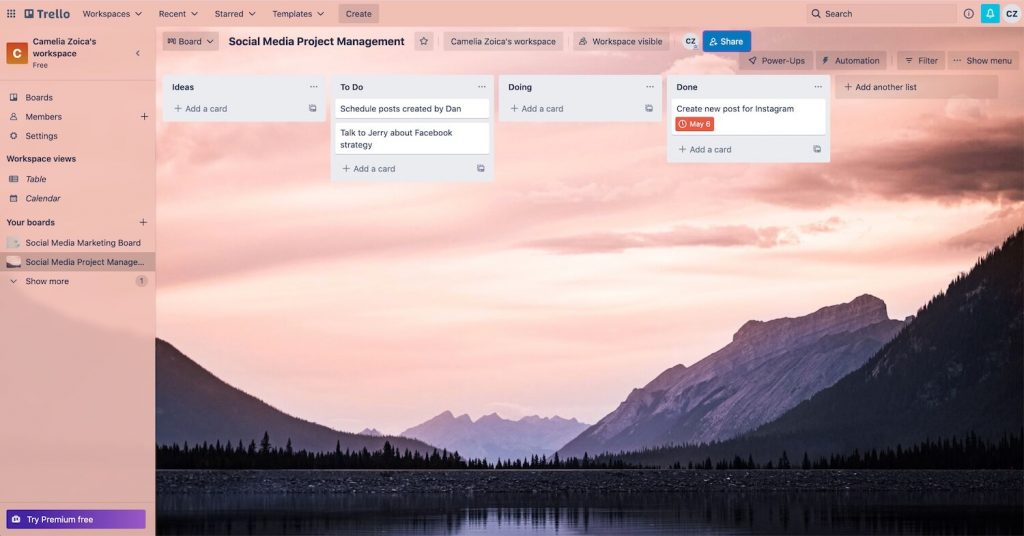 Trello is a work management tool best known for its project collaboration and task management. Trello works by organizing your social media efforts into "boards." Boards let you organize your social media activities into categories so they're more easily accessible. They can also be used to group related social media projects together, like your blog and your Instagram account. There are a lot of Trello boards you can use for social media marketing. You can organize boards by topic, like your blog and your Instagram account, and you can also organize them by person, like your employees and your clients. The biggest advantage of using Trello for social media management is that you can easily create as many boards as you'd like.
What people love most about Trello is that it has everything compartmentalized into boards, lists, and, cards, which can be organized in a multitude of ways, depending on your team's workflow and needs. For example, you can use a generic template (board) like the one below, and ad lists like "To Do", "Ideas", "Doing", and "Done". To each list, you can then add as many cards (items) as you like, and share those with other members, add labels, due dates, and attachments.
However, if you're a social media manager, you might find it more convenient to use an already built template, like this social media marketing board.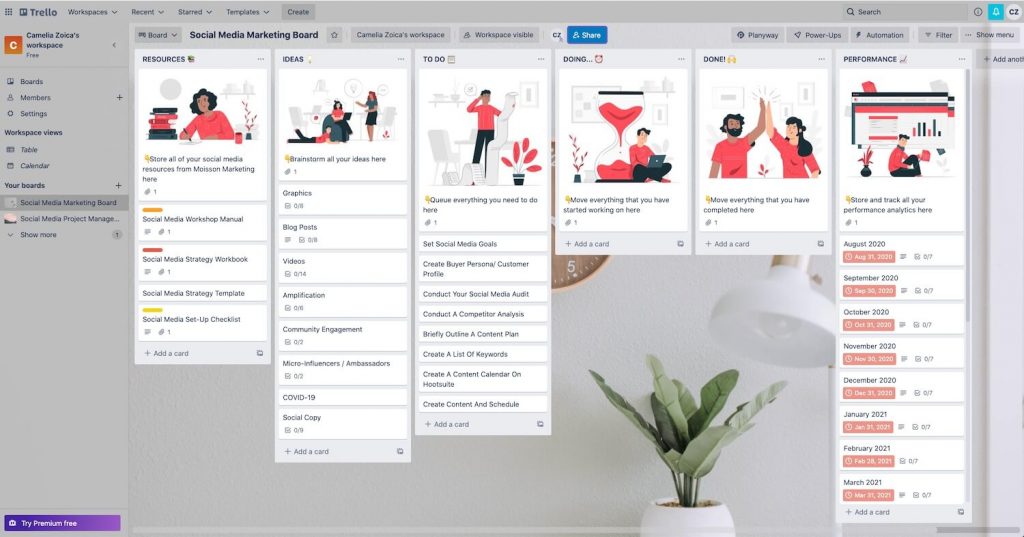 This already has the following six lists included: "Resources", "Ideas", "To Do", "Doing", "Done", and "Performance", with instructions on how to use each one, but you can add as many lists as you want, depending on your social media project. One disadvantage with any Trello card is that you have to manually move each item between lists. For example, when one task is finished, it won't automatically move from "Doing" to "Done", even if its due date has expired. This makes some social media managers feel like Trello is too complicated to use and doesn't offer the automation that they need. Other users have complained that everyone uses Trello in a different way, which makes team collaboration a little complicated at times.
Pricing: You might find that Trello's free plan is enough for your team, at least at the beginning, as it includes unlimited cards and up to 10 boards per workspace. However, if you're a social media manager or a marketing agency handling multiple accounts, you might consider upgrading to the Standard plan with unlimited boards ($5/user/month when billed annually) or the Premium plan ($10/user/month when billed annually) and is best for teams up to 100 that need to track multiple projects and visualize work in a variety of ways (such as with Dashboard view, Timeline view, Calendar view, and Map view).
5. Wrike
Wrike is the best project management tool for creatives. With Wrike Proof, designers can get feedback for their designs from external reviewers, which makes the design process much easier. However, this doesn't mean that this tool is only meant for designers. Social media managers can find Wrike suitable for their projects as well, especially if they choose to use the Social Media Plan template that you can see in the picture below: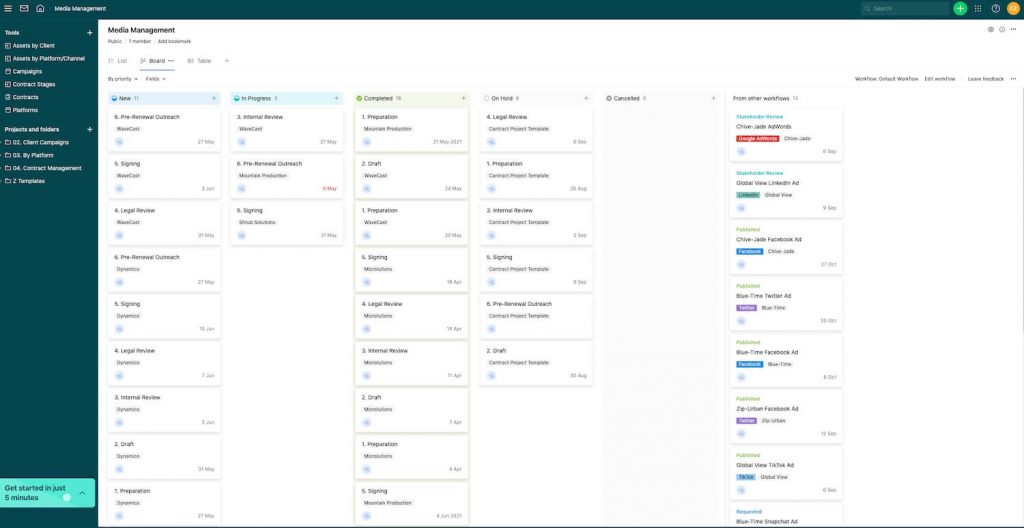 This social media plan template is more than just a content calendar. With it, you can manage social content teams, vendor contracts, and performance metrics. You can manage your publication schedule, track your social media posts and stories, review your content, and collect data to see how your content is doing. One of the best things about this template is that you can organize your social media campaigns by platform. You can also use the custom fields to track progress and metrics and build a dashboard with customized widgets to see at a glance how your campaigns are performing.
One disadvantage with Wrike is that it has no budgeting and invoicing features, and users have complained that it's very complex and hard to set up in the beginning. However, using the built-in template mentioned above will partly solve that issue, as it is basically already set up for you. Other users have complained that there's an absurd amount of notifications they get from Wrike, so if you decide to use it, you will have to edit your email notification settings to prevent all the spam.
But by far the most severe complaints about Wrike are related to how expensive it is.
Pricing: Similarly to Monday, they are not honest about their pricing. While their Professional plan states that it costs $9.80/user/month, you should know that it requires a minimum of 5 users, so you will pay 5 times that amount at a minimum. Likewise, if your team has 6 members, you will have to pay for 10, as the plans go in increments of 5 to 10 depending on the team size.
See also: What are the new digital marketing trends?