If you're here, you may be looking to find some smart productivity tools to manage your team, optimize communication and collaboration, and increase sales.
Given that the customers' preferences have evolved so much through the years and that online marketing is now more complex than ever, you need to work with the best tools to get results.
This is why we have put together a list of 9 productivity tools that will surely help you achieve all of the above. 
Most of these marketing productivity apps use automation and artificial intelligence to help streamline the work.
Just in case you're in doubt about these new technologies, here are some of the benefits of using marketing automation tools, as found by Marketing Automation Insights.
Marketing automation tools:
Increase in conversion rates (by 56%)
Increase in sales productivity (by 48%)
Increase in leads (by 44%)
Increase in revenue (by 34%)
Decrease in marketing overhead (by 21%)
Top 9 productivity tools
1. Paymo – Project management & invoicing
2. Monday – Project management
3. Hubspot Marketing Hub – online marketing software
4. SEMrush SEO – Website optimization
5. Slack – Communication & collaboration
6. Zoom – video conferencing
7. Google Drive – File sharing
8. Campaigner – Email marketing
9. Better Team – HR recruitment tool
1. Paymo – Project management & invoicing
First off, you need a project management tool to help you keep your team connected and collaborate smoothly. But I have something better for you than just a simple project management software. I'd like to introduce you to Paymo, a platform that can help you manage projects, track work time, invoice your clients and measure the profitability of your business from the same platform.
The app offers a wide range of features that cover everything you need to carry out your work. Let's discover them together.
Features:
Time tracking. This feature allows you to see just how much time your team spends on a project or client. All you have to do is press the timer when you start working on something and then stop when you finish. This way, you won't waste precious time in the office, and you'll be making every hour count.
As a manager, this tool allows you to monitor how much time each of your employees spends on their projects through live reports. Also, you'll be notified with a time entry every time someone fills in a card.
Task management. With Paymo, you take complete control over your work. Their easy-to-navigate dashboard allows you to create and manage tasks and have a bird's eye view of the workflow at any time.
There are several view modes available on the platform, and you can track projects easily by choosing your preferred view.
With Paymo, you can forget about emails and get everything done within the platform. You can also upload files from your computer or Google Drive, and everyone will see a thumbnail preview of your work.
Spare precious time by turning repeatable tasks into templates. Duplicate projects and customize what you want to keep.
Kanban Board. This feature enables you to better visualize your team's workflow by creating different stages for a task or project. You can customize the workflows as you like or use the default template. You can choose your preferred colors, and add cards to users or projects to better see them.
Team Collaboration. Real-time communication with your team is possible through Paymo. The app enables you to plan projects ahead, communicate with your team as you work, and manage projects in the same place.
Create and assign tasks, add budgets, and set priorities. Then just sit and monitor the work unfolding through visual workflows.
Team Scheduling. Paymo's Time Scheduler helps you skip those long and tedious meetings to check on your team members' availability. With this feature, you can check everyone's working status through a beautiful visual timeline without even having to check in with your team.
Leave Planner. Planning your team's holidays in a few clicks is possible. Also, you can add public holidays in bulk so everyone can see and plan their vacations ahead. This tool is also helpful for the HR department as it helps them to see the remaining days off for each employee and also unpaid days.
Gantt Chart. This feature allows you to plan, schedule, and display your project on a visual timeline. Not only does it look good, but it offers you a crystal-clear view of the workflow as it happens.
Invoicing software & Estimates. What Paymo does is help you manage your expenses, create invoices, and automate payments.
You can easily create and generate invoices for your clients and customize them using your branding assets (logo, slogan, colors).
Online Payments. By setting payment gateways to your invoices, you can get paid faster, securely, and directly from the invoice. Whether your clients pay by Credit Cards or ACH, you receive a notification through PM Payments that informs you of the exact amount you got paid.
File Proofing. Paymo also includes this extremely helpful feature that allows you to provide feedback through a commenting thread. This is specifically helpful for creatives as it allows team members to work on designs or concepts and make changes as feedback comes in.
Integrations: Google, Google Drive, Google Calendar, Zapier, Slack, QuickBooks Online, Xero, Typeform, JotForm, Integromat, Pabbly, Pomodone, LambadaTest, Rethink, GrandTotal, Shift.
Platforms: Desktop widget for Windows, macOS, Linux, Web, iOS, and Android
Plans:
You can test out Paymo through a 15-day free trial (no credit card required), and should you decide to sign up, consider any of the following pricing plans:
Starter: $4.95/user/month (this is limited to 1 user)
Small office: $9.95/user/month
Business: $20.79/user/month
Recap, Paymo helps you to easily manage work, and plus it takes off your shoulders the burden of monthly invoicing. Every aspect of your business is covered by the app, and you get more time to focus on expanding your company.
If you find some drawbacks with this productivity tool for project management, do let me know. I couldn't find any so far.
---
2. Monday – Project management
Next stop, I'd like to talk a little bit about another project management platform that has taken over the world.
Monday.com is probably one of the best project management platforms out there, and people are talking about it. Monday was created to increase transparency, collaboration, and empowerment between teams. What's really interesting about Monday is that it's a tool that adapts fully to your specific needs. You can use this tool to manage projects, tasks, clients, events, etc. It's even great for HR departments to manage their entire HR process (recruitment, payrolls, etc.).
If you have been using another project management tool and decide to switch to Monday, the tool allows you to easily import all of your data, thus nothing gets lost.
How does it work?
Simply start by creating boards for your projects or tasks, assign roles to your teammates, add deadlines, budgets, mark and change the status as the project unfolds, and set priority.
Monday allows you to customize your board's view to fit your needs. You can use the timeline views, status view, chart view, or even map view if you have multiple location offices.
Communication is one of Monday's priorities, so you can easily communicate with your teammates on projects within the platform. Imagine dropping the hassle of back-and-forth emailing!
You can even archive your projects once they're done, should you ever want to come back on them. And you can even restore them! With Monday nothing gets lost.
Integrations
To help you import and manage data and documents from your other locations, Monday also integrates the tools that you already use, like Google Drive, MailChimp, DropBox, and Shopify. This helps you have all of your documents in one place and share them with your teammates.
Platforms: Web, iOS, and Android devices.
Plans
Monday.com is suited for both small and large companies, and it even generously offers a free plan (forever!) to individuals.
Individuals: $0/month
Small companies of (up to) 8 team members: €8/month
Teams of (up to) 10 members: €30/month
Teams of (up to) 16 members: €48/month
Companies larger than 16 members get a customizable plan.
All in all, Monday is a fantastic productivity tool for project management because it's user-friendly, highly customizable, and offers full integration and automation.
The downside of Monday.com is that it may be a little too complex for people without prior project management experience.
---
3. Hubspot Marketing Hub – online marketing software
Next step, you'll need a marketing tool to help you speed up work and productivity.
Hubspot Marketing Hub is the number 1 online marketing tool today. This is an all-in-one, easy-to-use platform that uses automation to streamline the marketing process, eliminate manual work and increase results.
Hubspot Marketing offers a wide range of marketing services that combined result in a super powerful tool. Their software is able to collect consistent customer insights, customize content to fit the customer's needs, and convert prospects into leads through dynamic automated campaigns across a multitude of channels. The marketing process is accelerated through automation. Measuring the performance of your campaigns is also possible.
This marketing software can also help you improve your team collaboration, including sales, by making it extremely easy to organize all of your marketing assets, data, and tools in one place.
Services:
Email marketing. Once you sign up for Hubspot's Marketing Hub, you get access to their easy-to-use, drag & drop email editor (no code required) that will help you to create beautiful and customized emails. Using automation, you will be able to send kickback emails based on your contacts' responses and also collect data about their behavior.
Content marketing. One of Hubspot's Marketing important features is that it helps marketers create optimized and customized content for their target audience. Using the customer data collected, businesses can create personalized blog posts, landing pages, and videos that have more chances to turn prospects into leads.
Landing page builder. The landing page builder allows you to create beautifully designed landing pages that will help you to convert leads through forms, meeting modules, and live chat.
Social Media. Publish content and monitor your Social Media pages through Hubspot Marketing without leaving the platform.
Search engine optimization. Using just one platform to create content, optimize it and analyze results, the marketing process is streamlined. The SEO tool at Hubspot Marketing can help you build search authority and outrank competitors.
Customized ad campaigns. Hubspot's ads tool helps target and reach the right audience through personalized ads directly on the network they're active on. You can manage all of your ads on Facebook, Google, and Linkedin in Hubspot and also track which ads are turning prospects into customers.
Forms and pop-ups. You can also easily add forms and pop-ups to your website; no code is required.
Analytics dashboard. Hubspot Marketing helps you track and analyze your campaign's performance while providing insights into the marketing data you collect. The platform allows users to track a wide variety of metrics and get valuable reports.
Contacts database. With Hubspot Marketing, you get a single database where you can view and manage all of your interactions with contacts.
Integrations
You can connect all the different accounts you have in Zapier, WordPress, Drupal, Shopify, Magento, etc, to Hubspot Marketing with no extra developer work required.
Platforms: Web, iOS, and Android devices.
Plans:
Free:
Starter: $45/month
Professional: $/800month
Enterprise: 3.600/month
To conclude, Hubspot Marketing Hub is an amazing all-in-one marketing platform packed with a generous resource center.
Of course, there is always a drawback, and Hubspot Marketing Hub's main trouble is the price. Paying a monthly subscription at Hubspot Marketing Hub could be a huge effort for a small company, but in the end, it pays off.
Other complaints users have: poor reporting, the mobile app functionality is not so great, and limited templates.
---
4. SEMrush SEO – Website optimization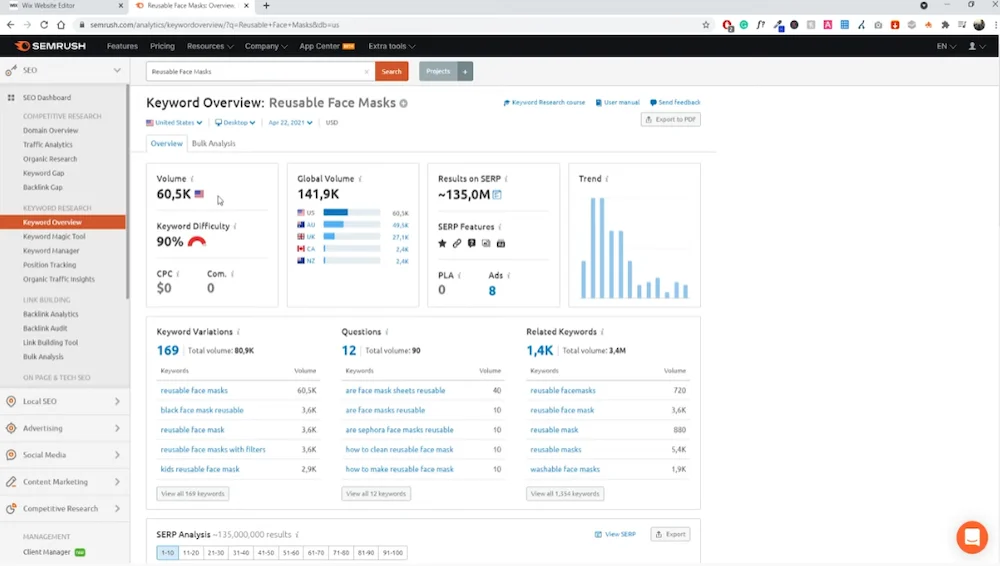 Another important productivity tool on our list is SEMrush SEO, a software that helps you optimize your website like no other in order to drive more traffic and increase sales.
SEMrush SEO is a fully comprehensive SEO toolkit that offers a wide range of SEO services:
Detailed keyword analysis reports that contribute to website optimization and run more efficient PPC campaigns.
Competition research. It allows you to compare how your website performs against your competitors.
Backlink analysis
Not only is SEO complex, but it is constantly evolving, so SEMrush offers a generous resource base where you can learn SEO tricks via ebooks, manuals, videos, and blog posts.
They also offer free support over the phone to help you better handle their tools and manage your campaigns hassle-free. This knowledge base covers everything from beginners to highly experienced SEO specialists.
Platforms: Web, iOS, and Android devices.
Integrations: SEMrush offers integrations for:
All the Google products (Google Analytics, Google Search Console, Google Ads, Google My Business, Gmail, Google Docs, Google Sheets, Google Calendar, Google Tag Manager)
Social networks (Facebook, Twitter, Pinterest, Linkedin, Instagram, YouTube
Others: WordPress, Trello, Majestic, Zapier, Monday.com
Plans:
PRO is SEMrush's most affordable subscription plan for $119.95/month.
GURU costs $229.95/month
Business is $449.95/month
You can test the SEMrush SEO toolkit for free through a 7-day free trial.
Because it's the best and most complex SEO software on the market, SEMrush's subscription plans are expensive. If you don't need all of their tools or simply can't afford their fees, you may want to look for a basic SEO platform.
---
5. Slack – Communication & collaboration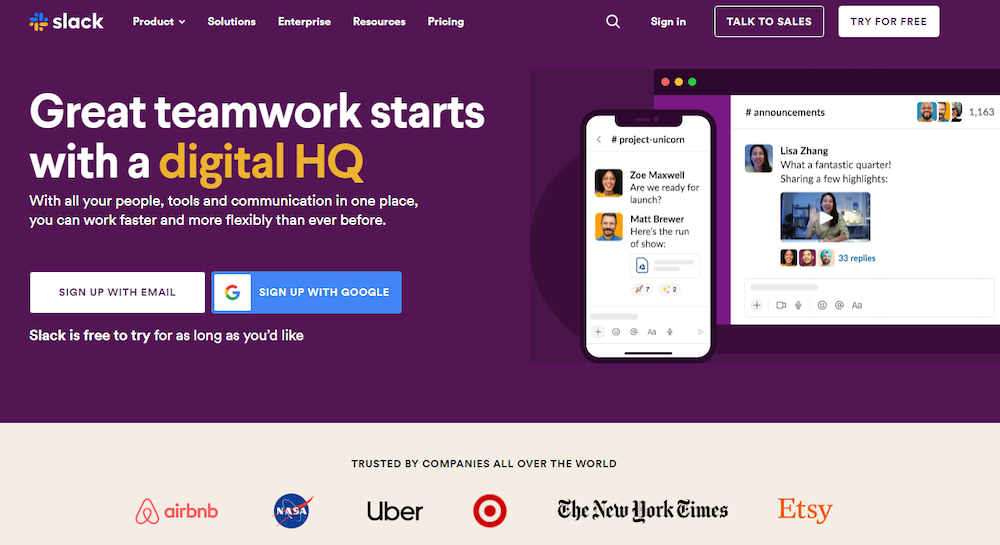 Modern business often involves remote work, multiple location offices, or
numerous teams. That's why using a digital communication and collaboration tool is a must.
In case you don't know it yet, I want to introduce you to Slack, one of today's best communication and collaboration tools for teams.
Slack has been proven to improve team communication (by 85%), increase the ability to work remotely (by 86%), and provide employees with a feeling of belonging and connection to their teams (88%).
With Slack, emailing seems obsolete. Slack helps you save precious time through instant messaging, online brainstorming sessions, and the possibility to share spreadsheets and files.
Conversations can be organized by team, project, or client. You can create, join or leave channels and share projects.
Slack also has a mobile app version to enable communication on the go.
Features:
Channels are a way of bringing clarity, focus, and order to teamwork. You can create channels for projects, topics, clients etc…You can create public channels, private channels
Connect is a feature that you can use to work with people and teams from other companies. Connect was created as a way to replace emailing between partners, customers, or clients with a shared space.
Messaging for teams, created for the business field.
With Slack Clips, you can create short audio, video, and screen recordings to provide an update, showcase your work, walk through a product demo, or give step-by-step instructions.
Integrations: Slack offers integration for over 2.400 apps from Google Drive to Zoom, Facebook, Adobe Creative Cloud, Monday.com, Hubspot, etc.
Platforms: Desktop, Web, iOS, and Android
Pricing:
Although Slack offers a free version, is it very limited. So plans start at:
$7.25 USD/month for the PRO plan
$12.50 USD/month for the Business plan
And a customized plan for enterprise level.
Slack works flawlessly and does what it was designed to do. There aren't many drawbacks to this productivity app. However, if you want to stay focused and use just one project management tool and a simple chat, you can skip Slack.
---
6. Zoom – video conferencing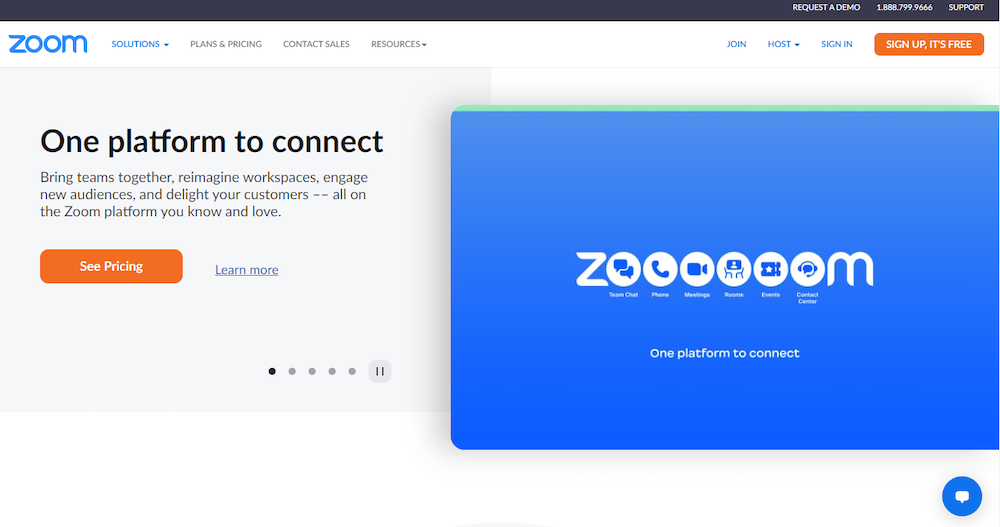 As we all have acknowledged by now, the future of work looks very much remote.
Whether you work with remote employees or collaborators, you have multiple locations, or business partners abroad, having the best productivity tools to make collaboration possible is very important.
Zoom is – and has been for the last decade – the most used video conferencing platform for teamwork collaboration, business-to-business collaboration, online workshops, webinars, and all sorts of events.
Most people have interacted with Zoom through a meeting organized by someone else. And then, they adopted the video conferencing tool whenever they needed the tool at work, with family, or with friends. It's really suited for everyone, be that at work or at home.
And now, let's see what Zoom does.
Features:
Team chat/messaging
Zoom meetings for up to 1.000 participants
Zoom phone
Developer APIs and SDKs: Zoom now enables developers, platform integrators, service providers, and customers to use Zoom's core technology in their own products and services.
Zoom for home
OnZoom
Zoom App Marketplace: Zoom offers integration for 2.166 apps to provide you with everything you need while video conferencing. The apps cover a wide range of domains, from security to analytics, recordings, sales, and many more.
Zoom webinars and Zoom events
Zoom Rooms
Whiteboard: This feature is ideal for brainstorming sessions, teaching classes, and presentations or for online meetings and workshops.
Interaction is possible through Whiteboards with smart connectors, sticky notes, drawing tools, and comments.
Conversation intelligence – Zoom offers reporting and statistics as valuable and actionable feedback, enables you to forecast trends and deals more accurately, and ultimately understand sales better.
Platforms: Desktop, Web, iOS, and Android devices.
Integrations: Dropbox, HubSpot CRM, HubSpot Marketing, LeadMaster, Marketo, Microsoft, Outlook, Salesforce Sales Cloud, Slack, Zapier, and Zendesk.
Plans:
A free trial is available for anyone looking to test out Zoom's capabilities.
Basic is Free
Pro is $13.99/month/host
Business is $18.99/month/host (min 10 hosts)
Enterprise is $18.99/month/host (min 100 hosts)
Zoom's popularity is mainly due to its high-quality capabilities for free. It's also extremely easy to use, even for people without prior video conferencing experience. But that doesn't mean it's the most professional video conferencing tool in the world.
---
7. Google Drive – File sharing
For decades now, Google has been a provider of high-quality cloud office software. As part of Google's suite of tools, Google Drive meets the highest standards of security and storage requirements at affordable prices. Many of us, people working in the offices, have benefited from Google Drive's free storage for years. As you may know, when you create a Google account, you automatically get 15GB of storage for free in Google Drive. But, if you need more storage space, then there are several pricing plans to choose from.
Let's go through Google Drive's features and then have a look at the pricing plans.
Features:
Desktop app. Google Drive's app for desktop allows you to back up the folders you choose in case something happens to your computer.
The app also allows you to access all files you stored in the Drive that do not originate from your computer. You can access them from your desktop even when you're offline. Any change you make to a file will automatically sync to the other place.
Mobile app. Google Drive mobile app is available on iOS and Android devices. Though it works smoothly, the Google Drive app for mobile does not include automatically backing up your mobile files as other storage tools do. If you want your photos and videos to be backed up automatically, you'll have to download the Google Photos app.
Great search and OCR. Files stored in Google Drive are highly searchable, and the app also offers search through optical character recognition (OCR), which means that even non-text files uploaded to Drive can be found through text. Google Drive scans all files ( like JPG or PNG files) you store and makes them searchable.
Security and Privacy. As part of Google's products, Google Drive benefits from high security. Google's data centers are geographically distributed and meet all standards to ensure customers' data is safe. Also, the company says that data is "encripted when it's stored on disk, stored on backup media, or traveling between data centers."
Sharing files. Sharing files with co-workers or partners comes easy with Google Drive. You can share a file with anyone through a link or restrict access to specified people. You can also choose read-only or editing privileges. However, more detailed sharing options like setting a password or an expiration date for a link, are not available.
Integrations: Google Drive integrates with most of the tools you already use, like Microsoft Office, Adobe, Atlassian, SalesForce, Slack, DocuSign, etc.
Platforms: Desktop, Web, iOS, and Android
Plans:
Google Drive generously offers 15GB of storage for free when you create a Google account. But, if you need more than 15GB, then you need to consider upgrading to one of these paid plans:
Basic costs $1.99/month (or $9.99/year), and you get up to 100GB
Standard costs $2.99/month (or $29.99/year), and you get up to 200GB.
Premium costs $9.99/month (or $99.99/year), and you get 2TB of storage.
Higher plans go up to $149.99/month for 30TB of storage
To purchase Google Drive storage, you need to do it via a Google One subscription or a Google Workspace subscription.
To conclude, I'd say Google Drive is a great storage option and productivity app, especially with that generous 15GB for free. It benefits from all of Google's technology and security, and it's got reasonable prices.
One potential concern about Google Drive could be privacy, as Google collects information from your online activity to show you targeted ads.
If privacy is important to you, you may want to look for some other storage options.
---
8. Campaigner – Email marketing
There are hundreds of email marketing platforms out there, but Campaigner stands out due to its wide range of automation features at a reasonable price. Campaigner has been around for 20 years and has grown year on year, adding more features to its portfolio and making it extremely easy for customers to build beautiful emails using a simple drag & drop editor.
Their package also includes hundreds of ready-made and customizable templates that can be a starting point for any campaign.
In short, it's got all you need to start running email campaigns for a decent price, and it's suited for both beginner and expert level. The platform offers comprehensive onboarding and a resource base to get started.
Features:
Email automation workflows. This is an essential tool in nurturing subscribers and customers through the conversion funnel. With Campaigner, you can build simple or complex automation customer journeys using their visual drag & drop builder.
SMS campaigns are also covered and included in the package.
A/B split testing. You can send experiment A/B testing to a limited number of contacts and see how they react before you send your campaign to everyone. You can test everything from email subject line, call to action, delivery time, design, content, and offer.
Purchase behavior. Understanding your customers' behavior allows you to send personalized offers based on their stage in the buying cycle. These emails could be about product recommendations, discounts, rewards, or anything that you can think of.
Geotargeting. Using your contacts' location to send relevant and personalized emails is a great way to connect with them. Geolocation targeting is especially useful to create emails related to specific holidays or events in a country or to custom content according to a country's currency, weather, and culture.
Custom segmentation. Smart segmentation allows you to segment your contacts based on their activity, purchase behavior, demographics, locations, and more. This is an incredible tool that helps you to then deliver targeted emails and increase conversion rates.
Drag & drop editor. No need to worry about building your emails if you're not a developer. No code is required here as the intuitive, drag & drop editor helps you create beautiful emails in minutes.
Hundreds of responsive email templates. Campaigner generously includes hundreds of templates for each plan. More, you can customize these templates to include your branding assets (logo, colors, images, etc..)
Landing page builder. An efficient email campaign is complemented by a dedicated landing page. This allows a seamless customer journey and increases conversion rates. Campaigner provides you with a landing page tool that helps you create conversion-optimized HTML landing pages that connect with your email campaign.
You can also add sign-up forms to the landing pages and gain new subscribers.
Reporting. Campaigner does offer insightful reports for your sent emails that can help you to further build more targeted and powerful campaigns.
Integrations: Google Sheets, Facebook lead ads, Hubspot, Zapier, Typeform, Google Forms, Gravity Forms, SalesForms, JotForm, EventBrite, Woo Commerce, LinkedIn lead gen forms, Survey Monkey, Ninja Forms, Shopify, Magento, Adobe Analytics, SurveyTown, Google Analytics.
Platforms: Web, iOS
Plans:
You can test out Campaigner's features through a free 60-day trial and decide if it works for you and your business.
Starter costs $59/month and covers 5k contacts
Essential costs $179/month and covers up to 25k contacts
Advanced costs $649/month and covers up to 100k contacts
e-Commerce costs $79.95/month and offers e-commerce features and integrations, and covers an unlimited base of contacts.
Campaigner's incredibly powerful features may seem intimidating to beginners and even to experienced marketers. But worry not, Campaigner also offers a rich knowledge base where you can find in-depth information on email marketing and how to use Campaigner more efficiently through webinars, videos, guides, tutorials, and infographics.
Campaigner is great for mid to big-size businesses that can make use of its complex tools. I wouldn't advise individuals or small companies to sign up with Campaigner because there are other email marketing tools more suited.
---
9. Better Team – HR recruitment tool
HR people, there's also a productivity tool for you!
Better Team is a smart HR recruitment platform that helps you post your job openings to hundreds of job sites across the web. Whenever someone applies for a job, you receive a notification email.
You can also manage applications in the app's dashboard. You can read, accept or decline them as you wish.
The platform offers 24/7 support and a rich knowledge base where you can find step-by-step instructions on how to create job announcements, templates as well as other HR-related tasks.
Features:
Job opening posting to 100+ platforms across the web, including Social Networks
Applicant tracking system
Email clients integration
Job ad builder
Job portal designer
Integrations: The job openings you post in Better Team will automatically be posted on Indeed, LinkedIn, Facebook, Twitter, Microsoft Outlook, Yahoo Mail, Zip Recruiter, Google, Glassdoor, Monster, Adzuna, SimplyHired, and many more.
Platforms: Web, Desktop, iOS, and Android
Plans:
Solo Plan costs $39 and includes 1 job posting/month
Basic Plan costs $99 and includes 3 job postings/month
Unlimited Plan costs $139 and includes 10 job posting/month
VIP Plan costs $209 and includes 20 job postings/month
I hope you found some productivity apps that work well for your business and that will help you to better manage your workflow and increase productivity.
See also: Best Project Management Tools for Social Media Managers