If you've spent some time on 9GAG, Reddit, news websites, or even just on Google lately, you've probably caught at least a glimpse of some Leonardo DiCaprio memes and all the fuss currently surrounding him. It's not the first time that Leo has captured the public's attention for his choice of girlfriends, but his recent breakup with Camila Morrone confirms the theory: Leo is incapable of dating someone over 25.
In 2019, a user on Reddit posted a graph documenting all of Leonardo's girlfriends starting from 1999 and comparing their ages to Leo's age.
And there is currently an updated version to include his breakup with Camila:
The graph shows the age they had when they hooked up and when they split. And while Leo's age keeps going up, his girlfriends' ages stay the same – early 20's, with an age limit of 25. If Leo had decided to stay with Camila, this theory could have been debunked, but they broke it off only 2 months after she turned 25, so the theory still stands. And more strongly than ever. There is definitely a pattern there, and not only in terms of age but looks as well. Leo seems to have a distinct preference for young, mostly blonde, tall, and slim models and/or actresses in their early twenties, like Gisele Bündchen, Bar Refaeli, Blake Lively, Erin Heatherton, Toni Garrn, Kelly Rohrbach, Nina Agdal, and Camila Morrone. And he's already made his next conquest, Ukrainian model Maria Beregova:
Since Leo is already 47, there's a lot of speculation about why he chooses to date such young women and not women his own age or close to it. Some think it's gross, while others believe that's what many men would do if given the opportunity. Some fans think this is a result of trauma at a young age, and of growing up in the business since Leonardo started acting when he was 5. They even go as far as suggesting that he might have been abused by one of his pedophile managers or "Growing Pains" co-star Brian Peck, which is possible, since Peck served 16 months in prison for abusing a child actor, and his victim was never named for privacy concerns. Other people believe Leo is gay and he uses relationships with young models as a cover-up, since coming out right now, after decades of being portrayed as a heart-throb for women would be career suicide. I guess that's possible as well, since, as one Quora user said, he's coming from an era where gay male actors could only be cast in gay roles.
Of course, it could all be as simple as Leo just wanting to be a bachelor, like many men before him. Would it be a little sad and shallow? Yes, probably, but as long as he doesn't hurt anyone, it's his business how he decides to live his life. Now, could his girlfriends be hurting when he's leaving them at 25? Well yes, maybe some of them imagined a future with him, but by this point, anyone getting in a relationship with Leo should know what they're getting themselves into and that the possibility of being dumped in a few years is highly likely. And since he sets them free at 25, they still have enough time to find a good man, marry and start a family, if that's what they want.
I would say that the biggest harm he's doing is that he's perpetuating Hollywood's known tendency to devalue aging women and cast them aside, as this article describes.
But anyway, I'm not here to pass judgment on Leo — after all, it's hard to be critical of one of your first teenage crushes whose posters plastered your bedroom walls — I'm here just to have some good old fun, like the rest of the Internet. And as you've probably seen, websites like 9GAG have been inundated with Leonardo DiCaprio memes in recent days. And they're just fantastic!
Leonardo DiCaprio Girlfriend Memes
Let's start with the one where Matthew McConaughey's character from "Dazed and Confused" says "That's what I love about these high school girls, man. I get older, they stay the same age."
Isn't that just perfect for Leonardo? 😂
Or this one that had the caption "When a woman over 25 touches you":
Then, of course, there are plenty of memes where Leonardo sees 25-year-olds totally different than the rest of the world: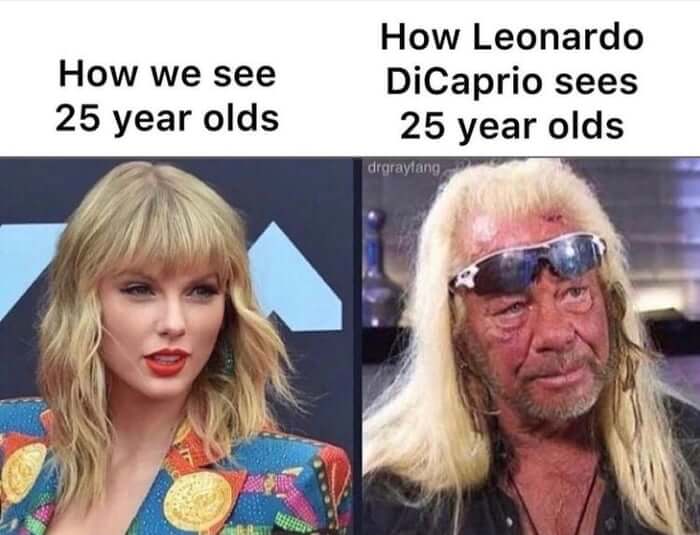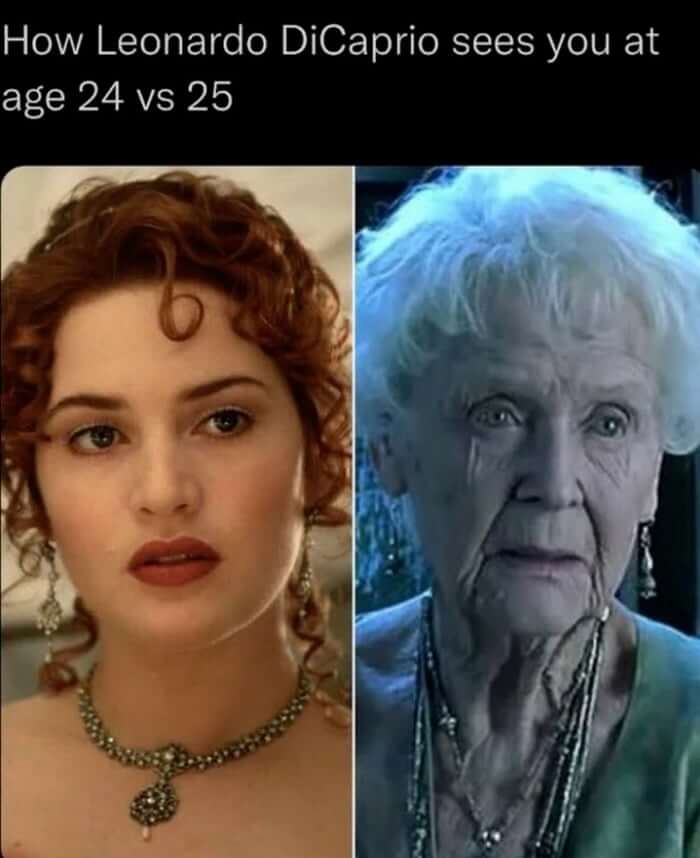 This is how Leo feels when his girlfriends turn 25: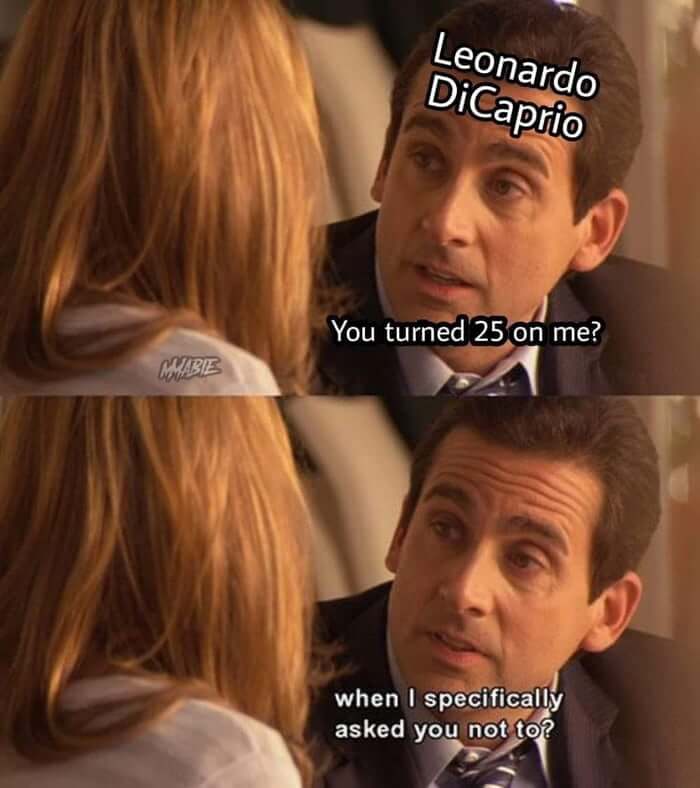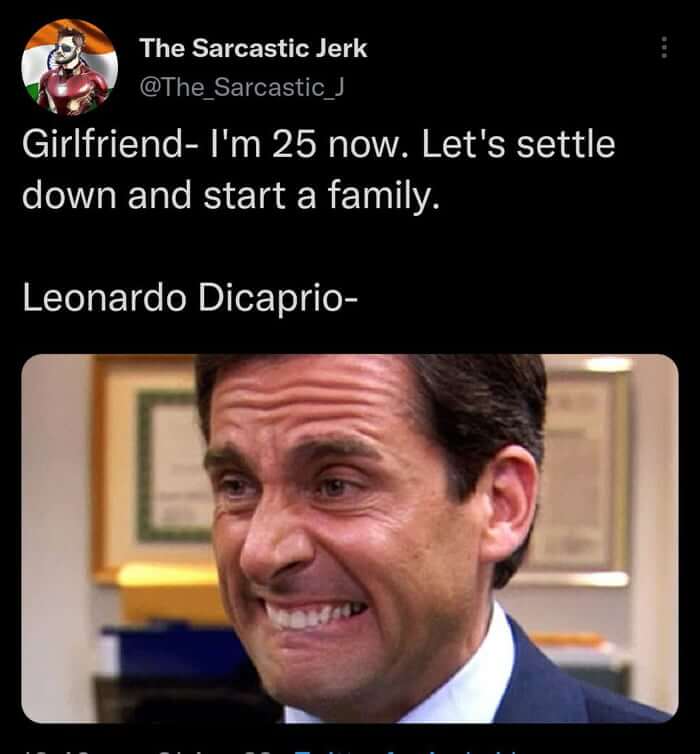 And this is what happens to his girlfriends when they turn 25:
I'm sure dumping all these hot young women takes a huge amount of self-confidence, and this scene from "How I Met Your Mother" couldn't be more appropriate:
We're lucky Leonardo has played such meme-able characters, as there are a ton of new memes using his movie scenes from "Inception", "Django", and "The Wolf of Wall Street":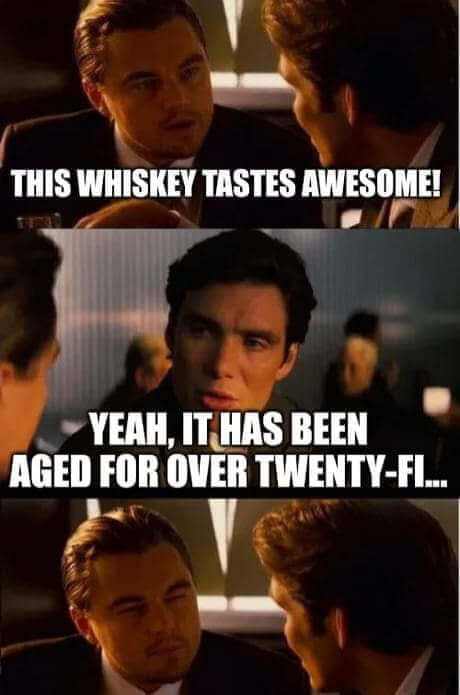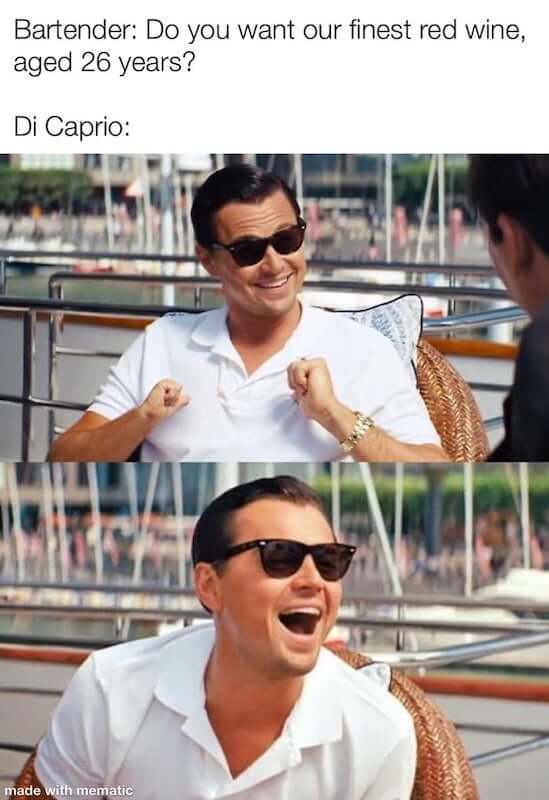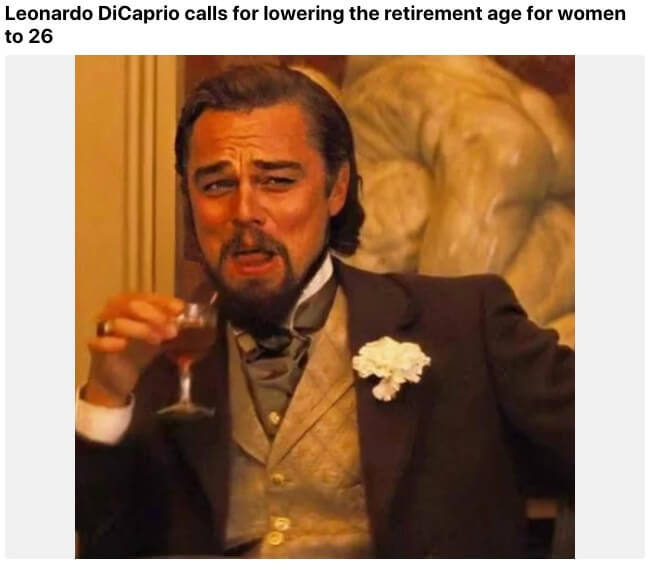 Then there's this scene from "Harry Potter" (I think), with Leo's face edited on top of another guy's face (don't come for me, Harry Potter fans):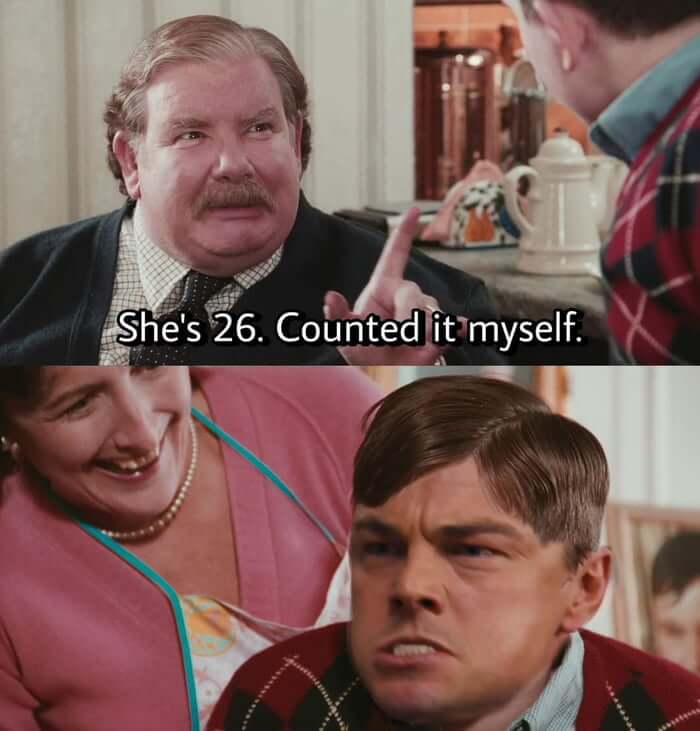 But my favorite one is this one from "Titanic", which suggests Rose was 26. Of course, she was 17 in the movie, but this is hilarious nonetheless:
Then, of course, there are some great jokes on Twitter about Leonardo DiCaprio and his girlfriends: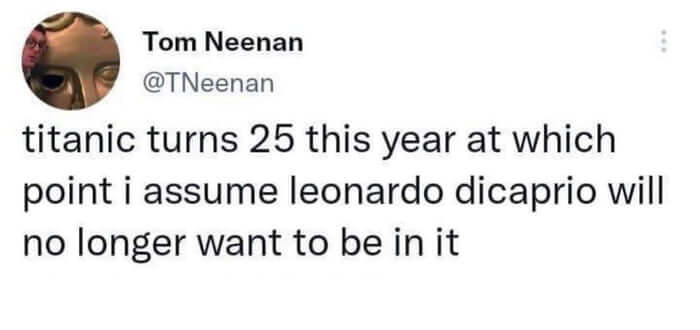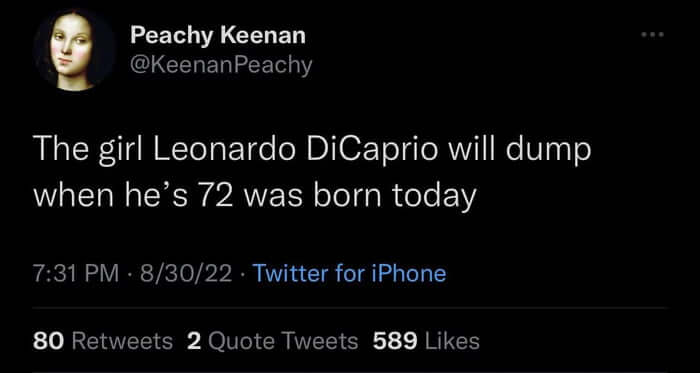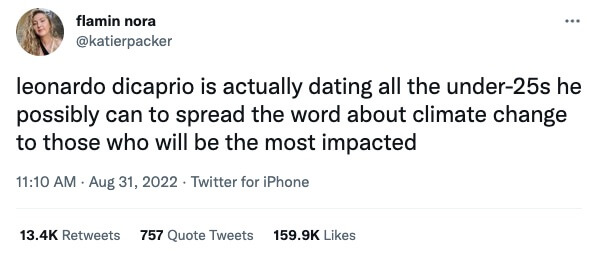 Even comedians Ricky Gervais and Amy Schumer made fun of Leo at the Golden Globes and Oscars, respectively:
Even Leo laughed when Ricky delivered his joke, so he can take a joke, or at least he wants to look like he doesn't care. Like in this final meme: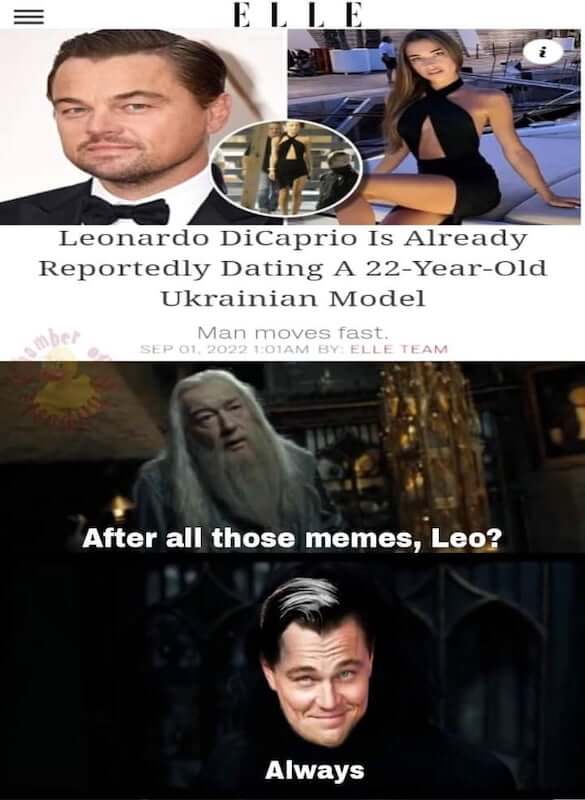 I hope you've enjoyed these Leonardo DiCaprio memes. I'd be curious to know which ones were your favorites. If you're a fan of memes, you can also check out our other meme articles, such as Will Smith's Oscar slap memes, Novak Djokovic's deportation memes, and the top TikTok memes of 2022. 
See also: Best social media memes