Even if you run a business or personal account on Instagram, you're definitely seeing more and more Reels by day. Well, if you haven't posted any already, I'll give you a bunch of reasons why you should start today.
Why are Reels such a big thing now?
Content that's interesting, engaging, and amusing belongs within Reels. There's little to no doubt that the short-video format, which was previously introduced by TikTok, will be around for a while.
To keep up with the latest trends in Instagram marketing, these short, amusing Reels are the thing for you – share them with your audience and watch your KPIs rates go up!
Let's dive in some Instagram Reels performance stats:
1. How well do Reels perform in 2022?
2 Instagram Reels' average engagement rate in 2022: 1.95%
3. Instagram Reels' Video View Rate reaches an average of up to 2.54%
4. The 'Reel Deal' – Incredible Reach Rates
This entertaining feature from Instagram can serve you not only as a place for leisurely scrolling through a lot of funny and/or educational videos but for a place to promote your business or brand.
Of course, as good as it sounds, it may sometimes be a little hard to come up with ideas regarding what you should post on Reels. The key to that is to research, explore and be open to try new things, like dancing, lip-syncing, or acting on camera, so even though it may seem a little awkward at first, you'll get the hang of it.
Another useful tip when creating Reels is not to only film the right content, but to choose the right audio. Inspired by TikTok, Instagram has an audio library from which you can choose a song, an audio quote from a movie or TV show, or even the audio of another creator if it resonates with your video.
Now, how about we look at the numbers and see exactly how amazing this feature is?
1. How well do Reels perform in 2022?
Long story short – Reels is the best-performing content type on Instagram at the moment. The short-form videos featuring popular audios, funny Instagram effects, tutorials, storytelling, and so on, have definitely caught people's interest making them want more of that.
In addition to being simple to create, Instagram Reels are also a more popular post type solely based on the shortness of the current attention span. So, given the little time you have to catch the eyes of your viewers, you need to become as creative as you can get with your Reels.
Remember, your goal is not for your audience to scroll over your video, and maybe get a little laugh – it's to lead them to click on your profile and see more of your content.
---
2. The Average Engagement Rate for Reels is 1.95%
Since Reels got released on Instagram, there's been a whole buzz on how they'll work out within the app. But one thing was sure – Reels will be at the top of Instagram. While posting Reels consistently, a lot of creators, myself included, noticed a higher engagement and reach than the ones I've got from Stories, Single Images, or Carousels, which made Reels a fan favorite.
In 2022 the average engagement rate of Instagram Reels is 1.95%, which represents more than twice the rate of other content types, according to a study by Socialinsider. So, when it comes to proving once again that Instagram's algorithm boosts the implementation of new features, the data speaks for itself.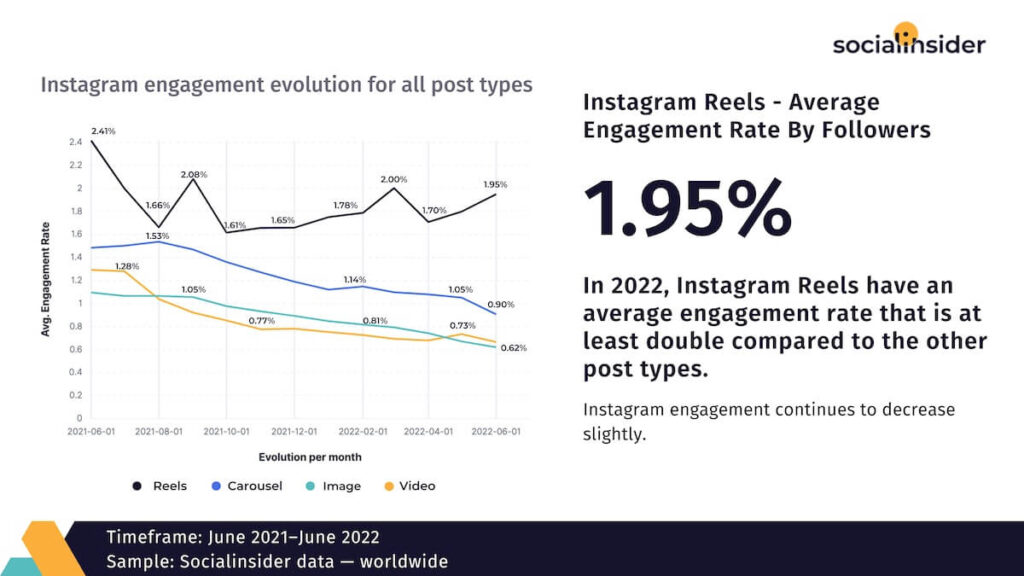 Instagram engagement has been said to be decreasing recently, and these Instagram Reels statistics are the strongest confirmation of that, but on the other hand, seem to have a much higher tendency of seeing an increase in average engagement rates than other post formats, as the research mentioned shows.
---
3. Instagram Reels' Video View Rate Stats: up to 2.54% on average
Clearly, videos now rule the internet, as seen by the increasing popularity of TikTok. The way more and more social media platforms, like Facebook and Instagram, include new features to adapt to this new content type, show that it's no wonder why Reels have a higher view rate than standard Instagram videos.
To have a clear grasp of where Instagram Reels are settled, we need to look at the stats. With an average video view rate of 2.54%, Instagram Reels outperform traditional videos, which delivers a video view rate of 1.74 on average.
---
4. The 'Reel Deal' – Incredible Reach Rates
Having your content go viral (to the level that it becomes a trend) is a great source of satisfaction for any social marketer and a monumental success for any brand – take a moment and think about the avail of such exposure in the online media.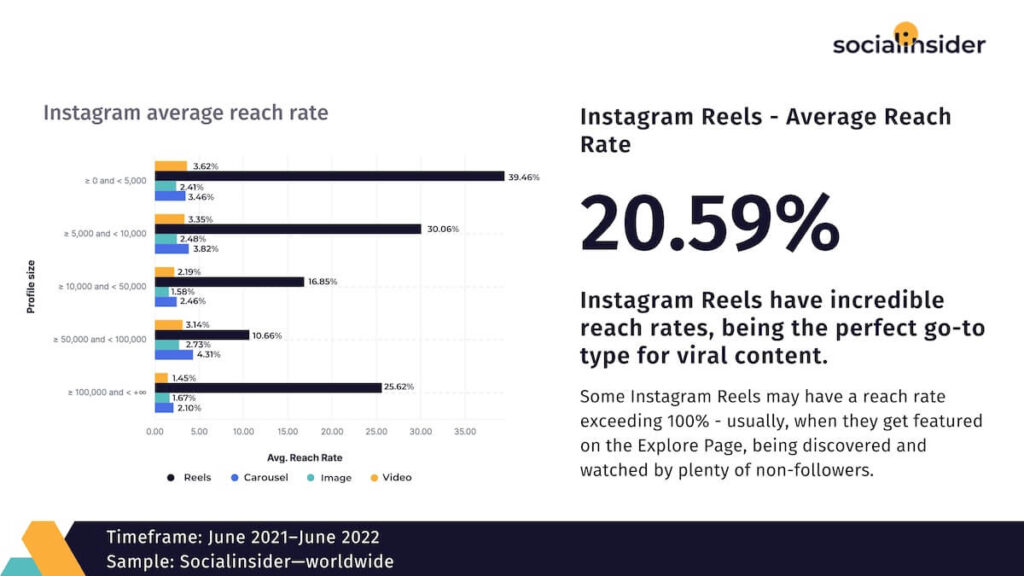 As the stats have indicated, the short-form videos top all other post formats in terms of reach, having a huge impact, particularly on smaller accounts. On average, Reels' average reach rate in 2022 is 20.59%.
Moreover, accounts with fewer than 5K followers have the potential of reaching an average reach rate of up to 39.46%.
So what are you waiting for?
A large number of people are on Instagram every day, scrolling, saving content, and shopping, which makes it the ideal platform for businesses to experiment with edgy content and achieve a high level of brand awareness.
By using this short-form video format, you get to stretch the boundaries of your brand's creativity, which will have impressive outcomes!
If we're talking about B2B Marketing, Reels represent a great way to showcase your creative process in a fun and trendy way.
In the case of B2C marketing, however, Reels offer you the chance to display the behind-the-scenes of your business, or your team, for example, and create relatable content for your audience.
Don't forget that even if a Reel is published to an Instagram account's profile, the chance of it surfacing on the Explore page, where you'll find recommended posts, it's pretty high, and you can end up going viral.
The Reels feature allows organizations to extend their presence on social media by distributing content in a more unique way. Using Reels, a company may be more adventurous and discover new ideas, approaches, and behaviors of their audience, all while bringing attention to their brand.
Plus, businesses seem to really get the hang of it, as they hold the high ground in using this feature – it's a great way of promoting your brand and the people behind it.
With so many benefits in the range of brand awareness and engagement, and so little effort to film and edit the content, Reels are the key element for your strategy, so get out there and join all the crazy trends!
Do you feel the Reels in the air already? Be sure to get the most out of it and read the complete study on Socialinsider's blog.
See also: Important Instagram Trends to Watch This Year