As a graphic designer, you know that creating stunning visuals is essential for attracting clients and showcasing your design skills. However, putting your ideas into context to represent your vision accurately can be challenging.
That's where online mockup generators come in.
These powerful tools enable you to transform your designs into stunning, realistic mockups that will impress your clients and elevate your portfolio to the next level.
This article will take a closer look at the best mockup generators available today. All of them are online with free plans and different payment options, so the choice is yours for which mockup generator suits your needs the most!
To see which mockup generator is best, we've created mockups using each one suggested in this article using the Hot in Social Media logo:

So whether you're a seasoned pro or just starting out in the design world, keep reading to discover the best mockup generators to make your designs look stunning.
What is a Mockup Generator?
You've made a cool logo for your client and want to show it to your client in the best light. However, you want to avoid going through the work of manually creating a mockup with something like Photoshop. A mockup generator is a perfect solution!
A mockup generator is an online tool that allows you to create visual representations of your design projects rather than using complicated design software. This enables you to easily add your designs to pre-existing templates, which simulate real-life scenarios and give your work a realistic and professional look.
Designers, marketers, and entrepreneurs often use mockup generators to showcase their designs in a visually appealing way without the need for a physical product. They are incredibly versatile and can be used to create a variety of visuals, from product packaging to app designs and more.
They can also be used to showcase designs on various mediums, such as laptops, smartphones, and billboards, allowing designers to visualize their designs in different contexts.
Overall, a mockup creator is a powerful tool for making professional, high-quality visuals that can be used to enhance your portfolio or impress clients.
What are the Best Mockup Generators for Stunning Designs?
Here are the best mockup generators to help create stunning visuals and elevate your design game.
5 Best Mockup Generators for Stunning Designs (Free & Paid)
1. Placeit by Envato (Best Free Mockup Generator)
Placeit is a mockup generator by Envato that offers over 43,000+ customizable mockup templates for various design projects, including print, digital, and branding. This free mockup generator has a whole whack of filters on the side to find the exact mockup you're looking for.
Pros
Very easy to use immediately (no signup required, simple interface)
The most amount of categories and mockups (43,000+)
Change item colors to match your branding
Perfect for any design project, including digital or print
The best part: completely free mockups you can download (just put "free" in the search bar)
Cons
Some of the mockups look fake or overdone
Test Results
Designing a mockup was seamless, with the ability to change the color of the inner rim to match the logo color perfectly!
Pricing
Free: High-resolution select mockups are free to download with no watermark (search "free" in the top bar)
Single Mockup: Purchase a single mockup you created (prices vary depending on the item)
Unlimited: Pay from $7.47 per month to get access to all mockup, design, video, and logo templates
---
2. Smartmockups (Most Versatile)
Like Placeit, Smartmockups allows you to create mockups online with over 12,200+ print, digital, and branding templates.
They've got lots of great mockups for print. So if you're a print-on-demand seller, you'll definitely want to try this one out!
Pros
Very simple interface making it easy to use
Get started quickly (immediately on the homepage, you can add a mockup image and try it out without creating an account or putting in your credit card)
Looks professional with high resolution (up to 5K)
Thousands of templates with new ones added every week
Works on desktops, smartphones, and tablets
Change the item color, shadows, etc.
Good for digital, print, and clothing
Integrate with popular design tools like Dropbox and Canva
Use the Unsplash integration to switch up your mockup scene
Variety of file types you can upload (JPG, PNG, or PDF and videos in MP4, MOV, or GIF)
Cons
Some of the templates are not free
Limited features on the free version
Not as many templates as Placeit
Test Results
As mentioned, getting started was quick and easy. The test results look great!
Pricing
Smartmockups offers a simple pricing structure:
Free: Get access to 2,700 free mockups with limited features and medium-quality exports
Pro: For $14 per month, get access to all mockups (12,200+) with advanced features and maximum flexibility
---
3. Media Modifier (Best for Digital Marketing)
Media Modifier is an online mockup generator with over 8,000 templates for various design projects. This is a great choice if you want to make a mockup on a digital screen quickly or want to continue editing in Photoshop.
Pros
Easy to use without having to sign up first
Download JPG or PNG
The option to download Photoshop PSD to make more detailed edits (only on the Pro plan)
Lots of editing features, including adjusting the highlights and shadows, the item color, and the scene
Massive selection of templates and mockup designs for almost every type of design project
Cons
Some of the mockups may look inauthentic
You must create an account to download the mockup
Test Results
This mockup was incredibly easy to make, with plenty of features to make it look how you want. Once you create an account to download it as a JPG, PNG, or PSD file, you can save the mockup, publish it to social media, or open the Cropper tool.
Pricing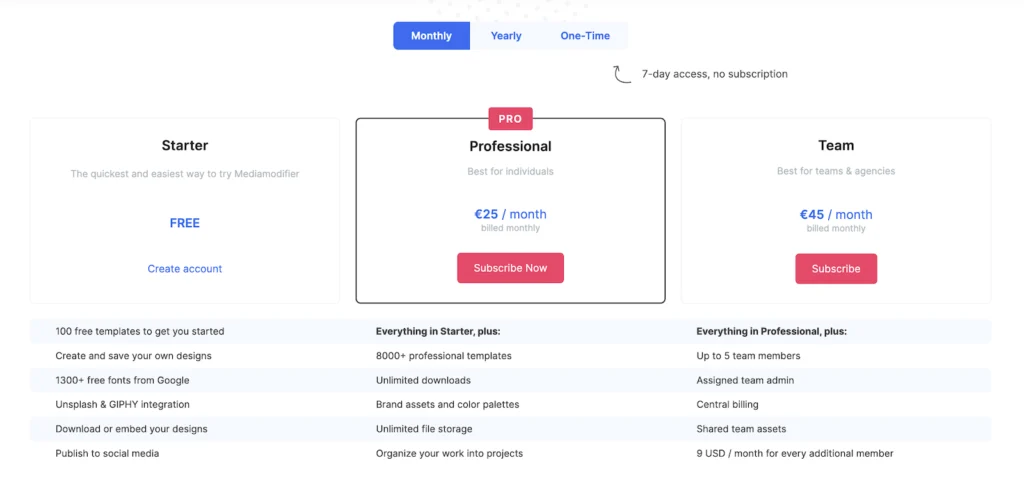 Note to the Editor: These are Canadian prices (not USD)
Starter: Get access to 100 templates for free
Professional: Pay $X per month to access 8,000 mockup templates
Team: Pay $X per month to access 8,000 mockup templates and bring on up to 5 team members ($9 for every additional member)
You can pay monthly, annually, or $X once for a single project.
---
4. Canva (Best All-In-One Design Tool)
You've been living under a rock if you haven't heard of Canva. Canva is a popular design tool offering a mockup generator feature called "Smartmockups."
Great for beginner or professional designers, you can create a variety of mockups, including print, packaging, and clothing. Their mockup generator offers a wide range of templates that are easy to customize to fit your needs.
Pros
A wide variety of professional templates to choose from
Easy to use; simple interface
Create high-quality mockups
The lighting and shadows look realistic
Diversity-centric: Find mockups from different ethnicities and cultures
It comes with more than just a mockup generator (they also have a free online AI image generator, among other helpful design features!)
Cons
You need to create an account before using
The interface tends to be more overwhelming since Canva has so many uses
Thousands of templates to choose from (2,000 for free users and 8,000 for paid users), but they don't offer as many as other mockup generator sites
On the free plan, you can only upload and adjust your image without any other customizations
Test Results
Using Smartmockups on Canva is very easy. Upload an image, adjust it, and you're done.
Pricing
Free: Limited design features (2,000 mockups) with no customization options
Pro: For $14.99 per month, get access to all mockups (8,000) with advanced features and maximum flexibility
---
5. Printful (Best for Print Designs & E-Commerce)
Printful is a print-on-demand service that also offers a mockup generator feature. They have an "ever growing library" of mockups perfect for print mockups like t-shirts, hoodies, and phone cases.
Pros
The interface is simple and easy to use
Ever growing library of 2,550+ completely free mockups
Integrates with popular e-commerce platforms like Shopify and WooCommerce
Variety of different models and ethnicities to choose from
Cons
Results look authentic, but sometimes the shadows look fake
You need to sign up before you can start using it
Offers a wide range of products to choose from but is limited to print product mockups
Test Results
Creating this mockup was easy, with the option to change the thread colors. The only drawback is that you can't see it in context on a model, which would be nice.
Pricing

On Printful, the mockup generator is completely free. Pricing varies depending on the product and design, with some products starting at around $10.
---
FAQ
Are there free mockups?
Yes, many mockup generators offer a free plan with limited features with a selection of free mockup templates such as Placeit by Envato, Smartmockups, and Media Modifier. However, more advanced features and a wider range of templates may require a paid plan.
Is Canva smart mockup free?
Yes, Canva Smartmockups are free. However, this only includes 2,000 out of the 8,000 templates they offer. If you want access to all of Canva's Smartmockup templates, you must upgrade your plan to at least Canva Pro for $14.99.
How to get Smartmockups for free?
Smartmockups offers a free plan with limited features, including access to some mockup templates. To access more advanced features and a wider range of templates, you can upgrade to a paid plan or sign up for a free trial of their premium plans.
Are mockups free for commercial use?
Yes, for the most part, you can use mockups for commercial use. However, before doing so, check the licensing terms and conditions of your specific mockup template.
You can usually find this on the footer of the mockup generator website you are using. Some mockup generators and templates may offer free commercial use, while others may require attribution or a paid license for commercial use.
It's Time to Make Your Designs Look Stunning
A mockup maker is essential for any graphic designer or marketer looking to showcase their designs professionally. Ultimately, they will save you time and money rather than using Photoshop to create mockups.
Each mockup generator in this article has unique features and pricing options catering to different design needs and budgets.
We put Placeit by Envato in the first position because it has the most templates with plenty of free options. Their plans are also very affordable.
Smartmockups is perfect for those in the print-on-demand business who want a wide range of templates. Canva is great for beginners who want a user-friendly interface with other useful built-in AI graphic design tools.
Printful is perfect for those looking to sell merchandise, while Media Modifier is ideal for those who want the most export options.
No matter which mockup generator you choose, you can be sure that your designs will look stunning and professional.
See also: Create a new design project with Penji