I believe that it's safe to say that Instagram has become one of the most popular and engaging social media apps with over 1 billion registered users accounts and 95 million photos and videos shared every day without any clear signs of stopping here.
Also, like other social media websites, it had successfully achieved in having a significant impact on businesses and how they market themselves to the public.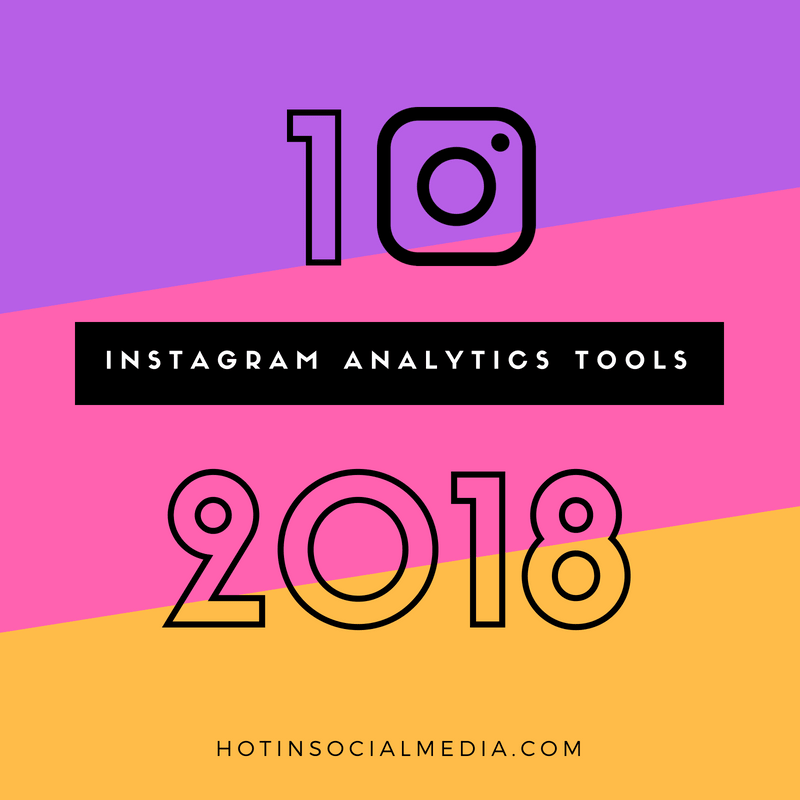 So why you should use an analytics tool for your Instagram account?
Because you can get a clear picture of the target audience that is following you on Instagram, you can know exactly who is watching your content, what kind of content is more appealing to your followers. Analyzing can help you create more powerful and relevant content.
There are plenty of choices out there that can help you measure the effectiveness of your marketing efforts and below I will present you 10 Instagram analytics tools that you should be using this year.
10 Instagram Analytics Tools You Should Be Using in 2018
1. Instagram Insights
Completely free, Instagram insights, unfortunately, it's only available for business accounts. So if you are still using a personal profile, you'll have to switch in order to get access to this data.
How do you switch to a business account? Very simple.
First, make sure the application version on your device is up to date. Open Instagram, click on your profile icon from the bottom right and go to "Settings". Click "Switch to Business Profile" and you will be able to access your Instagram for Business account.
Next, you should link your Instagram account to your business's Facebook page and finally add a phone number or an e-mail address so your followers can get in touch instantly.
Instagram Insights allows you to see the period of times when your followers are on Instagram, follower count, locations or activity.
The data can be split into a period of a few months or even years, which will be in handy for planning future marketing campaigns.
But that's not all. You'll also get access to the gender or age range distribution of your followers so you can find out what percentage of your followers are male or female, age groups and even where the majority of your followers are from.
Knowing your followers on Instagram could have a great impact on the future success of your brand.
And in the end, if you are just trying to build more engaging campaigns for your business or simply looking for a free Instagram analytics tool you should definitely give Instagram insights a chance.
2. Simply Measured
It is an exceptional tool for marketers because it offers a variety of reports and analyzes.
Lucky for us we can get a detailed analysis of one Instagram account and that includes best times for engagement, the amount and types of engagement including metrics on top posts.
This report also contains top photo tags, top filters, and ways to improve your strategy by verifying what kind of content goes really well for your main competitors.
Knowing what days and times are best to post content can really give you a serious boost to your engagement on Instagram or any other social platform.
3. Iconosquare
Is a paid app that gives you a very good overview of your channel, what posts perform better or those who are not that popular among your followers, you can manage your posts through advance scheduling or improve your hashtag strategy.
It also gives you notifications at the time of posting for you to know what exactly has sparked your followers' interests while looking at your profile. Its customized Instagram feeds allow you to follow whatever hashtags and groups you like.
4. Keyhole
Another paid app is Keyhole Instagram analytics platform which gives you real-time analytics reports of key metrics: follower growth, engagement rate and optimal posting times.
It also can help you keep track of your competitors growth, activity and engagement data so you can have a pretty clear idea of which kind of strategies will work or not for you.
5. Squarelovin
It's a free analytics tool that offers data for example about your recent posts, a monthly analysis, and a history of your posts.  More you will gain insights into your followers' preferences and interests, and what motivates them to engage. Of course, one of the most important features of any Instagram tool it even shows you what are the best or worst times to post.
And what it is really great about Squarelovin is that having analyzed your post history it can give you the opportunity to optimize your future posts and so helping you build a stronger, more popular account.
6. INK361
INK361 it's also a management and analytics Instagram tool. Fortunately, it has a free plan that gives you access to basic audience insights and data about your account.
It keeps track of your followers and followings growth over time and also includes insights about your follower's geolocation info.
Other key data available are how much your followers like your post or how much they talk about them. But that's not all INK361 has to offer: identifying, analyzing and monitoring your competition are also essential things that shouldn't miss from your strategy to create a successful account if either it's a personal one or for your business.
7. Minter.io
It's a paid Instagram analytics tool but you have the chance to try it for free for 14 days.
It can optimize your content in order to find out which posts attract your followers more, the time when your posts get the most likes and comments, and which hashtags generate more engagement.
If you're a fan of Instagram stories you will be very happy that this app tracks the reach and impressions of your stories and see how people are engaging with them. Having known all this you can easily plan what type of content works best with your followers.
8. SocialRank
Allows you to get insights into your Instagram followers, for example seeing who are your most engaged followers, what type of posts they are sharing, what interests your followers have, sharing your followers' location and so much more.
Overall, is a fantastic platform that you can use to see who your followers really are. Using this data, your job in creating an Instagram post that will resonate with your followers will be so much easier.
9. SocialInsider
Is a social media analytics tool which includes also a product for your Instagram account starting from $29 per month. If you're not so easily convinced you can take advantage of the 7 days free trial that they offer.
It focuses a lot on tracking your competitors and gathering data about their past campaigns and helps you understand how their profiles grew over time.
Not only that but shows you what type of content they publish, when they post and what filter they use most on their profiles.
If you want to go a little deeper it can also provide data about what type of post they use, if it's a video, image or a carousel and how the engagement rate grow every day.
10. Union Metrics
Union Metrics it's a great tool that offers as a free product an Instagram account checkup. It's a basic report but enough for getting you started especially if you're a beginner and you're just feeling overwhelmed with more in-depth reports.
Helps you to identify the ideal times to post new content so you can receive the greatest response from your followers.
These metrics can help you learn more about your audience and provide the best content.
It analyzes which kind of post perform better with your audience and which posts didn't have the impact expected so it will be easier for you to know in the future what will resonate with them and what exactly to add to your feed in order to reach that desired engagement from your followers.
Hashtag analysis is also present among the top features of Union Metrics and everyone knows this could give you a serious boost in front of your competitors.
Having good content it's not enough for having a successful Instagram account.
You should know and track your users' engagement, you should listen to them, discuss and interact with them. How will you know whether you share the right content if you don't analyze your results?
Furthermore, you should also do an analysis of your competitors, to find out what they do, to track what works the best for them, to inspire from their activities and learn from their mistakes.
Why is analysis important in Social Media? Because it shows us what we did well, and what not and what lessons we could learn from what we achieve so far.
See also: IGTV – the new long-video format app from Instagram