Social media is one of the best tools to grow your online presence and to create solid brand visibility.
According to Forbes, there are 2.5 quintillion bytes of data created each day on the Internet. This is a huge amount. This number includes all the social media content uploaded on a daily basis. In this cluttered world, getting yourself noticed is no easy task.
Learn how to stand out in the crowd by following these simple five steps. In a nutshell, it's about consistency and quality content. Let's have a closer look at how to create the perfect social media strategy.
How To Use Social Media To Improve Your Brand Message?
1. Create visuals
Ever since human beings were able to communicate something, they did it with the help of signs, drawings, and images of all forms and sizes. People often have a stronger visual memory than any other type of memory.
A study has shown that posts with unique images obtain up to 650% more engagement than those with bare text. What's the answer here?
Well, visuals are strong for one simple reason: in a relatively small amount of space, they incorporate one or many messages. Take this into account the next time you're posting something on your social media accounts.
There are many tools and programs out there that can help you create the perfect visual for your brand. Either you want to do it from scratch or have a little help from tools like Canva or Pixlr, Vectr, or Smartmockups. Or, try Placeit, an online tool where you can create or choose compelling designs for your social media platforms.
With similar or complementary features, these tools, or others that you'll fall in love with, you can make your voice heard even more in the digital era. It's all about incorporating your company values and aspirations in the visuals you create.
Let's say you're a start-up that has created an app that provides Instagram insights for the accounts that you manage or the ones of your competitors. You've just set up your content calendar, and you plan to post twice a week news or other exciting facts from the niche you're in. Maybe KPIs you should track to increase your visibility or social media-related content.
Don't do it using an academic or very hard-to-read and comprehend mode. Use these free tools with a simple message and a relevant background image, and always use your logo (we'll discuss later why it's essential to add it). Keep it all nice and neat, and make sure the next time someone sees your post, to think about your company instantly.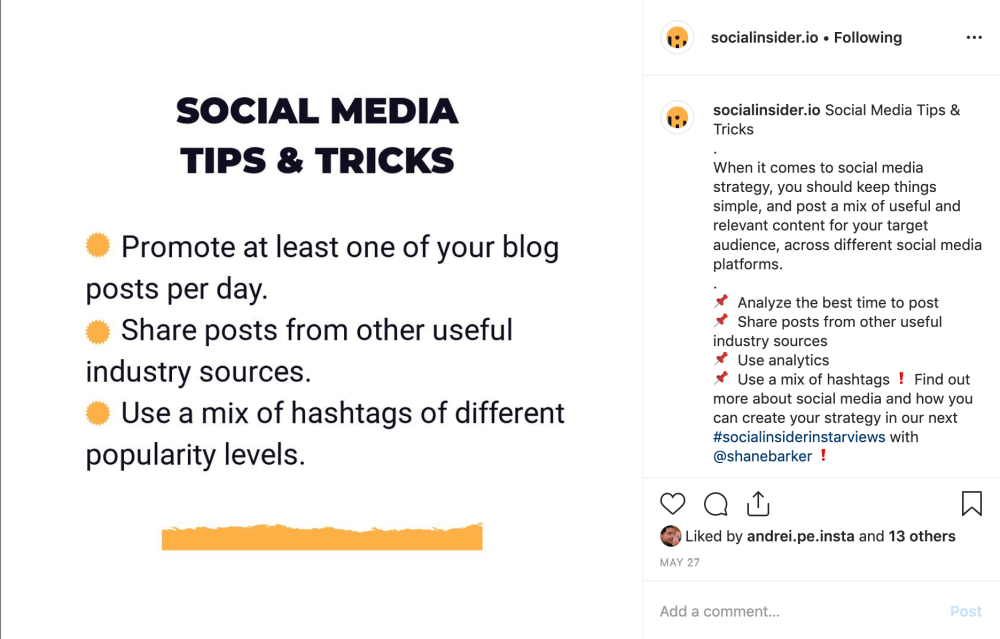 Useful Tip – It's good to have a template or a set of guidelines for all your visuals. You want to give a sense of unity in all your posts.
2. Tell a story
Successful branding means being able to tell a story that will influence people's emotions. This is why stories have been and will continue to be great ways to engage with your audience. People like to make connections and to be part of a bigger picture.
In marketing in general and in social media, in particular, storytelling has the power of making people associate the feeling they had when they read or saw the story with the brand.
Before sharing anything with the public, decide what's the story you want to shine the light on. Also, make sure it fits your brand values.
Try to initiate stories that drive action, teach or that create a lasting bond between your customers and your brand.
For example, you're the owner of a coffee shop; you might want to make some videos explaining the entire process of creating these unique cups of coffee.
Great idea, but do it using appealing and genuine stories. Try to do it by using your employees rather than hiring actors. They know better all the processes, and they sound a little bit more natural.
Ask your customers to tell something about your shop, ask them to take their picture in front of your coffee shop, let them be part of your story, like Starbucks does.
This way, you'll establish a healthy and engaging relationship with your audience.
3. Grow your reputation on social media
Building and maintaining a reputation requires time and a lot of work, but it also needs dedication and setting a steady content calendar. If you're not present on social media every day or you don't post at all says something about you and your manager skills. If you need help with scheduling posts, check out this list of social media management tools. Be in control of your brand's reputation both online and offline.
If you want to do it right, here's what you might want to know:
a. Create quality and reliable content
Set up a blog where you share news in your field, talk about new ideas, or write about relevant things in your niche. Be the expert that everyone searches when in need of advice or a piece of valuable information.
b. Engage with your followers on your social accounts
If you are online, people need to see that you're there to address their curiosity. Post regularly and make sure you're responding fast. There is the concept of real-time marketing – being out there when things happen.
c. Use the power of hashtags
These efficient tools are used on almost all big social media platforms to add topics to reach new audiences and to increase your traffic, visibility, and to build your brand presence and credibility ultimately. Learn how to use them to your advantage. Start by following the ones that interest you and add them to your digital marketing strategy, as well.
d. Always keep your promises and be real to your followers
Allow them to see that every brand has its own good or bad days. Be sincere, share challenges, but also ways to overcome them.
e. Follow influencers and collaborate with the relevant ones in your field
You can never reach all the audiences you want. But with the help of influencers, you can touch inaccessible areas.
4. Create a logo that represents you
A logo's the first interface of your business, and it helps people recognize, remember, and better associate it with your products, goods, or services. Use it to your advantage and create one that communicates the company's core values.
Here are a few hints on how to design the right one for your company:
a. Keep it simple
New brands sometimes come up with complex logos because they want to stand out from the competition. Though, there is something you must consider: simplicity has never failed. It sells because it's easily remembered and assimilated by people.
b. Choose your colors wisely
A study has shown that for up to 85% of consumers, color is the strongest motivator to choose a product, and 92% of the respondents said that they put most importance on visual factors when purchasing products.
So, ultimately the colors will affect people's emotions. Depending on what you'll want to pass on, here is the meaning of the colors in marketing:
Red is associated with intensity, trust, love
Blue is associated with stability, faith, clarity, trust
Yellow is associated with energy, joy, freshness
Green is associated with calm, peace, nature, hope
Orange is associated with happiness, creativity, enthusiasm
Purple is associated with glamour, romanticism, power
Pink is associated with femininity, warmth, sexuality
Black is associated with boldness, luxury, mystery
Brown is associated with reliability, support
c. Test many versions
When designing a logo, consider that you'll be using it in many formats and many places. Think about how it will look like on your site, as a social media profile picture or even on a building. Try many versions and let the time pass before making a sudden decision. You'll see them in a different light after a while.
After you've created the perfect logo, use it on your all social media posts. This will give a sense of unity to your content.
5. Repurpose content
Let's face it, constantly creating content is time-consuming, and if you want to do it like a pro, you need that time. If you manage three social media platform accounts, things can become even more difficult.

Why not working smarter rather than harder? The benefits are undeniable. Instead of creating something new each time, you can reuse the old content to spice up your social media channels.
First of all, adapt the tone of voice according to every platform you are about to post on. It's going to be all about brilliant images on Instagram, keeping its business on LinkedIn and very short and straightforward on Twitter.
Here are a few fresh ways to repurpose the content:
Transform statistic articles in infographics. Whenever we've presented statistics, we have to keep tabs of endless tables and hard to read and compare stuff. Try to do it the other way round: Simplify as much as possible and cut it on an appropriate infographic;
Repost evergreen blog posts. You can do it either by searching the most popular posts in the past period or by resharing the ones you think are atemporal like how-to materials;
Share your posts on other social media channels other than those you've posted before. But don't forget to adapt;
Convert your webinar in video tutorials. Let's say you hosted a webinar, and after a few months, you think you could reach an even wider audience with the information you've before shared.
Post insights or market research results. Share savvy data with your audience on social media.
Bottom Line
Remember, using social media is not going to make your brand popular overnight.
By building a strong relationship with your audience, delivering the best type of content that you can, and by being recognizable, it will make your brand trustworthy in your niche.
See also: Top 21 Most Popular Social Networking Sites and Apps in 2019