Holiday season is upon us. More importantly, the brand new year is coming soon (and I'm pumped)!
But just like any other periods, social media plays an important role during the holiday seasons. Brands and businesses will be blasting out their best promotions online, with the hope they will be making a lot of sales or visibility during the busy period.
Like it or not, Facebook will be a huge part of your success especially in the coming weeks, and you'll be out of your mind if you are not using Facebook for marketing during this holiday season.
In this article, you will find the best ways to use Facebook marketing tips for the holiday season, to market and sell your products online.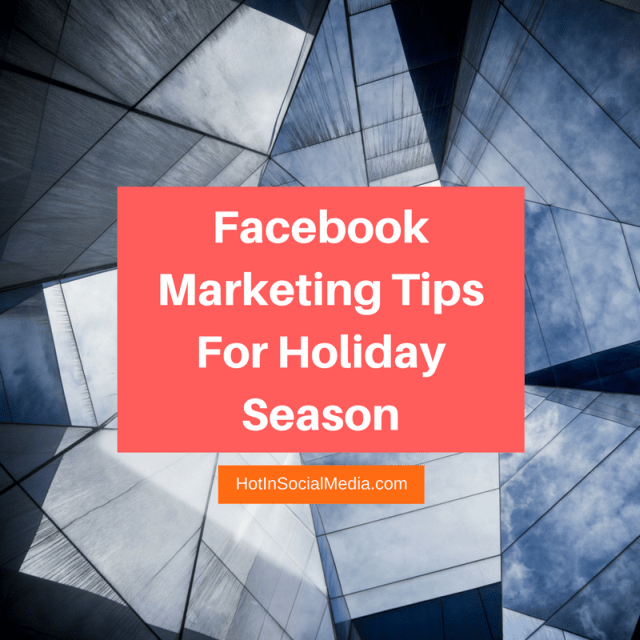 Facebook Marketing Tips For The Holiday Season
Step 1: It all starts with planning (using content calendar)
Planning is critical and if you want this holiday season to work for you, you need to start planning. When it comes to planning, you need to have a content calendar.
So, what is a content calendar?
Basically, it consists of a list of posts and updates you are going to publish on your Facebook page for a specific time period. In this case, it can be from December 1 to December 31.
I love using Excel sheet as it gives me a lot of nice features especially in productivity. However, if you are in a team, you should consider Google Sheets as it gives real time update and you are able to collaborate with one another at any time.
A content calendar can be used at any time and they can easily be integrated with any Facebook marketing throughout the year.

Step 2: Using the right visual elements in your content
Today's world, visual marketing is the key to success and there is no exception especially in Facebook marketing during the holiday season.
So, what should you know about visual marketing?
For starters, you need to use the right visual elements in your content, especially when publishing a Facebook post.
Here, take off the limits in your imagination and let it run wild. You need to have a strong visual to attract eyes towards the post.
Want to take awesome images without paying a huge sum? Here are some quick tips:
Use tools such as Photoshop, Canva and PicMonkey to further enhance the image
Use visuals that stand out from the crowd (colors for example)
Use professional stock photos
Self-take photos for the best effects
Step 3: Showcase your brand's story (or identity)
Holiday season is all about giving and having fun. So, why don't use the time to introduce your team to the world?
After all, they are your best assets.
When showcasing your brand's story, you need to find the right story to resonates with your customers. And the keyword here is "resonates".
Too many brands are trying to tell stories of their own but fail miserably because they aren't reaching the hearts and souls of their customers.
Lastly, telling your brand's story involves a strong sense of storytelling and doing it in a very personal way. Don't just tell a story to sell, but tell a story that connects you with your customers in any way possible.

Step 4: Creating contents that rock
Before publishing a content on Facebook, you need to ensure that your content connects with your fans and followers.
Just like creating a brand story, your content needs to be really, really good. People are just too tired of the numerous content on social media (especially Facebook) and most of them are looking for something to 'grab on'.
If you want to create content that rock, your content needs to have some elements of drawing them in, evoke some sentiments and tug at people's heartstrings.
Content created needs to contribute certain part of positive effects in their life and experience.
Don't believe? Take a look at why Coca-Cola hired this man to laugh really bad during transit.
https://youtu.be/FfezfZPw-qk
You see, Coca Cola's plan is to create happiness within the community and making money isn't the ultimate goal (I'll be lying to say that making money isn't the goal at all).

Step 5: Creating content that will be shared
Unless you are a popular artist, president of a country or a well-renown influencer, you probably won't have a large number of die-hard fans.
In this case, you are required to think critically, to create content that will be shared. For the record, anyone can create content but how many can actually create content that will be shared (or spread) like wildfire?
Want to craft your net Facebook post? Have this in mind: Craft content for Facebook publishing that is worthy of reading and sharing.
How to achieve this? Here are some simple tips:
Content needs to be entertaining
Content needs to be some form of education
Content that will capture your audience's attention immediately
And don't forget about the title! Since you are publishing something related to holiday seasons, keeping the holiday season name in the beginning of the post is a great move.

Step 6: Use Facebook Offers
Facebook is no longer a tool for communication and most business owners are aware of this.
With Facebook Offers, you can create an online or n-store offer to share on your Facebook business page.
There are several types of offer that you can choose from such as:
Percentage off
Amount off
Buy one, get one
Free stuffs
This feature is powerful for both online and, brick and mortar businesses.
You can easily add a title (up to 50 characters only), adding some description (up to 500 characters), and up to five photos.
Using a Facebook editor, you will be able to preview the offer either via desktop or mobile view to ensuring that viewers are able to get the information immediately without much effort.

Now, it is your turn!
As the holiday season comes nearer, every one of us is anxious to celebrate. And on top of everything, it is important to ensure that you are focusing on your business as well!
This is the best time to make some good money and you need to ensure that you are doing whatever it takes to generate additional revenue for your business!
See also: Top 6 Facebook Features You Probably Don't Know About