After Twitter was acquired by Elon Musk and it started dwindling, it was only a matter of time until someone came up with a legit alternative to the famous micro-blogging app, and who else better than Mark Zuckerberg, the CEO of Meta and mastermind behind some of the greatest social media apps today? If someone's able to wipe Twitter off the face of the Earth, or at least make it break a sweat, that is Mark Zuckerberg. Judging by the way the two moguls have been going at each other on social media, you'd say they actually might be enjoying the competition, with words about a cage fight between them that might not actually be a joke after all. 
But until we get to see an actual cage match between the two, let's see how Threads compares to Twitter and what it's all about.
What Is Threads, The New Social Network?
Threads is a new application from Instagram, providing users with a platform to create posts, interact with others, and follow accounts of interest. The content of the posts can be a mix of text, links, photos, or videos, making it a flexible tool for expression. Similar to other platforms, your posts' visibility depends on your profile's privacy settings, and people can interact with your content by replying or reacting to it.
Threads shares obviously similar characteristics with microblogging services like Twitter and Mastodon and is owned by Meta Platforms, the same company that owns Instagram and Facebook. Weirdly enough, even though Threads is a standalone platform, users must have an Instagram account to use Threads, which brings both benefits and disadvantages that I'll discuss later. The app is accessible on both iOS and Android devices. However, the web version offers more limited functionality.
Interestingly, the acquisition of Twitter by Elon Musk played a role in the conception of Threads. Initially, Meta considered introducing a text-based feature called "Instagram Notes". However, the focus shifted towards creating a separate app dedicated to text, and thus Threads was born.
The development process started in January 2023, with the app making its first appearance on the Apple App Store on July 3rd, and the official launch taking place on July 5th.
While Threads launched in 100 countries on its release date, its EU launch was delayed due to pending regulatory clarifications regarding the service's data collection policies.
Notwithstanding, the app's popularity skyrocketed, securing 80 million users within the first two days, setting a new record for the fastest-growing platform in history.
How Many Users Are on Threads Now?
Meta's new platform, Threads, has pulled in over 100 million users (currently 115 million – July 18, 2023), a record it set in under five days, making it the most rapidly expanding online platform ever. It has thus positioned itself as a strong competitor to Twitter.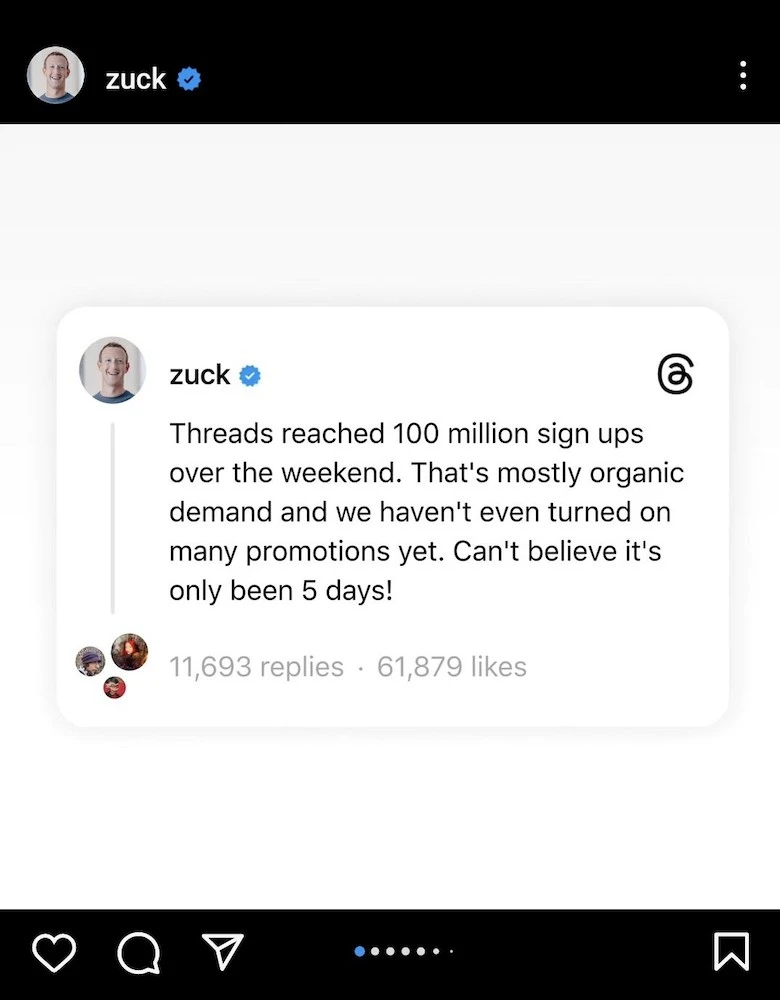 Threads hit the 100 million user milestone early last Monday, just days after its Wednesday evening launch in 100 countries. By reaching this landmark in less than a week, Threads outpaced ChatGPT – the OpenAI chatbot – which took two months to hit the 100 million user mark.
The record-setting launch of Threads can be partly attributed to its straightforward sign-up process. Users simply log in using their Instagram accounts, which are then used to fill out their profile details and follow lists on Threads.
Why Did Meta Launch an App Copying Twitter?
Let's just say in a nutshell that the CEO of Meta, Mark Zuckerberg, has a sixth sense of knowing how to be in the right place at the right time.
Last year, we talked about the whole saga surrounding Elon Musk's proposal to buy Twitter, and then about what happened immediately after the Twitter deal finally went through on October 27, 2022, but what has happened ever since Elon Musk fully took the reins of Twitter?
To put it bluntly, more or less of a shitshow.
Since Musk took Twitter private, we no longer have access to public statistics on the company, but according to Data Reportal's initial data collection for their April 2023 report, Twitter's global ad reach had dramatically decreased by about 68 percent in just three months, dipping to a mere 177.2 million. This sharp decline was surprisingly uniform across the globe, with almost every country out of 214 showing a decrease in reach between 60 and 80 percent.
Data Reportal then reached out to Twitter to discuss these unusual figures, prompting Twitter to remove the data from its Ads Manager tool. A new set of "revised" data was later published on April 20th. However, these numbers still indicated a substantial reduction in potential Twitter reach compared to the January statistics.
As of the report's writing, Twitter's Ads Manager tool showed a potential global reach of 372.9 million. Despite the improvement from the initial 68 percent drop, this 33 percent quarter-on-quarter decline is still the most substantial decrease Data Reportal has seen in over a decade of monitoring such data, regardless of the platform.
Whether we believe Twitter's initial or second report of 2023, the company's valuation has reportedly dipped to $20 billion. Despite significant cost-cutting, including an 80% staff reduction, a clear path for Twitter's growth is still missing. it's clear that Musk's decisions have strained relationships with journalists and key advertisers, and led to a less transparent platform.
Notably, he removed the verification checks for prominent users, offering them only to those who subscribe to Twitter Blue for $8/month, which has drawn criticism.
Several institutions and high-profile users have threatened to leave Twitter due to the unsettling policy changes. Advertisers have also been hesitant to return. Musk claims Twitter's usage and advertiser numbers have increased, but without the obligation to disclose financial information, his word is all that followers have to rely on.
In the meanwhile, Elon Musk's tenure at Twitter has brought another significant change in June 2023: Only verified users will have access to TweetDeck after a 30-day period. As Twitter rolled out a new version of the web app, it revealed that only Twitter Blue subscribers, verified organizations, and those gifted with verification will have access to TweetDeck starting in August.
Additionally, Twitter introduced limitations on how many tweets users can view daily. Verified users can view up to 6,000 tweets, while unverified ones have a cap of 600. New, unverified users have a stricter limit of only 300 tweets per day, according to Musk. These limits affected TweetDeck users significantly, leading to reported issues like failing notifications and loading errors.
Adding to the developments, Linda Yaccarino officially assumed her role as Twitter's CEO on June 5. All these changes have contributed to the increasing uncertainty around Twitter's future, which Threads is surely banking on as a step toward its success.
Threads vs. Twitter: Main Similarities and Differences
Let's compare the two micro-blogging apps, Threads and Twitter, in terms of their features.
Character and Video Limitations:
Twitter allows you to use up to 280 characters per post. If you need more space, you must create another post or thread. In contrast, Threads allows up to 500 characters, giving more room for expression. Similarly, Threads allows video uploads of up to 5 minutes, while Twitter limits videos to 2 minutes and 20 seconds.
Account Creation and Deletion
Threads requires an existing Instagram account for sign-up, while Twitter does not need any pre-existing account. If you want to delete your Threads account, you also have to delete your Instagram account. With Twitter, you can deactivate your account, and if it stays inactive for 30 days, it will be permanently deleted.
Ad Policies & Pricing
Threads is free to use with no current ads, though that might change as Instagram has begun featuring ads. Twitter features ads, but it also offers a premium service called "Twitter Blue" for $8/month. This service provides users with added features like the ability to edit tweets, change app icons, and increased daily tweet visibility.
Trending Topics
Twitter has a "Trending" feature that provides popular hashtags and topics, which is the main attraction of a news-first micro-blogging platform. Threads, however, does not have a similar feature yet, which means that you'll first see recommended topics when you go on the app.
Search Capabilities
Twitter's search is more advanced, allowing you to search for accounts, hashtags, and tweets. Threads only allows account search.
Blue Badge
If you're verified on Instagram, you'll be automatically verified on Threads without any additional cost.
Messaging
Twitter has a direct messaging feature, but Threads currently only allows communication through comments.
Safety
Threads prides itself on safety, applying Instagram's content guidelines. For example, users can't promote weapons, threats, or aid to hate groups. Automatic private accounts are assigned to users under 16, and users can control who comments on their posts.
Privacy
Threads and Twitter both allow users to set their accounts to public or private. However, Threads, like Instagram, collects data about users' activities within the app. When you sign up for Threads, you're granting Meta access to your data for ad targeting and personalized experiences. And given that they're not yet compliant with the EU's data regulations should maybe be food for thought.
How Can You Install The New Threads App in Europe?
If you're dead set on installing Threads in Europe even though it doesn't yet comply with the EU's Digital Markets Act, which protects users' personal data, there are probably more than one workarounds to do so.
---
On Androids
The easiest way is to go to APKMirror, or another trusted website that hosts APK installation files for mobile apps without requiring you to go to the Google Play Store, and you can download Threads on your Android device directly from there. 
Once you've installed it, you will have to activate a VPN and choose a USA location. Any VPN will work, as you can uninstall or turn it off after logging into Threads. You won't need a VPN to continue using the app.
Don't worry if you get an error when logging in, you might just need to choose the option to change accounts and then you can proceed to log in from scratch.
You just have to remember the app won't update and you will have to do everything from scratch whenever a new version is released.
---
On iPhones
Getting the Threads app in Europe for iOS users is a bit tricky due to Apple's restrictions on sideloading. However, you can get around it by changing your App Store country selection to the United States. Here's how:
First off, you'll need to create a US Apple ID by visiting the Apple ID website. During the signup process, ensure you select the United States as your country. Once you have a US Apple ID, you can change the App Store country on your device to the US from Settings. If you've just created a US Apple ID, the App Store might ask for a US postal address and phone number, but you can generate a random one.
Once your App Store is set to the US, you can download Threads from the App Store and sign in with your Instagram details. After you've installed Threads, you can sign back into your usual Apple account. Even though you'll have a different profile, the Threads app will still be there.
However, remember, this process will require signing out of your normal Apple account, which could temporarily remove your Apple Pay cards. So, it's recommended to back up everything to avoid losing data.
Also, the same goes here as for Androids, the app won't update on its own, so you will have to do this whole process anytime you want the new version, but that's until it will be officially launched in Europe, which I'm assuming will happen at some point.
Is Threads Worth It and Will It Demolish Twitter?
Only time will tell, but as of right now, Threads definitely looks like the new cool kid on the block, who will make your life more exciting and fun. The fresh new platform looks good, and if we take Instagram and Facebook as indicators for their creators' recipe for success, I'm tempted to believe Threads has a real chance of succeeding, and initial figures and general user excitement seem to confirm that.
I would say the main attraction to Threads is that you already have a follower base when you sign up, given that your Threads account is connected to your Instagram account, which is a huge plus for businesses and creators.
Plus, it's fun to see and use an ad-free micro-blogging platform, but judging by Instagram's history, which also started without ads, and by the words of Zuckerberg himself, I'm not expecting this ad-free bliss to last for a very long time.
However, as YouTuber Arun Maini eloquently put it in the video below, it's exactly because Threads is a Meta product that we should maybe be concerned.
Meta owners clearly have a money-driven vision and recipe for success that are, in my opinion, not in the user's best interest. Both Facebook and Instagram started out as simple social media apps where you could connect with your friends, and both have completely transformed into ad-filled platforms that encourage you to endlessly scroll until you're left feeling numb, sad, or depressed.
Meta also has the worst track record in using people's data in dodgy ways. When you sign up for the app, they're asking for access to all your data, including health and fitness info. Just imagine keeping records of your weight loss journey on your health & fitness app and then being bombarded with ads for shady weight loss supplements and restrictive diet plans. Oh wait, that already happens on Instagram and Facebook.
If people switch over from Twitter to Threads, Meta will have almost complete monopoly over the most successful social media apps: Instagram, Facebook, WhatsApp, and now Threads. The only two huge ones left out will be TikTok and YouTube, which are owned by ByteDance and Google respectively.
That's a bit scary to think about, but I'm not trying to scare you. The truth is the world is already ruled by billionaires and large corporations, and if you're already using Facebook and/or Instagram, Meta probably already has all the data they need about you. So just choose the social media app that resonates the most with you and your lifestyle and don't forget that the real world awaits you outside of social media! 🙂