In April, I wrote an article about Elon Musk's Twitter saga that preceded his $44 billion offer to buy Twitter, but apparently, the saga was just beginning. Since then, Musk has repeatedly tried to back out of the deal when Tesla stock tanked only a few weeks after the offer was made, alleging that Twitter had given deceitful representations of their spam and bot accounts, among others, and that they had therefore breached the purchase agreement. Twitter then sued Musk to force him to honor the deal, and Musk slowly backed down when he realized he had no chance of winning the trial. 
After months of back and forth between Musk and Twitter's leadership, the deal finally went through on October 27, and the Tesla mogul quickly went to business by first firing the four main executives at Twitter — CEO Parag Agrawal, CFO Ned Segal, head of legal Vijaya Gadde, and general counsel Sean Edgett — as well as the entire Twitter board, leaving him as the sole board member and leader of Twitter. 
Sounds a bit revengeful, doesn't it?
Well, given that Musk wanted to back out of the deal and Twitter leaders wouldn't let him, it's only natural that their relationship turned sour and that he would probably let them go when he became the new leader. What's more questionable is that he fired them all "for cause", which means that he will not be obligated to pay their due compensations ($20 to $60 million each) if he can legally prove that they somehow breached their contracts.
So what else does Musk plan to do at Twitter?
Musk's Plans for Twitter
More Layoffs
There has been talk of layoffs at Twitter ever since April when Musk told investors that he would reduce its workforce (some have said up to 75%), as well as make Twitter private, find new revenue streams, and roll back some of its content moderation rules. Close sources have said these layoffs would happen before November 1, when employees would receive stock grants as part of their year-end compensation. Firing them before that date would exempt him from having to give them stock grants, though he would still have to pay them cash as part of the deal he signed when acquiring Twitter.
Of course, Musk denied all of this, and we are now past November 1, so we know it didn't happen, but did he not do it because he wasn't planning on it, or because people caught on to his schemes and he couldn't risk causing such a big stir?
What's certain is that layoffs will happen since Musk has already told team managers to make up lists of employees that can be cut off based on performance reviews. It also doesn't look good for engineers, who were issued an ultimatum on October 30 to make significant changes to Twitter's verification system, and were given only until November 7 to do so or they would risk getting fired.
This brings us to the next point.
Charging an $8/Month Fee for Twitter Blue
Initially, Elon Musk said he would be charging $20/month for getting or keeping the blue verified tick, but after a lot of backlash, including from famous author Stephen King, he got the price down to $8/month, and he's not trolling, he's actually planning to implement that and give people 90 days to subscribe or lose their blue checkmarks. Here is what Stephen King had to say: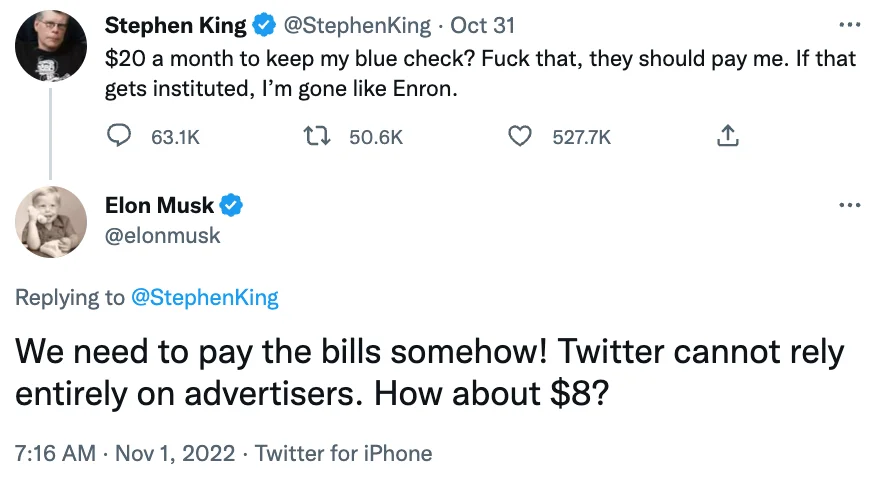 ---
Besides giving King the reason that they "need to pay the bills somehow", Musk also said in a recent post that he wants to give "power to the people" and Twitter's current blue checkmark system splits "lords & peasants" into two different groups.
---
Seriously, Elon? Disconnected much? In what world does asking for $96 a year for a service give power to the people? On the contrary, it further divides people into the elite, who will be able to afford it, and the "peasants" who will be silenced even more. Yes, Twitter is still free for all if you don't want a blue checkmark, but getting the blue checkmark will not only mean a verified account but also priority in replies, mentions, and search, among other features like fewer ads, paywall bypass for selected publishers, and the ability to post long video and audio.
This means that "the masses" who are not able or not willing to pay will get much less exposure, and "the rich" will be at the front of the lines, louder and bigger than ever. So much for the free speech he was going on and on about when he was planning to acquire Twitter.
As you can imagine, people are furious, with many threatening to leave Twitter if this new system goes through and accusing Musk of faux populism. Here is what a few Twitter users had to say:
---
---
And of course, the memes didn't take long to appear:
---
Free Speech
Musk has said from the beginning that he wants to make Twitter adhere to the principles of free speech and have it be like a public town square for all, and has accused the company of censoring conservatives.
This makes some people nervous that he will revoke Trump's permanent ban from Twitter and that he might remove some of Twitter's currency policies regarding misinformation and hate speech. After all, we've seen how Musk himself loves to spread some misinformation, all in the name of "free speech". 
However, Musk did say this: "Twitter obviously cannot become a free-for-all hellscape, where anything can be said with no consequences! In addition to adhering to the laws of the land, our platform must be warm and welcoming to all, where you can choose your desired experience according to your preferences, just as you can choose, for example, to see movies or play video games ranging from all ages to mature. Fundamentally, Twitter aspires to be the most respected advertising platform in the world that strengthens your brand and grows your enterprise."
I guess we'll see how he manages to marry "free speech" with restrictions and consequences and have it be something else than what it was until now.
Reviving Vine
Musk also teased on his Twitter account about bringing back Vine, the previous short-form video hosting service owned by Twitter, which closed in 2016. Mr. Beast, one of the highest-paid YouTubers of all time, replied to Musk and said that it would be hilarious if he actually brought Vine back and then it started competing with TikTok. Musk then asked what he could do to make it better than TikTok, and Mr. Beast gave him his honest advice and said he had to be original or it would be a waste of time, in his opinion.
---
Conclusion:
We still don't know exactly what Musk's future plans are for Twitter, but the direction he's going into doesn't seem to appeal to most people so far. Maybe he'll adjust as he goes, as he did with changing the monthly fee from the initial $20 to $8, but I believe he has a vision we can't fully comprehend yet. What we can understand so far is that he wants to make Twitter profitable and make it for everybody (?), at least as he sees that from his uniquely contorted billionaire perspective. 
See also: How does social media cause addiction?