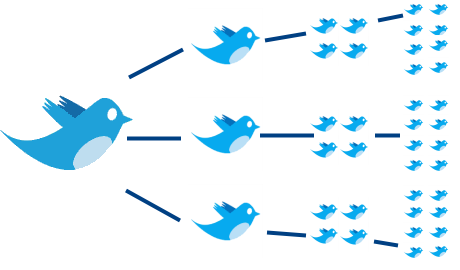 When people retweet your tweets, more people are able to know about you. Getting a lot of retweets can lead to a dramatic
growth in followers
. We know the benefits of getting more retweets, but when it comes to getting those retweets, many people are stuck with no retweets or just a single retweet for most of their tweets.
In order to get more retweets, follow these
5 ways to get more retweets
1. Tweet pictures
Twitter's picture preview allows people to see pictures without the need to click on the link. This has resulted in an increase in engagement for pictures. Tweet pictures that are motivational, breathtaking, or comical in order to get the best results.
2. Grow a targeted following
Most people think that having a following is good enough to
get more retweets
. In order to get the best results, you need to grow a targeted following. In order to do this, you need to find someone in your niche with over 100,000 followers on
Twitter
(for me, that would be social media experts and authors). Then, follow that person's followers. When you do this, make sure you are following people who are likely to follow back. By implementing this method, you can get over 100 followers every day. Not only are you gaining a following, but you are also gaining a following that is already interested in what you tweet about.
3. Tweet consistently and frequently
If you tweet consistently and frequently, more of your tweets will appear on your followers' timelines faster. In order to get more retweets, your tweets need to be seen by as many people as possible. Tweeting consistently and frequently is how that happens.
4. Tweet motivational quotes
The go-to tactic to get more retweets is to tweet motivational quotes. I tweet motivational quotes four times a day, and all of them get retweeted. Forbes has a great list of the
Top 100 Inspirational Quotes
that are sure to get retweeted when you tweet them.
5. Tweet quality content that your followers want to retweet
In order to get more retweets, your tweets need to be retweet worthy. If you tweet a really good blog post, that blog post is going to get more retweets. In addition, you need to tweet content that your targeted following wants to read. For me, that would be
social media articles
. If you send out a tweet that has nothing to do with your targeted following, you won't get as many retweets.

Do you have any other tactics or ways to get more retweets that you would like to add? Please share your thoughts and tactics below.

See also: 5 Ways to Get More Followers on Twitter