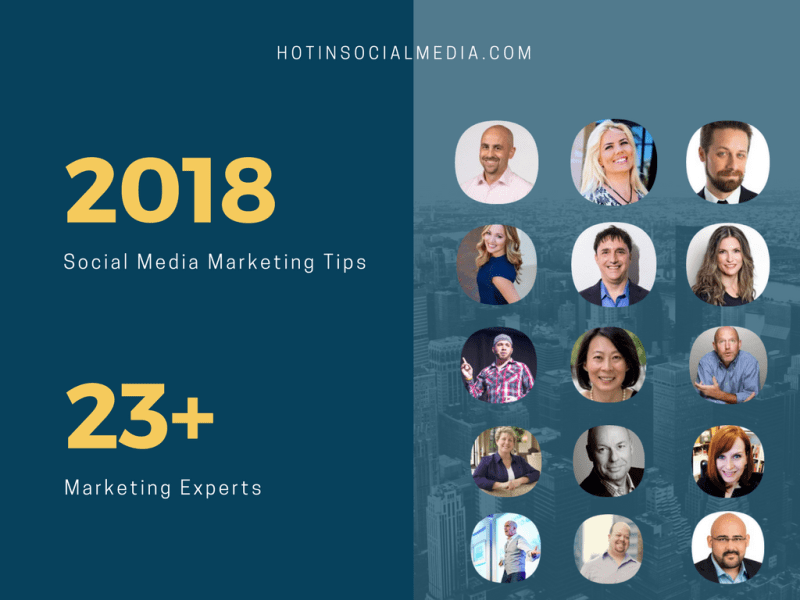 This year (2018) social media marketing will become one of the most important (if not the most important) channel of the digital marketing and communication strategy of every company.
Nowadays it's not important if your company doesn't already have an online shop or even a website (you'd better start working on a simple and useful presentation website at least!), because your customers or potential customers have at least one social media channel they are using on a daily basis, so you must be there too.
Last year (2017) there were 2.8+ billion social media users worldwide, this means around 37% penetration and this year will be more so… let's see which are the most important 2018 social media marketing tips from 23+ marketing experts perspectives.
I want to say a big THANK YOU to all the social media experts from this article that allocated a little time and sent me their useful tips!
If you find at least two useful 2018 social media marketing tips in this 3800+ words article, don't forget to share it with your colleagues, friends or family!
See also:
Digital Marketing Trends in 2018
Top 3 Most Useful Social Media Networks in 2018
Which are the Most Important 2018 Social Media Marketing Tips?
Author of 'Winning at Social Customer Care: How Top Brands Create Engaging Experiences On Social Media'
Dan's 20-year career has consistently focused on delighting customers, spanning multiple disciplines including social media, customer service, marketing, and digital customer experience. He has held leadership roles at several big brands, including Senior Director of Global Social Media at McDonald's Corporation, Head of Digital Marketing at Humana, and Head of Digital Customer Experience and Social Media at Discover, and is now a VP at Persado. He is also the co-host of the 'Experience This' Podcast.
Answer:
Don't think that social customer service is someone else's job. Every time companies market their product or service – especially with promoted posts – they are interrupting people's timelines. This often reminds people of a less-than-satisfactory interaction with that brand, and they take the time to air their grievances in the comments of the marketing post.
Marketers would like to believe that the only comments will be about their terrific marketing, but that simply isn't true. Thus, marketers must work closely with their Customer Service department on resource planning and engagement strategy.
Co-Founder and CEO
Digital Leadership Associates – www.social-experts.net
Tim Hughes is universally recognized as one of the world's leading pioneers and exponents of Social Selling and he is currently ranked Number 1 as the most influential social selling person in the world.
He was responsible for a large-scale sales transformation within Oracle the result of which delivered in excess of $100m in sales uplift and he is currently leading the sales transformation programmes at Avaya, Thomson Reuters, and Pitney Bowes and is the co-founder of Digital Leadership Associates.
Answer: 
With GDPR pretty much killing Email Marketing, 30% year-on-year Ad Blocker growth the world is "voting with it's feet" and turning it's back on analog marketing techniques like email, advertising, and cold calling. It is a buyers market and they are on social, they don't want brands talking at them, and telling them how great they are. All Brands say that and it's become noise.
Marketers, Salespeople, and Employees need to educate, provide insight, have conversations and create communities on social media. This is where the businesses that win 2018 will be.
President – PDCA Social
Neal Schaffer is a leading authority on helping businesses through their digital transformation through consulting, training, and helping enterprises large and small execute on social media marketing strategy, influencer marketing, and social selling initiatives. He is the president of the social media agency PDCA Social. He also teaches digital media to executives at Rutgers University, the Irish Management Institute (Ireland), and the University of Jyvaskyla (Finland). Fluent in Japanese and Mandarin Chinese, Neal is a popular keynote speaker and has been invited to speak about digital media on four continents in a dozen countries. He is also the author of 3 books on social media, including Maximize Your Social (Wiley). In 2018 he published his 4th book: The Business of Influence.
Answer:
The most important thing you can do in 2018 is to think Mobile Visual first. We have been a mobile-first world in terms of the way that we consume digital media for a long time now, but many companies still develop and maintain a desktop-first approach. This must change when an overwhelming majority of those who access social media are doing so through a mobile device.
Companies are also still challenged by the visual-first approach that you need to become successful on the 2nd largest social network, Instagram, and if you can conquer that challenge, it will help your content marketing succeed on all social networking channels.
New Media Specialist, Author, Mentor and Speaker
Adel de Meyer – Top 100 Marketing Influencer, New Media Specialist, Author, Mentor, and Speaker. Adel is a New Media specialist with focused expertise in using Twitter and Instagram for business. She has a top-listed digital marketing blog and Adel is recognized as a leading Instagram and Twitter influencer on social media and business in Australia. She regularly writes articles and speaks at local events on influencer marketing, technology, and social media solutions. Adel works with global SMB enterprises, entrepreneurs, and personal brands by using social media and technology to captivate their audiences. She loves coffee and creative minds!
Answer:
Businesses and brands need to lessen the friction between content and products. Websites, apps and marketing channels need to be a great personalized digital experience that captures the consumer right at the moment they were delighted by the content and turn that into action. Businesses will have to find more creative ways to do storytelling, build communities and find new audiences by implementing paid Social strategies complemented by influencer marketing or strategic partnerships. Organic reach keeps declining while Adblockers keep rising – Marketers have their work cut out for 2018.
CEO
Jamie Turner is an internationally recognized author, speaker and TV news contributor who has helped The Coca-Cola Company, AT&T, CNN, and other global brands solve complex business problems. He is the founder of 60SecondMarketer.com, a business blog read by hundreds of thousands of executives around the globe. And he is a regular guest on CNN and HLN where he provides insights on business, digital media, and leadership. Jamie currently runs SIXTY which is a marketing consultancy and advisory group that has worked with SAP, Holiday Inn, TransUnion, and others.
Answer:
Start using paid social media to boost your organic efforts. There's no way in this day and age that you can get away with just organic (if your goal is web traffic). It's a harsh reality.
Storyteller
Miri Rodriguez is a Storyteller for Microsoft Corporation. She is a creative journalist developing content across key technology trends, designing activities and materials for IT. Prior to this, Miri led three social care teams responding to thousands of customer inquiries via social channels in Global English, Spanish and Portuguese. Her work was recognized as Best Practice at the annual Microsoft Think Tank Summit and won her a marketing award for effectively engaging partnerships with internal teams to drive a unified social voice and customer experience.
Answer:
As a storyteller, I am going to of course tell you, storytelling. Get your brand's story right. Get everyone in your company to align with it. Get the voice, tone, and personality to tell the story as best as possible, through all channels and let it resonate with your customers. Remind them why you exist as a brand time and time again, and how you're making their world better with your product or service.
Marketing Fellow at HubSpot, Digital Marketing Instructor at the Harvard Division of Continuing Education
Sam Mallikarjunan is an Executive Strategist at HubSpot and former Head of Growth at HubSpot Labs, the somewhat-secret experimental arm of the world's #1 Sales & Marketing platform. Sam teaches Digital Marketing at the Harvard Division of Continuing Education and the University of South Florida's Muma College of Business. He is also the co-author of the book "How To Sell Better Than Amazon" (which, thanks to the publisher, is ironically available for purchase on Amazon).
Answer:
We still dramatically under-invest in customer retention. People see social media-powered customer support and engagement as a cost center, but the fact is that you'll never be able to afford to do fancy sales and marketing to GET customers if you're not REALLY good at KEEPING customers. Use the best social media management tools and turn your social media channels into a top retention and down funnel tool to stop chasing clicks, follows, net new leads, etc.
Writer, Artist, Producer, Digital Strategy Consultant
Soluma Productions – www.brittmichaelian.com
Britt Michaelian has visited the red carpet as a social media correspondent for the Insider and Entertainment Tonight at events for Vanity Fair, the Daytime Emmys, and the Billboard Music Awards. She has partnered with select brands as a digital strategist, influencer and speaker at events for IBM Interconnect, New Media Expo, LTDLive, Social Media Marketing World, Cox Business and Inc. Magazine. She is currently working on her second novel while consulting with tech startups to build powerful, sustainable digital brands.
Answer:
It doesn't matter what year it is, your social media connections mean nothing if you can't shake a few hands with some of them offline. Don't think of your followers as just a number, they're people! Select 3-5 key connections every month and make a point to either have a phone call or meet in person so you can see how you can help them reach their goals. Keep it light. Smile. And maybe, if you're lucky, they might offer to help you.
The key is to go to the phone call or meeting with no expectations, just to deepen the connection. If you do this consistently, you'll see an increase in sales, publicity, partnerships and the majority of your other key metrics. The power of social media isn't just in the engagement online, it is in the relationships you build that translate offline.
Founder
ConversionMinded – www.conversionminded.com
Sandra Clayton is an online marketing expert who loves teaching entrepreneurs, creatives, and bloggers how to build a profitable online business that ignites their inner genius. She's passionate about sharing everything she knows about online marketing to help people build a life and a business that they love.
Answer:
Don't spread yourself too thin in 2018. Social media platforms change rapidly, and you need a mindset of total immersion to really see the rewards. As each site develops more capabilities to engage prospective customers (think Facebook messenger, buyable pins, shopping on Instagram), narrowing your focus and digging in is the way to go.
At the same time, don't rely on one social media channel alone. Changes can happen at the drop of a hat that can affect your reach on any given platform.
If you focus on just two or three channels, you'll have enough diversity in your mix to withstand algorithm updates, and enough depth to maximize each site's capabilities.
Content Marketing Practitioner
The Social Media Hat – www.thesocialmediahat.com
Mike is a Content Marketing Practitioner, award-winning Blogger and Author in St. Louis, and the Chief Marketing Officer at SiteSell. He has been working with websites and the Internet since the early '90's and is active on all of the major social networks. Mike teaches a holistic approach to content marketing that leverages blog content, social media and SEO to drive traffic, generate leads, and convert those leads into sales.
Answer:
My most critical tip for businesses, no matter what year it is, is to focus on using social networks to create real, lasting relationships with their audience members, fans, followers, prospects, and customers.
Social networks are not broadcast mediums. The businesses that simply shout their latest sales and products will never find success. It's the businesses that tell stories and bring their audiences into those stories that have the most engaging social profiles and the most rabid fans.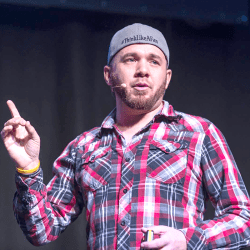 Millennial Keynote Speaker, Podcaster, and Founder of iSocialFanz
Change evangelist and growth hacker that focuses on helping brands embrace emerging technology through strategy consulting, hosting two podcasts (SMACtalk + FOMOFanz) and providing keynotes and workshops with brands around the world.
Answer:
Perfection is a fairytale: People don't trust logos or brands and they certainly don't believe any brand or company is perfect therefore we need to stop trying to create perfect content/engagement. This includes how we use video, how we engage and celebrate our fans and what I believe is a massive underused tactic, how we empower our employees to be the face of our social channels.
Social Marketing Strategist, MC/Host Brand Innovators Summits, and Co-Founder Prevailing Path
Ted Rubin is a leading Social Marketing Strategist, Keynote Speaker, Acting CMO of Brand Innovators, and Co-Founder of Prevailing Path. He is the most followed CMO on Twitter according to SocialMedia Marketing Magazine; one of the most interesting CMOs on Twitter according to SayMedia, #13 on Forbes Top 50 Social Media Power Influencers, and number #2 on the Leadtail list of Top 25 People Most Mentioned by digital marketers. Return on Relationship (#RonR), is the basis of his philosophy.
His book, Return on Relationship was released in January 2013, How To Look People in the Eye Digitally was released in January 2015, and The Age of Influence… Selling to the Digitally Connected Customer was just released.
Answer:
You know what doesn't work for a Social Marketing Strategy… NOT BEING SOCIAL!
Author, Speaker, Agency CEO
Brian Carter has been a digital marketer for 18 years and a trusted influencer and ad agency owner for a decade. A bestselling author, IBM futurist and one of LinkedIn's top 25 social media experts, he has over 250,000 online fans and students. Brian has built marketing programs and been a keynote speaker for Microsoft, Universal, Citrix, NBC, Marketo, Salesforce and more. His media appearances and interviews include Inc, The Wall Street Journal, Bloomberg TV and Entrepreneur Magazine. His hands-on business experience, cutting-edge insights, and background in stand-up comedy culminate in a keynote speaker and trainer who leaves every audience not only entertained but armed with powerful strategies and tactics.
Answer:
Our FIT process is found, invent, test. FIND out what your audience loves (listen to the data), INVENT more content and TEST it on your target audience see what gets the biggest response. Finding what works the best will lead to continually bigger results and happier customers. Facebook ads are the best laboratory for making this happen.
Author and Content Marketing Strategist
Pam Didner is a marketing consultant, author, and speaker, whose international book, "Global Content Marketing", is the first to offer an accessible, comprehensive process to scale content across regions. During her tenure at Intel, she led enterprise product launches and worldwide marketing campaigns as a globally integrated marketing strategist. She now leads a boutique-consulting firm that trains, coaches and provides strategic guidance on audience development, messaging architecture, editorial planning, content creation and media outreach on a global scale.
Answer: 
Be authentic, be engaging and don't automate! Use analytics to improve and optimize frequency, copywriting, calls-to-action and creative.
Founder
Sherman Social – www.marjijsherman.com
Marji J. Sherman is an experienced social media strategist that has been featured in Inc. Magazine, The Growth Factor and numerous other podcasts and publications. She writes a successful blog (www.MarjiJSherman.com) where she relates real-life experiences to the ever-changing landscape of social media and has over 200K followers on Twitter (@MarjiJSherman) where she focuses on positive living and leveraging social media while remaining authentic.
Answer:
Stay relevant to your consumers by making them relevant to you. Personalize content, excel at customer service and find a way to make your consumers feel like they take priority. Gone are the days of full-on automation and canned responses. Make your consumers feel like you are invested in them, and they will invest in you.
Finding your differentiator as a brand will also be incredibly important in 2018. Social media has never been noisier, so brands will have to stand out from the crowd to get any traction. Stop copying competitors and start standing out with unique visuals and content.
Founder & CMO
Idea Girl Media – www.ideagirlmedia.com
I am the Founder and CMO of Idea Girl Media, an international Social Media Marketing Agency that works with business brands & public figures, providing customized marketing campaigns, online asset strategies, and social media training. My work earned back to back top social media marketing campaign awards for state tourism. I am humbled to have received a 2013 Small Business Influencer Honorable Mention Award, and a commendation for Outstanding Attainment in Social Media from the Senate of the State of Ohio.
My insight has been featured in Social Media Today, SteamFeed, AOL Small Business, Forbes and Business Insider. I am always enthused to meet new people!
Answer:
We need to stop doing the same thing, finally cut the strings from "same ole," and completely wipe the slate clean for brand new social media strategies. Ultimately, this will go hand in hand with an Online Asset Strategy: Considering our social media pages as assets, and having a plan to consistently build them as an online asset in the brand name. Idea Girl Media will be giving focus to this in 2018. We also forecast helping other businesses with their online asset strategies in the upcoming year as well.
CEO of Arment Dietrich and Founder and author of Spin Sucks
Gini is the CEO and founder of Arment Dietrich, an integrated marketing communications firm. She is the author of Spin Sucks, co-author of Marketing in the Round, and co-host of Inside PR. She is the lead blogger at Spin Sucks and the founder of Spin Sucks Pro.
Answer: 
In the past 10 years, we've become accustomed to the world toppling over on us nearly every day. It's really easy to become fascinated with the next big, shiny thing. But if you do only one thing in 2018, focus. Don't get sidetracked. Stay focused, work your plan, and kick the year in its butt!
Social Media Strategist Wacom
Jacob is an experienced new media marketer and personal branding advocate. He works with companies and individuals in developing, maintaining and leveraging their digital identity online.
Answer:
My most important social media marketing tip for 2018 is to create/revise or refine your current content marketing strategy so that you are creating content or stories that help move customers through your marketing funnel.
For example, not just how to create awareness content that works well on social but also try to focus on consideration, conversion, loyalty, and advocacy.
SEO & Social Media Maven
SBN Marketing – www.sbnmktg.com
Stephanie Boyette Nelson is the owner and Social Media Maven at SBN Marketing, a Charlotte-NC-based boutique digital marketing agency. Stephanie's marketing experience runs the gamut – print ads, print newsletters, event coordination, e-mail newsletters, paid search, SEO, and more. Currently, SBN Marketing specializes in social media marketing, content marketing, and on-page SEO for small businesses.
Answer:
Go where your audience is. You could have the best message or offer ever, but if you're posting it on a social media outlet where your audience isn't, it's not going to do you any good. Think of it like you're a rock star. If you show up to put on a concert at Madison Square Garden, but your audience shows up to hear your show at the Hollywood Bowl, does it really matter how great a show you put on? And don't insist on being on an outlet just because "everyone else" is there. "Everyone else" doesn't have your audience. Focus on them. Success will follow.
Social Media Lead
TopRank Marketing – www.toprankmarketing.com
Debbie is a Social Media Lead at TopRank Marketing, who helps plan, implement and manage social media and influencer marketing programs. She is also a University of North Dakota fanatic and animal lover who wears a pretty impressive shark costume on Halloween.
Answer:
When it comes to Twitter, even though you now have space for 280 characters in your post, that doesn't mean you have to use it. My tip: keep it short. Brevity is key.
Marketing Consultant | Speaker
Yosef had dedicated his career to helping businesses drive traffic to their websites. Having worked both agency and in-house, Yosef has a die-hard commitment to supporting small and medium businesses through digital marketing. He takes a truly holistic, cross-channel approach to digital marketing. In addition to his experience and expertise in marketing, he is a recognized conference speaker in the industry. Yosef is VP Marketing at Search Interactions, a digital marketing agency that prides itself on blending search, display, and development to create effective marketing plans.
Answer:
Cross-promote and reutilize your content, but don't lose your personality. It's important not to be robotic when sharing content. Test your titles and content and allow your personality to shine and don't shy away from dialogue. Social media is a two-way street, do make sure you're part of a dialogue, not a social-sharing monologue.
Social Media Advisor, Senior Digital Officer, Social Media Freelancer, Blogger
Flo Le Mens is a social media expert based in Brisbane (Australia). He has worked on groundbreaking projects for innovative brands and agencies in the education, social media, insurance,  tourism, state government and environmental services industries. He is a Hootsuite Ambassador and the Senior Digital Officer for CQUniversity Australia.
Answer:
Less is more. Do yourself a favor in 2018, post less. Share only the best content and you'll see the results. As Jay Baer says: 'In social media, the algorithm is the most important customer.' The quality posts will resonate strongly with your Facebook fans and the Facebook algorithm will surface them to more people.
Chief Information Officer
Marketing Lancers – www.marketinglancers.com
Reginald is a serial entrepreneur and is the Chief Information Officer (CIO) for Marketing Lancers. He loves using technology to accelerate growth and productivity. When he has free time, he works on his upcoming book and online courses.
Answer:
Start Instagram-ing is critical. Start building an audience on Instagram with daily posting.
Social media marketing will be moving towards video and live streaming. Content will be taking the backseat in terms of effectiveness.
YouTube will be more important than ever. Entrepreneurs will tend to flood YouTube to gain more visibility.
Senior Social Media Manager
My passion is to help companies harness the power of social media for their business.
From presenting innovative ideas to devising a winning strategy to staying in-the-know of the latest, I help companies utilize this technology in surpassing their business goals and keep them ahead of the competition. I've worked with organizations ranging from small businesses to global enterprises, and from a colorful array of industries including fashion, technology, and entertainment.
I've executed and presented social media audits, given group training sessions, consulted one-on-one, as well as helped monitor, drive, and report on activity for different brands' social channels. Currently, I have the privilege of working in-house with Trend Micro to elevate their global social media presence.
Answer:
Be human!
See also: Digital Marketing Trends in 2018