Last year in August (2017), We Are Social and Hootsuite reveals that more than 3 billion people are active social media users from a total of 3.8 billion people that are using the internet (7.5 billion is the total population of the world).
The penetration of the internet users has reached 51% in 2017 meanwhile the penetration of the active social media users is around 40%.
In the same report we can find the number of active users for the top 10 social media networks as you can see below:
Facebook – 2,047 million active users
YouTube – 1,500 million active users
Whatsapp – 1,200 million active users
Facebook Messenger – 1,200 million active users
WeChat – 938 million active users
QQ – 861 million active users
Instagram – 700 million active users
Qzone – 638 million active users
Tumblr – 357 million active users
Twitter – 328 million active users
Besides the interesting numbers above, at the start of every new year, people are starting to think about which will be the most useful social media networks in 2018?
Because I was thinking about this question too and because I wanted to have a clear and relevant answer to this question, I have sent this question to some of the most well-known social media experts around the globe.
Below you can read more than 20 answers about the top 3 useful social media networks in 2018, from the expert's point of view.
If you like this article and find useful information in it, please don't forget to share it with your friends!

Don't forget to read also:
2018 Digital Marketing Trends From 20+ Marketing Experts
Social Media Marketing Tips From Top Marketing Experts

Which will be the Top 3 Most Useful Social Media Networks in 2018?
President – PDCA Social
Neal Schaffer is a leading authority on helping businesses through their digital transformation through consulting, training, and helping enterprises large and small execute on social media marketing strategy, influencer marketing, and social selling initiatives. President of the social media agency PDCA Social, Neal also teaches digital media to executives at Rutgers University, the Irish Management Institute (Ireland), and the University of Jyvaskyla (Finland). Fluent in Japanese and Mandarin Chinese, Neal is a popular keynote speaker and has been invited to speak about digital media on four continents in a dozen countries. He is also the author of 3 books on social media, including Maximize Your Social (Wiley), and in 2018 will publish his 4th book, The Business of Influence, on educating the market on how any business can leverage the potential of influencer marketing. Neal resides in Irvine, California but also frequently travels to Japan.
Answer:
There was a time when the Big 3 networks were Facebook, LinkedIn, and Twitter. We then went through a period where many new social networks emerged that competed for our attention: Google Plus, Pinterest, Instagram, and Snapchat.
I think we are now going back to a consolidation phase where the New Big 3 are Facebook, Instagram, and LinkedIn. If I had to add a 4th it would be Twitter.

Storyteller
Miri Rodriguez is a Storyteller for Microsoft Corporation. She is a creative journalist developing content across key technology trends, designing activities and materials for IT. Prior to this, Miri led three social care teams responding to thousands of customer inquiries via social channels in Global English, Spanish and Portuguese. Her work was recognized as Best Practice at the annual Microsoft Think Tank Summit and won her a marketing award for effectively engaging partnerships with internal teams to drive a unified social voice and customer experience.
She was selected twice to participate in Microsoft's prestigious program #MySkills4Africa where she volunteered her social expertise to train and coach Social Enterprise leaders in Swaziland and Morocco to effectively launch their social programs. Her award-winning career includes 15+ years of Marketing, Operations and Customer Experience. She is the mother of 2 boys and an American Bulldog. Her philanthropic work includes volunteering as a business consultant and student coach at Network for Teaching Entrepreneurship, a board of directors membership at Trade+Impact social enterprise organization and personal brand coaching for professionals of all ages and backgrounds.
Answer:
Because customer experience is the new marketing, platforms that already have the majority of your target audience there should be the most useful. Every industry is different and every brand has a different audience and goal.
As long as the platform has a good way to engage your specific audience, that will be the most useful. It's all about engagement and keeping the customer connected. I always say "master one platform first, before going to the next. You don't have to be on all channels."

Marketing Fellow at HubSpot, Digital Marketing Instructor at the Harvard Division of Continuing Education
Sam Mallikarjunan is an Executive Strategist at HubSpot and former Head of Growth at HubSpot Labs, the somewhat-secret experimental arm of the world's #1 Sales & Marketing platform. Sam teaches Digital Marketing at the Harvard Division of Continuing Education and the University of South Florida's Muma College of Business. He is also the co-author of the book "How To Sell Better Than Amazon" (which, thanks to the publisher, is ironically available for purchase on Amazon).
Answer:
Facebook will retain its dominance and LinkedIn is already having a bit of a resurgence — but the third will likely be a messaging platform. Having our core messaging experiences separated from our social discovery experiences doesn't make sense.

Co-Founder and CEO
Digital Leadership Associates – www.social-experts.net
Tim Hughes is universally recognized as one of the world's leading pioneers and exponents of Social Selling and he is currently ranked Number 1 as the most influential social selling person in the world.
He was responsible for a large-scale sales transformation within Oracle the result of which delivered in excess of $100m in sales uplift and he is currently leading the sales transformation programmes at Avaya, Thomson Reuters, and Pitney Bowes and is the co-founder of Digital Leadership Associates.
Answer: 
For Enterprise B2B (Business to Business) which is the space I work in, it will still be LinkedIn, Twitter and Facebook.

Founder
ConversionMinded – www.conversionminded.com
Sandra Clayton is an online marketing expert who loves teaching entrepreneurs, creatives, and bloggers how to build a profitable online business that ignites their inner genius. She's passionate about sharing everything she knows about online marketing to help people build a life and a business that they love.
Answer:
Instagram, Facebook, and Pinterest
1. Instagram – With shoppable posts, clickable links in stories, and stories highlights, Instagram is offering more opportunities for marketers and retailers to drive traffic and sell products.
2. Facebook – Facebook should be the hub of your marketing, hands down. You've got Facebook Live, Messenger, and Groups, which translate into multiple opportunities to reach and engage your audience – not to mention ads that are easy to manage and allow for retargeting.
3. Pinterest – If you have the ability to create high-quality graphics, you can create pins that go viral and generate incredible amounts of traffic. Make sure you have funnels in place to capture leads and build your email list.

Content Marketing Practitioner
The Social Media Hat – www.thesocialmediahat.com
Mike is a Content Marketing Practitioner, award-winning Blogger and Author in St. Louis, and the Chief Marketing Officer at SiteSell. He has been working with websites and the Internet since the early '90's and is active on all of the major social networks. Mike teaches a holistic approach to content marketing that leverages blog content, social media and SEO to drive traffic, generate leads, and convert those leads into sales.
Answer:
Facebook continues to dominate the social landscape – not just in raw monthly users – but also in features and usefulness. No other network can boast the same level of business integration, analytics, video capability, and advertising reach, as Facebook.
What follows next will depend entirely on the business in question. While every business can and should have a Facebook presence, not every business can leverage, say, Pinterest, as effectively. Instagram & Twitter should certainly be strong considerations, as well as LinkedIn and Pinterest. And if you can or are producing video, YouTube can be a goldmine in organic search traffic & views.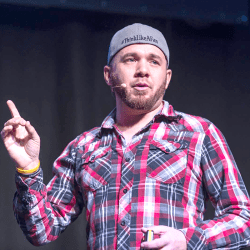 Millennial Keynote Speaker, Podcaster, and Founder of iSocialFanz
Change evangelist and growth hacker that focuses on helping brands embrace emerging technology through strategy consulting, hosting two podcasts (SMACtalk + FOMOFanz) and providing keynotes and workshops with brands around the world.
Answer:
Facebook/Instagram: #InZuckWeTrust – Everything Mark Zuckerberg is doing around video integration with both Facebook and Instagram are disrupting every other social media network.  Don't be surprised if in 2018 both of these platforms start to merge together.

Twitter: There is no platform that allows you to leverage hashtags and a real-time social feed like Twitter and with the adoption of 280 characters and focus on video both live and produced I have a feeling the value of Twitter will drastically increase in 2018.

Linkedin: the Linkedin video has proven that curated content with the professional social media user in mind can have a massive impact on your business and that will only grow in 2018.  For example other than my podcast, Linkedin drove the most leads for my keynote speaking business in 2017 and I know that will only increase in 2018.
Social Marketing Strategist, MC/Host Brand Innovators Summits, and Co-Founder Prevailing Path
Ted Rubin is a leading Social Marketing Strategist, Keynote Speaker, Acting CMO of Brand Innovators, and Co-Founder of Prevailing Path. Ted is the most followed CMO on Twitter according to SocialMedia Marketing Magazine; one of the most interesting CMOs on Twitter according to SayMedia, #13 on Forbes Top 50 Social Media Power Influencers, and number #2 on the Leadtail list of Top 25 People Most Mentioned by digital marketers. Return on Relationship, ROR, #RonR, is the basis of his philosophy… It's All About Relationships! His book, Return on Relationship was released January 2013, How To Look People in the Eye Digitally was released January 2015, and The Age of Influence… Selling to the Digitally Connected Customer was just released.
Answer:
Same as 2017…. Facebook, Instagram, and Twitter.

Author, Speaker, Agency CEO
Brian Carter has been a digital marketer for 18 years and a trusted influencer and ad agency owner for a decade. A bestselling author, IBM futurist and one of LinkedIn's top 25 social media experts, he has over 250,000 online fans and students. Brian has built marketing programs and been a keynote speaker for Microsoft, NBC, Universal, Citrix, Marketo, Salesforce and more. His media appearances and interviews include Bloomberg TV, Inc, The Wall Street Journal and Entrepreneur Magazine. His hands-on business experience, cutting-edge insights, and background in stand-up comedy culminate in a keynote speaker and trainer who leaves every audience not only entertained but armed with powerful strategies and tactics.
Answer:
Facebook and Instagram by far, unified by the Facebook ad platform. Then Twitter.

Author and Content Marketing Strategist
Pam Didner is a marketing consultant, author, and speaker, whose international book, "Global Content Marketing", is the first to offer an accessible, comprehensive process to scale content across regions. During her tenure at Intel, she led enterprise product launches and worldwide marketing campaigns as a globally integrated marketing strategist. She now leads a boutique-consulting firm that trains, coaches and provides strategic guidance on audience development, messaging architecture, editorial planning, content creation and media outreach on a global scale. She regularly shares her insights at www.pamdidner.com.
Answer: 
That really depends on your goals and your audience. Each social media network has its place. If you dedicate the time and energy to building your Twitter audience, you can see more traffic on Twitter than Facebook. Know where your audiences are already, then be there for them.

CEO
Jamie Turner is an internationally recognized author, speaker and TV news contributor who has helped The Coca-Cola Company, AT&T, CNN, and other global brands solve complex business problems. He is the founder of 60SecondMarketer.com, a business blog read by hundreds of thousands of executives around the globe. And he is a regular guest on CNN and HLN where he provides insights on business, digital media, and leadership. Jamie currently runs SIXTY which is a marketing consultancy and advisory group that has worked with SAP, Holiday Inn, TransUnion, and others.
Answer:
Networks in 2018? I wish I had a surprising answer for you here, but Facebook, LinkedIn, and Instagram will dominate 2018 and beyond. I guess the surprise is that Snapchat and Twitter are not on that list — they're toast, in my opinion.
Founder
Sherman Social – www.marjijsherman.com
Marji J. Sherman is an experienced social media strategist that has been featured in Inc. Magazine, The Growth Factor and numerous other podcasts and publications. She writes a successful blog (www.MarjiJSherman.com) where she relates real-life experiences to the ever-changing landscape of social media and has over 200K followers on Twitter (@MarjiJSherman) where she focuses on positive living and leveraging social media while remaining authentic.
Marji began her career on Madison Avenue where she consulted clients on how to develop their communications strategy to improve sentiment and reach of their PR initiatives. After her mother was diagnosed with cancer (healthy now!), she moved back to Miami and helped businesses form effective social media strategies tailored to their business goals. When asked to do consulting on the side, she created Sherman Social, a small agency that specializes in teaching small businesses how to use social media successfully. She has experience creating actionable strategies for national and global brands including KOHLER Co., Capital One, The Upper Room Ministries, Cancer Treatment Centers of America and the Anti-Defamation League.
Answer:
1. Instagram – I live in a college town, and I can hardly meet someone without them quickly asking for my Instagram account. More and more people are transitioning from a Facebook-first mindset to an Instagram world. Brands can see a ton of value from using Instagram Stories. This new feature allows brands to be relevant, timely and where a large part of the population is on social media.
2. Facebook – While the younger generations are staying away from this beast of a network, older generations are still adopting it at a fast pace. Plus, no social media network can beat Facebook's micro-targeting abilities. It is by far the best network for direct response and to drive website traffic.That will not change in 2018.
3. Twitter – This is my wildcard. If Twitter can be business-savvy and reimagine its strategy for 2018, then it will prevail. However, if it stays where it is at right now, I only see usage declining on this platform over 2018. I have over 200K+ followers on Twitter and have analytics that proves Twitter is only displaying most of my tweets to 0.3% of those followers. Brands will not want to continue to spend time creating content for a 0.3% visibility. They have not invested enough in their targeting and adoptions to be playing around with an algorithm that much. I never have invested a cent in my Twitter account and will continue not to because I have only seen Twitter campaigns end with high costs and low ROIs.

New Media Specialist, Author, Mentor and Speaker
Adel de Meyer – Top 100 Marketing Influencer, New Media Specialist, Author, Mentor, and Speaker. Adel is a New Media specialist with focused expertise in using Twitter and Instagram for business. She has a top-listed digital marketing blog and Adel is recognized as a leading Instagram and Twitter influencer on social media and business in Australia. She regularly writes articles and speaks at local events on influencer marketing, technology, and social media solutions. Adel works with global SMB enterprises, entrepreneurs, and personal brands by using social media and technology to captivate their audiences. She loves coffee and creative minds!
Answer:
1. Instagram
2. Facebook
3. YouTube

Founder & CMO
Idea Girl Media – www.ideagirlmedia.com
I am the Founder and CMO of Idea Girl Media, an international Social Media Marketing Agency that works with business brands & public figures, providing customized marketing campaigns, online asset strategies, and social media training. My work earned back to back top social media marketing campaign awards for state tourism. I am humbled to have received a 2013 Small Business Influencer Honorable Mention Award, and a commendation for Outstanding Attainment in Social Media from the Senate of the State of Ohio. My insight has been featured in Social Media Today, SteamFeed, Search Engine People, and AOL Small Business, as well as Forbes and Business Insider. Non-fat lattes, travel & quick wit make me smile, and I am always enthused to meet new people!
Answer:
It really depends on your niche. That said, we are more and more visual as a society. Anything that allows video and creative imagery will have more importance. Facebook, Instagram, and YouTube all offer live and uploaded options. Though owning online real estate is important – Those that do webinars and place the re-plays on their websites or blogs will win that effort.

CEO of Arment Dietrich and Founder and author of Spin Sucks
Gini is the CEO and founder of Arment Dietrich, an integrated marketing communications firm. She is the author of Spin Sucks, co-author of Marketing in the Round, and co-host of Inside PR. She is the lead blogger at Spin Sucks and the founder of Spin Sucks Pro.
Answer: 
Unfortunately, the big guys will still reign supreme: Instagram, Facebook, and Snapchat. You could even add in Musical.ly for the kids.

Social Media Strategist Wacom
An experienced new media marketer and personal branding advocate, I work with both companies and individuals in developing, maintaining and leveraging their digital identity online. Connect with me on Twitter or view my social media video tutorials on Jacobcurtis.com.
Answer:
With users, attention span dwindling and the rise of Content Shock (h/t Mark Schaefer) visually engaging content that quickly drives action will be useful. For that reason, Instagram will continue to be important for most industries and may become even more lucrative if the platform updates to allow external links. Facebook will remain important though more for paid reach (robust targeting for ads) than organic reach. Finally, I'd still have to say YouTube as one of my top 3 most useful social media networks considering it's application for SEO and organic traffic from search as well as Live video.

SEO & Social Media Maven
SBN Marketing – www.sbnmktg.com
Stephanie Boyette Nelson is the owner and SEO/Social Media Maven at SBN Marketing, a Charlotte-NC-based boutique digital marketing agency. Stephanie's marketing experience runs the gamut – print ads, print newsletters, event coordination, e-mail newsletters, paid search, SEO, and more. Currently, SBN Marketing specializes in social media marketing, content marketing, and on-page SEO for small businesses.
Answer:
Facebook will remain king, but my gut says they'll lose their grip on that dominance a bit. The other top dog across most markets and industries, in my opinion, will be Instagram. The third most useful outlet will start getting more into niches. B2B will still rely on LinkedIn. Fashion, travel, and food-based businesses will turn to Pinterest more. Those targeting tweens and teenagers, maybe into the 20s, will find their spot on Snapchat.

Social Media Lead
TopRank Marketing – www.toprankmarketing.com
Debbie Friez is a Social Media Lead at TopRank Marketing, who helps plan, implement and manage social media and influencer marketing programs. Debbie is also a University of North Dakota fanatic and animal lover who wears a pretty impressive shark costume on Halloween.
Answer:
1. LinkedIn – As a B2B marketer, LinkedIn remains on top of reaching our clients' audiences. New tools like native video are helping us capture their attention.
2. Twitter – The demise of Twitter is over-stated. It is still a great way to have shared experiences and share news.
3. Instagram – Instagram is creating new ways for marketers to use the platform. With the addition of stories, marketers have the opportunity to tell compelling visual stories. I'm excited to see what they do next.

Senior Social Media Manager
My passion is to help companies harness the power of social media for their business.
From presenting innovative ideas to devising a winning strategy to staying in-the-know of the latest, I help companies utilize this technology in surpassing their business goals and keep them ahead of the competition. I've worked with organizations ranging from small businesses to global enterprises, and from a colorful array of industries including fashion, technology, and entertainment.
I've executed and presented social media audits, given group training sessions, consulted one-on-one, as well as helped monitor, drive, and report on activity for different brands' social channels. Currently, I have the privilege of working in-house with Trend Micro to elevate their global social media presence.
Answer:
1. Facebook
2.Twitter
3.YouTube

Writer, Artist, Producer, Digital Strategy Consultant
Soluma Productions – www.brittmichaelian.com
Britt Michaelian has visited the red carpet as a social media correspondent for the Insider and Entertainment Tonight at events for Vanity Fair, the Daytime Emmys, and the Billboard Music Awards. She has partnered with select brands as a digital strategist, influencer and speaker at events for IBM Interconnect, New Media Expo, LTDLive, Social Media Marketing World, Cox Business and Inc. Magazine. She is currently working on her second novel while consulting with tech startups to build powerful, sustainable digital brands.
Answer:
Instagram, Youtube, LinkedIn, and Twitter will all continue to be valuable platforms for building your digital footprint. Facebook can be powerful, but for startups with limited budgets, Twitter and LinkedIn provide better ROI. If I have to choose my top three for 2018… Twitter for engagement. Instagram for brands seeking to leverage the visual experience. LinkedIn for reaching the decision makers.


Marketing Consultant | Speaker
Yosef Silver had dedicated his career to helping businesses drive traffic to their websites. Having worked both agency and in-house, Yosef has a die-hard commitment to supporting small and medium businesses through digital marketing. He takes a truly holistic, cross-channel approach to digital marketing. In addition to his experience and expertise in marketing, he is a recognized conference speaker in the industry. Yosef is VP Marketing at Search Interactions, a digital marketing agency that prides itself on blending search, display, and development to create effective marketing plans.
Answer:
This really depends on your goals and your network. The biggest piece of advice I can offer is to really know your audience. If you have a loyal following on Instagram, there's no point ignoring that user base to focus on Linked In. It's also key to think of content platforms like YouTube, Medium and Linked In when thinking about your social strategy. These platforms are often overlooked but can really drive traffic.

Social Media Advisor, Senior Digital Officer, Social Media Freelancer, Blogger
Flo is a social media expert based in Brisbane, Australia. He has worked on groundbreaking projects for innovative brands and agencies in the education, insurance, social media, tourism, state government and environmental services industries. He is a Hootsuite Ambassador and the Senior Digital Officer for CQUniversity Australia.
Answer:
My number #1 is LinkedIn. It has become a content-first platform with an incredible growth year-on-year. With new features such native video upload, LinkedIn has positioned itself as a serious Facebook competitor for content.
#2 is Instagram Stories. Not Instagram but more the 'Stories' feature. It only took a year to take over Snapchat's millennial audience. More than 300 million people using Instagram Stories every day (roughly 60% of Instagram users use Stories). We will see extended advertiser options, including ads in Stories.
Finally, #3 is Facebook. The video will finally take center stage in 2018. Live will be bigger than ever for brands (even for B2B brands looking for to build trust with their customers).

Chief Information Officer
Marketing Lancers – www.marketinglancers.com
Reginald is a serial entrepreneur and currently holds the position of Chief Information Officer for Marketing Lancers. He loves using technology to accelerate growth and productivity. During his free time, he works on his upcoming book and online courses.
Answer:
1. Instagram
2. Facebook
3. YouTube