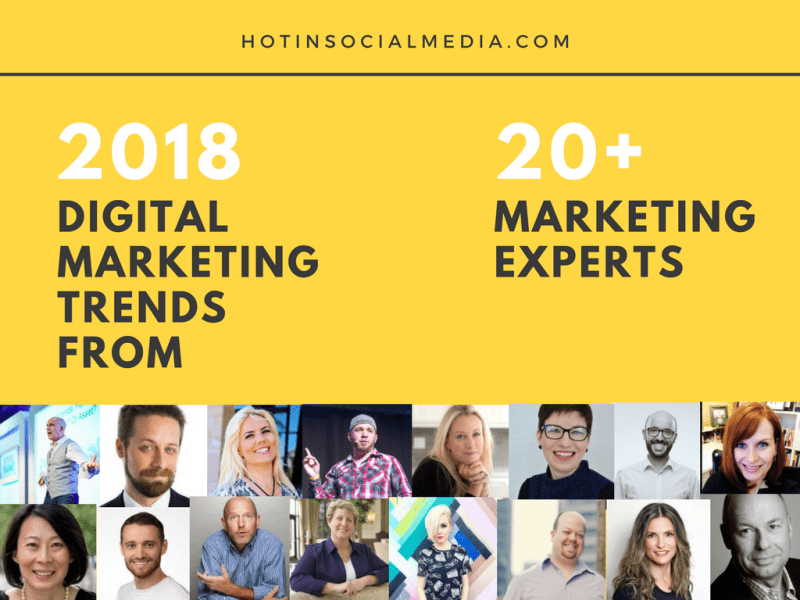 It is the beginning of 2018 and every company in this world must think about their digital strategy for this year. More and more people are online and if you want to have more visitors to your website and more clients in 2018 you'll need to have a digital marketing strategy for this year.
Because I know there are a lot of people thinking about "What are the 2018 digital marketing trends?", I asked 20+ well-known marketing experts to tell our social media and marketing blog, what are their digital marketing predictions for 2018.
In the following weeks there will be two more articles about the top 3 social media networks recommendations for 2018 and which are the most important social media tips and top social media management tools for this year, from the experts' perspective. We hope they can help managers, influencers, small businesses, and anyone else with an interest in marketing improve their strategy for success.
Big Thank You to all the experts who found a couple of minutes to send me their answers! Don't forget to share this article if you like it because… sharing is caring!
 
See also:
20+ Experts Recommend The Top 3 Most Useful Social Media Networks in 2018
The Most Important Social Media Marketing Tips for 2018
What are the Most Important 2018 Digital Marketing Trends?
Social Marketing Strategist, MC/Host Brand Innovators Summits, and Co-Founder Prevailing Path
Ted Rubin is a leading Social Marketing Strategist, Keynote Speaker, Acting CMO of Brand Innovators, and Co-Founder of Prevailing Path. Ted is the most followed CMO on Twitter according to SocialMedia Marketing Magazine; one of the most interesting CMOs on Twitter according to SayMedia, #13 on Forbes Top 50 Social Media Power Influencers, and number #2 on the Leadtail list of Top 25 People Most Mentioned by digital marketers. Return on Relationship, ROR, #RonR, is the basis of his philosophy… It's All About Relationships! His book, Return on Relationship was released January 2013, How To Look People in the Eye Digitally was released January 2015, and The Age of Influence… Selling to the Digitally Connected Customer was just released.
Answer:
Social is moving to a prove it or lose it stage… so start thinking how Content IS the Ad. The importance of content in your SEO and middle funnel strategy will be critical.
President – PDCA Social
Neal Schaffer is a leading authority on helping businesses through their digital transformation through consulting, training, and helping enterprises large and small execute on social media marketing strategy, influencer marketing, and social selling initiatives. President of the social media agency PDCA Social, Neal also teaches digital media to executives at Rutgers University, the Irish Management Institute (Ireland), and the University of Jyvaskyla (Finland). Fluent in Japanese and Mandarin Chinese, Neal is a popular keynote speaker and has been invited to speak about digital media on four continents in a dozen countries. He is also the author of 3 books on social media, including Maximize Your Social (Wiley), and in 2018 will publish his 4th book, The Business of Influence, on educating the market on how any business can leverage the potential of influencer marketing. Neal resides in Irvine, California but also frequently travels to Japan.
Answer:
Digital marketers will need to continue to take a holistic and omnichannel approach in order to best leverage the latest digital marketing trends. Some of the most exciting trends in 2018 will come from social media in the form of influencer marketing and the many digital marketing objectives it can help you reach, paid social with more advertising budget shifting to Instagram and new ad categories such as inside Instagram Stories placement, the overall use of visual (both static image and video) content, and finally the power of leveraging employee advocacy and the implications it has specifically on LinkedIn for B2B companies.
Author, Speaker, Agency CEO
Brian Carter has been a digital marketer for 18 years and a trusted influencer and ad agency owner for a decade. A bestselling author, IBM futurist and one of LinkedIn's top 25 social media experts, he has over 250,000 online fans and students. Brian has built marketing programs and been a keynote speaker for Microsoft, NBC, Universal, Citrix, Marketo, Salesforce and more. His media appearances and interviews include Bloomberg TV, Inc, The Wall Street Journal and Entrepreneur Magazine. His hands-on business experience, cutting-edge insights, and background in stand-up comedy culminate in a keynote speaker and trainer who leaves every audience not only entertained but armed with powerful strategies and tactics.
Answer:
Better data and how to use it. Data is simply how we listen to customers. The better you understand them, the happier you can make them. The happier your customers, the less vulnerable you are to disruption and bankruptcy.
Founder
ConversionMinded – www.conversionminded.com
Sandra Clayton is an online marketing expert who loves teaching entrepreneurs, creatives, and bloggers how to build a profitable online business that ignites their inner genius. She's passionate about sharing everything she knows about online marketing to help people build a life and a business that they love.
Answer:
2018 will be the year to prioritize return-on-investment over likes, shares, and comments. Social media sites are making it easier than ever to connect the dots between campaigns and direct revenue, which means that you need to attach revenue goals to every piece of content you share and track the campaigns that drive real returns.
Live and pre-recorded video will continue to be huge in 2018. Videos give prospective customers a way to know, like, and trust that goes beyond blogging. With tools like iMovie, Screenflow, and ContentSamurai, it's easy enough to turn blog posts into videos and upload to YouTube, Facebook, and even Instagram.
Author and Content Marketing Strategist
Pam Didner is a marketing consultant, author, and speaker, whose international book, "Global Content Marketing", is the first to offer an accessible, comprehensive process to scale content across regions. During her tenure at Intel, she led enterprise product launches and worldwide marketing campaigns as a globally integrated marketing strategist. She now leads a boutique-consulting firm that trains, coaches and provides strategic guidance on audience development, messaging architecture, editorial planning, content creation and media outreach on a global scale. She regularly shares her insights at www.pamdidner.com.
Answer: 
How to leverage your digital marketing to create synergy with your sales enablement team. It's time to proactively collaborate with sales to align sales and marketing strategies. Engage with the right prospects, at the right stages of their buying process and with the relevant value propositions and content.