Social media is one of the influential digital marketing platforms where everyone can promote their business, products, and other services with a large number of social media users. Well, there are various popular social media websites where more and more users are getting connected to explore and share latest trend prevailing in the online market.
In fact, many of the website owners are using these platforms to promote their website and boost their website's online presence. If you are also using social media platforms, then it becomes extremely important to use best social media analytics tools that will help you measure your digital marketing strategies and achievements. From the mass of thousands of powerful analytics tools, we bring you the list of top 10 useful Social Media Analytics Tools that will allow you to analyze and boost social performance.

10 Most Useful Social Media Analytics Tools

Google Analytics is the most popular data analytics tools for WordPress websites. It is integrated with social media metrics that will help WordPress users to determine the conversion rates of your social media networks.
It's a free social media analytics tool that comes with activity stream feature that will allow you to figure out what your visitors are talking about your site on social media channels.
You can use Google Analytics to see where your visitors are coming from and how many of them are coming from social media platforms. Later on, you can utilize this data to determine your goals within Google Analytics and find out the ways to elevate your social performance.
Cost: Free


Use Followerwonk to create helpful data reports on your Twitter followers. It is an amazing social media analytics tool that will help you find out where your followers are from when they are most active, and how long they have been on Twitter.
It collects information related to your web visitors such as the type of followers, their tweets, location, and much more. And then you can use this data to boost your social media performance.
To do this, you only need to enter your username and then you can see an elaborated breakdown of your followers with the useful information such as, when your followers are online, best hours to post to them, authority rankings and more.
Cost: Free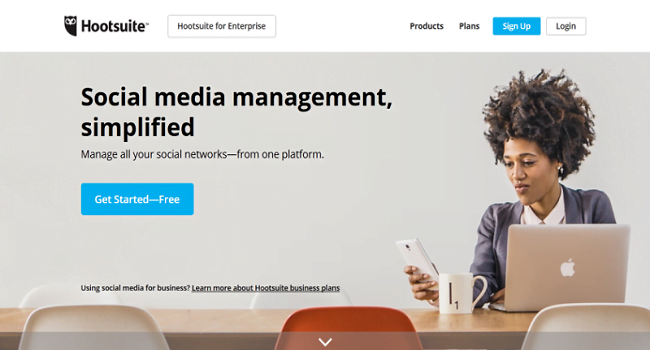 Hootsuite is an awesome free social media analytics tool that covers various popular social channels such as Facebook, Twitter, LinkedIn, Google+ and WordPress. It enables the user to post up to the three social profiles, create detailed analytics reports, schedule messages, drive audiences and analyze Return on Investment directly from the dashboard.
With Hootsuite, you can easily generate and share reports that clearly determine your social efforts and its impacts.
Cost: Free


Buffer is a powerful social management tool that enables you to plan your post updates to various social networks and fetch basic engagement stats. With the help of this tool, you can pick out the best social media platform for you where you can post your content and engage more and more visitors.
It also comes with Top Tweet/Top Post feature that gives you notification about your published content. In fact, over two million WordPress users are utilizing Buffer every day and you also love this tool.
Cost: Free


IconoSquare is an incredible Instagram tool that allows you to view and like photos and videos, save popular images and videos, follow/ unfollow people and receive Instagram insights about your social media followers. You can also attract web audience by introducing photo and video contests with an objective to boost brand awareness and get more potential visitors. Moreover, IconoSquare is also integrated with Hootsuite, another powerful social media analytics tool.
Cost: Free


Crowdbooster is an incredible tool that will help you analyze your Twitter and Facebook influence on your visitors. Basically, Crowdbooster tool works with Facebook and Twitter pages to provide you precise data to help you analyze your social growth. It includes a number of retweets, likes, comments, reach, followers and much more.
Cost: Starting from a $9/per month and go to $119/month. Well, you can also try it free for 30 days.


SproutSocial is a powerful management tool that generates detailed reports across the different Twitter and Facebook profiles and enables you to keep a track record of all your social accounts. With the help of these reports, you can set your goals and target potential social media web users with ease.
To an addition, it allows you to create an engagement rate report to determine the response time of your team, to analyze workflow and more. You can also publish messages to Twitter, Google+, and Facebook accounts.
Overall, SproutSocial is a great tool for measuring your social efforts and performance.
Cost: Starting from a $59/per user/per month


Brandwatch is a great solution that enables WordPress user to monitor the visitor's conversations about your website, products, and brand all around the social media platforms and fetch useful social insights with ease. However, the Brandwatch is not a single product, but is a wide collection of products that you can use together or just the most suitable one as per your needs.
Cost: Starting from £ 500/per month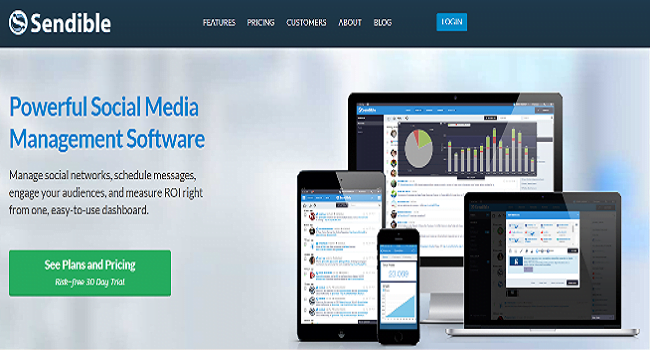 Sendible is a robust social media management tool that manages your social channels, schedule messages and encourage more visitors. With the help of this tool, you can generate custom reports and share them to your team members. In fact, you can also connect with your targeted web audience across different platforms, and keep a track record of your email results and social media impacts.
Cost: Starting from $59 and go to different pricing plans to meet the multiple requirements. They also offer custom plans and a 30-day free trial.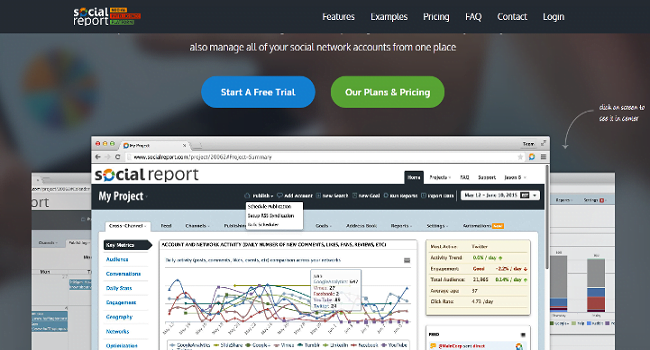 SocialReport is also a paid social media analytics all around different platforms, but also allows you to find out how those metrics are determining your social performance. In fact, it allows you to track and monitor all your social channels accounts directly from one place.
Cost: Starting from $9/per month
Conclusion
In this blog post, we have compiled the top 10 Social Media Analytics tools that will help you measure your social efforts and enhance your brand image across the online world.

See also: 10 Facebook Tools For Serious Marketers