The new year is coming (again) and it really felt like time passes by fast. If you are still deciding if Facebook is the right social platform for you (for 2016), stop thinking. The stats are good and it makes all the sense to focus in growing your audience in that platform in the coming year.
Marketing Land shared 4 interesting Facebook advertising trends 2016 in which marketers like you and me can leverage from. They include:
Carousel-type ad formats are ascending
Prices on Facebook keep rising, but no one is shying away
Growing viability of Facebook advertising in international markets
Mobile value VS Desktop increasing for US advertisers
And above all, both Mark Zuckerberg and Sheryl Sandberg hinted that video is the right way to go in the coming year and beyond.
So, here's one big question we are going to solve today:
What do you need to know about Facebook marketing in 2016?
Ready to dive in?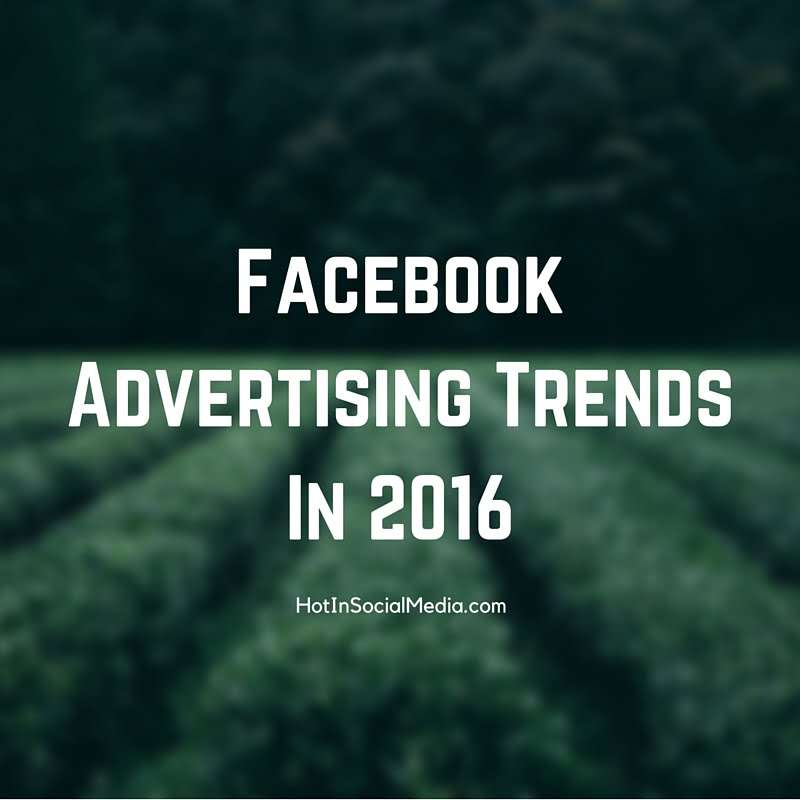 Facebook Advertising Trends 2016
1. Facebook advertising is (probably the most) essential
It doesn't matter the size of your business, Facebook advertising can do a lot of good in your business.
For starters, Facebook advertising provides you with quite a few advantages:
Introduction to various audience around the world
Affordable and highly effective (if having the right strategy) marketing
Different results strategy for different types of businesses
Facebook has over 1 billion active users which provide a huge platform and opportunity for everyone
I could go on and on with the advantages of Facebook advertising, but you got the point. Facebook marketing used to be a luxury for businesses; now, it has transformed to be an essential part of business success.

2. Advertising cost in Facebook advertising will (constantly) go up
As the demand increases, so do the cost of marketing on Facebook. If you are hoping for a reduction of cost in the near future, you are absolutely wrong.
The cost of marketing on Facebook will constantly increase and this leads to several challenges for small business owners. For example, small business owners usually do not have the money or budget to invest heavily into Facebook marketing.
Sure, you do not need to have a big marketing budget on Facebook but it is a known that fact having a bigger budget represents better results on Facebook … all-the-time.
So, how do leverage Facebook advertising even when you have a super low budget? You start by focusing on a super niche audience.
This means that you focus on a specific group of audience by segments such as:
Gender
Age
Demographic
Interest
Spending limits
Do not forget that having a more precise target audience also helps to improve the results (such as the revenue generated).

3. Choosing the mobile vs non-mobile advertising
We know the importance of mobile and non-mobile advertising on Facebook. But what happens when we have limited funds and we want to have better results from Facebook marketing?
If you are constantly working on a shoestring budget, focusing on either mobile or non-mobile advertising would be a better choice.
On the personal side of things, I would always recommend using mobile advertising as we are constantly using smart devices to access the Internet on a daily basis.
With lower CPMs and an outsized share of purchases traditionally occurring on desktop, US e-commerce advertisers have historically been more averse to mobile, as compared to other verticals. E-commerce advertisers should take advantage of these shifts by committing more heavily to mobile in 2016. Credits: Marketing Land.
Note: if you really need to choose one platform, it is much advisable to focus on mobile advertising than non-mobile ones.

4. Video marketing is constantly blooming
Most marketers are still using the conventional form of Facebook marketing; using images and article links.
According to various authority sites such as Adweek and Content Marketing Institute, video marketing will be an important form of advertising (or a form of content distribution) in 2016 and beyond.
Now, let's take a moment to think about it:
Blog posts may just be a wall of text
Landing pages are generally better with video integrated to them
Video gives the viewers visual, instead of just plain words (which drives conversion)
Video puts a voice behind the face or avatar
And if you are still not convinced, people are constantly visiting YouTube on a daily basis. From watching "how-to" tutorials to leisure videos, video plays a huge role in the life of many.
When it comes to Facebook advertising, it is said that having a sponsored video post would generally lead to better results. Of course, avoid using the generic YouTube link and replace it by uploading the video directly into Facebook.

5. Leverage the Facebook stats feature
Statistics.
People are obsessed with it. For publishers, stats provided would give an idea on the success of the marketing strategy but the challenge remains the same. Most of us are NOT using the stats to the utmost level.
For starters, when was the last time you check your Facebook Page Insights?
As a major publication platform,  Facebook understands that marketers are constantly looking for 'more than the standard' stats. Therefore, new updates are constantly rolled out to feed our needs.
But the biggest question remains: How do you use Facebook stats in 2016 and beyond?
Here are some very quick and effective ways to do so:
Understand the virality of the post
Take into consideration on the engagement level (number of clicks, reshares)
The number of reaches
Time of popular posts getting the more engagement
Types of posts that get a lot of attention
Important tip: If you need more detailed information, you can leverage the export abilities provided by Facebook. You can easily export the data in Excel form for future reference.

Now it is your turn!
What do you think about Facebook advertising will be like in 2016 and beyond?
For me, the trend will be a huge, upwards manner. As Facebook is constantly trying to gain more customers, rest assured that there will be many exciting features which will be implemented in the coming months to ensure more participation from small business owners!

See also: 4 Tips on Using Facebook Ads for Your Business