Are you a Twitter junkie who is constantly finding for the best Twitter hacks?
I hope you are because today's post will be all about Twitter. More importantly, it is how you can use Twitter to grow your audience and double your engage rates on your tweets.
But before that, let's go down with some basics.
According to StatisticBrain, Twitter has close to 300 million active users on a monthly basis. As for the record, this statistic is taken back in May 2015. Words around is that Twitter has hit the 340 million active users monthly. At the same time, there are around 58 million tweets shared in a single day.
Make no mistakes, those numbers are huge and it certainly make the stakes go higher, doesn't it?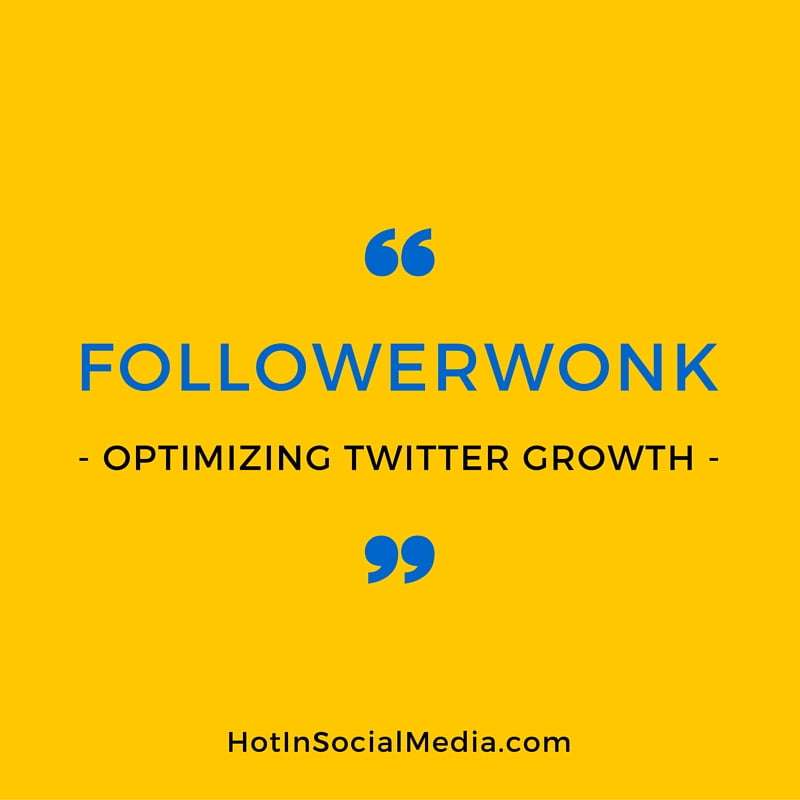 The real life scenario
You usually publish anywhere between 10 to 25 tweets in a day which varies from self-promotional to quotes. Sure, you heard that it is all about providing value to your followers.
Therefore, you strongly believe that those tweets will work — yes, in theory.
But the end results were devastating. Only a handful of clicks and reshares. The expectation to have an explosive traffic didn't happen.
In reality, it takes more than just theories to have a successful Twitter marketing strategy. Take a look at Buffer's blog. They are constantly publishing articles based on 'scientifically proven' methodologies.
As Neil Patel said in this podcast, it is all about stats especially when it comes to business (and marketing).
Optimizing Your Twitter Growth Using Followerwonk
Your solution: Followerwonk
The solution to your challenges is Followerwonk. It is a Twitter analytics tool which is created by Moz. And if that doesn't attract you, maybe this would: It is 100% free to use.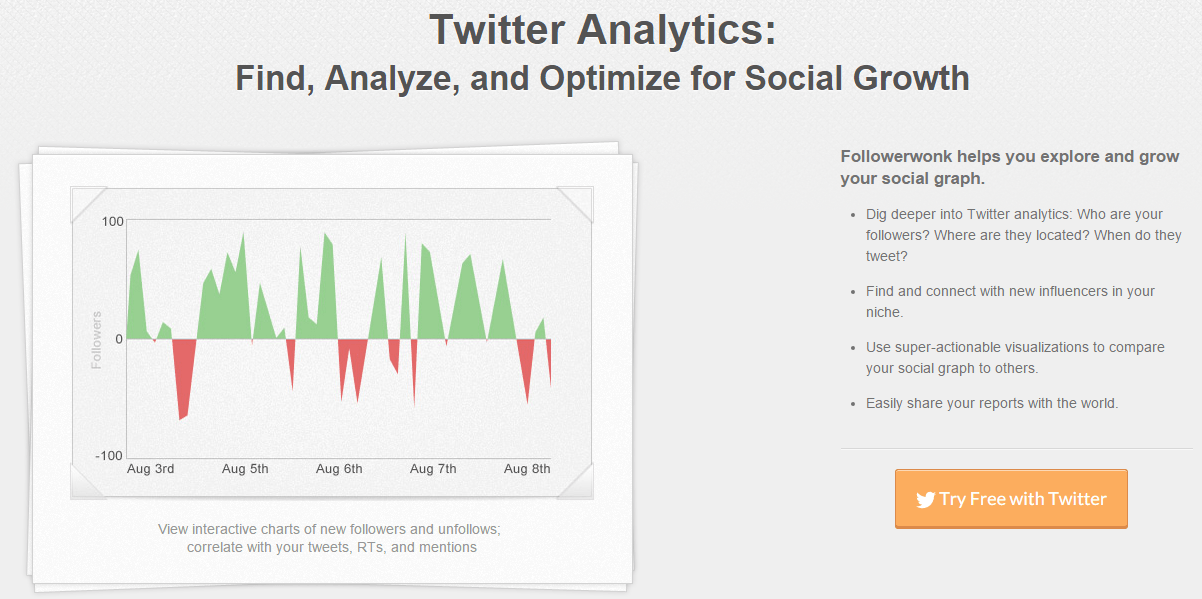 There are many advantages using Followerwonk which varies from exploring current Twitter followers to the goodness of knowing the best time to tweet.
If you are digging in for more, here's a list of them:
Searching for specific Twitter users (based on bio's)
Compare Twitter accounts
Analyze your followers (detailed breakdowns)
Understanding (and spying) on your competitor's followers
Follow and unfollow Twitter users (limitation applies)
How to use Followerwonk to understand your followers on Twitter?
It all starts with a simple login and to get Followerwonk works, you need to authorize your Twitter account with it. Just click on the button (found on the top right of the screen) to login or to create an account.



In order to have a better understanding of your followers, you need to use Followerwonk's Analyze feature.
Basically, it allows you to analyze any Twitter account (in this case, you are analyzing your own account) and a full report will be generated.
Do note that the analyzing of data may take awhile depending on your Twitter followers.


The Analyze feature allows you to search base on two criteria's: Followers who are following you and Twitter users who you are following.
Based on my experience, it would take anywhere from a few minutes to over 30 minutes to generate a complete report on your profile. You will see a note from Followerwonk to confirm on the generation of report:

Analyzing the report
The first mini report which you will get is the summary report. For me, this is an awesome way to understand the health of your Twitter profile.


This is a quick snippet of my account. The biggest takeaway is the Social Authority.
According to Moz, Social Authority allows you to find, optimize, and engage with your Twitter audience. The point scale starts from 1 to 100 that measures a user's influential content on Twitter.
Determine Twitter follower's location
Scroll down the report and you will find a nice (and colorful) map with numbers on it.


The numbers represent the numbers of Twitter users who are following you and their location. With the above chart, it shows that a majority of my Twitter followers come from the United States followed by the United Kingdom.
How to use this data for Twitter growth?
There are two simple ways.
Understanding the spending limit of these followers
Using the right language (if you are multi-lingual)
Time of sharing the tweets based on the time zones
For me, tweeting at the right time will determine the success of my Twitter marketing. There is absolutely no reason for me to publish a tweet to my Twitter followers who are fast asleep at 3 am in the morning.
The best time to tweet
This is the gem of Followerwonk. It tells you the estimated time your followers are active on Twitter. In other words, you are sharing tweets to them at the right time which may result in better clicks and conversions.
Here's a quick graph taken from Leo's Twitter account (Leo is from Buffer, by the way):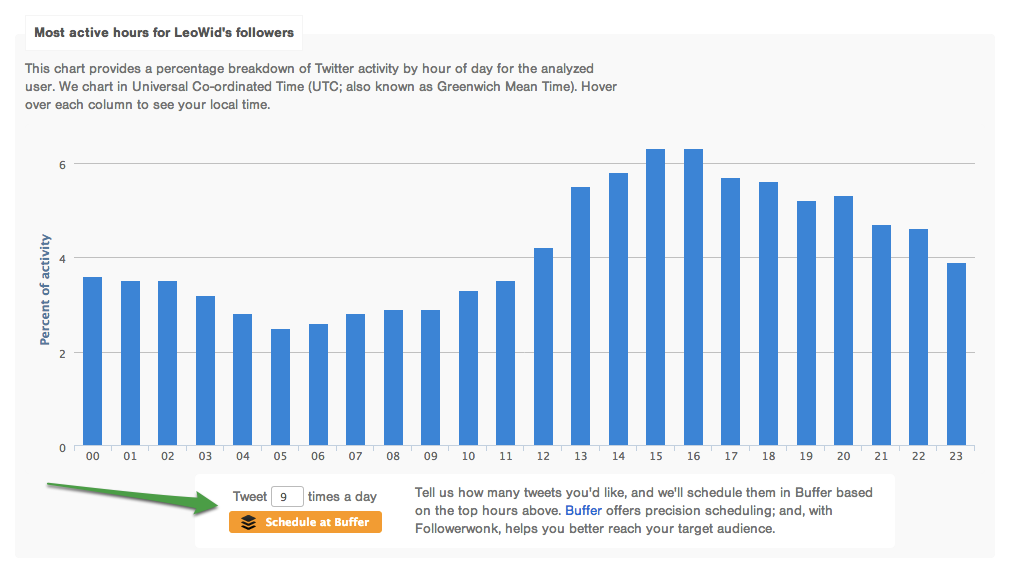 As for the record, I'm a huge fan of Buffer and the option to automatically export the schedule to my Buffer account for Twitter scheduling is just out of this world.
Now, back to the topic.
As you can see from the above image, the graph displays the Twitter activity of your followers. For example, the image above shows that Leo's followers are most active between 15:00 to 16:00. This means that publishing tweets and Twitter updates during that time could easily double your results in a very short time period!
Hashtags and popular words
Are you struggling to understand what your Twitter followers are interested in? Well, this is where Followerwonk excels with its feature.
Followerwonk is able to generate a list of reports which could matter a lot to you. Take a look below:


The three reports above represents:
One word bio
Two words bio
Location
What does this mean to you? It simply means things which your followers are most probably interested in based on their bio's.
Taking myself as an example, I can easily conclude that my followers are huge fans of marketing, social and business related matters.
Summary
When it comes to finding the right Twitter tools for analyzing and statistics, there aren't many tools out there which can compare with Followerwonk; both price and features.
Sure, Followerwonk is able to provide general information about your Twitter account but in the right hands, this information could cost a lot more especially in your marketing strategy.
See also: 5 Mistakes That Are Hurting Your Twitter Conversion Rates