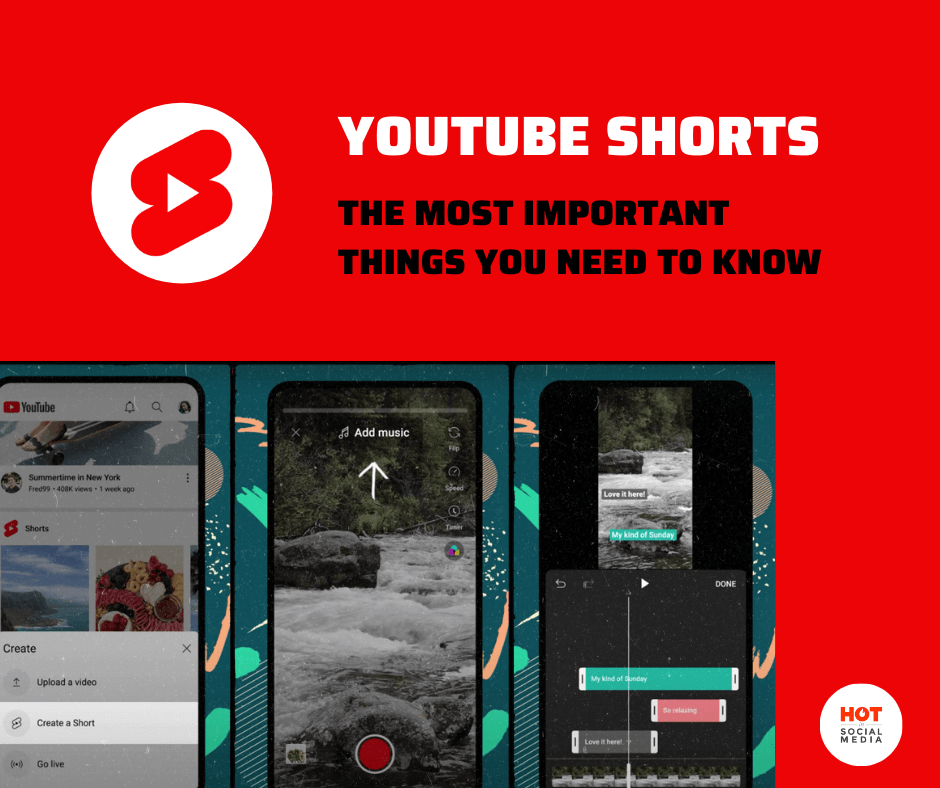 Launched on September 14, 2020, YouTube Shorts has quickly become a phenomenon, even though it was first launched in beta format only in India, and later in the U.S. — first in a limited rollout in March 2021 — and then to everyone in the U.S. in early May.
If you type #shorts in the YouTube search bar, you will see the number of short videos posted, as well as the number of channels posting short videos. Currently, there are 25 million shorts and 2.9 million channels posting shorts using #shorts. Also, the YouTube Shorts player has now surpassed 6.5 billion daily views.
That is insane!
But if you aren't among the countries that have access to YouTube Shorts, it may have gone unnoticed to you, so let's have a small recap.
What Is YouTube Shorts?
Where Can You Find YouTube Shorts?
How to Make YouTube Shorts
More Cool Tips for YouTube Shorts Creators
YouTube Shorts Monetization
The Most Popular YouTube Shorts
How to Get Rid of Shorts on YouTube
What Is YouTube Shorts?
YouTube Shorts is basically YouTube's attempt to compete with short-form video app TikTok, especially since TikTok was banned in India in June 2020 and on the verge of being banned in the U.S. as well (but that's likely not going to happen anymore), which is probably why they chose to release their beta version only in India at first.
Just like TikTok, YouTube Shorts features short videos of up to 60 seconds in vertical format that you can scroll through (or swipe) in full-screen mode, but unlike TikTok, it is not a standalone app that you can download on your phone, but part of the main YouTube mobile app that you probably already have on your phone.
Another thing missing from YouTube Shorts — so far — are the collaborative features available on TikTok, like duet and stitch. You can, however, use audio samples from other Shorts, but more on that later.
YouTube Shorts is also missing a curated feed, but you have to remember everything is still pretty much brand new and YouTube will be releasing more and more features as time goes on.
It's still pretty insane it's done so much "damage" in such a short span of time, while still in beta!
Where Can You Find YouTube Shorts?
Depending on what's available in your location, you may find YouTube Shorts in several places: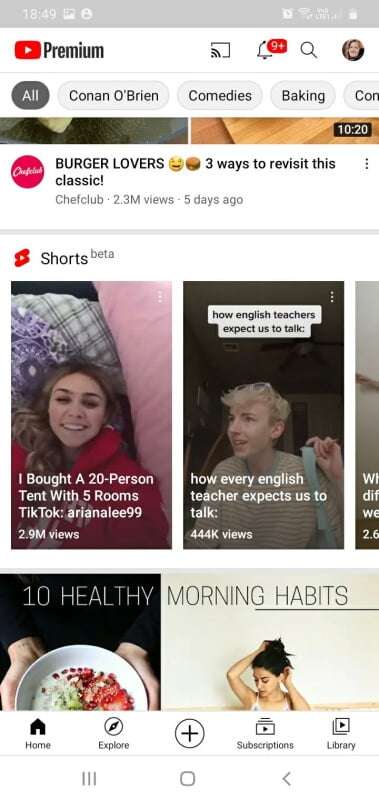 In the Subscriptions feed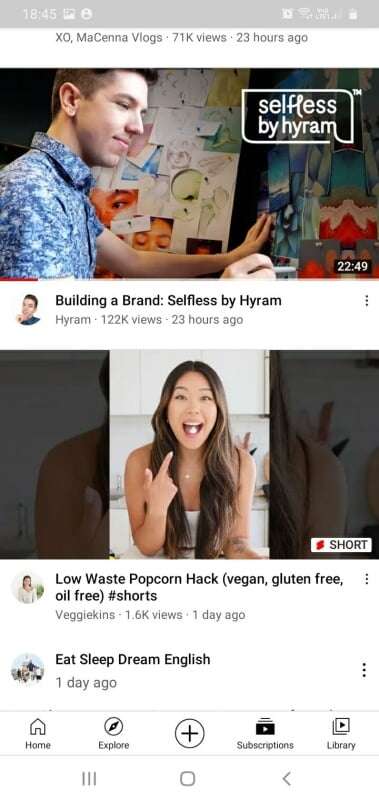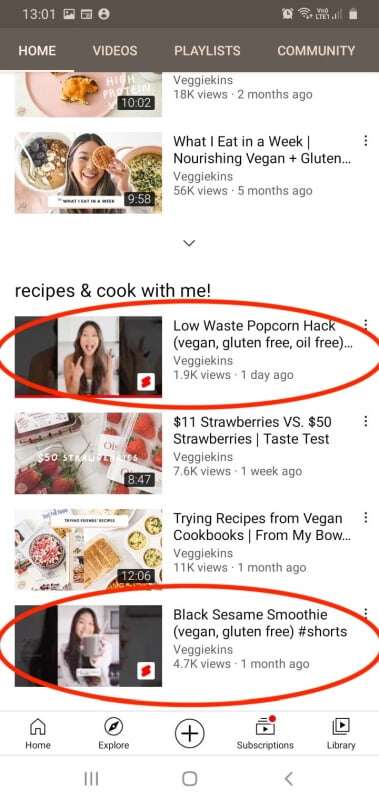 By searching on YouTube for shorts on a specific topic or typing in #shorts
In the dedicated Shorts tab (if you're lucky enough to have that already), which will replace the Explore tab (don't worry, the Explore tab won't go away, it will be moved at the top of the screen)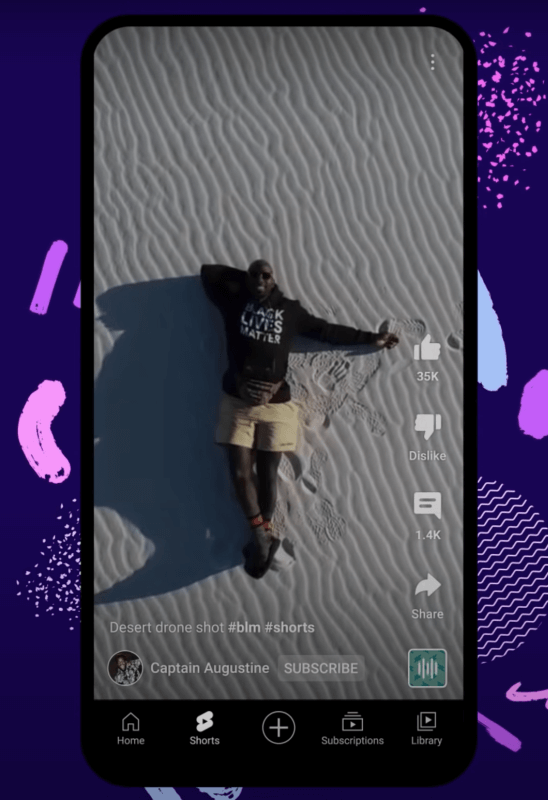 Once you land on a Short, you can do all the typical social media stuff: like, dislike, comment, share, subscribe, or click on the channel name to see all of that creator's Shorts.
As YouTube Short creators have the option to use audio from other Shorts, you will actually be able to tell when that is the case. There will be a waveform button to show that particular Short contains audio from another YouTube video.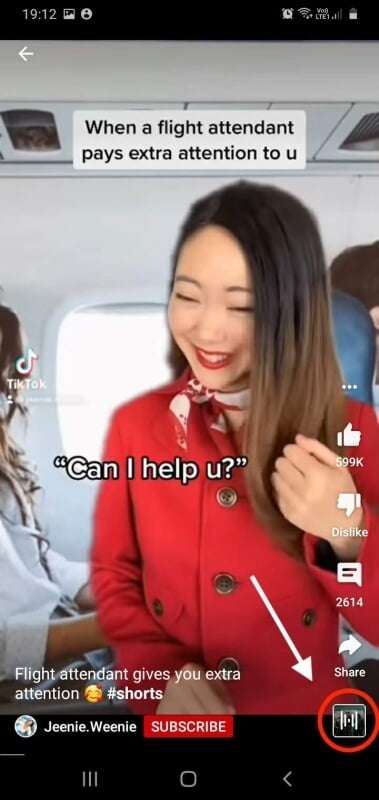 You can tap that button to see the name of the song, as well as all other Shorts using the same audio segment.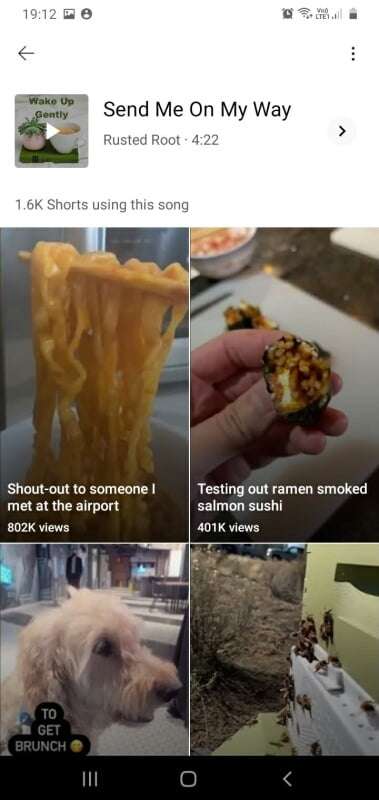 How to Make YouTube Shorts
If you're a creator looking to try your hand at YouTube Shorts, there are two ways you can record and upload YouTube Shorts depending on whether or not you have access to the Shorts camera yet.
It's super simple either way.
If you do have access to the Shorts camera in the YouTube app, go to the plus button and there will be a "Create Short" option that allows you to use the multi-segment camera to string multiple clips together.
You can add music from YouTube's free music library by tapping the "Add Music" button before starting to record or after you've already recorded the clip. You can adjust the volume when you add the final touches at the end.
To get started, press and hold the capture button to record a clip, or tap it when you want to start and stop the recording.
You can tap the undo button to remove the previous clip you recorded.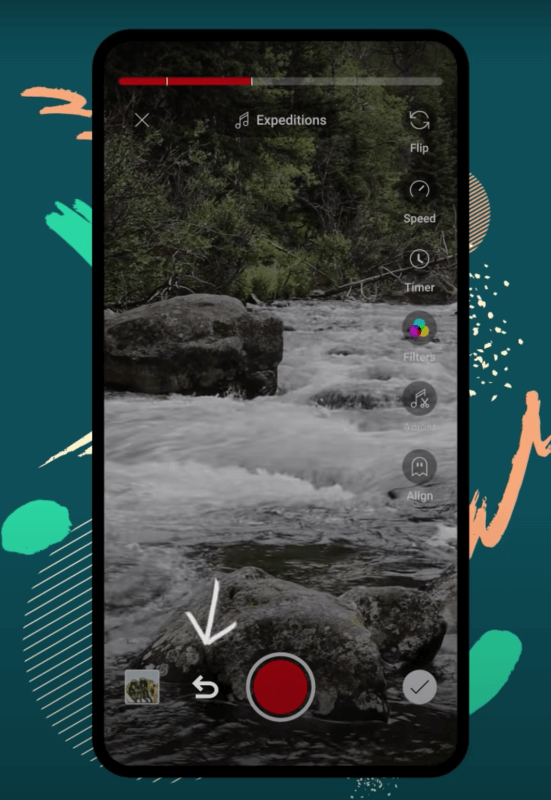 You can also change your recording speed, select filters, and add text wherever you want in the clip by using the Timeline to add multiple text snippets.
If you want to record hands-free, use the countdown timer to see when the recording starts and choose when to automatically stop recording.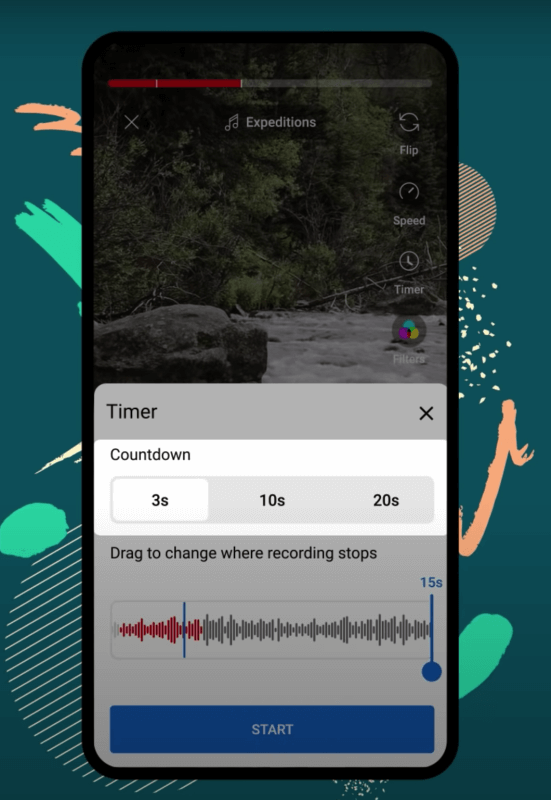 If you don't have access to the Shorts camera yet, don't wait for it to become available. The competition is becoming more and more fierce and there's no sense in waiting. Get a head start now, while you still have a chance and the platform is not overpopulated with Shorts. You can just upload a vertical video up to 60 seconds using YouTube's regular upload process. Don't forget to include #shorts in the title and/or description of your video to help YouTube find your video easier and recommend it to more people.
More Cool Tips for YouTube Shorts Creators
Get Inspired by Other People's Content
As mentioned above, you can add audio from any other Short video you find inspiring, which is quite surprising for YouTube, who have been very rigid when it comes to copyright rules. But it makes total sense since they are now in direct competition with platforms like TikTok that have been much more liberal and actually encouraging when it comes to inspiration and collaboration among its users.
When you find a Short you like, you can tap the music icon and then "Use this sound" to create a Short using the same audio, or tap the Create button under a watched long-form video (still not visible for all) to use a sound clip from that video.
And talking about long-form videos, YouTube have recently added a new setting that has made quite a few creators panic, and rightfully so. You now need to manually OPT OUT of an option that appears in the video editing settings that allows people to sample your content, which is revolting for people who really don't want their content stolen.

But don't start manually unchecking that box. Luckily, YouTube have announced that they will be adding the option to bulk opt out all videos, as well as set default upload settings in the coming weeks for those who don't want their original audio to be used in other people's Shorts.
Also, if you do decide to use audio from other videos, you need to keep in mind that the original owner may delete their content at any time, which will automatically unmute, unlist, and schedule to have any Shorts that contain audio from that video eventually deleted. You will be notified of this and have 30 days to download your video without the original audio before it's deleted.
Don't Be Nervous About Experimenting With YouTube Shorts
YouTube Shorts can be highly beneficial to your already existing channel, as they can massively increase your average view duration and bring in new viewers and subscribers who wouldn't have otherwise found your channel.
Just be careful to not bother your audience with videos they're not interested in. Make sure your shorts are of interest to your community and stick to the usual topics on your channel. If, however, you are worried about your subscribers, uncheck the box next to "Publish to Subscriptions feed and notify subscribers" on the "Advanced settings" tab, or better yet, start a separate YouTube Shorts channel to experiment.
There are examples of both existing YouTubers successfully integrating Shorts into their channels, and separate Shorts channels skyrocketing to success.
According to vidIQ, one great example of a popular channel integrating Shorts with great success is Legal Eagle, where Devin James Stone teaches you how to think like a lawyer while also having fun and reacting to popular legal-themed TV shows.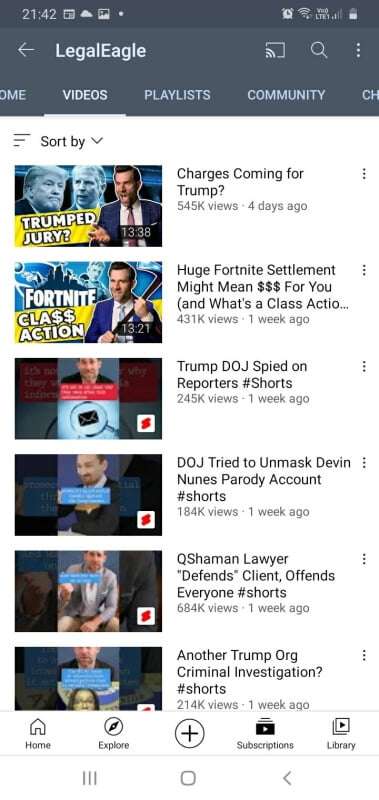 On the other hand, two of the most popular channels who are exclusively posting Shorts are those of digital artist Jake Fellman, with over 5 million subscribers and 500 million views a month, and Jeenie.Weenie, a flight attendant repurposing her TikTok content, with nearly 1 million subscribers and 200 million views a month.
Increase Your Channel Watch Time With Shorts
Since you need to swipe up to move to the next Short, the video you're currently watching will automatically loop if you don't.
If you carefully edit your Shorts so that the viewer can't tell when the video ends and the loop begins, you can significantly increase your average view duration by intentionally designing your videos to loop on YouTube Shorts. This will increase your audience retention to well over 100%, which is an important metric YouTube takes into consideration when recommending your channel.
And if you're wondering if that's even moral to do, it sure is. Not only can you loop videos, but YouTube is actively encouraging creators to do just that. Watch this video where Rob Wilson from vidIQ interviews one of the greatest shorts creators, Jake Fellman, to find out his secrets on looping videos:
If you want to know more about how to implement YouTube Shorts into your channel, here are some cool YouTube Shorts ideas in this video:
YouTube Shorts Monetization
Can I earn money with YouTube Shorts? Will my content be monetized?
YouTube have recently announced that monetization is in view for YouTube Shorts, but creators will not get money from ads played between videos. At least not yet. Instead, they have created a $100 million YouTube Shorts Fund that they will use to reward creators who get the most views and engagement over the remainder of 2021 and 2022.
Anyone is eligible to participate simply by creating Shorts and there are no specific requirements mentioned, which leaves all the power in YouTube's hands and none in the hands of the creators who don't know what they need to achieve in order to get selected or have a chance to get selected.
What we do know is that content has to be unique and have a lot of views. How many, we don't actually know.
And while $100 million sounds like a lot of money, we don't know how many creators will get a piece of that. The YouTube Shorts community is massive and if YouTube were to divide that amount between all of them, they would all barely get tiny little crumbs. But YouTube will most likely be much more selective than that and maybe reward a few thousand creators every month.
The fund is also only available in the U.S. and India at the moment, with plans to expand as YouTube Shorts rolls out to more regions.
The Most Popular YouTube Shorts
We couldn't write an article about YouTube Shorts without mentioning the ones that have garnered the most views and popularity. Here are just some of the best YouTube Shorts:
A little bit of behind-the-scenes magic with Dan Rhodes:
---
And some more magic with Zach King:
---
Some pure fun with Daniel LaBelle:
---
A daring but funny prank with Marshall McCraw:
---
Creative "Among Us" animations by digital artist Jake Fellman:
---
Some family fun with a game of Tic Tac Toe by the Klem Family:
---
Funny flight attendant stories:
---
An impossible balance chair trick:
How to Get Rid of Shorts on YouTube
While many people enjoy YouTube Shorts, other people might find them annoying for basically the same reasons they find TikToks annoying, and it kind of sucks to have these videos shoved down your throat when you don't want them.
Especially since YouTube Shorts is not a standalone app like TikTok, and most people come to YouTube for its regular long-form content.
So what can you do if you don't like this new YouTube feature and you can't just ignore it?
Well, there are a few things people have tried to get rid of Shorts on YouTube, which seem to be successful:
People say you can teach YouTube to stop recommending Shorts to you by tapping the three-dot button at the right corner of short videos and opting for "Not Interested" on several videos until they stop showing up, but I can only see "Send feedback" when I tap on the dots
Alternatively, you can try simply not watching any Shorts to see if the algorithm stops recommending them to you
You can also uninstall the latest YouTube updates from Playstore, which will bring bag the Explore tab instead of the Shorts one
You can install the YouTube Vanced manager app and enable the Shorts shelf removal toggle
I haven't personally tried any of these methods, but if you do find Shorts particularly annoying, maybe it's worth giving them a go.
If, on the other hand, you're a fan, it's exciting to see what cool features YouTube will add next to Shorts and how they will transform the world of YouTube in general.
If you've found this article helpful, please share it with your friends and get them hooked on YouTube Shorts as well. We all need some good company in our fun and suffering! 🙂
See also: YouTube video builder tool