Every one of us wants to invest time and effort in the best social media platform, who doesn't right?
Facebook has over 1.39 billion active users monthly
Twitter has around 284 million monthly active users
Google+ is said to have 2.2 billion profiles online (but only a few millions are active)
And don't forget, there's Reddit, Tumblr, StumbleUpon and a dozen more to consider if you even consider them as a social media platform.
Finding a social media marketing platform that fits your requirements, needs and goals is never easy, but in a long run, it is seriously rewarding.
In this post, I will lay out my opinion and various case studies I did over the months on social media. Yes, I'll share with you exactly which social media platform works best for specific goals.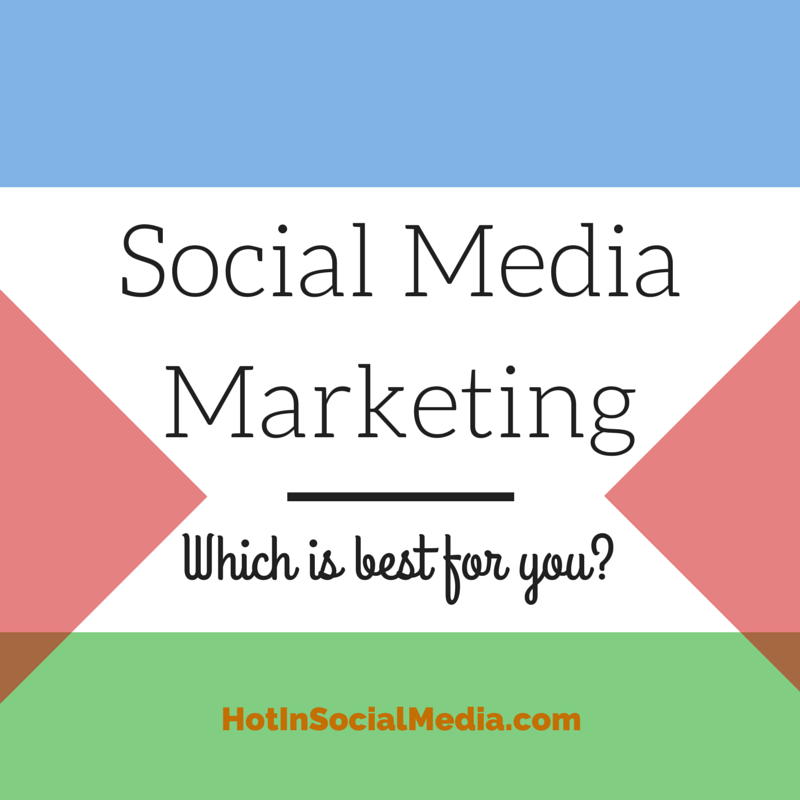 Social Media Marketing: Which Platform Is Best For You?
1. Twitter
Twitter is my favorite social media marketing platform of all time. Period.
I love to call it, marketing with 140 characters.
Twitter is powerful — only if you use it correctly. Have you ever wondered how social media influencers like Kim Garst, Chris Brogan, and Guy Kawasaki uses Twitter?
They use Twitter not as a marketing tool but as an engagement tool.
What does this mean to you?
Instead of purely promoting a product, you should focus on taking the opportunity to build a conversation surrounding a tweet or topic.
How to use Twitter for marketing?
Participating in Twitter Chats
Engage with followers and users who retweet your posts
Practise a 70-30 rule when it comes to building authority (70% – sharing content of others, 30% sharing personal content)
Use Twitter as a form of media, not solely marketing; sharing videos and images instead of links only
2. Facebook
Facebook is my second, most favorite social media platform of all time. Through several case studies I performed over the months, Facebook works best with media sharing compared to plain links.
For example, I would get up to 50% more engagement on image posts compared to link posts. Also, videos posted directly to Facebook would have a better search ranking (more visible on the timeline) compared to any other forms of media publication.
How to use Facebook for marketing?
Participate in groups and communities
Become an industry leader by responding to others' question compared to just sharing a link
Focus on getting more engagement per posts as the more likes and comments, the more the posts become visible on Facebook
Facebook Ads is powerful especially when you need tons of quick traffic — never downplay this feature (and it is cheap too!)
3. Google+
Ghost town or a deserted platform? Since the departure of Google Authorship, Google+ has lost a lot of traction. Seriously.
Don't underestimate the power of Google+ at least for now because updates on there get ranked on Google faster! But you may already know this by now.
So how useful is Google+ for social media marketing?
Through my experience with Google+, it is best for photographers. Sharing an image on Google+ will (nearly) guarantee success in multiple sharing and plus (voted up). If you are not in that industry, you can still make an impact using the techniques below:
How to use Google+ for marketing?
Participating in communities (choose the ones that are highly related to your topic)
Make sure you are very active and engaging with the members (overly promotional may be banned by the moderators)
Share content found in the communities and give credit to the owners (this goes a long way, and people will tend to trust you even more)
4. LinkedIn
LinkedIn is the king of any social media marketing related to business. If you are looking for all sorts of marketing or B2B related topics, LinkedIn is the only best choice to go with… and you can't go wrong with it either.
An important point to remember is that LinkedIn is used by business owners more than the typical-type-of-users you usually find on other social platforms. Therefore, the tone of the conversation and engagement must fit well into that context.
How to use LinkedIn for marketing?
Participating in groups gives better ROI compared to personal profile
Be extremely careful when you are sharing links on groups (majority of the groups have extreme regulations to follow)
Avoid sharing too many contents on LinkedIn daily as this is a social platform for business usage
Recap: Which is the best social media platform for you?
There is no one (or two) social media platform that fits your needs. In most cases, you would require a few depending on your requirements, target market and user personas.
Wondering if you could participate in all social media platforms known to man? Yes, you can do that! Just ensure you are using the right tone for the matter. And if you are planning to get involved with all the social media platforms, find out what is the best social management tool for you. I've tried, tested, and used quite a few, but just like with social marketing platforms, there isn't one to suit all, and in my experience, you'll have to test them for yourself to see which one is the best for you.
See also: Hootsuite Review – The Best Social Media Management Tool?