Back in 2010, when Instagram made its debut, nobody could have guessed that it'd turn into one of the most important marketing platforms in the world. The second most popular, to be precise, trailing only its corporate sibling, Facebook. Now, in 2023, there's every reason to believe that Instagram will remain popular for many years to come. That reality means brands must do whatever it takes to capture and hold their audience's attention on the platform—lest they lose it to the competition.
One of the most important ways to do that is to only post polished and professional content that represents your brand well. However, whether you're doing the work yourself or outsourcing to influencers, one of the biggest challenges marketers face in doing so is finding the right tools to edit and prepare their media for posting. Of particular importance are photos and portraits. People's faces are notoriously difficult to get right in a photo, requiring perfect conditions or years of photography experience to accomplish the task.
Or, you can use a portrait editing app that can clean up any mistakes you may have made during shooting. To help, here are the five best portrait touch-up tools for Instagram marketers in 2023.
5 Amazing Portrait Touch-up Tools for Instagram Marketers
1. Facetune
If you ask anyone who's worked in Instagram marketing for more than a few weeks what their go-to portrait editing app is, there's a good chance they'll say it's Facetune. There are more good reasons for that than we could possibly cover here, but here are a few of the most important ones.
First of all, Facetune has been a leading portrait touch-up app for nearly a decade. It can apply shadows and highlights, replace photo backgrounds, and even change your subject's eye color at the touch of a button with the new "instant edits" feature. It can even apply digital makeup to your subject if you want to amp up on glossy pastel looks or play with color schemes.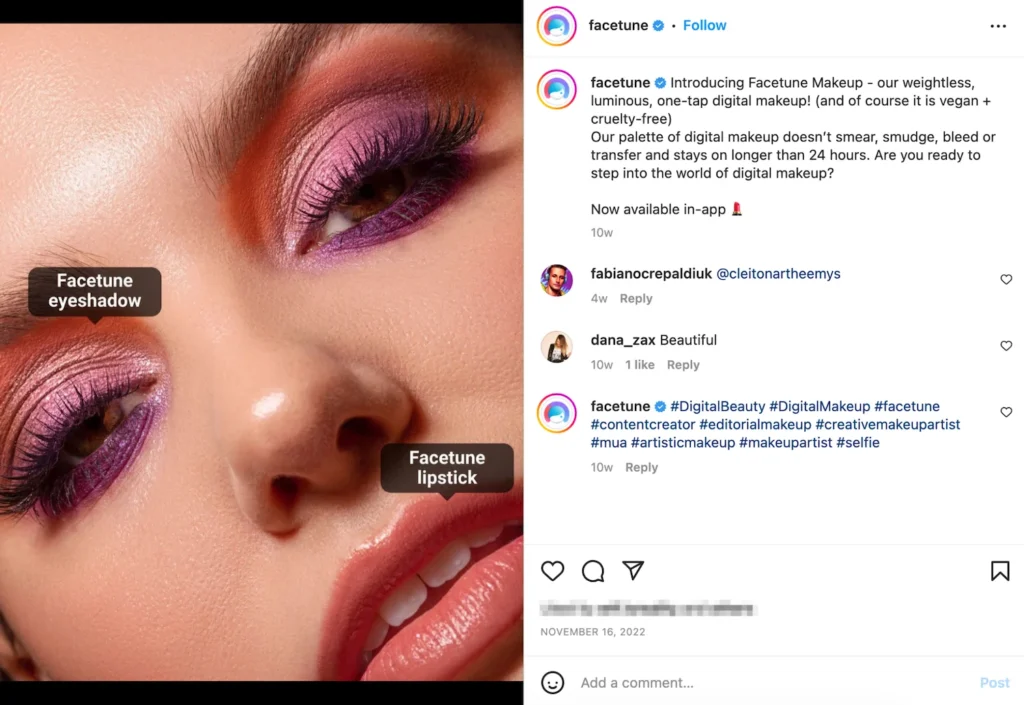 The app is so popular that people literally call the act of editing Instagram portraits Facetuning—so the app's already as much a part of the cultural lexicon as Googling for an answer to a question.
---
2. VSCO
If you check Instagram's hashtags, you'll discover that there are over 200 million posts bearing the #VSCO moniker. It refers to one of the market's most flexible and popular photo editing tools.
If you haven't heard of it, VSCO offers both free and paid versions that include a plethora of useful photo retouching presets. The free version features 20 presets and the ability to save your own custom settings.
The paid version includes 200 such presets. VSCO also allows users to change photo properties like color, saturation, and contrast. And because it's used by photographers and content creators around the world, it even has its own photo-sharing platform called Spaces, built right into the app.
---
3. Adobe Lightroom Photo Editor
No list of photo retouching tools would be complete without an entry from the company that started it all, Adobe. Their current leading mobile photo-retouching app, called Adobe Lightroom Photo Editor, lives up to its billing as a worthy mobile successor to well-known tools like Photoshop.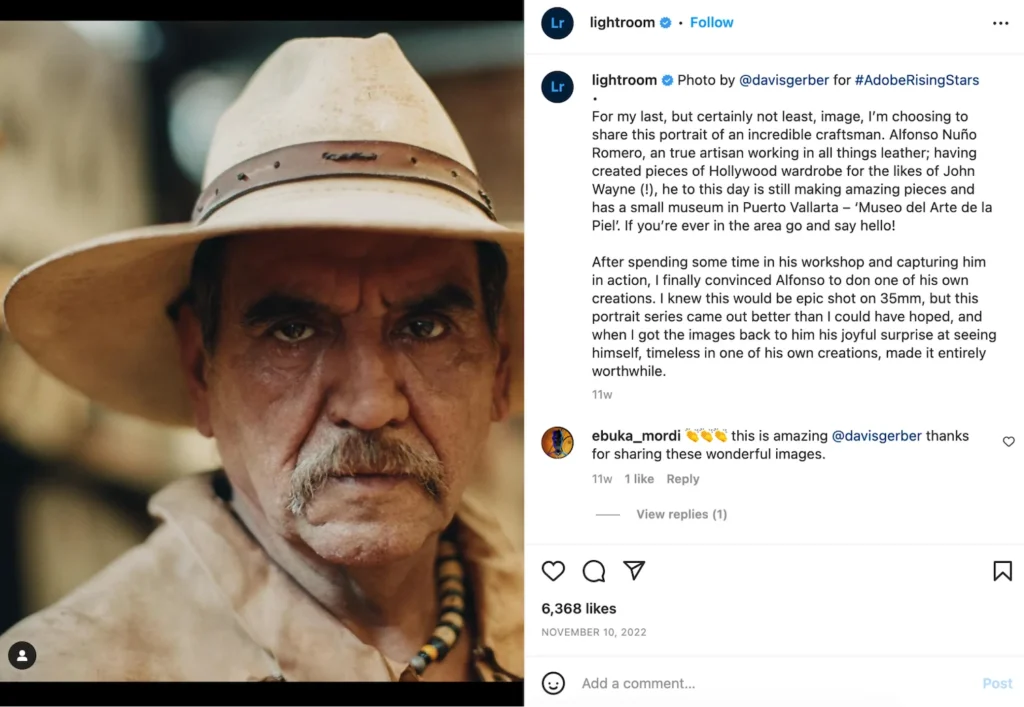 It comes with all of the fine-tuning controls that Adobe software's known for, plus a raft of other useful features for marketers. For example, it provides access to detailed interactive tutorials that teach users how to perform some of the more complex photo transformations the app can perform.
Lightroom even allows users to tap into photo presets shared by the millions of other users that use the app every day. It's like a cheat code that lets you borrow the techniques of some of the world's most creative photographers. In other words, it's amazingly flexible and useful.
---
4. A Color Story
One of the tricks Instagram marketers use to make their photos into a cohesive brand image is to choose a color as a through-line in all of them. There's no better photo editing app than A Color Story to help with that. It's a versatile photo editing app that's especially useful for tuning specific colors within photos, both to make them match with earlier content and to make them jump off the screen.
A Color Story also features a very useful Instagram grid planning tool that helps marketers to keep their brands' profile pages unified and attractive.
Since the styling of Instagram grids plays such a large role in user engagement these days, A Color Story is worth adding to your app collection just for that—even if you don't use it for actual portrait edits.
---
5. TouchRetouch
One of the biggest nightmare scenarios any Instagram marketer can face happens when they return from a promotional shoot or another event—just to discover that there's a competitor's logo lurking in their best photos. That's just what our last listed tool, TouchRetouch, can help with. It's like a standalone version of Google's Magic Eraser tool. Just open the app, pick the offending part of the image, and TouchRetouch does the rest.
While the app can't fix every unwanted part of every image, it's good enough at work to make it more than worth having for Instagram marketers.
It offers a quick way to rescue otherwise-unusable portraits and doesn't require much fiddling to make it work.
---
Your Portraits, but Better
Any Instagram marketer that adds one or all of these amazing portrait editing apps will see their Instagram content creation abilities improve almost immediately. Between them, there's almost nothing you can't do with a photo. From post-facto makeup application to color coordination and object removal, they turn what used to be the job of expert photographers into something any Instagram marketer can do with ease.
They take so much of the stress and worry about capturing perfect images out of the equation you'll wonder how you ever did without them. So, give these apps a shot and get 2023 off to the perfect start for the brands you represent on Instagram. You'll be happy you did.
See also: What is a latest hot topics in digital marketing?