Do you know what Google Adsense is? We believe that most of you are probably familiar with this one. As a product from Google, Adsense is your tool to monetize your virtual platform, in this case, website or channel.
Yes, you can monetize both of them at the same time if you want. However, remember that there are certain requirements that you have to fulfill first. As a monetization platform, Google Adsense has already been used for a long time. Many people are using it to monetize their channels on YouTube. Bloggers are also doing the same thing with their blogs.
With more and more people coming in, the competition becomes fiercer than before. Thus, people start looking for alternatives to Google Adsense. In this article, we'll be talking about the alternatives you can try, along with detailed information about them.
Before actually going to explain each one of them, it's better to learn what Google Adsense is.
Understanding Google Adsense
As explained above, Google Adsense is one of the most promising advertising programs offered by Google. Since it's a product from Google, it's best to create a platform that's supported by it. If you want to monetize your blog, make sure to use a blogger or WordPress. YouTube is already covered by Google, so there is no need to worry about it.
May I Register My Website for Adsense?
Yes, anyone with a website that fills all the required criteria will be able to join the program. The only thing is, there is no detailed information about what kind of things are required by Google.
On YouTube, it tells you the indicators that you need to fulfill in order to get your channel monetized. It's much different with a website where they don't tell you the exact information. However, many bloggers do share each other information about this. Some would tell you about the number of posts or the other customization. What's most important is to make sure to get enough traffic for your website. A hundred or thousand daily views can be considered decent.
What's The Problem, Then?
Yes, Google Adsense is a great way to make revenue from creating content on a website or YouTube. It's even considered one of the highest-paying platforms, which is nice, right?
The thing is, it's not that easy to join the program. Sometimes, the chances are pretty randomized. In reality, you can easily find someone with around five posts getting accepted, with others who have dozens of posts rejected. Why does this happen?
To be honest, we don't know the answer. We never do. The only one who knows exactly what's going on is Google. And truth be told, Google is not that transparent with the requirements for websites. They'll only tell about certain restrictions that you can never pass.
When Google Adsense is getting harder to get into, that's when the alternatives start to shine. On the internet, you can find so many platforms or ad networks which work in the same way as Google Adsense. What important is you need to find the one that's willing to pay you highly?
Using Ad Networks
Do you wish to use the alternatives instead? You've come to the right place!
You see, when we're talking about the alternative, we'll mainly discuss the ad networks. There are so many ad networks you can find on the internet, and it's not that easy to find the one that will fulfill all your wishes.
For those who are still not familiar with the term, Ad Networks are basically the agents acting as a bridge to connect the advertiser and the publisher. The publishers, in this case, are you, the website owners. The ad networks will connect them to you and pay you accordingly.
Advertisers or clients will have to put their interests, filling their needs to find the proper criteria. If your website fits them, then their ads will be displayed on your website. Usually, it's an automatic thing if you're working with Google Adsense. But, it might be a different case with the other ad networks.
Sometimes, the publishers are also required to put their website ad space for sale, which can connect you to specific buyers in need.
Let us see it from the perspective of advertisers. They will make contact with the ad networks to find the proper platform to display their ads. Their aim is to get as much traffic as possible. And by the high traffic, they could potentially gain increased profit as well.
Ad networks can be the best tool to make businesses reach their success. Through effective ad placement, gaining high traffic is definitely possible.
From the publishers' perspective, they can receive an income if their ad space is sold. When the terms are accepted, the ads will be displayed on your website.
Best 8 CPM Ad Networks for Publishers
And now, let us explain the alternatives. In this article, we'll explain the eight of them, which you can see right below:
1. CodeFuel
2. Ezoic
3. Media.net
4. Adsterra
5. AdRoll
6. Epom Ad Server
7. Adversal
8. GroundTruth
1 – CodeFuel
We want to start the list with CodeFuel, one of the best and most recommended ad networks on the internet. The network has been around since 2014 and counting in; it has been eight years on the market. Of course, many publishers are interested in working in their system to gain income. With the proper and optimized platform, CodeFuel bravely guarantees increases in visitors and a chance to get a wider reach.
CodeFuel also allows publishers to further customize their website to it can look more valuable in the clients' eyes. Other than monetizing your website, you can also make additional income from browser extension monetization and more! In this case, publishers are free to use whatever method they want to get the maximum profit.
For those who have a high budget, CodeFuel will accommodate projects with a value of around $10,000 or more.
Best Features:
Multiple ways of monetization make it possible for publishers to choose which one is most suitable for them. To get the maximum profit, they can also make use of both options, with the proper optimization, of course.
CodeFuel offers great flexibility for ad adjustment. So before your start posting the ads on your website, use this feature to make sure that the ads will perform well so you'll gain more profit in the future.
Pros:
Fortunately, CodeFuel is already using a system that's easy to understand and control
There are several monetization options that you can pick. Each publisher is not limited to only one monetization step.
Completed with the analytical tools to dig deeper into the ads
Great integration with various platforms, making it a great tool to make sure you always have great profit.
Great options for ad optimizations.
Cons:
We understand that all the good things sure look pretty. But for CodeFuel's case, let's take a look at it from a different angle. Although the platform does offer a lot of positive values like ad customizations, ad optimization, and also integration with other platforms, CodeFuel does have lacking points. It's about the requirement.
In order to get accepted into the program, you need to do a project with a value of $10,000 minimum. And, of course, this number is not something that everyone can reach.
What They Said About It
The great thing we can find about CodeFuel on the internet is how responsive the customer service is. They would answer all the calls and chats in an instant, and when you face troubles, they will find a way to solve them. Various ad monetization is great for anyone who would monetize their virtual assets, including extensions.
---
2 – Ezoic
The second one on the list is Ezoic. It's one of the famous ad networks that make it possible for publishers to display ads on any page they want. The platform has AI technology to enhance the ad experience, so it won't look too bothersome for users but optimized for publishers.
This system will also make it possible for users to only receive relevant ads according to their location, niche, and other relevant information. For your information, Ezoic is also a part of Google Publishing Partner. So, it's possible to make an integration with other Google products.
Ezoic also presents Humix and Flickify, the tools that you may use to convert text content into videos that can be embedded. That way, publishers are able to increase the user experience without doing so much work.
The videos created from this feature will be automatically posted on Humix instead of YouTube. This will open a new opportunity for publishers to gain more additional revenue without limitations and restrictions.
Best Features
Simple UI
Already completed with features
Publishers are able to optimize their ads with the available tools.
Pros:
Offers advanced features to optimize revenue
Adjustable ads
Has its own platform to maximize publishers' profits
Has the tools you can use to make video content
Cons
Inflicts have a terrible impact on the performance
The setup process might be a little too troublesome
AI doesn't work great at all times
The design isn't for everyone
What They Said About It
Overall, this platform is great for increasing ad revenue. Many people claimed to have an increase in profits by around 20-30% after using Ezoic. However, some people also reported a decrease in performance and terrible ad placement by the AI.
---
3 – Media.net
In the third place, we have the Media.Net. You can use this Adsense alternative to increase the ad revenue of your website. This platform is run by the competitors, Bing and Yahoo. So, it may provide a different experience for you, in a good way, of course.
You see, this platform specializes in contextual ads, which will connect both the ads and your platform exclusively to the channels provided by both Bing and Yahoo. After entering the market for the first time, you may notice that you'll be fighting side-by-side with fellow content-driven publishers. Although the competition is fierce, the platform still opens a window for newcomers to survive.
Media.net works by a bidding system, so with the better quality of a website, your ad space will have a higher bid as well.
Best Features:
The platform has a simplistic and user-friendly UI
Great customer service
Contextual ads optimization
Provide a variety of ads for publishers
The yahoo-Bing system is nice to have
Pros:
Excellent customer service
Excellent tech services
Moderate to High RPM
Large ads inventory
Has helpful tools
Cons:
The visual isn't that great.
Performance issues may start to happen when a lot of content is found
Manual input for each website is sure tiring
Not much information was provided about the advertisers.
What They Said About It
The general consensus is that Media.net is a great alternative if you can't apply for Adsense. It has a decent RPM and a team that can be considered really responsive. However, some problems are also noticeable, like performance issues, troubling manual input, and the lack of information.
---
4 – Adsterra
On the next one, we have Adsterra. Are you familiar with this? Adsterra is considered to be one of the best alternatives since most people would find it easy to join the program. The requirements are not that high, and they're not supposed to be filled immediately as, well. For small publishers who want to have the experience and happy feeling of getting monetized, this is the best option.
Best Features:
Doesn't have a minimum traffic requirement
Everyone can join the program
Small payout fee
Has a 100% fill rate, which is the highest in the market
Has various cost models
Offers self-service and managed systems
Integration with analytics
Pros:
Low requirements
Multiple payment methods
Much better transparency than the competitors
The CPM rate is decent.
Cons:
Publishers still need to have good traffic to have better revenue
Technical issues may appear randomly
Although the payout fee is small, the requirements are high.
What They Said About It
As expected, people love using Adsterra because of how easy it is to get monetized. Since there are no requirements whatsoever, anyone can basically enter the platform. Although, please note that in order to get higher profits, you need to have higher traffic. There's no way around it.
---
5 – AdRoll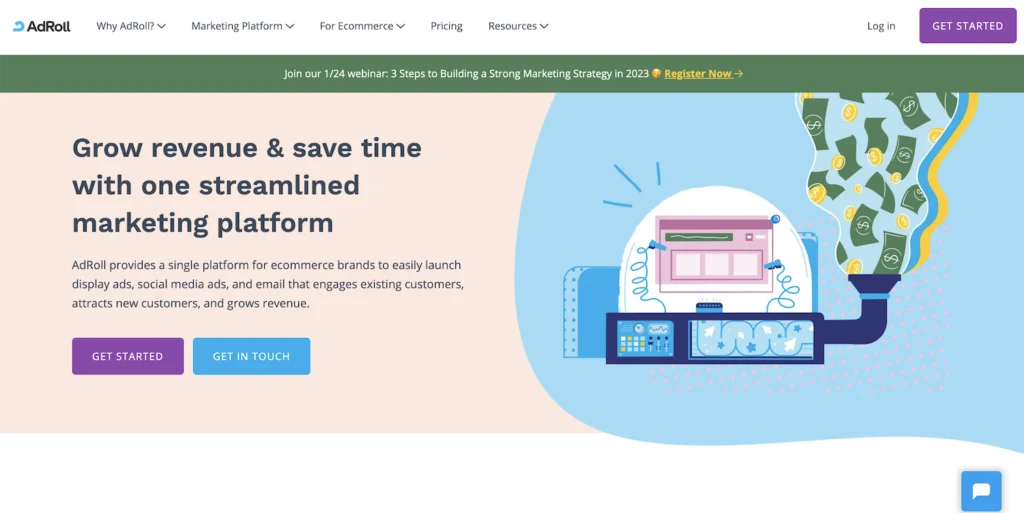 The next one is AdRoll. And as the name implies, Adroll may work best for the rolling ads since it also has a good optimization system for them. People usually use the platform to monetize their commerce websites. As a big company, AdRoll is expected to have a strong relationship with multiple known brands and companies that publishers consider the top players.
So, by joining the program, you may have a chance to get a better income through high-quality orders.
Best Features:
Has a good relationship with big brands that may offer bigger projects
Automation system that will connect publishers and advertisers based on certain criteria. The probability of a match is around 70%.
Has a great inventory of ads.
Pros:
The easy signup process
The targeting system is good
Specific markets for each publisher.
Cons:
UI isn't the best; it might be confusing sometime
Unresponsive dashboard.
What They Said About It
Until now, AdRoll is still considered to be one of the best alternatives to Google Adsense. It's easy to signup, and the platform offers great flexibility to connect the publishers with the proper market. Although, note that issues may happen randomly.
---
6 – Epom Ad Server
What's best about Epom is its versatility. It doesn't focus on one type of business. With its wide connection with big companies, Epom may easily connect you to them once your website is considered suitable.
Thanks to this, publishers may have a great time connecting with the proper market suitable for their niches.
Best Features:
Performance analysis is done in real-time
High CPM rates through optimizations
Pros:
Has useful analytic tools
Free to use
Completed with a free trial for newcomers
Cons:
Doesn't have a good integration
UI is not that great.
What They Said About It
The platform is still great to be used as an alternative to Adsense, even today. Some reviews put a high score for it, even reaching 10/10. The best thing people love about it is the analytical tool, which is definitely usable in the long run.
---
7 – Adversal
For those of you looking for a self-service platform where you can customize almost everything, Adversarial is one of your best options. Upon opening the page for the first time, you'll need to do the registration process, which will be done quickly.
You'll be greeted with smart UI immediately, and the system will introduce you to the features to create a new campaign, stop, and pause it. In order to be eligible, your site needs to have a reputable domain name with 50,000 views per month.
Best Features:
Great customization features
Simplistic yet functional UI
Pros:
Has a fast registration process
Has a great user experience
Low payout fee
Quality ads inventory
Cons:
Really high requirements
You still need to follow the payment terms to cash out your money.
What They Said About It
There's nothing much people say about this platform. However, some said that Adversal might offer great CPM rates for all countries. And this is relevant since the traffic requirement it has is so high.
---
8 – GroundTruth
Last but not least, we have GroundTruth. This network is great if you work on location-based ads. So for publishers who wish to further optimize their ads and gain higher profits, this platform is a must to try.
Best Features:
Specific ad campaigns
Location-based ads optimization
Pros:
Location-based ads optimization is great for increasing ads revenue
Connect publishers with bigger brands in specific locations
UI is easy to understand.
Cons:
Customer service isn't that great
Glitches and bugs may still happen.
What They Said About It
People rated the platform 4 out of 5, which is great. Most of them said that the platform is really great for location-based ads. By using GroundTruth, people have experienced an increase in revenue. However, some technical problems may still happen randomly.
---
Conclusion
And that's the list of the eight best alternatives for Google Adsense. As you can see, you can still find a lot of other options if you can't get into Adsense. Choose the one that fits you the best, and hopefully, with their help, you can reach the most optimum profit possible.
See also: What are the types of social media advertising?