Lately Facebook has made lots of changes to both the personal profiles and the business ones as well. Some people are content with them, most of them aren't, and it is understandable, as there are lots of bugs on the platform that misguide users with what they have to do.
But it seems that Facebook is not the only platform that supports changes. Instagram does it as well. At least in what Instagram Direct Messages is concerned.
A New Messenger Experience on Instagram
Well, the biggest news is that Messenger is now connected to Instagram DM, in order to bring more features from the first one to the later one.
After researches have been carried, it seems that people who talk to the same friend on more than one messenger platform tend to forget where they left a conversation and on which platform. And taking into consideration that Facebook already said that they have plans to unify their messenger platforms, it seems that a first step towards this has been made.
But this is not all in what changes are concerned. There are also other updates made to the Instagram DM and we're going to tell you what we are talking about:
Vanish mode: send messages, but first choose when they disappear – after they are seen or when leaving the conversation;
Chat colours: as for Messenger, you can personalise conversations with colours you and the friend you are talking to.
Selfie stickers: a collection of boomerang stickers to use in conversations;
Watch together: start a video call and watch together with your friend videos, movies, video content from both Facebook and Instagram;
Forwarding: share great content with up to five friends;
Animated effects: use animated effects when sending a message;
Emoji reactions: use emojis to quickly react to your friends' messages;
Message controls: choose who can send you direct messages and who cannot;
Replies: directly reply to a message in the chat, a very useful feature.
There are also updates in what privacy is concerned and you can choose where message requests go and also new or improved reports for suspicious activities and you will also be able to block a person across multiple Facebook owned platforms with one click.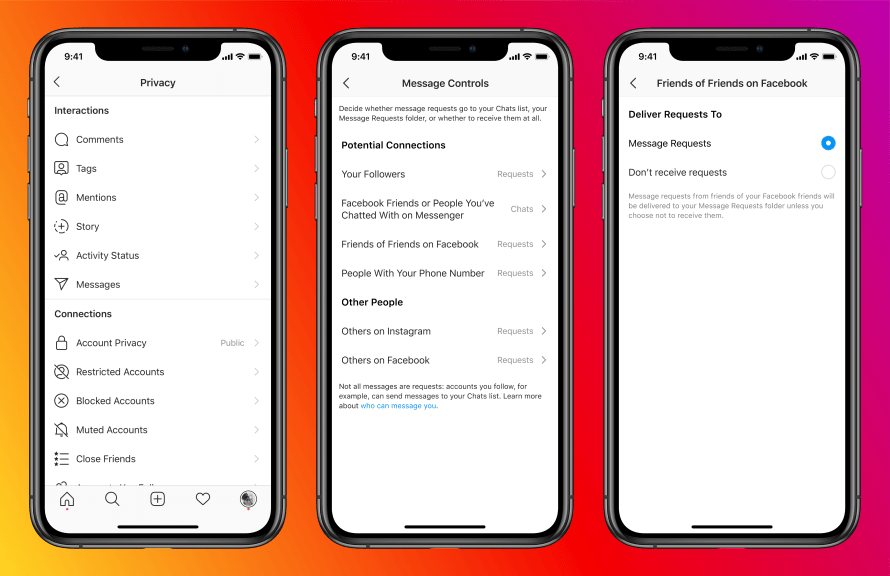 The latest features are rolling out to several countries around the world, but they will expand them globally soon.
See also: Introducing Messenger Rooms