Content is booming on every platform with each refresh. But not all of them show amazing results. Despite posting daily, how come one brand gets an excellent following, but the other keeps struggling to get a double-figure engagement?
The answer lies in their content marketing strategies. The digital population is increasing almost exponentially, and every other business is putting out surplus content to garner maximum attention.
Unfortunately, most of them commit the classic mistake of solely focusing on content quantity following the notion of "the more, the better." Not just that, at times, even the paid ads don't favor their luck, and they end up performing miserably with little ROI.
So what's the solution?
I am sure you must have come across terrific guides that can help you build content marketing strategies from scratch. But today's agenda is something different. We shall discover 7 most common yet the biggest content marketing mistakes. We shall also explore the remedies for each, so you get back on the right track real quick.
Let's begin without any further ado!
7 Biggest Content Marketing Mistakes to Avoid
1. Improper audits on audience
With social media marketing, you can approach any tier of audience. But just because you can, it doesn't mean that you have to target all of them. Most companies try hard to get more followers and likes, but they fail to understand the relevance.
Say you are running a restaurant in San Francisco. But if your followers hail from Mexico, would it help you earn more? Unless you open a branch there, it's of little value. This is the first mistake most businesses make; they give very little importance to such audits.
So how do you do it? Here are a few steps you can take to conduct a good audit.
Start with a SMART goal.
Decide on potential buyer personas that are vital for realizing your set goal.
Finalize the essential demographics of your personas.
Fix the content tone for each persona.
Create a plan of action accordingly.
Select the mediums that are used most by your persona.
Post your content when your target audience is most actively using respective platforms.
Resort to data analysis for more insights.
Once this is done, you will get meaningful traction from your audience that will eventually convert.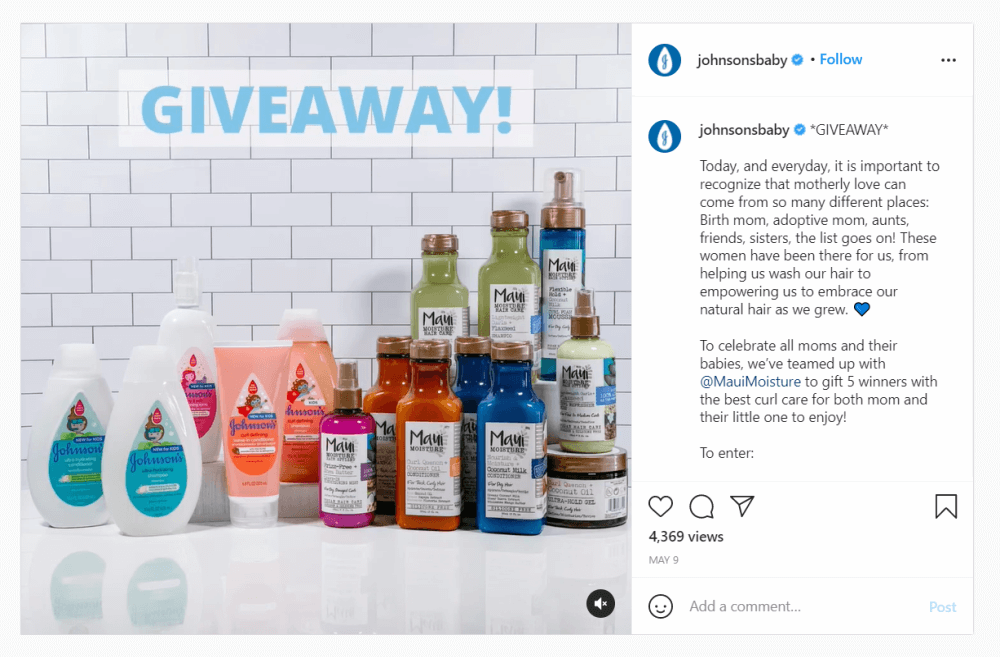 Have a look at this post, for instance. The audience of Johnson's Baby mainly comprises adult females who are having newborns or have family/friends who have one. This giveaway post is an outstanding example to entice the intended audience. It acknowledges the self-care needs of every woman and her little one. Thus, a giveaway with some easy entry steps is a winning hack fetching decent views and responses.
Tip: Have a keen eye on your competitors and their audience base.
2. Not reposting the old content
Are you having an acute resource crunch? Or is there a creative block? In either case, businesses put their regular posting on hold until something brilliant and unique strikes them out of the blue.
And that's a grave mistake. Once you establish a presence, continue to strengthen it. You don't want your audience to forget about you! But there are times when you have nothing new to post. On such days, repost your old content!
Here are some benefits of content reposting:
Reaches out to newer demographics
Saves you time and effort
Improves ranking and visibility
Keeps you relevant
Diversifies the same content piece
Better performance
Makes your content evergreen
Believe it or not, even top-notch brands recycle their content by giving it a renewed touch. So now you can fill your content calendar faster with some repetitions.
Duke Men's Basketball reposted their iconic 5th win with hashtag #TBT. The post got an overwhelming response in just a few hours. You should also use hashtags like #repost, #throwbacks, #tbt to heighten your chances of discoverability when reposting.
Tip: Add the latest statistics and updates whenever you repost your content.
3. Not investing in the right tools
Sharing and creating content is almost free. Thus, only a handful of people invest in the tool stack needed for effective content management. This major plot twist is realized when your efforts are not reciprocated as it does for the brands with the right tool stacks.
Why? Though organic reach is free, it takes forever to get you the necessary fame. But if you invest in proper tools right from the creation phase, the process gets catalyzed, and you end up magnifying your reach in just a short while. You can also curate content from your followers or relevant resources and tag them to get a good response.
Let's consider a scenario. You need to post 8-10 tweets each day. You also have to share some posts on other platforms. You have to allocate these duties of posting to somebody who spends a considerable time doing this redundant task.
But you could have automated this task with social media automation tools and bulk schedule your posts in one go. Not just that, you could also post at the best timeframe to get the required attention, even in different timezones! Isn't this an easy and smart way?
Archimedia invested in the top CRM tool, Hubspot, and witnessed a 30% increase in turnover, 75x more leads, and 95% customer retention. Now that's some stellar results they got for a small investment!
Tip: Resort to free tools like ShareIt for curating content rather than creating it.
4. Poor planning of content calendar
We often have a motivational spree and jot down ideas for our content calendar without any proper research. Thus, we end up committing another mistake. We waste time creating what we want rather than producing what our audiences need.  
So, how do you find topics that your audience is looking for? The answer is much simpler than you can think of. Forums like Quora and Reddit can be of massive help here. Just follow your niche and scan through common questions, and create content around those topics. You can also use search engines and look for frequently asked questions for that particular niche.
Once you sort out the topics, get a calendar template or create one using an excel sheet. A basic template must have the following columns:
Date
Topic
Content-type
Owner
Dependent
Status (Started/Pending/Completed)
Comments
Don't forget to add seasonal content too. Based on your audience, you should also celebrate days that they cherish. Highlight your brand's respect and support for their culture. This will make you amiable and trustworthy.
June is the official pride month, celebrated worldwide. Here's how Oreo showed its support for the LGBTQ+ community by partnering with Pflag National. The post got much love with 274K views and 7K comments. Add such special content to your calendar because celebrating the same values as your audience creates a profound connection with them. You become reliable and their instant choice.
Tip: Have a seasonal offer to celebrate important occasions.
5. Holding back on promotion
Have you ever promoted content that isn't part of any campaign? Quite rare, isn't it? Successful brands don't wait for seasonal campaigns to lionize their reach. They sponsor their best-performing posts and run ads for more impressions.
You can find your best ones in the analytics section for each platform. But don't get carried away with the paid results. Use hashtags, write guest posts, partner with influencers and collaborators for organic reach too. Here are some more ways of promoting your content apart from ads:
Newsletters
Guest appearances for popular vlogs/podcasts
Social sharing
Online forums, groups, and communities
Boost posts
Adding stories
Promotion doesn't even need to be pricey these days. You can even make use of cheap email marketing tools that have a link to your favorite CRM and social tools as well.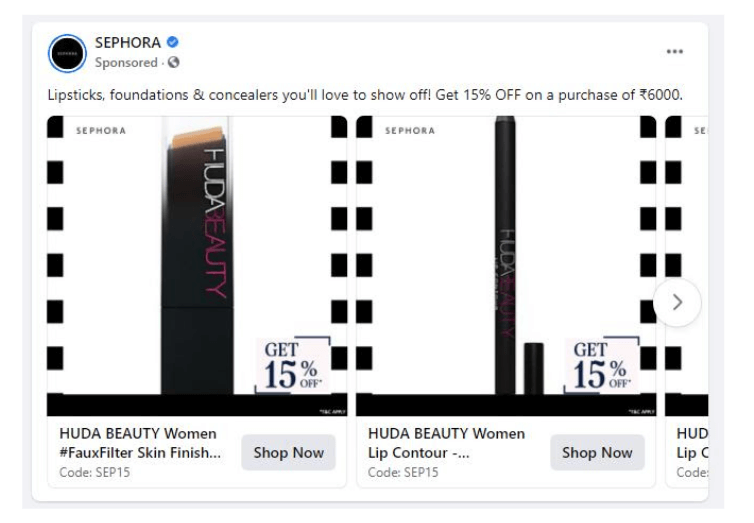 Have a look at these Sephora-sponsored Facebook posts. Carousel ads with products, their prices, and coupon codes create a FOMO in the audience. Promotional posts like these introduce potential leads to your marketing funnel, nudging them to complete their buyer journey before the expiry of such customized offers.
Tip: Use video ads for promotion with personalized options.
6. Less diversity
Breaking news! Writing blogs is not sufficient for your content marketing. You have to explore ways to diversify your content. B2B customers want to see more branding pieces these days, especially videos, before finalizing a deal. But several firms give in to inertia, sticking to their mundane routine of promoting just blogs.
Here's what you can do to bring diversification to your marketing strategy.
Use graphic design software to convert blog posts into infographics
Use infographics for slides
Make short videos out of webinar clips
Collection of blogs to make ebooks
Podcast scripts made out of guides
Convert your list posts into downloadable checklists
Vlogs out of how-to blogs
Testimonials into case studies
Templates and checklists into freebies
Quotes into gifs
Apart from these, try out guides, reels, stories, and highlights along with the usual feed posts on Instagram. Similarly, explore spaces, gifs, photos on Twitter. Use rich pins on Pinterest and articles on LinkedIn. Use most of every platform and dispense value in all forms!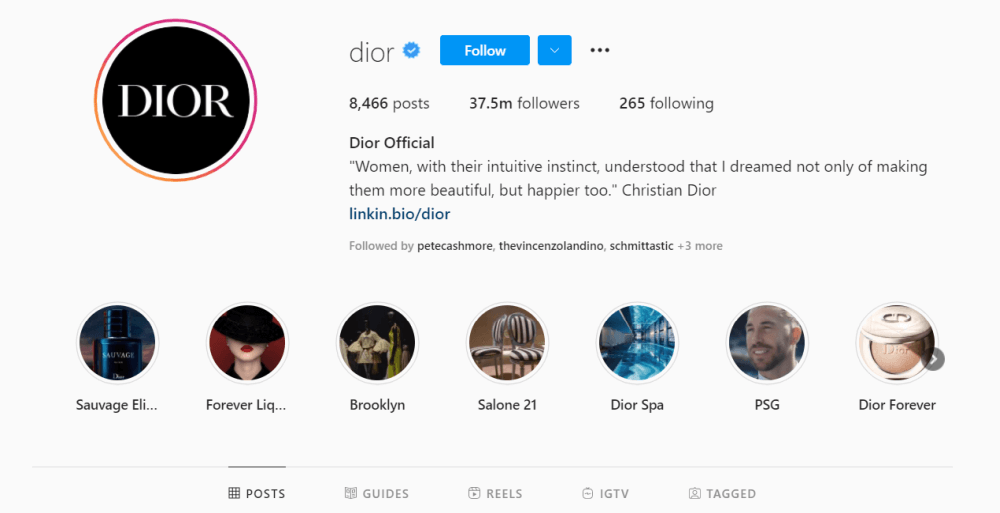 The Dior official page is the perfect example of diversified content. They have used everything that Instagram has to offer, right from reels to guides! No wonder their base in millions is witnessing a considerable rise daily. Plus, they post similar pieces on their other social media handles, amplifying their reach.
Tip: Use cross-promotion techniques for diversified posting.
7. Bland CTA
A social media call to action is a must for good sales. But here's a hitch. One either goes overboard and ends up sounding too pushy or resorts to boring cliches. If you perfect the art of crafting a good CTA and using it appropriately, it can work wonders on click-through rates. Let's have a look at some crisp CTA tips for your upcoming venture:
Use active voice.
Mellow down the authoritative tone.
Use adjectives and verbs.
Add digits and figures.
Create a sense of urgency.
The CTA button should be in a shade that contrasts with the background color when hovered upon.
Do A/B testing before making the final call.
Keep it short and unambiguous.
Spotify masters its ad copies. They keep them incredibly short and to the point. Take inspiration from this sponsored Facebook post. Prices are mentioned with a befitting statement describing an ad-free experience with Spotify Premium. A simple Sign Up button prompts a clear action. Strive for such concise and impactful copies for your ads to increase your conversions.
Tip: Use CTA with offers for anticipating responses.
Wrapping Up
Content marketing, if not done right, feels like an endless spin. You put out content and even get satisfactory engagement, but the sales funnel lies empty. What you can do here is follow the 80/20 marketing rule.
Share just 20% of your brand promoting content while channelizing the rest 80% into posts to pique the interest of your target audience. These could be freebies, templates, guides, ebooks, and more. It is also better to identify the problems of your audience and guide them through troubleshooting.
Lastly, adopt an experimentative mindset and conduct a performance study to find out the major pitfalls. This will help you customize your strategies to attain the end goal faster. So, don't wait anymore and start implementing the hacks we discussed so far. You definitely will see the improvement!
See also: What are risks of social media?