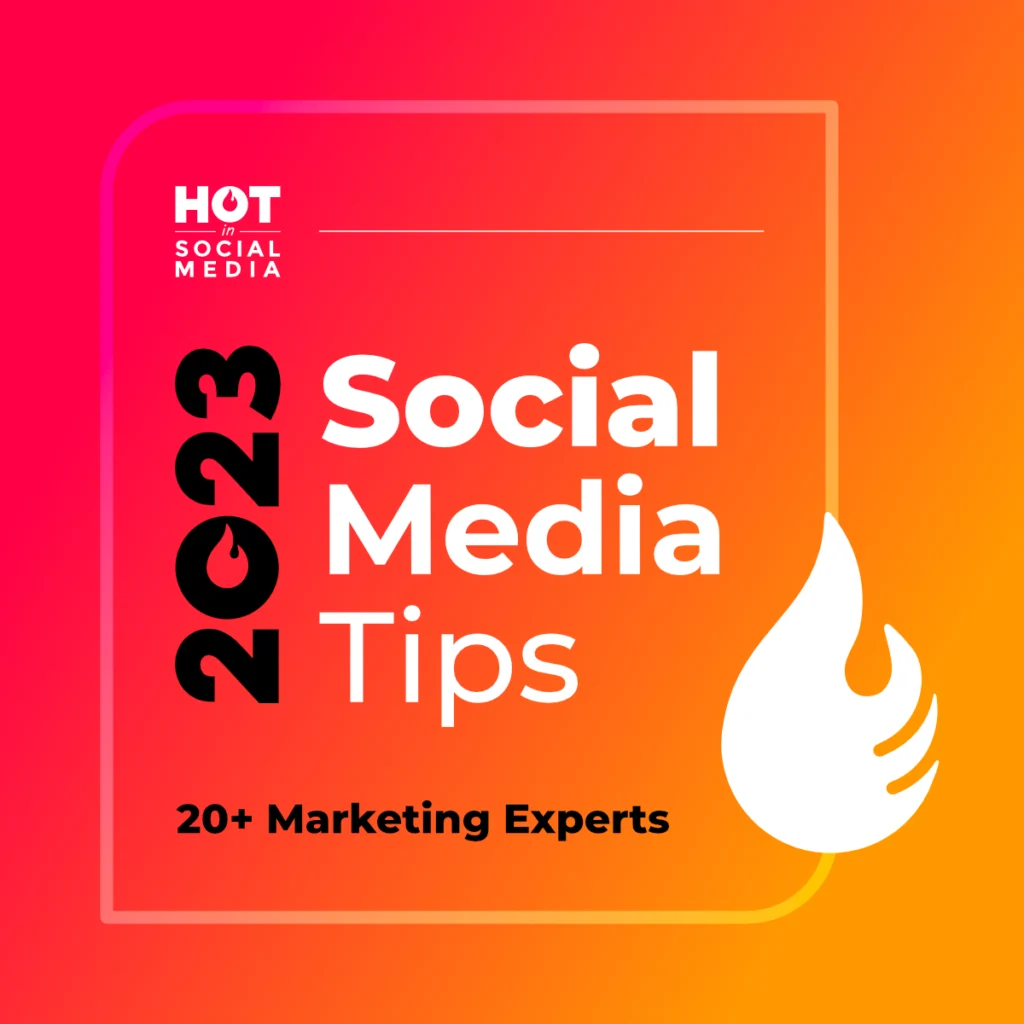 In the newest report released by We Are Social, we can see how the budget spent on social media advertising has doubled since the beginning of the COVID pandemic and has reached $226 billion in 2022.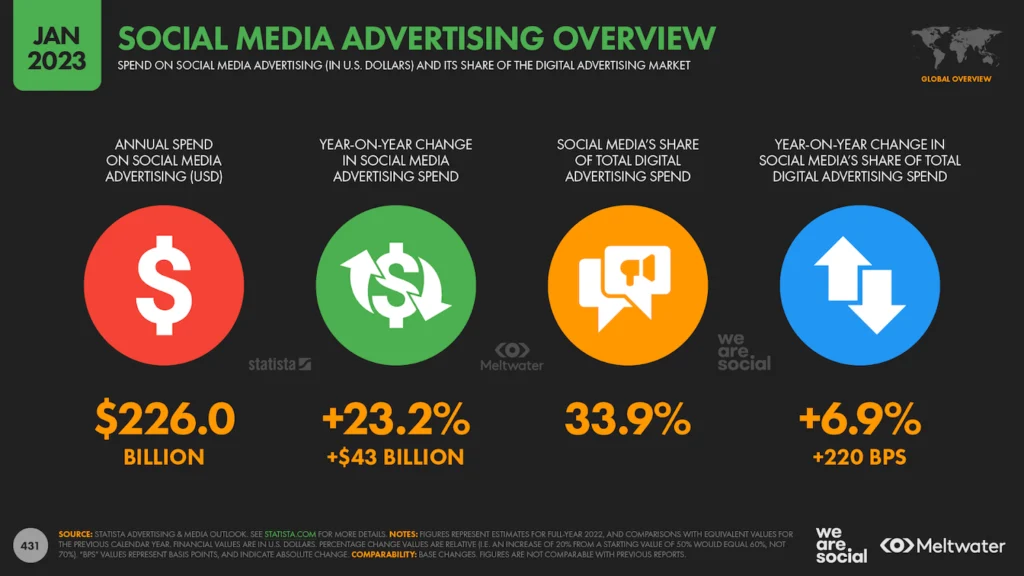 From the same study, we find out that the number of social media users has increased by almost 30% since the beginning of the COVID pandemic, which means that there have been nearly 1 billion new social media accounts created in the past 3 years.
The time spent on the most popular social media networks has increased from one year to the next and reached 2 hours and a half in Q3 2022.
TikTok is the social media app where users spend the most time (23.5 hours/month), followed closely by YouTube with 23.1 hours/month, and the last spot on the podium is taken by Facebook with 19.7 hours/month.
Going deeper into this study, we find out that Instagram is number one with young people (both men and women) in the age range of 16 to 24.
Women between the ages of 25 to 34 still prefer Instagram as their primary social media network, while men in the same age group prefer Facebook.
Given that 94.6% of Internet users aged 16 to 64 use social media networks, we are clearly dealing with an audience we can't neglect.
In order to cater to this audience, we wanted to find out what are the most practical social media marketing tips for 2023, so we've asked some of the most known marketing experts for their advice this year again. I want to take this opportunity to thank all the marketers who've shared their advice for this marketing roundup article for 2023.
If you want to promote your business and have a relevant presence on social media networks this year, I recommend you read this article to find out the best 2023 social media marketing tips.
Don't forget to share this article on your social media channels, along with your thoughts on the social media tips you've liked most.
What Are the Most Effective Social Media Marketing Tips for 2023?
Community is everything. Relationships are everything. Thankfully, we're going back to our social media roots when connecting on the big social platforms was enjoyable, and we could easily create meaningful and lasting connections.
People are craving more depth and having a place to belong where they feel they really matter. For some businesses, this could look like a Facebook group. And, 2023 could be a great time for you to examine if a Facebook group is really the best container to house your valuable community. You might check out non-Meta alternatives such as Mighty Networks (my favorite), Circle, possibly Slack, Discord or Telegram, etc. I understand the popular online business platform, Kajabi recently acquired a community platform for integrating their product, which is great news. Online course platform, Thinkific recently launched a community product as well.
Hosting and running a community on a third-party platform is a very different experience from mainstream social networks because this is your own private tribe away from the constant firehose, noise, and hustle of public social media.
So, bottom line, if it's a fit for your business, lean into establishing your own rock-solid community of raving fans who love you and love to buy from you. You can still use your public social media channels to get the word out about your new community. And, to be clear, it's both/and. I run a very popular Facebook Group (Mari Smith's Social Scoop) with over 21k members. And then earlier this year, I also launched a new free community on Mighty Networks (Mari Smith's Superstars) for a different purpose.
---
Social media is increasingly complex and multifaceted as a marketing medium. Consumers, in general terms, are far more reliant on and favouring of eCommerce experience that deliver on customer experience, regardless of the platform they might be on. Customer experiences should be seamless, easy and appealing. The format for achieving this may change depending on which social media platform you are on and which audience you are targeting, but the principles remain the same.
Tips and Tricks In General:
Pick the right platform & deliver a real message: Consumers need to be able to trust the content they engage with, so expect 2023 to show an increased demand for integrity and authenticity that brands and social media channels will have to adapt to. Consumers expect different levels of censorship and free speech. Expect to see social platforms tackling more of the issues consumers raise and possibly even putting more power back into the hands of their users.
Put the environment first: Consumers and brands will come together for impactful environmental change. Consumers don't want to hear buzzwords like 'sustainability', 'green', or 'net zero'. You need to show not tell.
Customer experience gets even more social: Social media will be the go-to place for brands to connect with customers. In 2023, expect more brands to create dedicated in-channel social media support channels. The real trick will be finding a way to get them to work both for online consumers and those in-store too.
Personas are over; think communities: Brands will move further away from personas and target their broader brand communities. In these spaces, it's less about the influencer broadcasting content and more about the exchange between all community members. Consumers are breaking the mold of personas and refuse to be put in a box. This is too far a narrow view for talking to your audience.
---
Social media is constantly shifting; no breaking news there. But the pace of this change will be accelerated by the growing usage of AI content generation tools. In this context, it is harder and harder to break through the noise and get your content noticed, especially as a company/brand, which brings us to my shortlist of actionable social media tips:
Brands, it's time to ditch the corporate act and find your inner creator! People are sick of cookie-cutter perfection and want authenticity. Brands should embrace the opportunity to tell their stories, share their perspectives, and engage with their audience meaningfully. This can involve using creative visuals, video content, and storytelling to create compelling, shareable content that resonates with their audience.
Short-form video may be all the rage, but I don't think it's a one-size-fits-all deal. TikTok, Instagram, YouTube Shorts, and even Pinterest Idea Pins, the way short-form video works on every one of them has different alchemy. Each platform is unique, so adapt your content to fit in and stand out simultaneously. It's a paradox, but that's the magic of social media.
AI-generated content is a helpful sidekick, not a substitute for creative ideas. Use it wisely, and don't rely on it too heavily. After all, the key to success is to have the right balance of technology and human touch.
Finally, here's a hot tip that might not be so popular, but it's one that'll pay off big time in 2023 — speed is the name of the game on social media. Don't get bogged down by perfectionism. Instead, be agile and act. Brands that take too long to act or fuss too much over their content miss out on the chance to connect with their audience and make a real impact.
---
Figure out and embrace short-form video. This is one that many struggle with, but clearly, almost every social network has embraced this content format, and if we want to remain visible and relevant in the social media feeds of others, we need to truly embrace this newest form of social media content.
Focus on quality over quantity. I think that marketers have gotten used to publishing xx times on xx social networks, but I think it's time to slow down and only publish truly meaningful content. Algorithms will reward you for this, and more importantly, your audience will as well!
---
In a nutshell: Ask. Evaluate. Collaborate. Invest … more entertainingly.
1. Fish Where The Fish Are – In other words, have a presence where your ideal customer hangs out online. Seems redundant. However, there has been a lot of scrambling in the past year. Digital exhaustion has led many people to dump much of their social media activity. We've also seen a good amount of controversy with Big Tech and a few of the platforms, leading some to jump specific ships. Survey your email lists, social media followers, and connections at offline events. Find out where they are present online now.
2. Social Media Audit – Many personal and business brands have been online for a number of years. They may not see the outdated descriptions and images the way their potential first-time customers would. In turn, their online marketing strategies probably need an update. Times are tough, and this is especially when the best marketers win. A social media audit and new marketing strategy map would be the answer to keeping your brand more searchable and findable.
3. Podcasts – Yours and others. Social media should ultimately drive our target audiences back to our owned online real estate – Our websites. A podcast offers an opportunity to embed audio, video, or both onto our website with great SEO value. If the idea is overwhelming, start with doing a podcast tour and being a guest on podcasts that intrigue your ideal customer. When you're ready to take the next step and host a podcast that covers topics that interest your target markets and can feature guests that do the same. Even if you need to partner to make it work. Podcasts are social media content gold and can be re-syndicated as long as they are relevant.
4. Video – Yes, reels, stories, and live excerpts. Branded, created, behind the scenes … planned and spontaneous. Blah, blah, blah. Of course. BUT brands have become more clever, platforms now offer more slick editing options, and people have come to expect more. Video now must now offer real value to the viewer and be entertaining especially. If creating a video is not your talent, hire it out and consider it an investment in your brand voice. Then, make sure it's optimized for each platform where it appears. Absolutely upload to YouTube!Curious how the social landscape has changed in a year? Check out my social media marketing tips from 2022.
---
Measure, measure, measure. The best thing about social media is we have the data to prove that our efforts are working.
Though most social media marketers are creatives, who don't love data (or math), so they tend to ignore results. You're not going to be able to get away with that much longer.
Figure out how the data can help you tell a story and use that to report results. For instance, perhaps you have a series or campaign on IG that gets more saves than shares. That's a story right there! It means people continue to come back to your content. How can you use that in reporting your results?
---
My number one tip for social media in 2023 is to be controversial! Controversy encourages engagement, and as long as everyone is respectful, it's an amazing way to boost your social media. Share unpopular opinions. Disagree with someone. Play devil's advocate. It's a foolproof way to get people talking.
Also, look at what everyone is talking about. Then talk about what they aren't talking about. Identify the gaps in your favorite creators' content and fill them. Post, post, post, and keep posting. Consistency is an underrated tactic when it comes to social media.
---
– Being customer obsessed and wanting to connect and learn more about them will never go out of style. As they change and adapt to new challenges, staying close to the voice of the customer will help you make informed and thoughtful moves in the future.
– Word of mouth is the only thing I know will always be powerful. Consumers will trust strangers over brands, so take care of your customers, and they will take care of you.
– Know where you can play. Understanding how your brand can intersect with news and culture will make it easier for you to jump on timely trends, have fun, and still be on brand. Know what that intersection could look like and work with legal for initial buy-in before something happens so that you can be agile.
---
People must come first – in your growth strategies, in your marketing plans, and in every interaction that you have. Brands are running headlong into brand equity destruction through incessant overuse of their email list and 'permission' and incessant digital spamming, whether it be via email, digital ads, or social media.
The rise of retargeting and digital yield techniques is killing brands and brand equity for the long-term. It makes me wonder how many brand managers, and more importantly CMOs, bother signing up for their own email distribution lists or shop their brands from an anonymous browser to experience what their customers are being subjected to.
Customer experience is no longer simply about product, delivery, and service but about how the customer experiences our marketing.
Permission is your ROR, #RonR (Return on Relationship).
Remember that Permission is a two-way street, and the traffic signals are controlled by your followers. Be their Green Light… not their stop sign!
---
Influencer marketing. Having a plan to work with influencers is absolutely key in a social media market built on discovery. Many social media users go on the platforms to discover news, trends, fashion, celebrity gossip, and entertainment – rather than simply finding out what their friends and family are doing. Create a plan to find and reach out to influencers that are relevant to your audience, and that will help you accomplish your marketing goals – not simply ones with large followings.
Short-form video. Video is still the most engaging form of content on social media. If they haven't adapted already, marketers will need to look into TikTok, Instagram Reels, and YouTube shorts to continue to reach new audiences and build brand awareness. Video can seem very time-consuming, but the most-watched content on social media is raw, authentic, and not polished and perfect. Take out your phone and get started!
Measurement and analysis. We need to stop spinning our wheels on social media and start using it strategically like we would any other investment of time and money. Find 3-5 metrics that tie back to your marketing goals, and track them consistently. Use that data to tweak and improve your current efforts.
---
As more people treat TikTok as their new search engine, marketers should create content with that behavior in mind. Think not only about what type of content your audience would enjoy but what type of content they are searching for. It can be product reviews, lists of best product categories, or even educational content in your niche.
With the same behavior in mind, working with creators gains a new angle. As a tactic, it's usually been focused on getting in front of the influencers' audiences. With TikTok being used as a search engine, marketers can work with influencers to create optimized content for popular queries.
---
Follow the data. What's getting traction? What's getting clicks?
If you keep using data, you'll keep getting smarter. Soon, you'll kill the tactics that don't work and double down on your best stuff.
---
Going into 2023, one of the best social media tips I can give you is to not aim for millions of subscribers.
As of late, nano and micro-influencers have some of the highest engagement rates, and big corporations and brands have taken notice.
Instead, spend time interacting with your audience, build trust, and engage with them through live streams, giveaways, TikTok challenges, and even good old fashion polls.
---
We've all heard the saying, "work harder, not smarter" while this doesn't apply to all things in business, it certainly applies to social media.
Some things you can't afford to ignore in 2023:
– Use a social media tool to send, schedule, and respond to content and comments
– Repurpose your big pillar content into smaller bite-size pieces (1min videos) across your social profiles or audio snippets
– Transparency is key: Customers in 2023 can sense brands that are not authentic; this means using a human voice in your content and customer service responses
– Advertising: 2023 is the year to ensure as a business, you have the Facebook pixel optimized for your site. You also want to create targeted ad campaigns to help re-target website visitors and special offers
---
In 2023, marketers should stop considering TikTok as the odd one from the pile and set up their accounts. This platform seems to be the future regarding people's needs and how they want to consume content.
Another thing social media professionals should consider is building a community and connecting with their audience. There's no greater satisfaction for any customer than to be treated in friendly and with great care, making their needs your top priority.
---
My most effective social media marketing tips for 2023:
Move from a position of simply advertising products and services to a position of influence. Who are the leading technical and Commercial Digital Influencers in your market sector? It should be you and your team!
Learn how to walk Digital corridors inside your target accounts. Picking up relationships, conversations, and leads.
Start with a plan in early 2023 and stick with it for the entire year. So often, we see people just fade out…. it's all about consistency.
---
My top tips remain the ones I go to.
1. Go to where your audience is. This has been a cardinal rule of marketing for time eternal. Whether you're looking at print, email, direct mail, social, or otherwise, you want your messaging to be seen by the folks most likely to buy from you. Don't waste time or money on a buckshot approach. Find out what platforms your audience uses and post/advertise there.
2. Make your marketing messaging match across all outlets. The old adage was that consumers need to see your messaging three times in order for it to stick. Enter digital, and humans now have an attention span shorter than a goldfish's (literally). Studies now show that people need to see your messaging SEVEN times (more than twice what it used to be only 10 or so years ago) for it to stick with them. Your best bet is to keep the look, feel, and message the same throughout all of your advertising. Even if you change things up a bit to fit ad specs and the differences in ad outlet demographics, the more you can keep the same, the better chance you have at registering with your target market.
---
Business today have switched their budget to digital, making the switch from analog and interruption marketing (cold calling, email marketing, advertising (paid media)). The debate about where our customers are is over; we all know they have all switched to digital.  So to answer that fundamental question in sales and marketing, where are our prospects and customers?  We know they are all on social media. So how do we prospect and find new people for our products and services?
The modern business doesn't see social media use as a tactic; it's a strategy built from the board downwards. Each business can measure their social media activities in the number of leads and meetings they create as well as the revenue created by social media. A strategy based on social, with measurement and governance to back it up.
Well, we know that interruption just does not work anymore.  We, therefore, need a methodology that will support us on social media, a step-by-step approach, not something based on tactics or luck; no business should bet their business on luck.  We need a strategy, a common language, a process on digital that everybody can use and is proven.  Better still, a qualification that proves our people and business are digitally ready, ready for whatever the digital world will throw at us.
---
Social media is all about socializing and spending time on the platforms. I'd advise every social media manager out there to use the least they can, the scheduling in advance option or the use of third-party apps to publish their content. Publishing directly will drive better and better results as the algorithms will be programmed to cut through the noise and detect human activity.
Another great tip is to start using the latest targeting option available on Meta: Instagram followers. I'm sure it will help brands get their messages to an audience interested in their content and also help them grow the engagement rate.
Last but not least, focus on establishing a connection with your followers by responding to comments, DMs, and user-generated content, speak less about you as a brand and more about them and their pain points.
---
Keeping a pulse on social media throughout 2023 will be more critical than ever. Elon Musk's ownership of Twitter and Trump's buyout of Parlor contribute to a new, unpredictable landscape for social media networks. Brands will need to understand their core values to navigate which platforms they want to interact on and what platforms their target audience is on.
There are also rumors that social media is dead, facing destruction along with the fall big tech giants face during the upcoming recession. Tech has had a glorious decade, but articles in trustworthy publications question if the tech world has reached its peak during our lifetime. Is there any more digital technology newer generations are willing to adopt?
Keep in mind younger generations are not adopting social media at the rate of older generations. Meta is facing significant issues with its metaverse, with metaverses, in general, facing legal and ethical questions as they grow. This points towards a slower adoption of the metaverse than previously predicted.
So what is the trend for 2023 based on all of this news? Stay on the channels you are on, as long as they do not break a core value, and set up a Google alert for social media to stay on top of big moves that are sure to be made over the next year.
Dabble into the metaverse enough to understand its use case for your company (there might not be one), and claim your handles on new platforms popping up, such as Mastodon.
Buoyancy and agility are social media trends for 2023. Stay strong on social media while preparing for what could come in the future by understanding new technology and claiming your brand where you can.
Then strap on your seatbelt.
2023 is going to be a wild ride.
---
Social media has seen a lot of changes in the last ten years, but the fundamentals continue to get results.
Those who are successful with social media, some even wildly successful, are taking a page from the playbook that worked back then. They consistently show up to add value to their communities in ways that reveal their true personality and authentic selves.
Most of us have some difficulty with this, but we know it when we see it. Many of these marketers are not what some would categorize as social media savvy, and that may be precisely why they are doing so well. Not following the herd and replicating worn-out practices is my top tip for social media success in 2023.
---
Go where your audience is. The decentralization of social media platforms we're seeing more and more will make it more important than ever to follow your audience and where they go to continue building a relationship with them.
---
The most effective social media marketing tip I can give you for 2023 is to be yourself. Find a niche and make friends…it'll expand your mind and grow your presence.