If you're a business owner, you reach a point when you need to start analyzing your clients in order to better serve them.
The more you know about them, the better you can satisfy them, and the better results you will have in the long run.
But when you enter the realm of statistics and analytics, things tend to get very technical very fast and it's easy for most people to lose focus and interest.
If you start exploring Google Analytics, chances are you'll need a tech dictionary by your side to understand terms like "cohort analysis" and "benchmarking", and probably a map as well to figure out where all the relevant data hides and what you can make of it. If you're not a very experienced marketer, you'll probably abandon the task before you can get any coherent information out of it.
And that's where a tool like Visitor Analytics steps in. Visitor Analytics is an all-in-one analytics app that focuses on user-friendliness. All your main data is color coded and immediately visible in the overview, with the possibility to go much more in-depth if you want to.
And unlike many other tools of its kind, it takes user privacy extremely seriously and offers all the tools and features website owners need at a fraction of the price.
But we'll talk more about all of these benefits later on.
First, let's take a look at the main features.
Visitor Analytics: The All-in-One User-Friendly Analytics Tool
Visitor Analytics currently offers three modules: Web Statistics, Visitor Behavior and Visitor Feedback, with a Chat module on its way as well.
This is what you'll see on the dashboard when you open the app: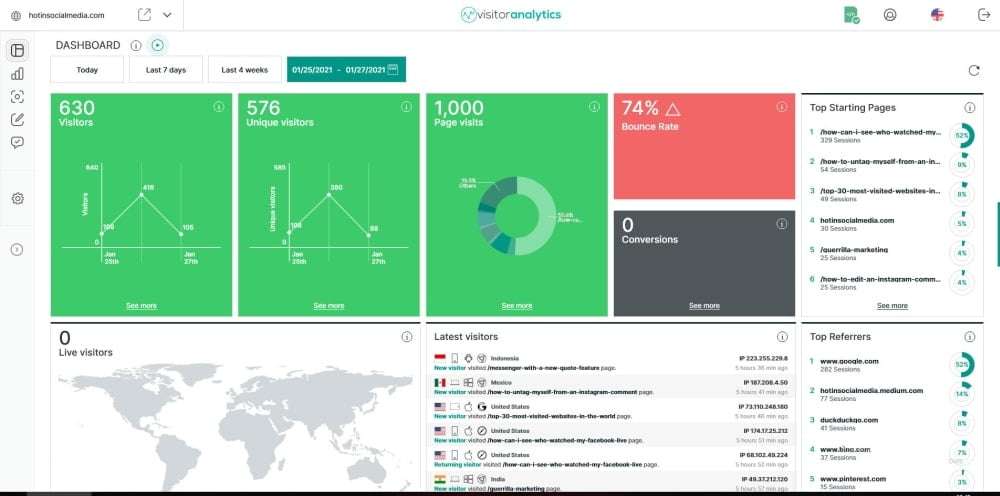 ---
Let's take the modules one by one:
Website Statistics
The Web Stats Overview shows you all the key performance indicators at a glance — number of new and returning visitors, number of sessions and session duration, number of page visits and amount of pages per session, and bounce rate — in two time intervals that you can choose and compare.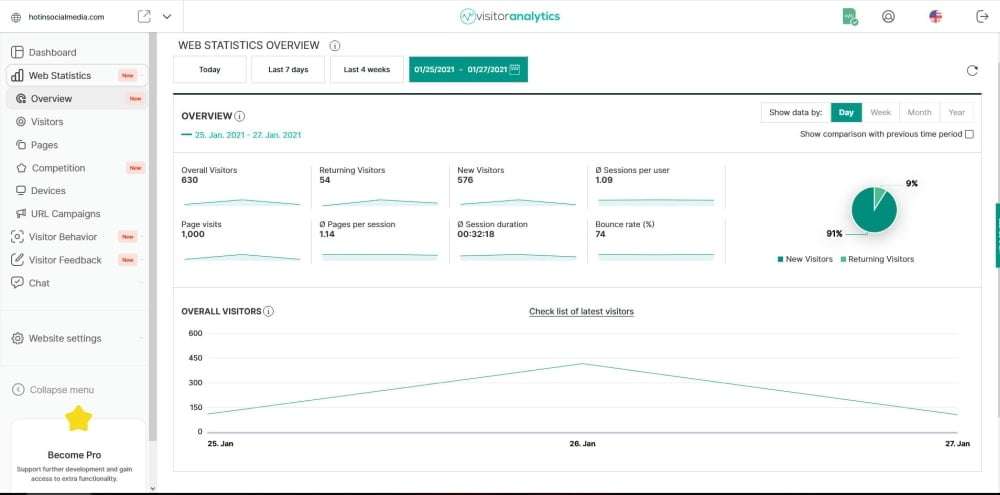 You can then go more in-depth and see where your visitors are coming from, if they're new or returning, what pages they visited, how much time they spent on the website, and what device they used:
You can even check each individual user's history for more details:

Then you can check out more in-depth metrics and analytics about campaign performance, what pages your visitors prefer, what page they landed on, where they exited and where they came from, as well as hardware information such as device type, browser, operating system, and screen resolution:
---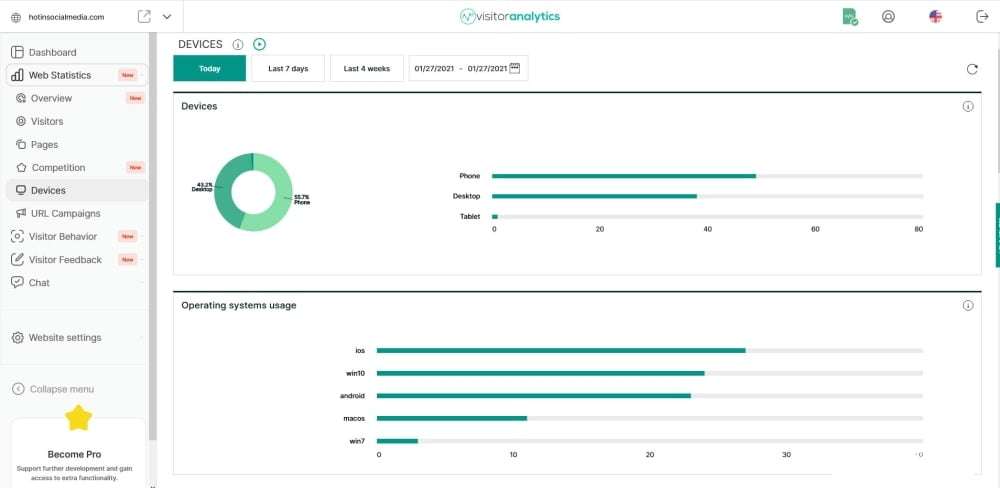 You can even check out how your competitors are doing:
Visitor Behavior
The behavioral analytics module includes a few amazing tools that allow you to properly analyze users and their behavior on your website: visitor recordings, heatmaps, and funnels.
Visitor Recordings
The visitor recordings feature enables you to record the visitors' sessions on your website and play them as real videos afterwards.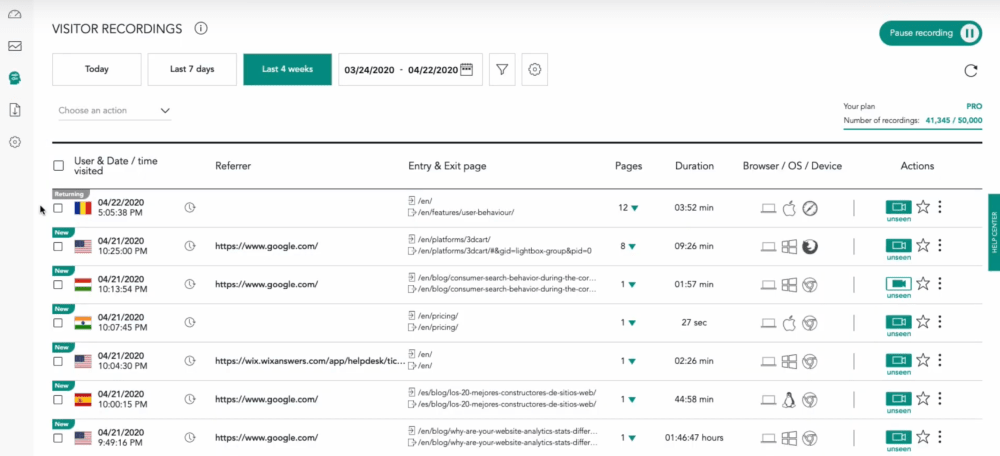 You will be able to see everything a certain user does on your website: where they click and scroll, where they hover over something, where they spend more time, and even what they type. In the player bar, you have the option of playing the recording at a faster speed and even jumping over inactive parts.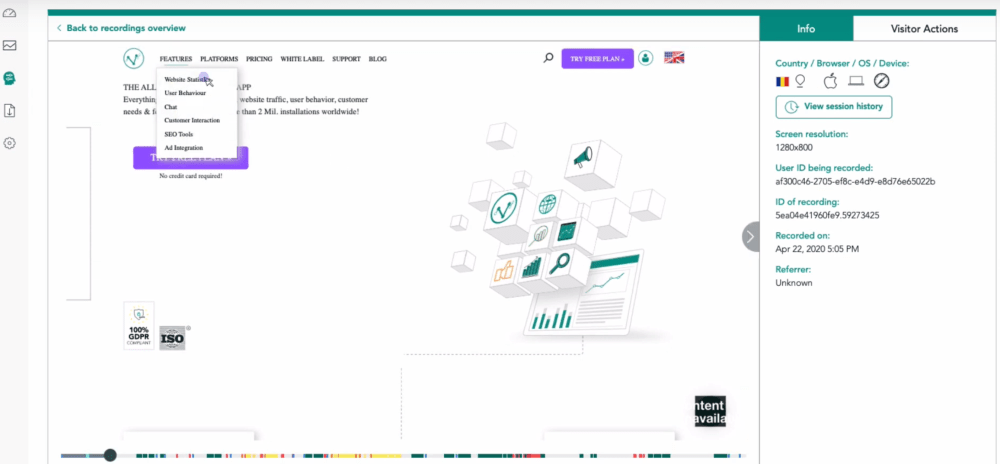 This is priceless, because it gives you the opportunity to identify common problems on your website, and it can even help you to drive more sales by getting to know your customers and what makes them click — literally.
If you find a recording that offers great insight, you can star it so you can easily find it afterwards, and even leave a comment for one of your team members.
If you are looking for a specific category of users, there are several filters to help you find them within seconds. You can filter users by country, device type and browser used, visitor type, and more. So, for instance, if you know Mac users are experiencing certain problems on your website, you can filter to see recordings associated only with Mac users.
Visitor Heatmaps
Heatmaps are powerful analytics tools that offer a colorful display to help you understand which areas of your website visitors interact with the most and the least. The warm colors will show high activity, while the cold ones will show less activity.
This is very important for optimizing your website and landing pages.
For example, if you have a form, you can notice that people click more on a certain field, or that users are distracted by a certain unclickable image that they want to click on.
Just like with visitor recordings, you can identify major issues on your website much more easily. You can see which menus are clicked on more often, if visitors want to click an unclickable element, or which of your pricing packages are more popular.
Visitor Analytics will generate a heat map for user clicks, mouse movements, taps, and scrolls depending on the type of device used.
You can also see a map of the top five countries with the most active website visitors.
Visitor Funnels
Simply put, visitor funnels allow you to monitor and optimize the conversion rate of the most important actions people can make on your website.
You can define a series of pages the user can go through to convert and then improve them with specific things.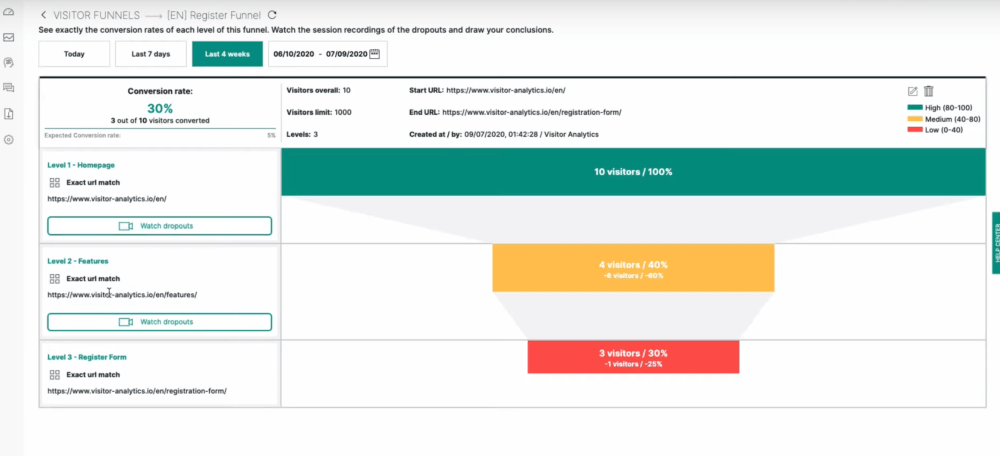 For instance, if you have an ebook that you want to sell and you have three articles through which people can find you by searching on Google, you can define a funnel for each of these three articles and monitor their conversion rate independently. One of the three articles might end up having a better conversion rate than the others, so you could focus your attention on optimizing that particular article rather than all three globally.
Typically, people work with an average conversion rate that is very difficult to improve unless you go into further details, so the conversion funnel can be a very important tool in your digital marketing toolbox.
You can see how many of your visitors dropped at each step, set the number of visitors you want to track, add up to 8 funnel levels, and visualize the color-coded results based on different time periods.
Visitor Feedback
With Visitor Feedback, you can set up polls and surveys for your website visitors that can get you invaluable feedback. You can choose from 10 different question types like rating scale, multiple choice, slider, etc., brand them with your own logo and colors, and create as many different polls and surveys in parallel as you like.
Ok, now that we're done with reviewing the modules — which are impressive and comprehensive in and of themselves — what else does Visitor Analytics have to offer?
There are three main assets that stand out:
Privacy
User-friendliness
Pricing
Privacy
Visitor Analytics is very serious about user privacy and confidentiality, and there are a few measures they implement to ensure the highest degree of safety:
Privacy Compliance, Certifications & Full Ownership of Your Data
Visitor Analytics is fully GDPR and CCPA compliant, providing only the website owner with aggregated and anonymized user data, and does not sell data or pass it on to any third parties.
Their customers are guaranteed full ownership of their data, which is sadly something not many of their competitors can brag about, including Google Analytics.
Their data center is also ISO27001 certified and constantly checked by the relevant authorities, so you can rest assured that your data is safe with them.
Cookieless Tracking
One major advantage of Visitor Analytics is that it doesn't use cookies to track website traffic.
Is that even possible and is it important? Yes and Yes!
Why?
Well, in a nutshell, because apps that use cookies to track website traffic will not be able to register all user activity anymore. And most website analytics apps do use them.
Cookies — and specifically third-party cookies — have become notorious over time for breaching privacy and confidentiality and selling user information for advertising purposes, and with stricter privacy regulations in place now, it's become illegal to use cookies without prior user consent.
This has determined some browsers like Safari and Mozilla — and probably more to follow — to block cookies altogether or strongly encourage users to do so, which means that website analytics apps that use cookies for tracking will not be able to access data from visitors who use these browsers without having cookies activated. Safari has blocked third-party cookies since 2017, Mozilla since 2019, and Chrome plans to phase them out as well within two years. 
So what does Visitor Analytics propose instead of cookies and how is it safer?
Visitor Analytics uses fingerprinting instead of cookie tracking, which means that when a user visits a website for the first time, they leave behind a digital fingerprint that can be recognized on later visits.
If you're thinking that sounds just like cookies, it's really not.
The main difference is that with fingerprinting, data is not stored on the user's device, which makes cross-tracking impossible and keeps the user's privacy intact. No more unrelated ads popping up for products you've checked out on a different website!
From a website owner's perspective, there are two main advantages to using an analytics app with fingerprinting instead of cookie tracking:
You will get complete website traffic data, even from visitors using browsers that block cookies.
You won't have to worry about privacy regulations and installing cookie consent banners on your website so you don't get fined.
User-Friendliness
I've touched upon this briefly at the beginning of the article, but user-friendliness is truly one of the benefits where Visitor Analytics shines the most.
They've somehow managed to uncomplicate a complicated tool — or at least make the user feel like it's an uncomplicated tool.
Most analytics apps provide a great deal of priceless data, which is amazing in terms of gained value, but that accomplishes nothing if it leaves users overwhelmed and confused.
With Visitor Analytics, you get all that precious data, but served in an easy-to-digest package. Your main data is color coded and available at a glance, and that is sometimes all you need to see if your website is performing well or not.
If you want to dig deeper, you can easily access the more in-depth data that is split into intuitive and easy-to-use sections.
Pricing
There are other tools out there that offer either website statistics or behavioral analytics like heatmaps and session recordings, but Visitor Analytics is an all-in-one service that offers all the website and user data you might need at a fraction of the price. 
With Visitor Analytics, you get all the statistics and analytics you need under one roof, so you won't need to install multiple tools to assess your website performance.
Plus, all the features are already included in the free plan, the only limitation is the quantity of data you can track and use. And that might be just enough for you, especially if you're at the beginning. You can always start paying further down the line if you need more data, and you can do so at a very affordable price.
Visitor Analytics offers four paid plans that start at $5.83/month and go up to $29.04/month when paid on a yearly basis.
There's really nothing like it on the market that offers the same amount of features!
Other features and tidbits worth mentioning:
A variety of plugins and compatibility with most website builders
Consentless tracking mode
One-click IP anonymization
Over 2 million installs worldwide
Chat module to be launched
Website currently translated in 11 different languages and app in 20
At Hot in Social Media, we're really in love with this tool and we hope more people find out about it. 
See also: How Do I Check My Instagram Statistics?