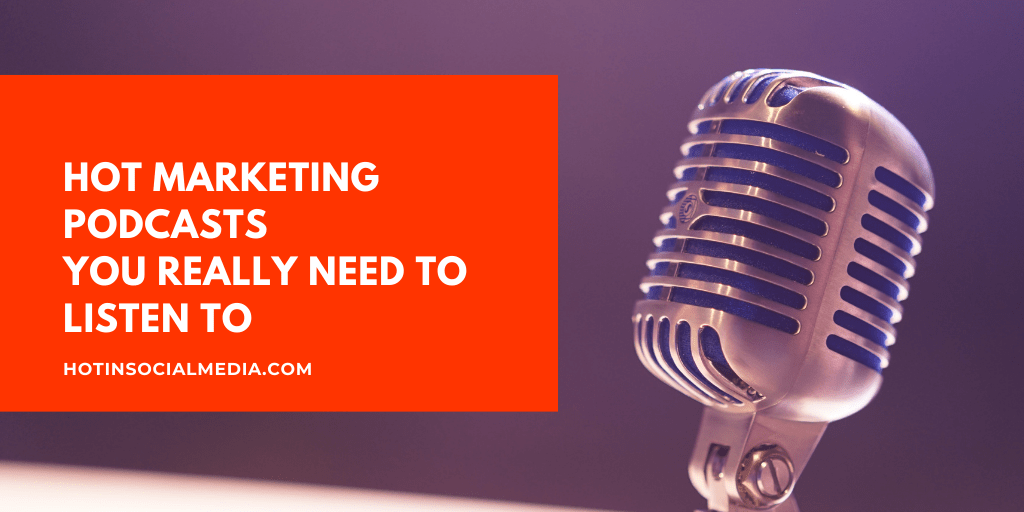 The podcasting market has had a huge increase over the past few years, with 37% of Americans having listened to a podcast in the last month, according to the Infinite Dial 2020. 
And it's no wonder! Especially when it comes to educational topics like digital marketing, listening to a podcast is like attending a free lecture that can give you priceless insights into a skill or industry that you're interested in.
But with sooo many marketing podcasts to choose from, where do you even begin? What are the best marketing podcasts? Which are the ones actually worth listening to?
This is where we come in to give you a hand! We've compiled a list with 20+ of the best marketing podcasts to listen to in 2021 and beyond, and we'll probably be adding more as time goes on and a new shiny marketing podcast grabs our attention. So here it is:
The Best Marketing Podcasts to Listen to in 2021
Hosted by Pat Flynn and awarded as The Best Business Podcast by both the Academy of Podcasters and PodcastAwards.com, The Smart Passive Income podcast has welcomed famous guests like Tim Ferriss, Gary Vaynerchuk and Amy Porterfield, and is ideal for people who are looking for strategy and advice for their online business from business professionals and industry experts.
With a background in architecture, Pat has had to change careers due to the economic collapse of 2008 and quickly learned how to tap into a passive income through Internet marketing, which in turn made him want to help others gain control of their careers and finances.
People love his content because it is relatable and he brings a human touch to a business-oriented podcast. Pat is not afraid to be vulnerable and real, that's why a lot of subscribers appreciate the episodes where it feels like he's talking directly to his listeners the most.
Many listeners say he is the best interviewer they've ever listened to and that he has helped them discover areas of business they previously knew nothing about and taught them things they didn't even know they needed to think about.
If you need to learn about podcasting, improve your online marketing and blogging strategies, and create a passive income as an entrepreneur, consider listening to the SPI podcast. It's good for both beginners and people who are more advanced on their entrepreneurial journey.
Why not to subscribe: While most people love The Smart Passive Income content, some listeners complain Pat's voice is annoying. Other users feel there are too many ads and self-promotion and that the content is repetitive. In my experience, it's a trial and error type of thing. One style does not fit all.
Subscribe on: Apple Podcasts, Spotify, Google Podcasts, Stitcher, Tunein, or Overcast
If you're into digital marketing podcasts and you don't know about Gary Vaynerchuk, you've probably been living under a rock. A 5-time New York Times best-selling author, public speaker, and prolific investor and entrepreneur, Gary has a few words of wisdom to share in his podcast.
The GaryVee Audio Experience, featured in the global top 100 iTunes podcasts, is a mix of interviews, keynote speeches, highlights from the DailyVee — a docuseries about life as a public figure and CEO — and snippets from the #AskGaryVee Show.
But moving past all the accolades, what people love most about Gary V is that he's raw and direct. Unlike many other marketing podcasts, The GaryVee Audio Experience is user-focused, doesn't sugar coat things, skips all the fluff and gets directly to the real and helpful business and marketing information. Gary shows emotional intelligence and is considerate of most people's lack of time, that's why he releases short and sweet daily episodes.
He teaches not only about business and digital marketing, but also about important values like patience, humility, gratitude, empathy, hard work, and focusing on the process and not the end result. His listeners appreciate that he doesn't try to sell the secrets to success, but rather share his own experience and motivation, which inspires people and helps them find their own motivation and the shift in mindset needed to want to change their daily habits and be more proactive.
Why not to subscribe: Some listeners complain that he continuously talks over speakers.
Subscribe on: Apple Podcasts, Stitcher, SoundCloud, Overcast, iHeart Radio, Spotify, Google Podcasts, TuneIn, Acast, Castbox, or Google Home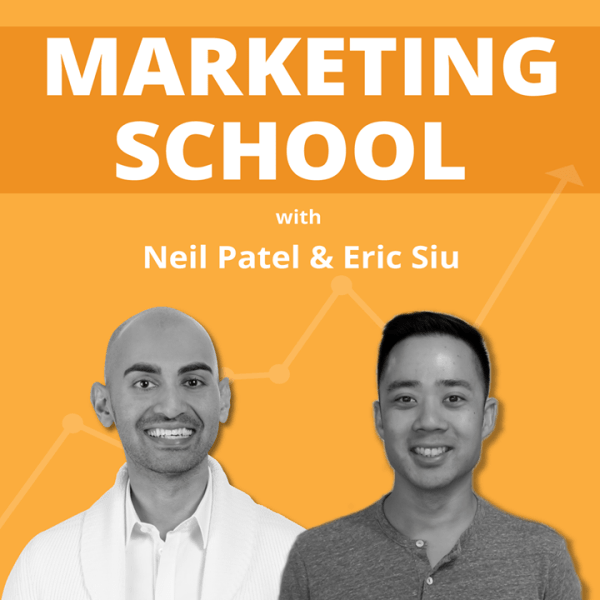 Hosted by digital marketing giant Neil Patel and marketing expert and entrepreneur Eric Siu, Marketing School is one of the shortest podcasts in digital marketing out there, with just 10 minutes of daily marketing advice. If you're short on time, consider subscribing to Marketing School.
It's ideal for people who have a new website, as well as those with established businesses because it offers actionable information in short digestible episodes on specific topics like social media, influencing and SEO. Unlike longer podcasts like The Social Media Marketing podcast or certain episodes of the GaryVee Audio Experience, Marketing School feels less intimidating and overwhelming. And not just because of its shortness, but also due to the way the information is presented in the form of actionable daily marketing tips.
People love the show notes included and the fact that the episodes are accurately titled, which means that you can easily browse through them and find what is relevant to you at the moment.
If you're looking for motivation to start your day — or your online business — the Marketing School podcast is a good alternative for marketing and entrepreneurial tips and tactics.
Why not to subscribe: While a lot of people love that the Marketing School episodes are so short, it may not be ideal for people who have a long commute. Some users actually find it annoying and feel that podcasting should be longer to allow for deeper content and processing of that content. Other users have complained about the declining quality of recent episodes, and more specifically about the audio quality and the fact that the intro is broken and it skips around. There have also been complaints about the show containing too many ads for their own services, as well as other people's.
Subscribe on: Apple Podcasts, Stitcher, SoundCloud, Spotify, YouTube, or Google Play
Hosted by Michael Stelzner, the man behind the largest conference in social media marketing and founder of Social Media Examiner, the Social Media Marketing podcast has maintained its spot in the top 10 marketing podcasts over the past seven years.
It's one of the best social media marketing podcasts out there geared mostly towards beginners with little to no experience in entrepreneurship and social media, as it includes interviews and success stories from social media marketing experts in a 45-minute weekly format.
It's ideal for small business owners, social media managers, marketers, as well as tourism professionals looking to freshen up their knowledge, explore new ideas, and find reputable social media marketing leaders.
Listeners love Michael's voice and upbeat interview style because he's very good at digging deeper and asking his guests follow-up questions that the subscribers themselves would ask if they were interviewing that person. That's good because it gives people the chance to better assimilate the content and immediately implement strategies and tactics to successfully use social media for their business.
Subscribers also appreciate the variety of guests and topics, and the rotation between social media platforms.
Why not to subscribe: One common reason for dissatisfaction among listeners is the abundance of ads. Other listeners feel the titles are sometimes misleading.
Subscribe on: Apple Podcasts, Spotify, Google Podcasts, or RSS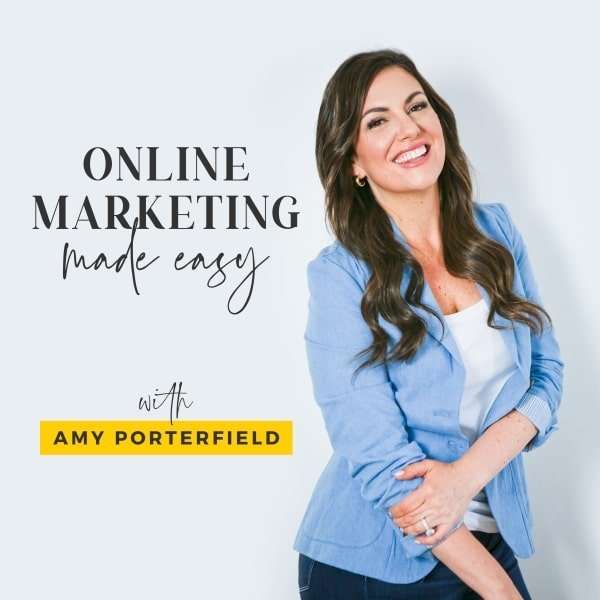 One of the top-rated online marketing podcasts, hosted by Amy Porterfield. Online Marketing Made Easy is a series of classified secrets from Amy's biggest launches, execution plans, and expert interviews.
What people love most about this podcast is how calm, approachable and relatable Amy is. Listeners feel like she's been in their shoes and understands how overwhelming it is. She delivers marketing advice in a positive way, with step-by-step instructions and a content document in the show notes. That's why Online Marketing Made Easy is ideal for beginner marketers, entrepreneurs and business owners who might be confused by the information found in other more advanced podcasts.
If you need to learn the basics about building impressive email lists, creating online training courses, and implementing marketing strategies, consider subscribing to Online Marketing Made Easy.
However, don't be deterred from it if you're more advanced either because people feel they've learned valuable marketing strategies from Online Marketing Made Easy at later stages of their business as well. It has helped them make their online businesses more profitable.
Why not to subscribe: While most listeners love Amy's voice and calm style, some people find her podcast boring and complain about having no music on the show. Others feel there's too much fluff and running around before getting to the actual tips, so it may not be ideal for those with a short attention span.
Subscribe on: Apple Podcasts or Spotify
Chief Sumo at Sumo Group, which helps small businesses grow, Noah Kagan also hosts the Noah Kagan Presents Podcast that helps entrepreneurs grow their business, come up with new strategies, improve their life and productivity overall.
Guests include top performers in all industries, including CEOs, consultants, entrepreneurs, and more.
Subscribe on: Apple Podcasts, Stitcher, Spotify, Google Podcasts, or Listen Notes
If you already read the Buffer blog for top marketing tips, you'll definitely enjoy The Science of Social Media podcasting series put together by Buffer's social media marketing experts.
Join in weekly to discover top insights into social media marketing, implement new strategies, and prepare to stand out from the crowd!
Subscribe on: Apple Podcasts, Stitcher, SoundCloud, Spotify, or Listen Notes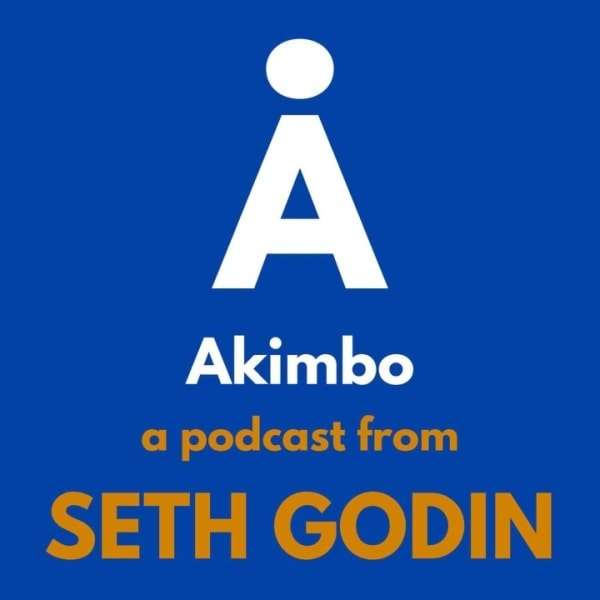 This list of top marketing podcasts would not be complete without Seth Godin. Author of one of the most popular marketing blogs in the world and of 19 best-selling books, Seth is a speaker, teacher, and entrepreneur that truly needs no introduction.
If you enjoy reading his blog, you'll definitely enjoy listening to the Akimbo podcast and being fed constant nuggets of marketing wisdom.
Subscribe on: Apple Podcasts, Stitcher, Google Podcasts, Overcast, Acast, or RSS
Held by the Content Marketing Institute and hosted by Joe Pulizzi and Robert Rose, This Old Marketing is one of the best content marketing podcasts on the market. Each weekly one-hour episode includes content marketing news, with insightful stories into the industry, rants and raves, as well as old content marketing stories that you can learn from.
People love the unique format and compelling content that's great for mid to advance level content marketers.
Subscribe on: Apple Podcasts, Stitcher, Spotify, Google Podcasts, TuneIn, PodBean, or Listen Notes
CoSchedule not only offer a social media management software, but they also host the Actionable Marketing Podcast with the same goal in mind — to help online marketers.
The Actionable Marketing Podcast features weekly interviews with marketing geniuses from around the world, strategies, and advice for marketing pros willing to take action.
Subscribe on: Apple Podcasts, Stitcher, SoundCloud, Spotify, or Listen Notes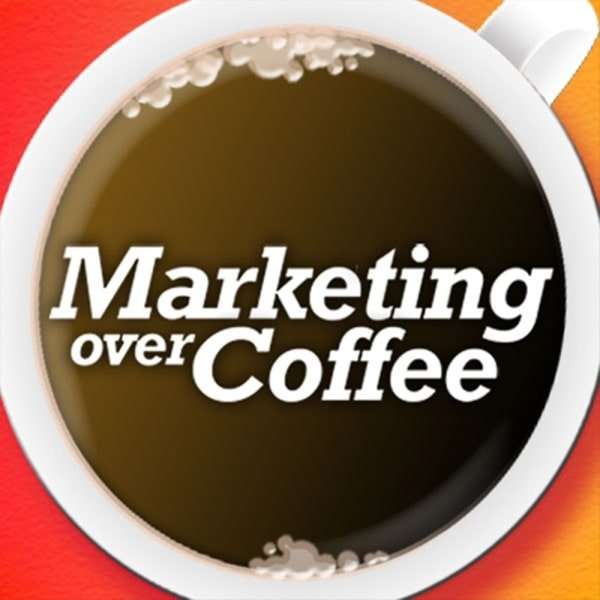 Hosted by John J. Wall and Christopher S. Penn, the Marketing Over Coffee podcast is a 20-minute weekly podcast filled with marketing tips and tricks that you could only get from a casual conversation over coffee.
So grab a cup o' joe, get up to date with social network news, and learn cool new SEO, search marketing, and email marketing tips, as well as old-school offline marketing techniques.
Subscribe on: Apple Podcasts, Stitcher, or Spotify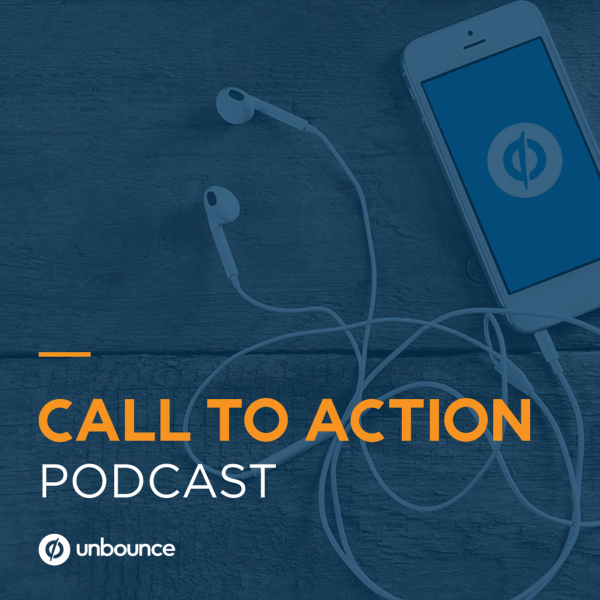 Featured on the Unbounce blog, Call to Action is one of the best digital marketing podcasts, breaking down the art and science of strategies that optimize marketing campaigns. Digital marketing professionals talk about their incredible online marketing success stories and how you can apply the lessons to your own business.
Get actionable tips to improve your conversion rate, as well as limited offers for marketing events, resources, and optimization tools.
Subscribe on: Apple Podcasts, Stitcher, or Spotify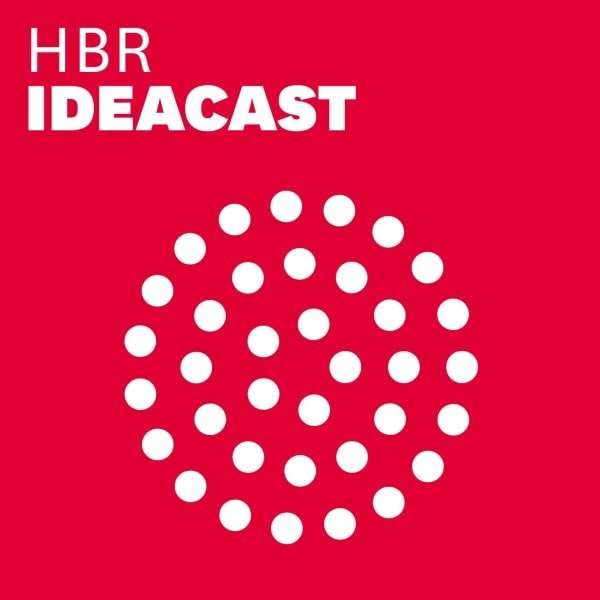 Hosted by Alison Beard and Curt Nickisch, senior editors at Harvard Business Review, HBR's IdeaCast gives out weekly episodes that feature the leading thinkers in business and management from Harvard Business Review.
Tune in to find out what some of the world's greatest academics have to say about the week's hottest topics in digital marketing, with actionable takeaways.
Subscribe on: Apple Podcasts, Stitcher, SoundCloud, Spotify, Google Podcasts, TuneIn, or RSS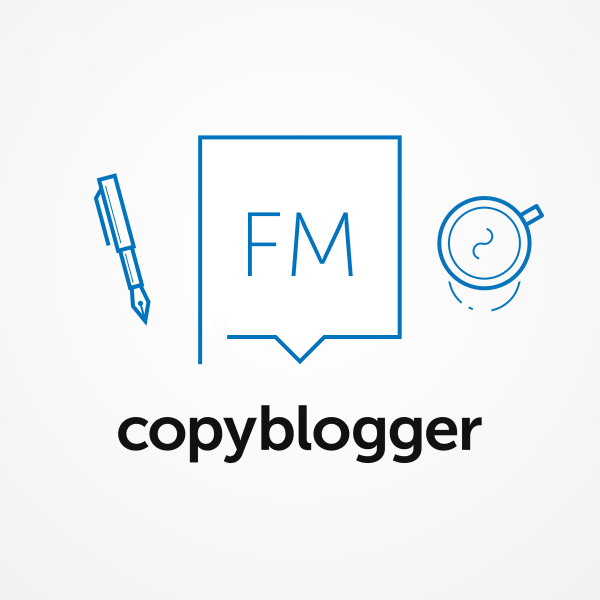 Hosted by Darrell Vesterfelt and Tim Stoddart, Copyblogger FM is a short 25 to 30-minute weekly podcast featuring expert analyses on content and email marketing, conversion optimization, copywriting, and so much more.
If you need copywriting and content marketing tips, you shouldn't miss this one.
Subscribe on: Apple Podcasts, Stitcher, Spotify, PodBean, or Listen Notes
Produced by DigitalMarketer and hosted by Ralph Burns and Amanda Powell, Perpetual Traffic focuses on teaching you how to get leads and sales through paid traffic, combining strategies developed by DigitalMarketer and the real-life experiences of agency Tier 11, where Ralph is a CEO.
So, whether you're a beginner or expert at social media advertising, you'll have something to learn from the stories of business owners who overcame the online advertising and digital marketing struggles that you are facing.
Subscribe on: Apple Podcasts, Stitcher, Spotify, or Listen Notes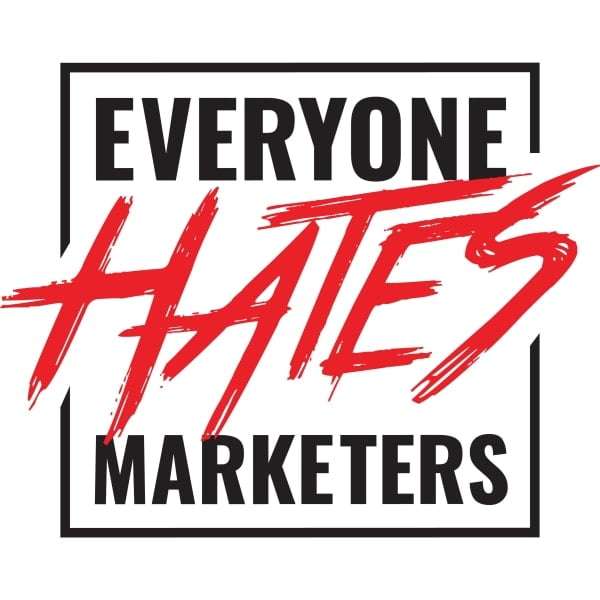 Everyone Hates Marketers is not your typical marketing podcast. With a burning desire to cut through the unnecessary fluff and obvious marketing BS, host Louis Grenier interviews marketers who are not afraid to spill the beans and be real.
If you want to become a good marketer that treats people like you'd like to be treated, this is the marketing podcast for you.
Subscribe on: Apple Podcasts, Stitcher, or Spotify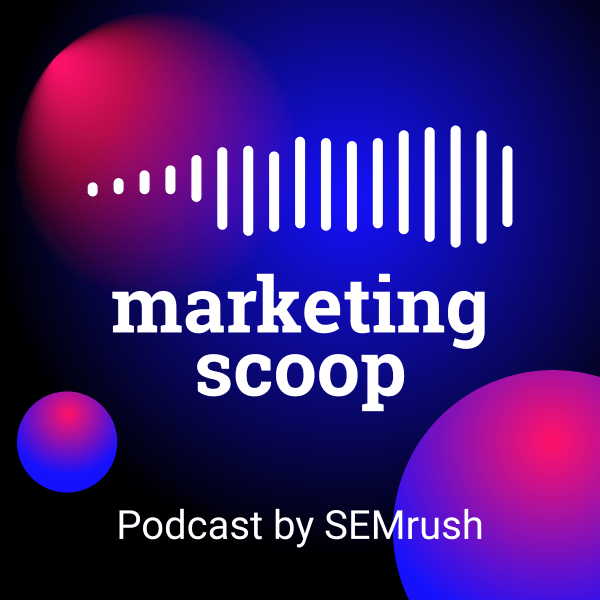 SEMrush's Marketing Scoop Podcast highlights case-based marketing growth stories from local brands to giants like IKEA, Uber, Vodafone, Google, and more. Join host Laura Morelli and find out precious insights, strategies, and tools from successful marketers who've done it all.
If you're a marketer interested in AI, content creation, and SEO tools, you should definitely tune into this podcast.
Subscribe on: Apple Podcasts, Stitcher, Overcast, Spotify, or Google Podcasts
Hosted by marketing expert Aaron Agius and co-founder of Web Profits, Sujan Patel, The Growth Mapping Podcast focuses on the latest marketing growth tactics and strategies to take your business to the next level.
Each 15 to 25-minute episode discusses one topic that can get you more money and customers.
Subscribe on: Apple Podcasts, Stitcher, or SoundCloud
Andrew Warner, the host of the Mixergy podcast, created a $30+ million/year business in his 20's and he's passionate about helping ambitious business people make their dreams come true.
Mixergy is a series of interviews with experienced mentors and business founders who share their business tips for startups. Andrew asks really challenging questions that lead to real and thorough answers about how startups came to life and became prosperous.
Subscribe on: Apple Podcasts, Stitcher, Spotify, Google Podcasts, PodBean, or Listen Notes
Hosted by Erin Sparks of Site Strategics, EDGE of the Web is a podcast covering digital marketing topics like content marketing, social media, and SEO. The hour-long episodes are broadcasted weekly and feature interviews with leaders in digital marketing, as well the latest news and trends in the industry.
If you're hardcore into SEO and improving your SERPs, this is one of the marketing podcasts you wouldn't want to miss.
Subscribe on: Apple Podcasts, Stitcher, SoundCloud, iHeart Radio, Spotify, Google Podcasts, TuneIn, PodBean, Blubrry, Spreaker, Player FM, YouTube, or Google Play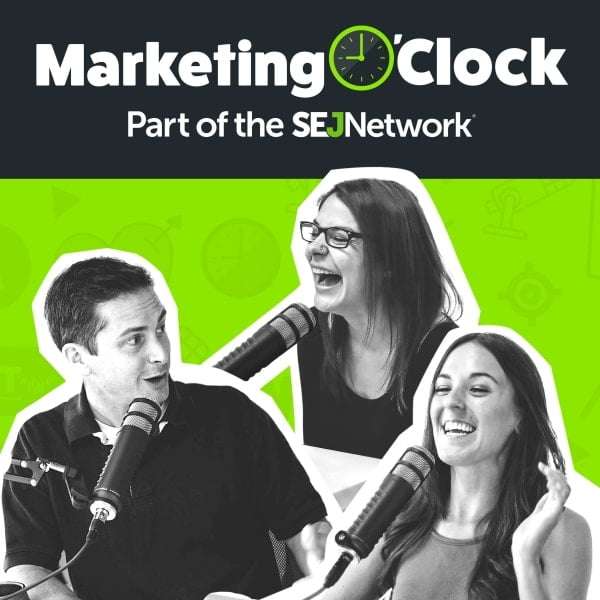 Hosted by the team at Cypress North, a digital agency located in New York, the Marketing O'Clock podcast presents weekly digital marketing news in a fun and sassy way, trying to educate people on topics like SEO, PPC, and social media marketing.
Tune in for sincere conversations with experienced marketers and be prepared to learn about the industry while also being entertained with puns and terrible jokes.
Subscribe on: Apple Podcasts, Stitcher, Overcast, Spotify, Google Podcasts, Anchor FM, Castbox, Pocket Casts, Breaker, or Radio Public
Hosted by best-selling author John Jantsch, the Duct Tape Marketing podcast features small business marketing insights from business leaders around the world. John Jantsch has been interviewing thought leaders, authors, and experts for over a decade, sharing with us incredible stories and secrets from the marketing industry.
Tune in to learn tips and tricks from guests like Neil Patel, Guy Kawasaki, and Ann Handley, and apply them to your business.
Subscribe on: Apple Podcasts, Stitcher, Spotify, Google Podcasts, PodBean or Listen Notes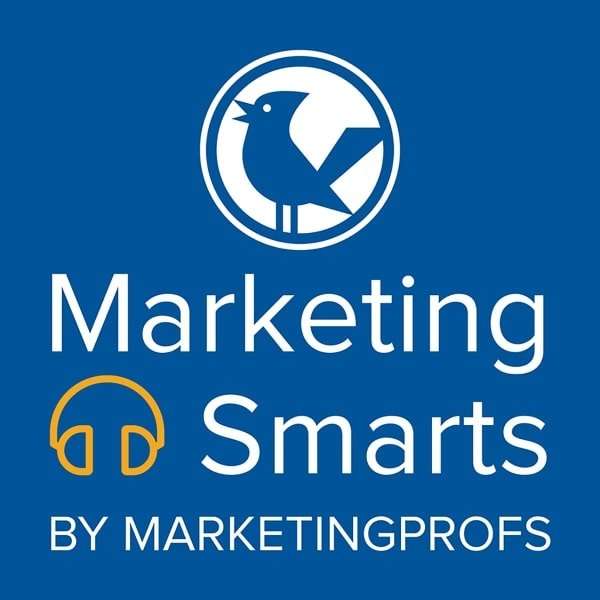 Hosted by Kerry O'Shea Gorgone, enterprise trainer at MarketingProfs, Marketing Smarts is a weekly podcast featuring 30-minute interviews with marketing experts from around the world. The episodes are packed with tips that can lead to real actionable steps.
Tune in to learn valuable advice from diverse marketers and start implementing them for a successful business.
Subscribe on: Apple Podcasts, Spotify, Google Podcasts, Acast, PodBean, or Listen Notes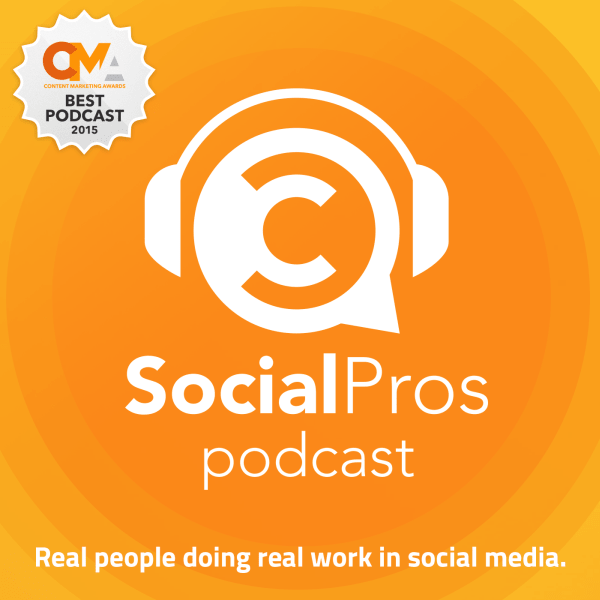 Hosted by Jay Baer at Convince & Convert and Adam Brown at Salesforce, the Social Pros podcast is one of the most popular marketing podcasts, being named the best podcast at the most recent Content Marketing Awards.
Social Pros features active social media practitioners who share insights into their successful marketing strategies, with each episode ending with rapid-fire answers to two important questions.
Subscribe on: Apple Podcasts, Stitcher, Spotify, Google Podcasts, Acast, or PodBean
Hosted by LinkedIn co-founder Reid Hoffman, the Masters of Scale podcast shows how iconic companies went from zero to a hundred overnight, with stories and strategies that helped them grow into global giants.
Set on a cinematic music background with no resemblance to a typical business podcast, each episode proves an unusual theory on how businesses can grow, with stories of success spiced with elements of human failure and setbacks.
Subscribe on: Apple Podcasts, Stitcher, Spotify, or PodBean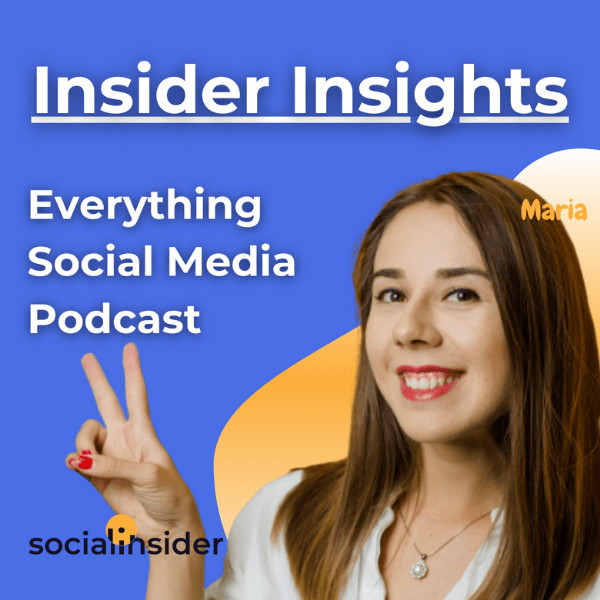 Socialinsider, a social media competitive analysis tool, is hosting a podcast called Insider Insights Podcast.
Maria, the host of this show, describes herself as a social media lover and a storyteller. She will talk to social media professionals who work in freelance, in-house for a company, and in an agency environment to get the best of all worlds.
Subscribe on: Apple Podcast, Spotify, or Google Podcasts
Each one of these podcasts has something special to offer and we're confident you'll find at least a few gems that are to your taste and suitable to your skill level.
What if you're a beginner? What are the best marketing podcasts for beginners?
A lot of the marketing podcasts offer invaluable insights for both beginners and experts, but here are a few that are especially good for beginners:
The Social Media Marketing Podcast
Online Marketing Made Easy
HBR IdeaCast
Marketing Over Coffee
The Duct Tape Marketing Podcast
Marketing School
We hope you enjoy, and let us know in the comments below which ones are your favorites!
See also: Mistakes I've Done In Podcasting That Lead To Failures