It has been some good months where I am writing for HotinSocialMedia.com and I constantly wonder what else I could do to further enrich the reading experience of the avid readers here. For those who read my work, you probably saw me writing a lot of tips on social media.
And this struck me pretty much! I had not been sharing much about my failures.
So, I am 'dedicating' this week's blog post with the mistakes I had done in podcasting (you can read my podcasting tutorial if you are a complete beginner).
I started two podcasts in the past and trust me, I prepared myself for the worst. Regardless my preparations, I wasn't prepared for what that was ahead of me.
If you are planning to start a podcast anytime soon, this article is for you. Bookmark this, print it out or even share with your friends. I am 101% that you will find this useful.
Let's dive in, shall we?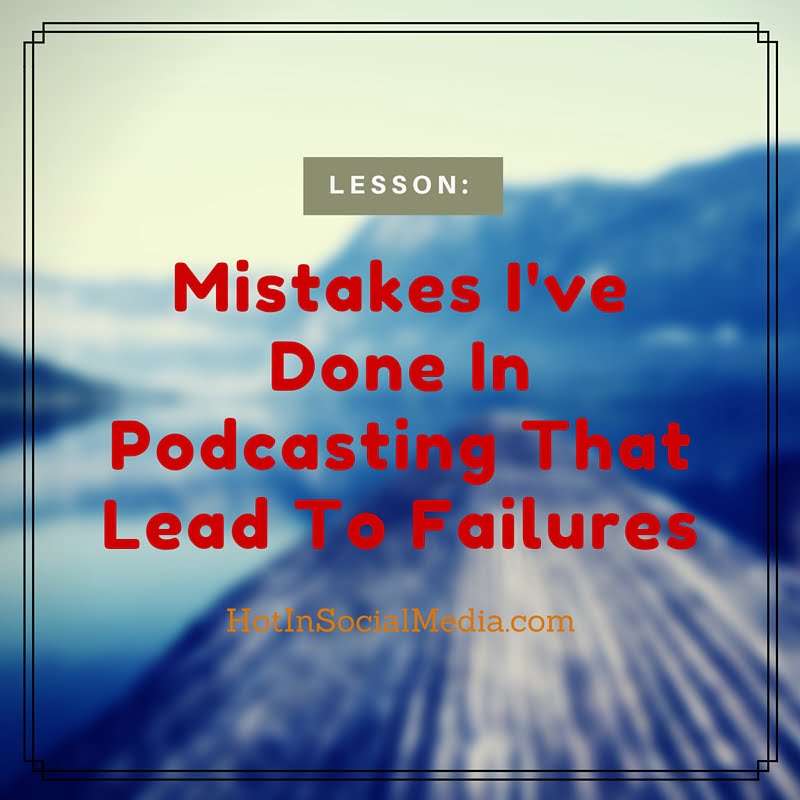 Mistakes I've Done In Podcasting That Lead To Failures
1. The 30 days New and Noteworthy section
You may hear podcasts of Entrepreneur of Fire (EO Fire), ProBlogger and Pat Flynn. They all have one thing in common — they talked about leveraging the New and Noteworthy section.
The concept here is pretty simple. The section is dedicated for new podcasts which gain a lot of momentum during their first 30 days of launching. Instead of being ranked on the last, possible page (in iTunes results), you get a quick route to fame.
Sounds good, right? Not really.
In my case, I thought that was it — the golden ticket to achieving stardom in the shortest time possible. To my dismay, the 30 days boost in ranking isn't useful if you don't have a good plan.
A "good plan" in this case requires more than just publishing new podcasts on a daily basis. It requires a detailed planning and content strategy to make podcasting work for you.
Important takeaway: News and Noteworthy section is good for getting some sort of publicity and marketing boost. However, do not expect it to provide a lot of advantages especially when that is your only (or main) plan to get a lot of traction for your podcast show.
2. The mental torture of statistics
During my podcasting days, I was using Libsyn to host all my podcasts. It is pretty much an awesome podcast hosting with is super affordable for many (including me). The below is the pricing: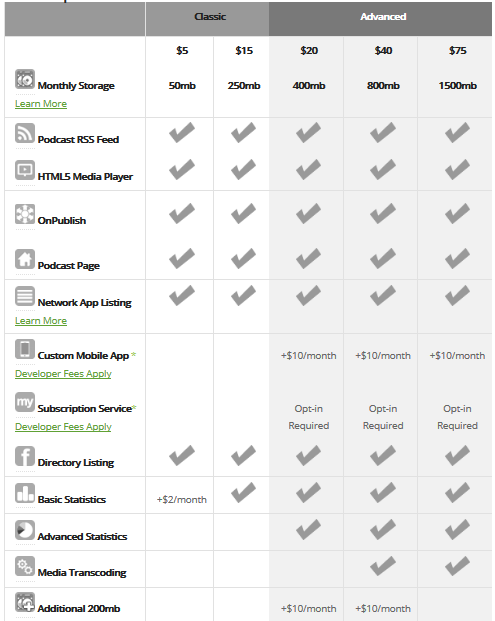 Make no mistake. It costs you a mere $5 per month to host a podcast! That's cheap, right?
Libsyn is awesome because it gives you a lot of flexibility. Since I was subscribed to $20 plan, I have access to several premium features such as 'Advanced Statistics'.
Now here's where the problem started. This feature allows me to check on specific information related to my podcasts such as the number of downloads and location of the listeners.
Within a week, I concluded that I am not going to get 10,000 or 100,000 downloads in a month because the traction I was getting was very low.
Sure, there are people listening to my podcasts but the numbers aren't enough for me to sustain (or at least, that was what I thought at that time).
I got obsessed with stats and I was literally 'glued' to the figures on a daily basis.
Important takeaway: You are not going any further if you are constantly looking at statistics. Furthermore, you should not expect to get thousands of listeners within the first month of your podcasting.
3. The curse of procrastinating
The demotivation felt above was just one part of the equation. Procrastination was the next challenge you have to face in podcasting.
When you get demotivated, you tend to lose hope and literally become 'tired' of podcasting. The task of preparing a podcast (from recording to publishing) takes a lot of effort and time.
When you start procrastinating, it just gets worst and you will end up doing nothing. At least, that was what happened to me during my podcasting time!
You may well aware that podcasting requires many steps before you are finally able to publish it. One of the steps you can take is by breaking the process down into stages.
For example, you can break each process into 30 to 45 minutes gaps to ensure that you are able to maintain the focus. I learned that I could record a podcast in advance, cleaning and adjust the audio hours later and publish the finished podcast at another time.
Also, another great way is to record multiple podcasts in advance and to publish them accordingly. This ensures that you do not rush in publishing a podcast.
4. Giving up completely
When you have the above three mistakes happen to you, this is where you will start to give up. While podcasting is a great way for marketing, you will consider it as a completely waste of time and you will feel like giving up.
By far, giving up is the biggest mistake I had done in podcasting.
You should always give podcasting a chance and instead of throwing the towel, take some time to enjoy the process.
Always remember that giving up isn't going to solve the problem. As a matter of fact, it is going to waste you time and resources!
Here are some nifty tricks you do to avoid giving up:
Listen to motivational podcasts (example EO Fire)
Convince yourself that podcasting is a way to boost your business
Pause the podcasting process and continue it at a later time
Give yourself a break
Commit yourself to podcasting at a slower pace
Conclusion
Podcasting is an awesome tool and methodology for digital marketing. In the right hands and strategy, podcasting can really take your business to the next level as you will be able to reach out to a whole new set of audience.
However, podcasting takes up a lot of time. You need to prepare yourself in podcasting and always seek for support whenever you need. Always remember that you are not alone when it comes to marketing!
What do you think? Leave a comment below and let's discuss!
See also: 3 Types of Podcasts That Drive Social Traction