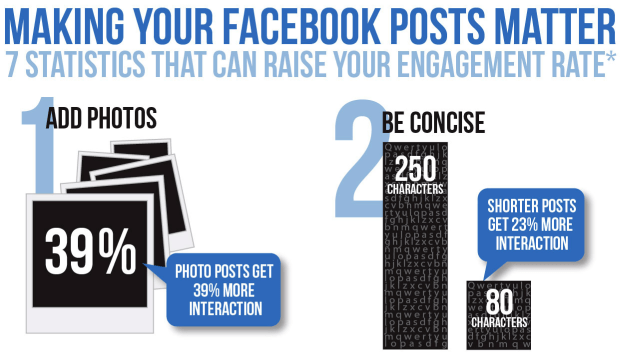 It's certainly no secret that engagement rates on Facebook have gone down since the social networking giant messed with its algorithm last year. Estimates put engagement at half or less than what it was at this time last year. That has led to frustration for businesses that depend on organic Facebook reach to promote and sell their products.
Still, it is possible to continue to engage your audience. You just have to know the right way to go about it. A great new infographic offers seven ideas to help small businesses re-engage with their Facebook fans. Here we examine in-depth three of the top tips to increase engagement on Facebook.

How to Increase Engagement on Facebook
Be Concise
Nobody likes a windbag. The infographic points out that shorter posts actually get a higher rate of engagement. Posts with fewer than 250 words can jack up engagement by 60 percent. How low can you go? Well, getting below 80 characters bumps engagement up to 66 percent.
How to do it:
Pick subjects that don't need a lot of explanation.
Ask short questions to get people talking.
Have different people write the posts to keep things fresh and peppy, though short.
Use Emoticons
This may come as a surprise to those of us who are tired of seeing the little J pop up in correspondence, but it's proven to be true: Using emoticons results in a 33 percent boost in shares. Emoticon posts also draw 33 percent more comments and are liked 57 percent more than those that do not contain emoticons. Why? Most likely because emoticons convey emotions, and emotions are important on social media. They're what drive people to comment.
How to do it:
Pick fun, different emoticons people may not have seen before.
Use the emoticon to convey something interesting.
Don't use emoticons on serious posts or, even worse, posts apologizing for a problem.
Time Your Posts Right
People are forever trying to figure out the best time of day to post, but have you given any consideration to which day of the week you should be active on Facebook? The infographic says that Thursdays and Fridays have 18 percent higher engagement rates than other days of the week. That means you should make sure you post on those two days or, better yet, put up multiple posts on these days.
The reason for this may be that it's closer to the weekend. People are on social media making plans to go out on Friday and Saturday. They're also in a more relaxed mood than the beginning of the week, with the weekend near, and so they're more likely to sneak off during work and devote some time to Facebook.
How to do it:
Establish regular Thursday and Friday post topics, such as Throwback Thursday or Funky Friday.
Ask people about their plans for the weekend.
Post a video; studies have also shown that people are more likely to watch a video on Facebook on a Friday than any other day of the week.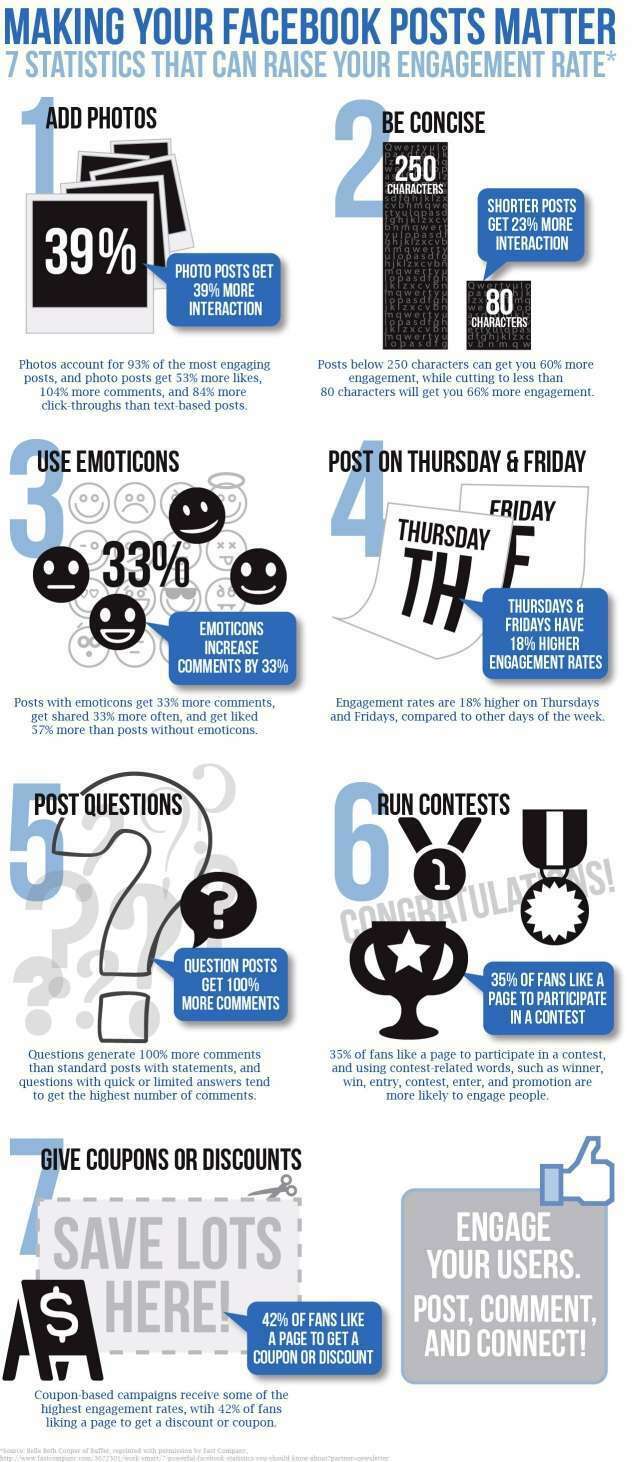 See also:  How to increase Facebook engagement by over 250%