The largest social network in the world, Facebook, with more than 2,2 million users and numbers that are still growing, has decided to shut down three of its apps that didn't have the traction they thought they would. This means that Moves, tbh and Hello will stop working in the following weeks. Let's see what they represented and why are they shot off.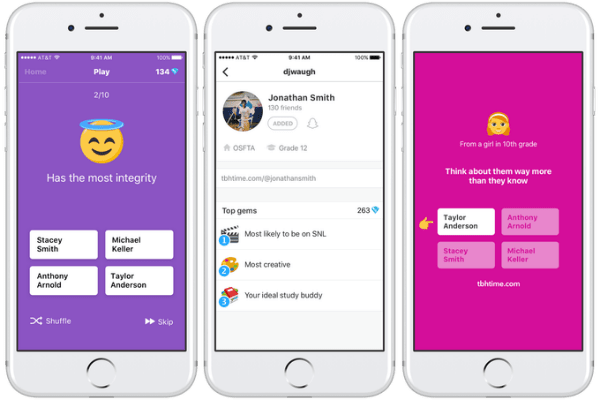 Images source: TechCrunch
Facebook Shuts Down 3 Apps
Moves
Moves is a fitness app that has been acquired by Facebook in 2014. What is does is recording physical activities such as walking, running, cycling. By that time, Facebook thought it will be a powerful tool that would help people keep track of their activities and share statuses with their friends. It seems the app didn't have the desired traction and the number of downloads didn't increase as they would have hoped. After not being updated in more than 1 year, Facebook decided they will shut down the app and all the data that is linked to it on July 31.
Hello
Hello is the Android app that has been released in the US, Brazil, and Nigeria only in 2015 and it enables users to sync phone contacts with the ones on Facebook. It was meant to be a TrueCaller copy, which shows you the Facebook profile of a person when he or she calls you or when you call them, so you could decide whether you want to pick up or not.
As the app didn't expand either geographically, nor in what new features are concerned, they have decided to shut it off as well in the following weeks. Don't even bother to look for it on the Google Play, as it has been removed on June 26.
tbh
Last year, Facebook has announced they have bought a new social media platform for teenagers, called tbh, in an effort to gain more users from a different target that they had until the day. The app was an anonymous compliment one for teenagers and it seemed to be what Facebook was missing. Still, the app was meant for US teenagers only and it seems it didn't have much traction after the acquisition. They didn't say when they are going to shut it down precisely, but it will for sure be in the following weeks.
Facebook representatives say that they are trying to focus on what has traction and in improving services and apps that are relevant for their users and potential ones as well.
See also: 9 Project Management Tools for Social Media Managers