It's not an easy task to market a business, a brand or a website. However, if you are using the right tools and the right words to convey your messages, things may get simpler and easier for you. While on the message we cannot help you as you need to find your own inspiration, we can help you select the tools that will make your life easier. Thus, today, we are going to talk about a specific type of tools, the GIF makers.

Why GIF?
Is GIF still a thing in 2018? Well, yes. It may not be as popular as 10 or 15 years ago but still, it represents an effective way to convey a video or an animated message. GIFs have the potential to become great social media posts and banners and they are easy to make. While HTML5 seems to catch up to speed with GIF's popularity, right now, the easiest option for a great video/animation is still the GIF file format.

Now, let's get back to the main question. Why GIFs?
Well, according to Twitter, people share more than 100 million GIFs every year on their platform. Considering that Twitter is nowhere near Facebook when it comes to audience, we can easily assume that this file format is as popular as ever throughout social media. At the same time, it is said that people remember only a fraction of what they read without visuals. Therefore, visual imagery is important for a marketer who wants to advertise a brand, a website or a service way better than through traditional content marketing. Besides, people love visual content.
As a matter of fact, more than sixty percent of social media is made of images and that is the main reason it manages to capture the viewer's attention.
According to Buzzsumo, Facebook posts with images get at least 2 times more engagement than the text-based updates. On the other hand, Twitter posts with images, get 150% more retweets. As consequence, you need visual content. And, what better way to provide this type of content than through animations and videos?

The tools you need
Considering what we've learned so far, we already know that visuals perform better than text on social media. We are therefore aware of the power of visual media and we already know why GIFs are a great choice in this context. What about the tools we need? How can we create the best GIF animations? Where should we start?
We all know that most of our creative work is linked to the software and apps we use. We need to select the apps that suit our needs the best and at the same time, the apps that allow us to be efficient and save precious amounts of time without losing on professionalism or visual look.
Are you ready to make your selection? Well, let's take a quick look at five best gif makers tools we can use today.

Best Gif Makers You Have To Use Today
When it comes to Giphy, simplicity is the key. Besides the comprehensive database featured by this service, that contains thousands of animations to choose from, it also features an easy to use GF creation tool that I am going to refer to in this article.
The Gif maker app available on Giphy's website is one of the easiest tools to use and at the same time, the most effective one.
You need only two things: a photo or a group of photos and a video. You can choose either one of these options.


Why choose Giphy and how to work with it?
You don't need any skills or other designer tools. As long as you have some photos or a video, everything goes smoothly and your GIF will be ready in no time. Whenever you need some quick animations or videos for your social media accounts, try Giphy. You won't regret it!

How to make it work? Well, things are quite easy when it comes to GIF animation with Giphy.
Go to the web app and upload whatever files you have. They can be a series of static photos or, a video file. The static photos will be immediately put together as an animation while the video file will be sequenced in separate images that once put together make a simple GIF animation.

TIP: Select your images one by one and make sure each frame is exactly what you need it to be. The message is important but at the same time, it is important how you convey it and how easy for your audience is to comprehend it. If you want to transform a video file, cut it and keep only the sequence you need for your gif animation. It's better to do this before changing the file format.

When it comes to professional posts and especially banners, you might be needing a rather dedicated tool for such services. There are numerous online apps that can help you create great animations but nevertheless, there are certain apps that make the top of everyone's list. One of these apps is Bannersnack, a professional web-based online tool for designers and marketers.

Why choose Bannersnack and how to work with it?
Well, for once, Bannersnack allows you to save your files as HTML5 as well. Maybe you don't need this file format right away and you think that GIFs are all it takes to make your marketing campaign. However, you can expect things to change in the near future and with Bannersnack you can stay prepared for anything that comes.


Secondly, there are more options on Bannersnack than you can find on the previous app for example. What do I mean? Well, you can not only add a sequence of photos and make an animation with them, you can also add texts to your post or banner and adjust the timeline as well.
Is there anything more to add? Well, yes.
Everything you have ever created with the tool, all your templates, animations and banners, they are all saved in the cloud and available to be exported as HTML5. As a consequence, you will be prepared, just in case you need to provide a banner to a client in other format or, in case you want to change your file formats too.
The interface of this web-based app is intuitive and easy to learn and use. You need to sign up for a premium account in order to get access to all its features but once you do it, there's no way you will ever want to try anything else. You get access to an impressive database of templates, stock images, buttons, icons and fonts and everything you do with Bannersnack will look professional and social media ready in just a few minutes. It will save you precious amounts of time and a whole bunch of money you would otherwise spend with professional designers.

The third app on this list was not yet launched but still, it should be mentioned. When the time comes, it will be one of the best tools we've ever dealt with when it comes to GIF animations. The tool was created by BuzzFeed and it is still in development but we can expect it to be launched this year.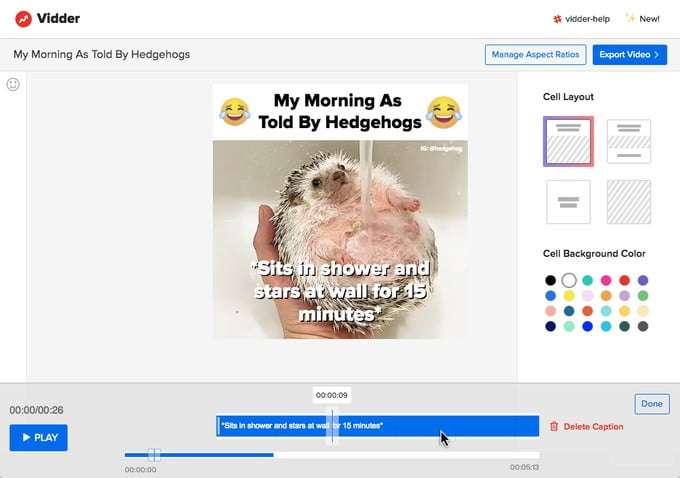 Why choose Vidder and how to work with it?
While at this moment we cannot estimate how the app will change the way you deal with GIFs and how to work with it per se, we can still estimate the impact it will have on the online environment once it will be available for all of us.
Vidder was developed, design and ultimately created by senior Product Designer Elaine Dunlap and senior Software Engineer Joseph Bergen from BuzzFeed. "We basically started out with this hypothesis that if we gave a very simple tool to these editors who are constantly creating very funny, interesting things, they would really be able to fly," said Bergen. And simple it is. Also, the tool will be available and usable not only by professional marketers and designers but also by anyone who wishes to create an animation or a video and share it on social media.

If you are looking for a standalone installable Windows application, you can try Easy Gif Animator. Unlike most of the web-based apps, you can find, this tool is dedicated to professional designers. It's a commercial software and therefore, if you want to use it, you will have to pay a one-time fee. You get the chance to test it first, with a free trial version.


Why choose Easy Gif Animator?
Well, there are many reasons to choose a standalone app such as Easy Gif Animator. For once, you don't need an Internet connection in order to work with it.
Everything you do, all your work, all your designs, are locally stored, on your own computer. However, the app comes with a series of features that are meant to make your work easier such as a built-in image editor, a frame management feature, animation and text effects and several types of files format that you can work with and save into. For instance, you can upload not only images but also videos and you can save your work as Gifs, flash or video files as well.

Animated Gif maker is yet another web-based app that allows you to easily create Gif animations in just a few seconds.


Why choose Animated Gif Maker and how to work with it?
Well, this one is a free web-based app and as a consequence, it's great if you want to save time and create a simple Gif animation in just a few seconds. There are two options available here: You can either upload a video file and convert it into a Gif animation or, you can upload a group of images and create your Gif based upon them. There is nothing to learn, there's no need to get familiar with the app. You can start using it right away and share your creations with the audience in no time.

Conclusion
GIF was and it still is a popular file format for social media content and banners. As a marketer, you cannot ignore it and as a consequence, you should choose the best tools available for creating your content that is to be shared online as video animations and animated banners.
This article was not meant to be thorough in presenting all your choices when it comes to GIF creation. However, it was meant to present you the best set of tools to work with and help you ease your creative work at the same time. Choose whatever tool fits better your working style and your skills and make the most out of your ongoing and future marketing campaigns. Social media needs quality content and I am sure you will be able to provide it.
What do you think about these five tools? Did you have the chance to try at least one of them?

See also: Everyone Can Now Use GIFs in LinkedIn Messages