There are 4.20 billion active social media users, with a +13.2% increase from last year, according to the latest report made by We Are Social & Hootsuite, published in January 2021.
The percentage of social media users vs. the global population is 53.6%, and 98.8% of the total social media users are checking their social media accounts via a mobile device, as you can see below.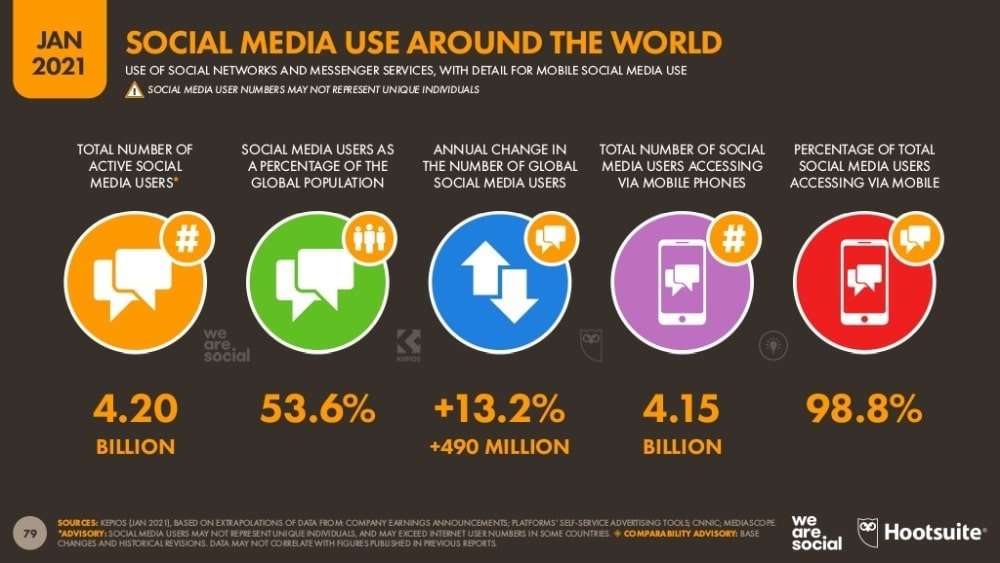 From this detailed study we've also found out the top 10 reasons why users (between ages 16 to 64) are using social media:
Staying up-to-date with news and current events – 36.5%
Finding funny or entertaining content (e.g. funny Facebook status updates) – 35%
Filling up spare time – 34.4%
Staying in touch with what their friends are doing – 33%
Sharing photos or videos with others – 27.9%
Researching products to buy – 27.5%
General networking with other people – 26.8%
Because a lot of their friends are on them – 25.1%
Sharing their opinion – 23.4%
Meeting new people – 21.3%
Using social media channels to promote your business services in 2021 will be a big plus for your company if you are able to find your target audience, define your KPIs, choose the right platform, and pick the best social media management tools and software for your team or company.
In order to have a good social media marketing strategy for this year, I highly recommend you read and find out what 20+ top marketers have to say about 2021 social media marketing tips.
I want to say a big THANK YOU to all these marketers who have sent me their answers and … don't forget to put these social media tips into practice as soon as possible; otherwise, these useful social media tips will not work at all for your company in 2021!
If you find this article useful, please share it with your colleagues and friends because sharing is caring, right?
Which are the most Important Social Media Marketing Tips for 2021?
---
There have always been three types of social media posts: content promotion (creation), sharing (curation) and interacting (conversation)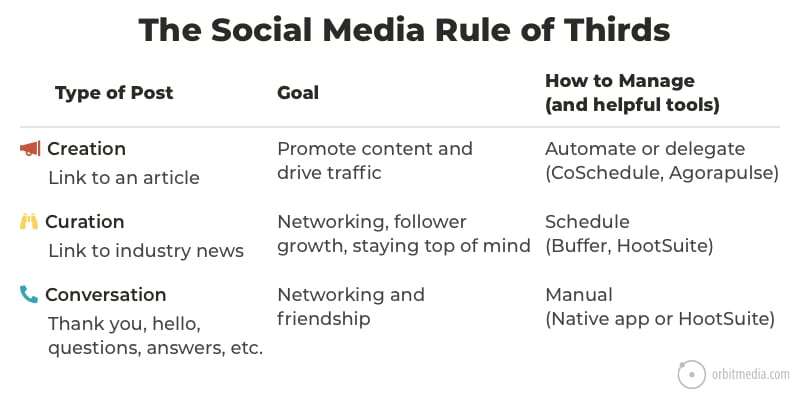 The most impactful marketers in 2021 will go bigger in all three. Here's how:
Creation: increased frequency
Organic reach isn't getting any better. So it will take more posts to drive the same levels of traffic. It's not difficult, but it is uncomfortable. Get our of your comfort zone and share everything you've got 20% more in 2021.

Curation: form a team
You can share anything in your channels. Why not share things from people who are committed to sharing your content? Form a private groups (Slack, etc.) where all members promote each others posts. Everyone gets greater reach without downside …as long as every member commits to quality

Conversation: Speed and length
Faster responses with longer, more detailed answers. Social threads will start looking more like Reddit boards as marketers add little paragraph answers. Those that do will see more engagement and faster follower growth.
Social is crowded and competitive. Go big if you want to win in 2021.
---
One of the areas that is becoming increasingly more important is 'transparency'. Be more open and honest with your social media updates and share what's going on behind the scenes. That could be good things or bad things. People will engage with the brands that are most transparent.
And use video as much as possible to share that content. There's nothing more engaging that video content and giving that behind the scenes footage will help you build a loyal audience.
Storytelling is a powerful way of getting your message across so use the 'story' feature of each of the platforms. For example, on Instagram stories this will drive a lot more engagement than your feed.
Remember it's not about sharing content, it's about sharing your passion.
---
Educate and inform instead of interrupt and sell.
---
As we all know, social media has evolved over the years. What used to be relatively easy with little effort and time to get results, is no longer the case. Spreading yourself thinly on every network will no longer yield the same results as it used to. The key to maximising social media in 2021 will be ensuring that you're consistent and focus only where your audience is. Try and avoid as many distractions as possible and be strategic. Having clarity and a clear focus on what you want to achieve is imperative.
It's worth investing some time on Clubhouse and Quora as these are less saturated and you can get some great results without having to "pay to play".
Content will remain crucial in 2021. We saw longer content performing better over the last year and that will continue to be the case. Creating content AND a content promotional plan is vital, so ideally the amount of time and thought process in creating the content also needs to be spent in promoting it to get a maximum return.
---
In a nutshell: Do less better, personalizing your customer's experience.
Video – Still the most engaging, especially live. Feature customers as often as possible. Catch them benefitting from your product or service in smile-making ways. Vary your video type. Use video in your Stories content – Bring your customers closer with creative, fun, visual snacks that out-innovate your competition.
Stories – These speak to the current mindset of people online. Stories are up top on any mobile app, and usually on desktop, if available. Consistent Story placement keeps your personal or business brand top of mind. Vary what you do. Use video! Don't forget your hashtags.
Groups – Create community around your brand with like-minded people. Let them exchange ideas that involve your brand offerings. Your options are what you make them. Find and fuel brand ambassadors. Use the group for research purposes – Think 'Voice Of The Customer.' Organize volunteers around a cause. Offer support in groups for an educational class. Do all or other, even utilizing multiple groups. On a social platform, or at your website. The key is energizing people to focus on how you delight people or solve their problems and be willing to share about your brand.
Podcasts – These are more and more popular, especially for personal brands (influencers). If you are a medium or large brand, consider featuring your CEO and let them host conversations with innovators of your industry. If you're a solopreneur, offer interviews with people your customers want to hear from and take them places they want to go. Consistency is key: Have a rhythm of frequency in publishing, and in your format. If you are not ready to host a podcast, start with guest spots on other podcasts. Hosts are always looking for great guests!
Subscriptions are getting good traction now. As long as you offer something your audience values, consider how you could offer it as a monthly recurring subscription. But it's got to be special, or people will get bored and opt out.
Marketers will also want to refer to my thoughts on digital marketing trends in 2021 for more insight.
---
1) Meeting the customer in the channel of their choice. You don't have to be everywhere — if you are marketing Medicare products to seniors, you don't have to be on Snapchat but you'd better be on Facebook; if you are marketing skateboards, you should be well-versed in TikTok but can probably skip Facebook and Twitter.
2) Remember that there are two words in "social media" that are equally important. Too often, companies focus entirely on the "media" component and then wonder why no one engages with their content. The "social" part means joining conversations and responding to everyone — including those asking questions, making comments, complimenting the brand, and yes, complaining.
3) Creating remarkable experiences for your existing customers is the best way to get people talking about your brand positively in social media. Believe it or not, people are more willing to share positive experiences than negative ones; it's just that as consumers we don't have enough positive experiences to share. Your company can fix that, and then benefit from word-of-mouth marketing nirvana!
---
People are craving more human content, specifically via video. No one wants to see promotions or advertising (unless it's extremely targeted, relevant, and entertaining).
The most effective way to combat the social media backlash and to get more engagement (when organic engagement is plummeting) is to become even more accessible and human online.
People want access, authenticity, and transparency. Use video to lift the veil on your work.
In this same vein, people prefer to interact with amateur content than super polished and posed accounts.
How to jump on the trend of human-centered video? Go live on your favorite social media channel.
---
An email marketing list, and the marketing that follows, is not simply about numbers… it's about adding value to both your brand AND the consumer. Unfortunately too many are simply banging away at the numbers.
Consumers do not owe you their attention, and they certainly do not owe you their "permission." We need to EARN it… permission is earned through quality content and offers, genuine interest in and deep understanding of consumer preferences/needs, and a consistent track record that builds trust. Keep the trust, keep the permission, keep the customer.
It's not just the volume or brilliance of content that matters, it's how that content relates to them. If content is not relevant, it's nothing more than a waste of your time and a reason for the consumer to take away permission for ongoing interaction with you.
People must come first – in your growth strategies, in your marketing plans, and in every interaction that you have. Brands are running headlong into brand equity destruction through incessant overuse of their email list and "permission," and incessant digital spamming. The rise of retargeting and digital yield techniques is killing brands, and brand equity for the long-term. It makes me wonder how many brand managers, and more importantly CMOs, bother signing up for their own email distribution lists, or shop their brands from an anonymous browser to experience what their customers are being subjected to. Customer experience is no longer simply about product, delivery, and service, but about how the customer experiences our marketing.
Permission is your ROR, #RonR (Return on Relationship).
---
The same as always, brands need to learn how to make best use of their analytics, in order to maximize their social media marketing efforts.
There are so many data options and sources available to you, and there's really no excuse not to be using them. But it does take time to learn and understand what's available – but doing so can provide significant insight, as well as improving responsiveness, reach, engagement, etc. You need to be utilizing the wealth of data tools available, and mapping key audience subsets in order to improve performance through targeted campaigns and messaging.
Another key tip is to improve your creative output. There are now so many tools and apps designed to help you create more effective, stand-out visuals, and with both Stories and short-form video continuing to rise, particularly among younger audiences, you need to be boosting your visual elements.
Test, research, learn – then repeat. And through this, you'll eventually be able to develop a more distinctive visual style for your posts and updates, that will align with your unique audience interests.
---
The most impactful social media tip in 2021, is that people need to stop selling on social media, why?
Because people hate it and start using social media as a way to create conversations. Let's not forget that it's conversations that create sales, not brochures, white papers and webinars.
---
Internally, brand marketing will also shift. Brands will work to reinforce their culture internally and build a strong foundation so their team, customers, and community want to support them organically and unfiltered. Brands will realize their most valuable influencers are their current clients, community members, and team members. They'll have to work their marketing by starting from an inside – out, mentality. The stronger the core brand message, the stronger the culture will be, and the stronger the attraction to the brand. All aspects of the brand identity will create a growth momentum in a flywheel effect.
In short, the rules are simple. In order to win business now and in the future, we must present our brands in alignment with our core message. Which must resonate with our customers on a personal level and have a service-over-selling approach, FIRST. Then, simply use online tools to amplify that message in a way that is more accessible. In order to build and scale business, we must be comfortable with showing up unfiltered and continuously work to out-care the competition.
---
Focus on quality over quantity. Many marketers tend to fixate on frequency in social media marketing. Frankly, Being disciplined to meet certain posts a day or a week is great. And that's not wrong.
However, I've come to realize that quality matters so much more in the social media sphere now. Spend time and effort to make copy, image, CTA work well and look nice. It takes time to make quality content.
---
With new social networks almost launching on a quaterly basis it's important in 2021 that businesses don't loose sight of their goals on social media. Rather than sign up to every social network out there in the hope to increase visibility its better to use 2021 to focus on 2 to 3 social networks you can really grow an engaged community on.
You then want to focus on these for the rest of the year. This will then allow you to scale a lot faster this year as you can really focus on the strategies for that particular channel(s).
Another tip would be "dont rush the process" – Your won't get 1,000 likes on every post – what's going to be more important is that you keep your content consistent, answer all questions and mentions and review your social media analytics at least weekly to help you spot trends in behaviour and engagement on your social channels.
This combined with a paid social strategy to help drive that all important website traffic, form fills and sign ups will help ensure you stay on track to achieving your goals using social media.
---
It's been said for many years, but make sure you are where your audience is. If you're focused on your Facebook page, but your clientele (actual and prospective) has moved on to TikTok, you're wasting time and resources.
Another oldie but goodie: Produce the content your audience wants. For example, you know your audience is on Instagram. But if you're producing posts and they're consuming Stories and Reels, the effort is still falling short.
Keep your audience updated. We've all seen during the pandemic that things can change at the drop of a hat. Don't miss out on the opportunity to offer "pre-emptive customer service". Let your following know if you've had to close (permanently or temporarily) or change your hours. Post about what you're doing to keep them safe when they visit your establishment or buy from your online store.
Be transparent. Again, this is something the pandemic has highlighted. More than ever, people want to do business with businesses they trust. The more honest you can be with your following on any topic, the more willing they'll be to trust on most any topic. You may not be required to tell folks if you've had a COVID-19 exposure within your business, but if you're transparent about it (and open on what that means as far as closure, testing, cleaning, etc), the more likely you are to gain people's trust. You may not have to offer an explanation of why you're raising your prices, but if you can say that it's because the cost of doing business has increased due to XYZ factors, the less likely you come across as wanting to make extra bucks off of those that have lost incomes and that you, too, are just trying to stay afloat. The pandemic-based examples could go on and on.
---
The most important social media marketing tip I have for 2021 is, "make sure you use live video."
Brands can use live video sessions to announce a new product, make behind-the-scenes, interview customers, webinars, etc.
If before the pandemic people were scared to do lives or appear in front of a camera, now this is something normal.
You can record a webinar or a podcast from the comfort of your home, with your dog playing next to you, and still generate a lot of engagement.
People want to see people, learn from them, engage with them.
Live videos should not be optional if you want to be seen, and create an audience around your brand, make sure live sessions are part of your brand's marketing strategy in 2021.
---
The person seeing your content on social media should say "This content was created specifically for me." By making the content relevant for the individual, you engage your audience and ensure that they'll be back for more.
---
Find the right influence partners to build a long-term partnership with. Pick ones who can supplement your creative content, but who can also help explain your brand, product or service, and who have an interest and passion in your brand.
As they create content, move some of your budget to put paid spend behind their content to increase the visibility of this third-party validation of your brand. You'll likely find that approach is far more effective than putting equal spend behind your own media.
---
Still amid the pandemic, with lockdowns in place in many countries worldwide, the online option becomes the only option. This has, and still will, affect, without a doubt, consumer behavior. Digitally wise this makes things easier for companies, and marketers, when learning about and understanding these behaviors, through the smart use of the amazing amount of data that the digital world provides.
With this in place, businesses will have no choice but to embrace the digital transformation fast. More IT, engineering and digitally focused positions will emerge to leverage the ever-growing data (or shall we say Mammoth Data?) and use it towards the improvement and creation of better solutions, while making it available to their customers via well thought out marketing strategies.
And last, but not least, all those brands focusing on more social, environmental, and ethical interests will flourish. Significant efforts towards transparent communication, staff health and security, sustainability, and the conscious use of natural resources, aligned with their preservation, will bring the brands to a more respected space in the social media marketing macrocosm.
---
Social listening has never been more important. You need to know how to read the room, even when that room is online. Having a social listening plan in place is crucial for today's brands to know what their audience is saying, what challenges they are facing, and whether or not the content they are about to publish could be perceived as tone deaf.
You don't have to be perfect. People say you need to be more authentic and more human, but they also expect perfection. That just isn't human then. Focus more on creating conversations and connection instead of perfection.
---
Social selling "thought leaders" are doing a disservice to business leaders looking to figure out social.
The 1-2-3 of priming, monitoring, and targeting only serves to lower trust. It's the ultimate fail, making things worse for the newbie because it chips away at their reputation.
Ditch the formulae and simply start or join conversations in private groups, and do it without expectation. You'll get a lot further – attract prospects and advocates – and build your reputation in the process.
---
Clean out your closet.
At one of my girls' night Zoom parties, a friend mentioned that her closet now had COVID clothes and her OLD clothes, and it was time for her to clean out her closet during this pandemic. That same thought process applies to social media networks. I can guarantee you that not every single social media network out there works for your brand. The first thing I do when writing a strategy is look at what networks make sense for the client.
With the evolution of digital marketing and the 2020 pandemic, it is time to reevaluate where you are getting the most value on social media. For some brands, it's only one network. Take the time you are wasting by trying to post on every network, and spend it on digital marketing this year. You won't regret it. Digital marketing is giving you all of the new clothes you need for your closet, so make room!
---
I think above all this pandemic has shown just how uncertain the times we live in can be. The point here is to always do your homework and stay updated on the latest trends and platforms.
The rise of video, the popularization of in-app marketplaces, the deprecation of Apple's IDFA, these and many others are just some examples which highlight the bigger picture: things are constantly changing, and you must adapt if you want to survive and thrive. Yesterday's strategy may not work tomorrow.
My tip is to identify your audience as precisely as possible and have a flexible mindset when reaching it: explore various platforms and formats and be wary of being stuck down a single path.
I would also try to direct my attention towards word-of-mouth advertising: focus on improving your k-factor and let your customers do the advertising for you, especially with the rise of messaging apps. Encourage sharing and build a community around your brand.
---
Listen closely to what the audience needs. This is an old piece of advice, but it's surfacing back after witnessing 2020. Brands that were tone-deaf during all the chaos got more penalized for it than ever. While those who paid close attention to all the baking, the DIY-haircuts, and the home-workouts won big.
While a world-wide crisis might make the audience's needs a bit more obvious, 2021 isn't the year to go back into default mode. A proactive approach is much more effective.
---
There is a massive glut of outreach spam on LinkedIn right now. The most effective advice I can provide is to be real, authentic, and 1:1 in your social sales. When everyone else is trying to scale their outreach, you can stand out by treating people like they're more than just a number.
---
Market Like It's 2022 by Engaging with Video
Customers will be cautious in 2021 because they suspect it will be much like 2020. This makes visionary marketing that shows the way attractive. Marketing like it's 2022 is a conversation with customers about business practices that are likely to become obsolete in 2021.
My social media marketing tip is to reexamine the customer journey, asking, what if, at every single touchpoint. Then engage the audience with video marketing that empathizes and sparks conversations to open new paths for working together.