By now, most advertisers understand that social media marketing is no longer an option but a must-have integrated part of the digital marketing mix. Yet, digital marketers face a difficult task: justifying investment with results. 
And although social media advertising is the second biggest market within digital marketing, clients are asking for arguments whenever they have to take out money from their wallets. 
If you're a social media manager looking for social media analytics software that can help you back up your speech with data and graphics, this list of the best free and paid social media analytics tools will offer you options to choose from.
What is the best way to track social media analytics?
While most social networks will provide you with basic performance metrics and audience data, the information they give is limited. That's why it would be better to use another analytics tool for in-depth data that can help you take actions based on insights to grow your social presence, interact with followers and drive sales. In other words, ROI. 
The best social media analytics tools will deliver reports with performance metrics, audience demographics data, insights, and guides to optimize content and better connect with your audience.
Read our list and pick your favorite analytics tool!
Best 13 Free and Paid Social Media Analytics Tools of 2023
| | | |
| --- | --- | --- |
| Social media analytics tool | Best for | Price starts at |
| Google Analytics | It's a great tool to track the traffic coming from each social media network to your website. | Free |
| Buffer Analyze | Small to medium-sized businesses looking for a cost-effective solution to all-in-one social media management. | $5/month |
| Hootsuite Analyze | Small, medium and big companies. But it's ideal for agencies allowing work on multiple clients and platforms. | $99/month |
| Sprout Social  | Perfect for medium and large businesses with a multi-user social media team. | $249/month |
| Hubspot's Analytics Tool | Helps companies of all sizes and agencies monitor outbound and inbound leads, automate sales pipeline, manage contacts and leads, email marketing, and tracking. | $783/month |
| BuzzSumo | Ideal for marketing teams and content creators looking to create high-quality content. The tools discovers trending topics and influencers. | $119 /month |
| Zoho Social  | Ideal for start-ups, small and medium-sized businesses that need help in customer management. | $49 /month |
| TapInfluence | Best for brands looking to add influencer marketing to their digital strategy. | $1999 |
| Sendible | Designed for agencies with a powerful set of social media management tools. | $29 |
| Quintly | Suits companies of all sizes and agencies and it is best for in-depth analysis reports. | $345 |
| Snaplytics | Ideal for brands focusing on Snapchat and Instagram Stories. | Undisclosed |
| Audiense | Best for brands focusing on building their presence and community on Twitter. | $38 |
| Shield app | It's a great tool for professionals as well as for B2B brands to use data to unlock organic growth on LinkedIn. | $8 |
1. Google Analytics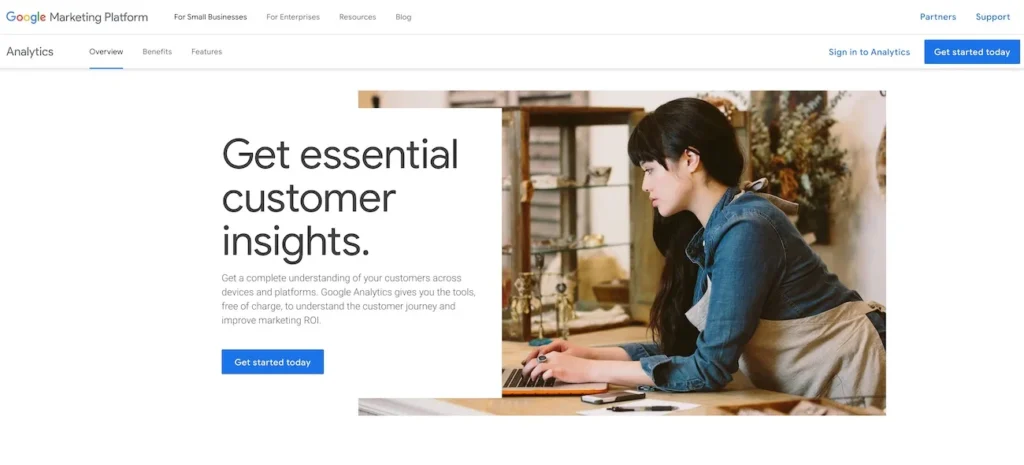 Though it's not solely a social media analytics software, Google Analytics is a great tool to track the traffic coming from each social media network to your website. And it's also free. 
Google Analytics can provide you with extra insights into how social media is working for your business. Here is how Google Analytics can help you analyze the traffic coming from social networks:
You can discover which social media platform brings you the most traffic to your website. 
You can see what type of content works best for each social network.
You can find out how visitors from social media interact with your website by analyzing the users' journey.
See how many users coming from social media actually convert (buy/subscribe/sign up).
You can find out precious information about site visitors, like demographic data and interests, and understand whether the traffic coming from social media is the right audience for your business. 
And calculate the return on investment coming from social media.
This free social media analytics tool can help you to optimize your strategy and increase social media engagement, conversions, and even sales. 
However, Google Analytics should be used as a complementary tool for monitoring social media performance. You won't get all the information you need, so you'll need another analytics software and consult both of them for better results.
---
2. Buffer analyze
The world's most popular social media tool comes with an incredible built-in analytics tool. Buffer Analyze helps you measure your brand's performance across multiple social media platforms. It also provides precious audience insights for each channel, so you can optimize your strategy to grow your reach, engagement rate, and sales.
Just like their whole platform, Buffer Analyze is extremely easy to use. Their analytics dashboard is so intuitive it makes tracking performance an enjoyable task. Reporting to managers or clients is also fun and easy with their fully customizable and exportable reports.
Buffer is perfect for small to medium-sized businesses that are looking for a cost-effective solution, but if you're the marketer of an enterprise-level company, you may want to look into more complex tools. Keep reading! 
---
3. Hootsuite Analyze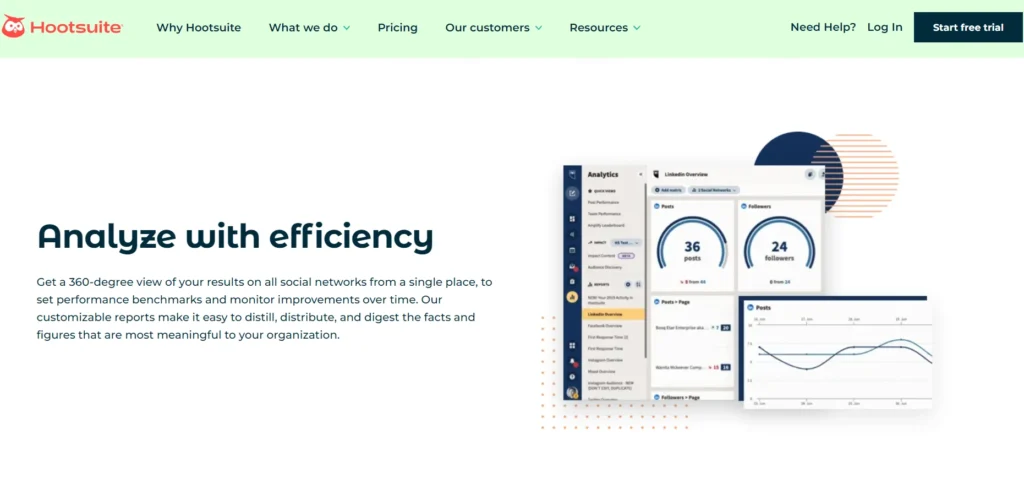 Hootsuite Analyze is probably one of the best social media analytics software on the market. With Hootsuite, you have a 360-degree view of all of your social media accounts' performance in one place. The tool makes it easy to compare results across channels and make changes accordingly. 
Hootsuite's analytics tools also provide comprehensive and customizable reports, and you can even choose to get reports on the most relevant metrics to your business.
Their competitors reporting tool allows you to peek over the fence and see how your competitors are doing, helping you to stay competitive at all times.
As a marketer, I'm sure you care about your brand's reputation. With Hootsuite, you can monitor your brand's name mentions and tags and handle negative comments before they escalate into something unpleasant.
It's a great tool for small to medium-sized businesses, marketers, and even agencies. The tool doesn't have a free plan, so you must figure out if your social media ROI is worth a subscription plan.
---
4. Sprout Social
With Sprout Social's Analytics Tools you can also see the full picture of your social media strategy across all networks. The platform offers advanced measurement of all important metrics for both organic and paid posts, allows you to measure your team's performance, understand how you stand against your competitors,  and get customizable reports. 
But they take analytics a step further thanks to their Listening Tool. This feature enables you to track and analyze conversations on relevant topics so you can better understand the trends in your industry. Also, it helps you identify influencers and trendsetters and engage them as brand advocates.
Yet, all these premium tools come at a high price. Sprout Social may be too pricey if you're a start-up or a small business; their plans starting at $249 per month. 
---
5. HubSpot's Analytics Tool
HubSpot's analytics tool is part of their Marketing Hub, their all-in-one marketing software. This means that you can have all of your marketing tools and data under one roof. This is a lifesaver solution for big companies whose marketers struggle to juggle all marketing tools and scattered customer data. 
To be more specific, because HubSpot integrates with your CRM, you can see the visits, leads, and customers that social media networks bring to your company. You will have a broader view of your marketing strategy and be able to see which tactics are working best for your business.
If you've already decided to give HubSpot a try, be ready to take a considerable amount of money out of your wallet.
---
6. BuzzSumo
BuzzSumo may not be a classic social media analytics tool, but it provides valuable information, especially for content teams. Their features focus on content analytics: brand monitoring, social listening, and influencer research.  
What this platform can help you with is:
Content discovery. The tool helps you find trending topics you can pick and use to create content for your website.
Content analytics. Get data about social shares of your content.
Brand monitoring
Influencer marketing. BuzzSumo scans the web and identifies truly valuable influencers who can represent your brand.
However helpful this tool may be for marketing teams and content creators, you will need some other social media analytics tools to monitor social networks.
---
7. ZOHO Social
You may know Zoho, the platform that offers integrated CRM solutions for small to big-sized businesses. Their social media analytics tool: Zoho Social, covers all the basic needs to measure performance across the most important social networks. It also provides you with demographic data about audiences, so you can laser target your campaigns. 
Plus, social media monitoring is included, so you can monitor brand mentions and understand how your brand is perceived by customers.
With Zoho, you get custom and in-depth reports of your brands' performance across the networks.
Do make use of Zoho's analytics tool if you decide to go for a Zoho subscription plan! 
---
8. TapInfluence
This is a social media tool unlike any others we've discussed before. Because influencer marketing is such a huge part of today's digital marketing, with brands investing billions of dollars to be represented by top influencers, new tools specialized in finding and connecting with influencers have emerged. 
TapInfluence is probably one of the most recognized platforms for influencer marketing and prides itself on working with top brands around the world. 
If you're one of the marketers looking to add influencer marketing to your digital marketing strategy or even consider replacing classic display ads campaigns with influencers, here's what you can get with TapInfluence.
First of all, the influencer search section allows you to discover influencers by domain and by the audience. You can also see the influencers' past performance, project rates and even get an estimated "cost per engagement". The platform has a base of 100.000 influencers. 
Next step, you can use the influencer outreach option, which means you can contact influencers and make project propositions. Everything happens within the platform.
Once you get a deal with an influencer, you can set up your campaign through the platform. 
And of course, TapInfluence lets you measure the performance of your influencer campaigns through their analytics tool section.
One important thing that TapInfluence could work on is the onboarding process. At the moment, getting inside the platform is really difficult.
---
9. Sendible
Sendible is an all-in-one social media tool that prides itself on its unique social media analytics software.
The tool can help you identify the best posting times for your brand for each platform. It also discovers the most engaged followers and top-performing posts so you can create even more compelling content.
Sendible generates powerful reports for each social media platform and an engagement report which shows combined tracking for all your brands and posts engagements across all channels.
They also have a drag-and-drop report builder in the reporting section, allowing marketers to easily build presentation-ready reports by adding logos and other branding elements.
There's also the possibility to generate automated reports so that you can set a recurring time, and Sendible will send the reports for you to your clients, managers, or stakeholders. 
On the downside, Sendible doesn't cover yet newcomer platforms such as TikTok or Snapchat. You will have to address those networks separately.
---
10. Quintly
Quintly is an analytics tool that monitors engagement across all major social platforms. 
What you won't find anywhere else on the market is the possibility to choose from 500+ social media metrics and create customizable dashboards to set up in-depth analysis.
With Quintly, you can send custom automated reports by setting automated delivery times and formats. The platform allows exporting of reports in many formats like JPG, PNG, PDF, XSLX, PPTX, CSV. 
Because it's a complex analytics tool, Quintly includes brand monitoring and social listening; this way, you can keep an eye on what people are talking about your brands. 
Influencer analytics is also included in the package, so in case you run influencer marketing campaigns, Quintly can help you to monitor the performance and ROI.
However, Quintly can be quite overwhelming for beginners with the amount of data that they provide. Learning to use the tool and decipher the metrics can take a while.
---
11. Snaplitycs
Snaplitycs is a tool that focuses only on Snapchat and Instagram Stories. 
While many brands have changed their focus on other social networks, Snapchat still hosts 363 million daily active users, with over 5 billion snapchats being created every day! Most active users are aged between 18 – 24 years. 
So, in case you are considering using Snapchat as part of your digital marketing mix, Snaplitycs can help you track performance across this platform and use insights to create more engaging content. 
The tool provides data on metrics such as open rate and completion rate, which really allow advertisers to optimize content.
The tool also tracks Instagram Stories performance. If your brand relies on Instagram, it would be a good idea to get more in-depth analytics with Snaplitycs, apart from what Instagram already provides.
Snaplitycs needs complementary social media tools so you can cover all networks.
---
12. Audiense
Audiense Connect is a social media analytics tool specialized in Twitter and is probably the most complete tool for Twitter community management. 
You get a comprehensive analysis of your Twitter community with in-depth demographic data such as location, language, interests, and consumer segmentation. The tool helps brands on Twitter thrive and grow communities by taking data-driven actions to optimize content and connect with followers. 
Audiense also guides you on how to boost your engagement rate by providing personalized advice on what is the best time to tweet and a Twitter-only listening tool dating back to the beginning of the platform (2006) that can help you find relevant conversations about your brand. 
Another great feature is that you can create your own chatbot and use it to communicate with your brand's followers via direct messages.
If Twitter is a big part of your digital marketing strategy, then Audiense Connect makes sense for your brand, but otherwise, you might as well work with a platform that covers all social networks.
---
13. SHIELD app
Shiled is a LinkedIn analytics platform that helps professionals and companies build their reputation and professional network. 
The tool provides key metrics about your LinkedIn profile to help you track your performance and identify areas you can improve.
It's a great tool for professionals as well as for B2B brands to use data to unlock organic growth on LinkedIn.
All right, looks like we've covered the most important social media analytics tools available today on the market.
In case you're still pondering whether getting a subscription for a social media analytics tool is worthwhile or not, let me just remind you that any of these tools will provide you with more data that you can use to grow your brand on social networks, and increase brand awareness and sales.
If you want your brand to stay competitive and relevant online, you must work with professional analytics tools.