Instagram has taken the world by storm in 2014. With the rate it's going, it is no surprise to see the majority of online marketers are predicting that Instagram will be the next, go-to image sharing platform.
And let's get this really straight. Here are some reasons why people would use Instagram:
Selfies
Showing the world that they are having a great time
Promoting a product using visual
For me, I use Instagram because I am that bad with images. I don't have the hands of a photographer and minds of a creative thinker. I even use Canva for most of my features images. With it, I am able to use the filter, making the same photo looks awesome and a dozen more reasons.
You get the point.
But here's the thing. Creating great images will NOT help you generate more sales, traffic and brand awareness on Instagram. Getting the right attraction is really challenging, to be honest. You are literally competing with over 300 million Instagram users.
No, I'm not going to let you press the 'X' button or close this page without taking something back with you.
My mission in this post is to share with you 6 bite-size Instagram tips to create powerful and good Instagram captions that catch the eyes and build your followers.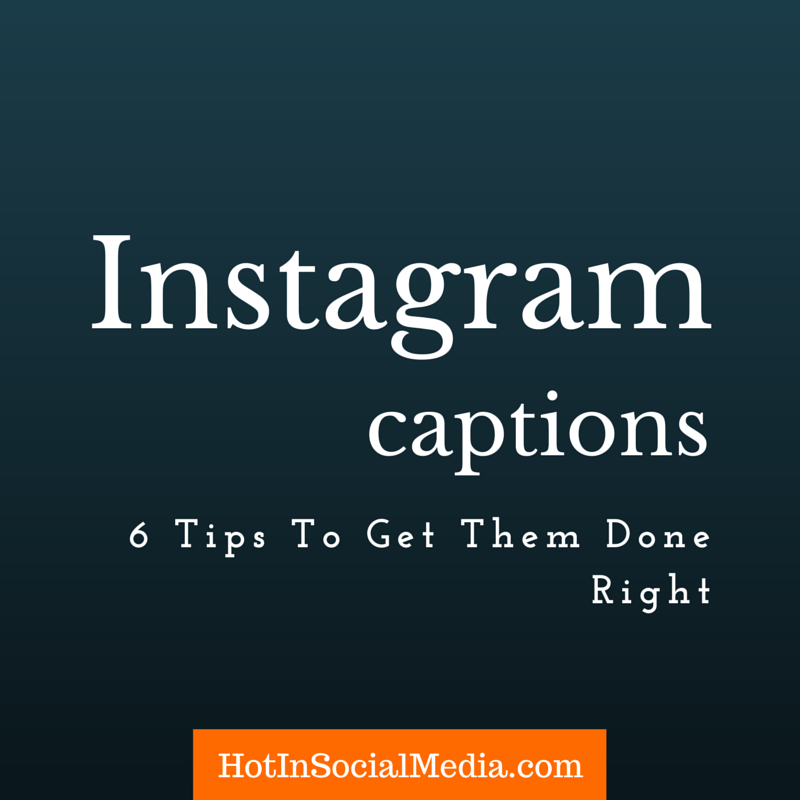 6 Actionable Tips for Writing Good Instagram Captions
1. Using the right hashtags
#Hashtags help you to increase your reach multiple folds and you definitely need them on Instagram. The rule of thumb of using the hashtag on Instagram are:
Make them as short as possible
You can include between 5 to 15 hashtags (but I personally advise nothing more than 10)
Choosing the right hashtags that matter to the image
If you are looking for popular hashtags to use in your caption, PostPlanner has laid some of them here. A few other resources I usually go for are:
Hashtags.org
TagDef.com
TrendsMap.com
If you are using iPhone like I do, I recommend using TagsForLikes and Instatag apps.
2. Use captions to drive engagement and build relationships
When was the last time someone commented on your Instagram? 15 seconds ago I suppose?
Whenever this happens, take the time to build a relationship with them. Take a moment in your caption to answer the questions you think people may have. This is a great opportunity to showcase yourself as a leader in your field. The whole idea is to make them feel that their comments are appreciated.
3. Giving a back story of the snapshot
The image represents a thousand words but it means nothing if you are not able to convey the intended message to the readers.
Share a little back story of what it is all about with your readers and they will appreciate it.
Take a look at Gary Vaynerchuk's Instagram below: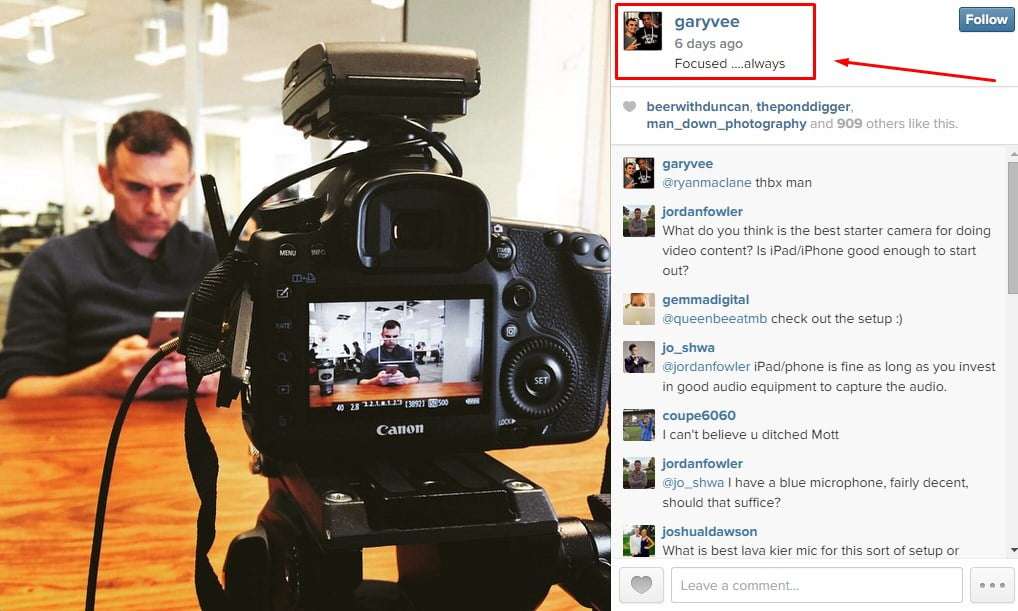 Just by seeing the image, I have seriously no idea what he was doing. I may even think that he is doing a snapshot of him playing his iPhone, trying to show off his Canon camera or just a random shot before a video.
But with the captions he provided, it tells a whole different story.
4. Adding line breaks and spaces in captions
I played with this a couple of times and it's pretty awesome, to be honest. Are you tired of having those paragraph in the caption?
By default, there is no way to add a paragraph or line break in Instagram. However, there's a nice and nifty trick that goes around it. Here's how it is done:
Write a post on your notes taking application (Facebook status update works too)
Copy the whole post and paste into Instagram
And yes! You are done. Can you believe how fast that is?
5. Focus on your followers
If you want to have Instagram work for you, you have to ensure that you are sharing images and captions appreciated by your followers.
Images must be great (you can use a tool like WordSwag on iPhone or Canva for the matter) and captions must strike their hearts.
A little survey can be done to understand your followers such as using different hashtags, asking questions or even filling in the blanks in the captions area.
6. Language you are using
If you are going to post something on Instagram, avoid using short forms or shorthands. People may not understand what you are trying to say, and therefore, it would be meaningless.
Takeaway:
If you are planning to write a caption, make it short and memorable. And I would also add that if you're an agency or company using multiple Instagram accounts or social media apps, you will benefit greatly from using one of the best social media management tools to plan and schedule your Instagram posts and captions.
Over to you
Do you have other good Instagram captions useful tips that you commonly use? Share with us in the comment form below and allow us to take them for a spin!
See also: 10 Things to Never Do on Instagram